Pen to Print: A Conversation with Ben Aaronovitch
A Conversation with Ben Aaronovitch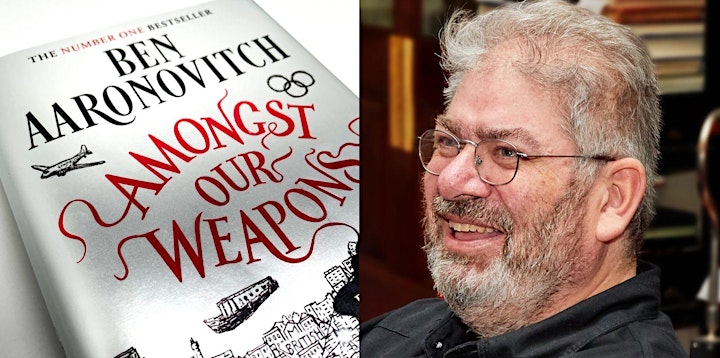 Please note this is a location based event at Dagenham Library
Join Ben Aaronovitch for a lively conversation as he discusses his latest Rivers Of London novel, Amongst Our Weapons.
Born and raised in London, Ben had the sort of unrelentingly uninteresting childhood that drives a person to drink or Science Fiction. The later proved useful in his early career when he wrote for Doctor Who (before it was fashionable), Casualty and the cheapest soap opera ever made – Jupiter Moon.
Alas, his career foundered in the late 1990s and he was forced to go out and work for living. It was while running the Crime and Science Fiction sections at the Covent Garden branch of Waterstones that he conceived the notion of writing novels instead. Thus was the Rivers of London series born and when the first book proved to be a runaway success, he waited all of five minutes to give up the day job and return to the bliss that is a full time writing career.
Ben still lives in the city that he modestly calls 'the capital of the world' and says he will leave when they prise London from his cold dead fingers. He promises that he is already hard at work on the next Peter Grant novel and not on computer games – honest!
Connect with Ben via Twitter: @Ben_Aaronovitch
If you have any accessibility requirements, please directly get in touch with us at pentoprint@lbbd.gov.uk
Booking is essential and you will be asked to present your booking confirmation upon arrival.
Pen to Print and our partners reserve the right to remove participants who are disruptive to a session.
Pen to Print shall not be liable to attendees for any injury, loss or damage of or to personal equipment belonging to the attendees or any indirect or consequential loss or damage whatsoever arising out of the attendance of the event.
Pen to Print reserves the right to cancel, delay or postpone the event for any reason, including adverse weather conditions, COVID-19 restrictions, an emergency situation or unforeseen or unavoidable circumstances out of its reasonable control. In such cases, the event organiser will endeavour to inform participants as quickly as is possible.