Pen to Print: An Introduction to Audio Drama with Alternative Stories
New for 2021 The Pen to Print Audio Play Competition in partnership with Alternative Stories is now open for entries.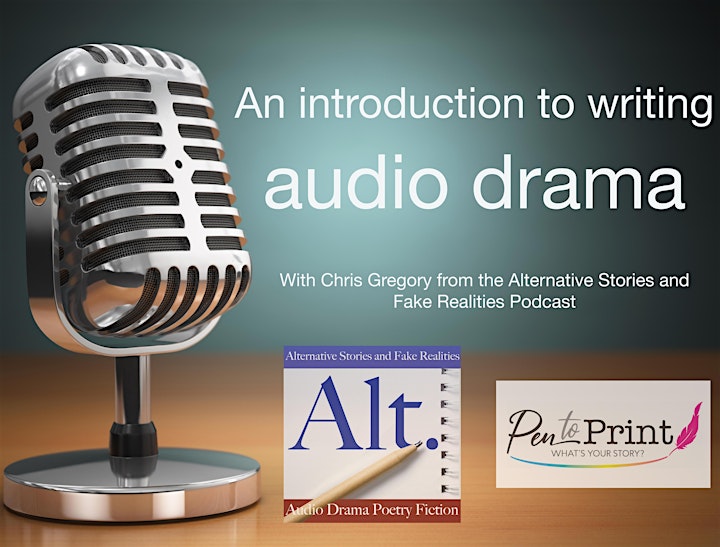 The workshop will offer an overview of writing for audio drama looking at techniques, dialogue, writing sound and stage directions and offering advice on working with actors, sound designers and musicians to bring your story to life.
We'll look at the different types of audio drama including episodic, and serial dramas and radio plays.
We'll include practical exercises, some clips from actual Alternative Stories Productions as well as insight from professional voice actors about what they like to see from audio drama scripts.
We'll conclude with a section on getting your script produced and how to disseminate it through podcasting. This section will also cover pitching your drama to radio and production companies.
Listen to the audio drama podcasts we've created since the start of lockdown here: https://www.podchaser.com/lists/audio-drama-in-lockdown-107a4Waf70
And subscribe to our podcast on all major platforms via this link: https://www.buzzsprout.com/411730
Click here to visit Alternative Stories website.
The Pen to Print Audio Play closes on Friday 2 April 2021.
First prize: A fully produced audio drama which will go out as an Alternative Stories podcast edition to their global audience.
Click here to read and download the full competition details , rules and T&Cs.
Booking is essential. Pen to Print and our partners reserve the right to remove participants who are found not to have booked a place for this session.
Pen to Print and our partners reserve the right to remove participants who are disruptive to a session.
To ensure you don't miss out on the latest updates, please sign up to our e-newsletter