Silly Squad, Summer
Reading Challenge 2020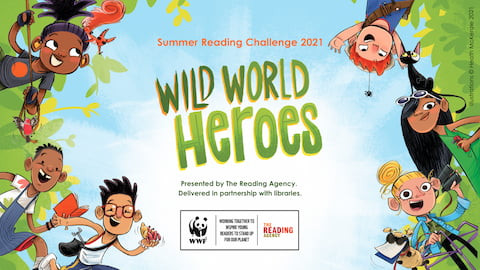 The Summer Reading Challenge…coming to a Library near you!
The Summer Reading Challenge, presented by The Reading Agency, delivered in partnership with libraries and funded by Arts Council England, encourages children to set themselves a reading challenge to help prevent the summer reading 'dip'. The aim of the program is to keep children reading over the summer and supporting caregivers with children already at home. You can get involved at your local library and online.
This year the Summer Reading Challenge is teaming up with WWF to deliver a very special nature-themed Challenge that will inspire you to stand up for the planet!
So, without further ado, pack your bags and get ready to join the Wild World Heroes as they head to Wilderville!
It's a pretty cool place, but there are lots of things that the Wild World Heroes can do to make their town even better for the people and animals that live there. Join the crew and discover how you can make a difference too.
Wild World Heroes will feature amazing books, awesome rewards, and plenty of ideas for taking care of our planet.
With school life disrupted and many children missing the company of their friends, this year's fun-filled Summer Reading Challenge will be all the more vital as a way of helping caregivers find fun, family-friendly activities, maintain literacy levels and create a safe space for children to connect with their peers.