The Write On! Suite Of Publications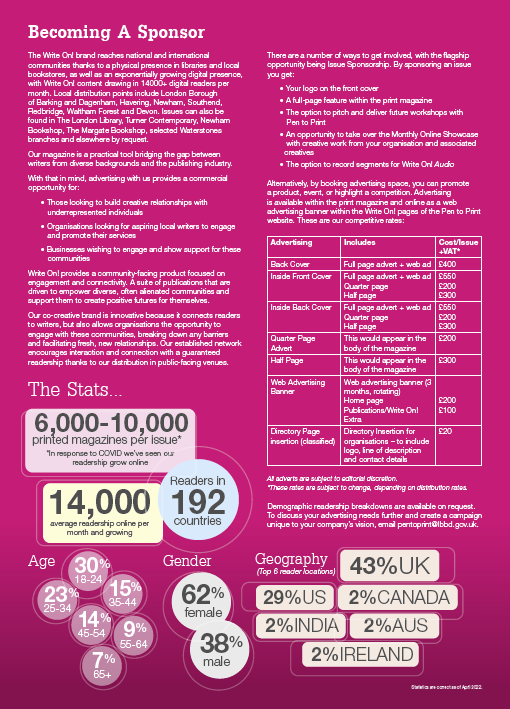 Write On! offers advertisers and partners a way to engage with an exciting new readership. Much of this engagement comes from the launch of our Write On! Extra daily digest for unprecedented times and Write On! Audio, our podcast. You can view Write On! Together above for more information.
Our engaged users number over 90,000 users from 198 countries at the time of writing. To get a full overview of how to work with us, as advertiser, sponsor, partner or creative, please visit the newly launched Write On! Together. Find out why Writers' And Artists' (Bloomsbury) and Penguin advertise with us. You can also read about how partners such as The London Library and the Wilburn &Niso Smith Foundation work with us to reach new audiences as well as serving their current ones.
By working with Write On!, print and digital to build your business, you are giving new voices the chance to be heard beyond the confines of expectations set by geography, culture and gender.
Our diverse editorial team will help you communicate what it is you have to offer to local and writing communities, putting strong communicational building blocks in place you can use again and again.
Your commercial support will help to build Write On! page count and distribution, allowing us to be inclusive of  an ever-growing talent pool, no matter where it's from.
Edition 14 is out now.  The headline interview is with Louis de Bernieres.Edition 15 will be out on 13 December with headliner Jaspreet Kaur.
If you like what you see, get in touch with pentoprint@lbbd.gov.uk or Write On! Editor: madeleinefwhite@hotmail.com for information as to how to grow your business and support a great initiative into the bargain.