Posts For Unprecedented Times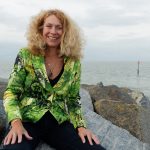 by Madeleine White
(Twitter/Instagram: @madeleinefwhite)
December is the holiday season: one of light, hope and home. Wherever we are in the world, we are drawn back to the time of togetherness the festive season offers.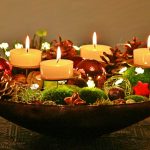 'Home' as a theme has really inspired you and our inbox is bursting at the seams! We've tried to include most of what you've sent us, but apologies if we haven't been able to this time round. A huge thanks as ever to our page editors and November's Showcase editor Mirabel Lavelle from Sunderland, who brought us some wonderful #northernwriting. Looking forwards to December, there are lots of exciting things to come.
Not least the transition page from Holly King, who is passing the baton as our Monday Moments Editor to Amber Hall from January. And, have you heard the audio version of our interview with the stunning Jaspreet Kaur? If not, listen here. You'll also be able to read Diya Padiyar's write up of her conversation with the best-selling author and poet later this month.
Do keep an eye our for our team video rendition of Benjamin Zephaniah's Talking Turkeys, which we'll start sharing with you from 23 December onwards. Other festive treats include a Tandoori Turkey recipe on Thursday Connectors from Farzana's Mum and an in-depth, practical delve into writing mentoring from short story queen Claire Buckle who is working with Amber Hall – advising on commercial opportunities, as well as writing tips. As usual, there is no Writer Of The Month in December, but do revisit our November featured writer – the fabulous Gertcha Cowson – in the meantime.
I loved his page and this quote in particular, attributed to Gertch's alter ego, 'Bipolar Boy' resonated with me:
He will be addressing the public with poetry, prose, philosophy and stories in the hope of teaching love, peace and understanding, while having a little laugh along the path of life.
A lovely thought going into December, don't you think?
Coming up: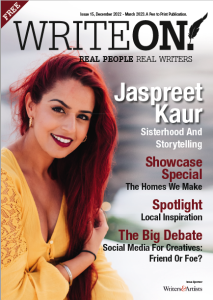 Write On! Issue 15, themed 'Home', comes out on December 13 and will be featuring Jaspreet Kaur, award-winning spoken word artist, history teacher and author of the bestselling Brown Girl Like Me. This will distributed as usual through libaries across London, Devon – with new libraries in Dudley and Kent becoming part of our family also. University distribution includes Goldsmiths, University of Kent and Christ Church University in Canterbury. You will be able to see the issue, as well as all previous issues online, on our magazines page.
While we're waiting for issue 15 to come out, though, do check out  Write On! 14, featuring an exclusive interview with the global publishing phenomenon that is Louis de Bernières.
From January our theme is: Contradictions: Everything Has Two Sides – Beginnings and endings, love and hate, crime and punishment, truth and lies. This theme allows us to explore the world from all angles. Please do start submitting as soon as you feel inspired!
Write On! Audio, The Podcast 'For Writers Everywhere'

December's  Write On! Audio, the podcast 'For Writers Everywhere' includes: Writing Tips from the award-winning audio-dramatist Cailean Steed on December 6 and an exclusive from bestselling London Writer Tony Ballantyne on 13, with a monologue he has especially written for Write On! audio. The 'Showcase' is presented by Julie Dexter on Tuesday 27 December and the Team's Talking Turkeys recording is coming to you on the 20 December.
Created in partnership with the award-winning Alternative Stories podcast, you can find us on all major podcast platforms, including Apple Podcasts, Google Podcasts, Spotify, Stitcher, Podchaser and many more. Just type pen to print into your browser and look for our logo. Alternatively, find us via our Anchor FM hosting site, which links you to our content on a variety of podcast platforms. Do subscribe!
Write On! Audio can be accessed here.
Published And Coming Up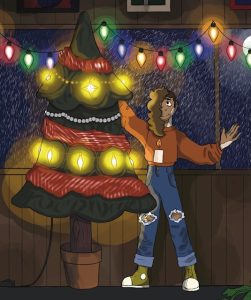 To whet your appetites', this lovely piece of art comes from 14-year-old Lauren Callis, who is based in Lanark.
Holly King's Monday Moments, out on December fifth, based on transitions and moving home, sees an introduction to our new Monday Moments editor, Amber Hall, who will be taking over from January.
Eithne Cullen's Thoughtful Tuesdays, out on Tuesday 13, looks at Christmas from all angles; good and less so!
Thursday Connectors, out on Thursday 22, by Farzana Hakim, looks at the festive season from the perspective of different communities. It includes her classes' children's letter to Santa and her Mum's Tandoori Turkey recipe.
The first Showcase of the month is out Wednesday the seventh. December's showcases are edited by Kent-and-London-based writer and poet Julie Dexter.
The Weekly Friday Features include the  practical mentoring pieces  referred to above, by Claire Buckle and Amber Hal. Write On!'s Deputy and Features Editor, Claire Buss will also be creating a  and a 2022 retrospective.
Our weekly Sunday Interviews showcase a range of talent. The December line up includes Eunice Nascimento and the fabulous Jaspreet Kaur (18 December).
Saturday Spotlight, at the end of the month, features new launches from traditional publishers and small presses, as well as indie authors. Do send us information on your new release. If you have one coming up, we'd love to hear from you!
I do hope all this gets you to put pen to paper. Don't forget, we also welcome other creative work, including illustrations.
Here's to a December filled with light and happiness!
More About Us
Write On! is a quarterly magazine published by Pen to Print and its sister, the online Write On! Extra and has been created to encourage established and emerging writers to come together around the following ideals: Publishing lies at an intersection of entertainment, information and education and is the method by which we record our shifting culture. You can find out more about how to get involved as a writer, creative, partner or advertiser through Write On! Together.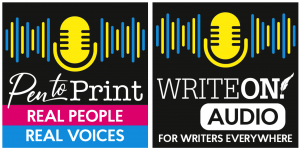 Write On! Audio, the podcast 'For Writers Everywhere'  connects emerging and established writers to each other, the publishing industry and a wider audience in an audio celebration of diversity, originality and excellence.
OUT NOW, Write On! Issue 14 includes our lead interview with Louis de Bernières  and lots of other wonderful creative work.
You can see all our issues on our magazines page. Physical copies of issue 15  will be distributed to libraries and other centres that are open across London, Kent, Devon, the West Midlands and Essex.  Distribution points now include the Universities of Kent and Goldsmiths, Southwark and Dudley libraries and Newcastle's 'Seven Stories' writing organisation.
Write On! and Write On! Extra and to take advantage of some great digital advertising opportunities, please see our Media Pack. You'll be part of the Write On! family; one that includes Penguin Books  and The Writers' and Artists' Yearbook. So far, nearly nearly 104,000  of you have engaged with us online, as readers and contributors, from the UK, but also 198 other countries (Google Analytics lists 230 countries).
Your Writing
Write On! accepts written pieces (prose, poetry, essays, opinion), video or spoken extracts/ snapshots, illustrations and artwork. Do remember, if you have a features idea, you may be interested in recording it for Write On! Audio. Get in touch to discuss, if this appeals!
Depending on content and theme, your work will be featured in one of the following ways:
Monday Moments – Stories and experiences drawn from myriad perspectives. Fresh and engaging; a real 'magazine' feel. (1st Monday of the month)
Thoughtful Tuesdays – Mindfulness, inspiration, poetry, quotes and ideas shared to create leadership and hope, to see us through the week. (2nd Tuesday of the month)
Write On! Showcase – This creative writing showcase includes poetry, short stories, flash fiction and book extracts. Although most will reflect the seasonal theme, some work, such as memoirs or book extracts, offer a non-themed perspectives also. (Weekly)
Thursday Connectors – Everyone and everywhere has different experiences and different ways of dealing with these strange times. This internationally-flavoured page is all about people and their experiences, connecting us with ideas and ideals, reaching out from east London to encompass the UK and the world at large. (3rd Thursday of the month)
Write On! Features – Essays, opinions and features. In Write On! Extra, we focus on topics relevant to publishing and writing arenas, but also include wider content to encompass thinking and ideas relevant to our times. (Weekly)
Saturday Spotlight – Spotlight offers a round-up of indie, traditional and small press releases, bringing readers an overview of what can be found on digital and physical shelves. (Monthly)
Write On! Interviews – This Sunday profile opportunity features writers, publishers, editors, agents and other creatives, along with individuals from diverse communities in a number of different occupations. (Weekly)
Write On! Audio – Out every Tuesday, our podcast 'For Writers Everywhere' connects emerging and established writers to each other and the industry. There is an opportunity to submit to our Listener Contribution Slot, as well as record your creative work and any tips and feature ideas you might have. See our pilot episode for tips on 'how to'. (Weekly)
Please do continue to submit your work. Our aim remains the same: bringing people together to share their experience, strength and hope, as well as having a bit of a laugh!
How To Submit:
Season Theme from October: Home – Think about what home means to you? A house or room, a conversation, a landscape, an oral tradition, a song, a belief, a recipe a memory a person, a country? What's it like to be homeless… is it physical or mental – can it be both? 
(Starting from January '23 our theme will be:  Contradictions: Everything Has Two Sides – Beginnings and endings, love and hate, crime and punishment, truth and lies, procrastination – I can't write because I'm too busy… this theme is about exploring the world from all angles.)
Creative prose submissions should be between 800 and 1000 words and, if possible, fit the seasonal theme.
Poetry can be as short as necessary, but no longer than 1000 words.
Features can be longer, up to 2000 words, but preferably between 1000-1500. It's best to send your feature/essay ideas through initially, so we can finalise the topic together.
Write On! Audio Listener Contribution Slot. See our pilot episode for tips on 'how to'. Listener Contributions should not be longer than six minutes and should include a brief introduction to you.
Any contributions should include an image of the writer and any copyright-free images you would like us to use (adhering to our submission guidelines) that illustrate your work. For any images/ video content that include you, or  someone identifiable, we will need a permissions form. This will be sent to you. Write On! Extra is also happy to accept video or audio content. Please include contact details and any relevant social media IDs, such as Twitter or Facebook. Submit via our Submit To Write On! page.  Further guidance can be found on the themed pages. All submissions are subject to  Pen to Print terms and conditions and can also be held in reserve until such time as publication opportunities arise, which may well be several months after the initial submission. Please note all submissions are subject to editing, at the Editor's discretion.
(SUBMISSION DEADLINES – Please feel free to submit to the overarching theme.)
We invite local people get in touch, as well as those who have something to say from further afield. We also welcome partnership discussions with organisations wishing to contribute, so the voices of their beneficiaries and teams can be heard. Details will be published on pentoprint.org.
Our culture is shifting – therefore, the worlds we create don't  just serve us, but serve to inspire others as well. Make a difference to your community from your own four walls and get creating and writing!
Disclaimer:
The views and opinions expressed in individual articles are those of the authors and do not necessarily reflect the official policy or position of Write On! or Pen to Print. While every effort has been made to ensure the accuracy of the information supplied, Write On! Extra cannot be held responsible for any errors or omissions, or for the consequences of error, or for any loss or damage suffered by users of any of the information published on any of these pages. All facts and dates are correct at the time of publication.
We're delighted to be sharing some wonderful work around 'Home' This season's theme is shared through the online Write On! Extra pages and the Write On! Audio podcast.