Leading writers who have featured at previous ReadFest include:
Martina Cole | Lemn Sissay | Ben Aaronovitch | Jaspreet Kaur | Dina Begum | Simon Toyne | Patrice Lawrence | Simon Brett | Sarah Ward
Dr Janina Ramirez | Laura Barnett | Catriona Ward | Jane Corry | Dreda Say Mitchell | Kimberley Chambers | David Neita | Miranda Kaufman
Ayisha Malik | Christy Lefteri | Lavie Tidhar | Maggie Harris
and many, many more.
If you would like to take part in a future ReadFest contact the Pen to Print team, email pentoprint@lbbd.gov.uk to find out more.
You can also find details of all our Pen to Print online and live events, classes and workshops that run throughout the year at: pentoprint.org/events
Coming in September 2024
ReadFest aims to deliver a wide-ranging selection of local, national and internationally acclaimed writers especially selected to entertain and inform. Held in Barking and Dagenham Libraries each September and produced by Pen to Print, we have been celebrating readers, writers and books at ReadFest since 2011.  2024 will be our thirteenth festival!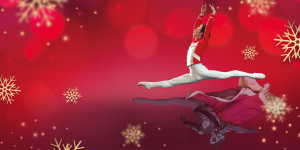 When: 23 September, 2.30pm to 5pm
Where: The Broadway Theatre, Barking
Full Price: £29.50  Concessions: £25.50
To Book Vist: thebroadwaybarking.com
Music by Pyotr I. Tchaikovsky
This charming and kind fairy tale is one of the jewels of Tchaikovsky's repertoire. Prepare to enter a magical new world – the nutcracker in this ballet may be a handsome prince in disguise.
The original Christmas story is based on The Nutcracker and the Mouse King written by E.T.A. Hoffmann. It tells the story of Marie, a sad little girl, whose godfather, Drosselmeier, gives her a Nutcracker doll as a present on Christmas Eve. In her lively imagination it turns into a prince and the magic starts…
A wonderful treat full of glitter for the whole family!
Tava O'Halloran Queen of Clubs Soundtrack featured at Digital ReadFest in 2020