As a… Writer: Claire Buss
From our 'As A…' series, Write On! interviews writer Claire Buss. 
Claire is an award-winning,  multi-genre author and poet. She wanted to be Lois Lane when she grew up but work experience at her local paper was eye-opening. Instead, Claire went on to work in a variety of admin roles for over a decade but never felt quite at home. An avid reader, baker and Pinterest addict, Claire won second place in the Barking and Dagenham Pen to Print writing competition in 2015 with her debut novel, The Gaia Effect, setting her writing career in motion. With 15 published titles so far and work printed in four anthologies, Claire continues to write passionately and is hopelessly addicted to cake. 
WO: How would you describe your writing/work to someone new to it? 
CB: My books are… all different lol. If you're looking for a hopeful representation of the dystopian future we are headed for then my Gaia books will give you a different perspective to the usual post-apocalyptic doom and gloom. Fans of humorous fantasy books like Terry Pratchett's Discworld will enjoy my Roshaven tales, guaranteed to make you chuckle. I explore many different themes and ideas in my short story and flash fiction collections, many of them with a wry look at the world around us. My poetry is very definitely mum-centric as I have two monsters to wrangle and they provide lots of inspiration. There's plenty for readers to dip into and see what they like.  
WO: Can you tell us a bit about your latest book?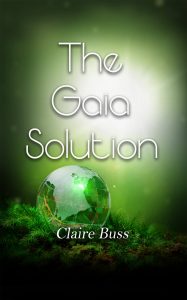 CB: I have two new books out at the moment. The Gaia Solution is book three in my hopeful dystopian trilogy and completes the story I began with Pen to Print in the Book Challenge back in 2015 with my debut novel, The Gaia Effect. The dystopian trilogy is set 200 years in the future after much of the planet and the human race have been decimated during The Event, when the world went to war with high-energy radiation weapons. In The Gaia Effect, Kira and Jed Jenkins – a young couple who were recently allocated a child – together with their closest friends, discover Corporation have been deliberately lying to them and forcing them to remain sterile. With help from Gaia, the spirit of the Earth, the group of friends begin to fight back against Corporation eventually winning and taking over the governance of City 42. 
In The Gaia Project, Corporation fight back under a new, more terrifying organization called New Corp and Kira, Jed and their friends end up fleeing for their lives trying to find a safe place to live. They travel to City 36 and City 9 in vain and must go further afield. 
In the final book, The Gaia Solution, the main characters have ended up with the Resistance and not only do they have to deal with surviving against New Corp but an extinction environmental event is looming on the horizon and they're running out of time to save what's left of the human race. 
My other new release is Little Book of Winter, #5 in the Little Book poetry series. A collection of twenty-five wintry poems to read at your leisure by the roaring fireplace, all tucked up under a blanket this winter.  
WO: What inspired you to write in the first place, and what inspires you now?
CB: I'm inspired by all sorts of things – books, art, films and tv shows. The random conversations I have with friends and other writers. I find inspiration can hit at the most unlikely moment so I have about 30 notes on my phone of random ideas that I want to come back to and explore further. I have always wanted to write and explore my imagination but until I joined the Pen to Print family, I never had the confidence to believe in my own ability. With every new project I face that doubt again but I think that's a natural writer process!  
WO: The current issue of Write On! explores the theme of "Roots on Routes", can you tell us a bit about your background as a writer and how you got published?  
CB: I used to write stories when I was little. I have a vivid memory of my parents laughing their heads off at a short story I wrote about Santa Claws, no idea why… lol. I then moved on to angsty poetry as a teenager before life got in the way and I forgot how to write. I had some harsh criticism from an English Literature teacher that dealt a heavy blow to my writing confidence. When I moved to London, about eleven years ago now, I started to blog and began to get positive comments from friends about how amusing my blogs were. My confidence was growing until I lost my job after management read an anonymous blog post about something that had happened at work. I had always been very careful never to share any personal information but needless to say, connections had been made and I was let go. That job loss, coupled with a devastating miscarriage, destroyed any writing confidence or indeed ability I thought I had. Fast forward a couple of years and I was walking past Barking Library with my little boy when I saw a poster for a Writers' Workshop. 
To this day I don't know where I got the confidence to email Lena at Pen to Print about the workshops but I am so glad I did. Initially they had no spaces so I was, of course, disappointed. However, a few days later I received an email to tell me they were running a second set of workshops due to high demand so that was it, I was enrolled. During the workshops with the fabulous Ian Ayris, the topic of a writing competition came up. Emboldened by the group I applied but being a new mum, I did not read the small print. I thought I had to submit 1 chapter, easy enough I thought so I went ahead. I was thrilled to be short listed and then horrified when I realised I had to submit the rest of the book in three months' time! Luckily for me, Ian was assigned to me as my Pen to Print mentor and I can honestly say I would never have got through the process without him. I came second in that competition, the first Book Challenge from Pen to Print, and I am so thankful.  
I did submit The Gaia Effect to over 50 agents and received several positive 'no thank-you's' as well as one request for manuscript. I decided I wanted to publish and move on to other projects so I travelled firmly down the self-publishing route and haven't looked back since.  
WO: What one piece of advice would you give an aspiring writer? 
CB: Never give up! Never surrender!  
WO: Can you tell us anything about future projects? 
CB: Little Book of Love, #6 in the Little Book series is coming out on 1st February so I'm looking forward to that. I have two potential WIPs (work-in-progress) hovering around at the moment. The Silk Thief is another Roshaven novel, from my humorous fantasy world OR I have an idea for a brand-new multi-book series about a young woman who is struggling to find a job when she lands a position at a peculiar temping agency. Peculiar meaning magic! The best thing to do would be to sign up for my newsletter so you know what's coming next.  
WO: Lastly, if you could choose one fictional animal/creature to be a pet or companion, who would it be and why? 
CB: I'd have a dragon because why wouldn't you?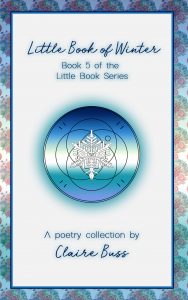 You can find out more about Claire at her website and connect with her on Facebook and Twitter. The Gaia Solution is available to buy here and Little Book of Winter here.  
To this day I don't know where I got the confidence to email Lena at Pen to Print about the writing workshops but I am so glad I did.