As an… Editor: Vicky Brewster
In this week's 'As a/n…' interview we talk to Vicky Brewster about her background and learn about her role as an editor.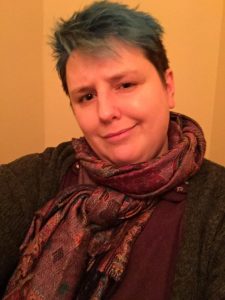 Vicky is a freelance editor living in South Wales. She works mostly on SFFH (science fiction, fantasy and horror) and other genre fiction, directly for authors and small presses. Her clients include best selling independent authors and Bath Prize nominees.  
Vicky has delivered writing and industry workshops at various conventions and retreats, including Bristolcon and Abergavenny Writing Festival. She also organises an annual writing retreat, The Writing Haunt, which takes place in various period manor houses around the country allowing authors to get a feel for living in a creepy old house with very little modernisation.  
In her spare time, Vicky is studying a PhD in English, with a research focus on hauntings in 21st century fiction. 
WO: What genre/s or type of editing do you specialise in? 
VB: I work on all sorts, but my preferred genres are sci-fi/fantasy/horror, long or short-form fiction. I'm hoping to be able to limit myself to these genres in the future. That's the plan! 
WO: What would a typical work day entail?  
VB: My normal schedule is to edit 15,000 words a day, and I tend to work to that and let the word count dictate how long my day is, but typically I'm an 8-4 person. The majority of my day is spent editing in my little office at home, though I do also take myself off to university (I'm studying a PhD in English at Swansea) or to my local cafe to work. Getting out and about is good for me, in that I'm moving more, and I'm cut off from the internet! Makes it much easier to focus.  
I have a lovely assistant who works an hour a day who manages most of my admin and also assists with the editing work so I can maximise the time I spend actually editing.  
I also attend conferences and conventions, run an annual writing retreat, and am setting up local creative writing classes so when these events get close I tend to spend a bit more of my day prepping for workshops or working out travel arrangements. 
WO: What inspired you to become an editor? 
VB: I've always written, and I've always loved stories. My dad read Lord of the Rings to me as a bedtime story when I was six. So writing and reading have always been very important in my life. I spent ten years training to be an accountant and working in finance before having a bit of a crisis of confidence two years ago. I thought very hard about whether I was doing what I wanted to be doing and decided that I needed to work on moving to a career that was more creative and involved books.  
I tried a few things, including book reviews and blogging, before finding that I was getting very good feedback on some free editing and beta reading I had carried out. I took some SFEP training and set up a website, expecting to maybe think about going part time at the day job in maybe six months, only to be overrun with editing work within a month. I tried to negotiate a part time contract with my day job, but they weren't willing to be flexible, so my husband encouraged me to take the plunge.  
Touch wood and whistle, I've not been out of work since, and have even got myself to a position where I'm working on more than just straight editing now. 
WO: Where does the majority of your work come from? Do you do anything else alongside being an editor?  
VB: The majority of my work comes through social media and word of mouth. I'm very active on Twitter and I tweet about more than just my work, so I like to think that people come to me because I'm genuine, as well as professional, and they can tell what sort of person they'll be working with. The relationship between an author and editor is so personal, so that's really important to me. I also get work through the Alliance of Independent Authors, with whom I am a partner member, through hits on my website, and with people I meet at conventions. Besides editing, I've run workshops and been on panels at cons — Bristolcon is a particular favourite of mine. I just ran my first writing retreat, The Writing Haunt, a residential retreat with full board and workshops in a not-very-renovated Tudor manor house. The feedback from that event has been so positive, I'm already planning the next one for February 2021, and hope to make it an annual event. I also organise and run live action roleplay (LARP) horror games with my husband as Blanco's Games. 
WO: The current issue of Write On! explores the theme of "Roots on Routes", can you tell us a bit about your background and how you became an editor? 
VB: As I said, stories have always been an important part of my life, both writing and reading them. I always did very well in English at school. I studied my BA in English with Creative Writing, and carried out some ghostwriting work after leaving uni when mental health problems made my office job impossible. Ghostwriting sort of taught me that, although I could make money that way, it wasn't something I wanted to do full time. And now, even though I'm working on a 100k word thesis for my dissertation, I'm much more of a reader than a writer. Going the academic route, rather than climbing the ranks of traditional publishing, I feel it's given me some really key skills as a close reader and critic, and an objectivity that I'm not sure you can possess when working in traditional publishing and having to keep your employer's needs first. This is part of why I love editing for independent authors: I liked to get the sense of what they're doing and push the work to be better. 
WO: What are the most frequent problems you see amongst submissions? 
VB: The most frequent problem is punctuating dialogue correctly! And it's a blinking fiddly one to fix. When editing, you can really see what people have been taught at school and what they haven't. As adults, writers really seem to keep drawing on what was taught at school, despite a school's priorities being to teach kids how to write essays. So there's very little attention paid to speech, and writers have hangovers of rules like not beginning sentences with conjunctions, that sort of thing. The sort of thing that isn't acceptable in an essay, but is absolutely fine in fiction. 
WO: Question from Twitter user: @FlippanceJ – How many semicolons are too many? (Asking for a friend). 
VB: My policy on semicolons is that they should be used sparingly and accurately, for examples, for separating items in lists that themselves have clauses or for rectifying a comma split. I know that some authors like to pepper them around quite liberally, but there are some punctuation marks that are slowly dying and I think it's right and proper that the semicolon is on its last legs! 
WO: Can you tell us something you would love to see [in terms of a manuscript]? 
VB: I would like to see more horror in general, and more queer horror in particular. My bookshelves are full of dark stories and it's always nice to edit something you love. 
WO: Lastly, if you could choose one fictional animal/creature to be a pet or companion, who would it be and why? 
 VB: The Silent Companions by Laura Purcell features a black cat called Jasper who, against all the odds for a horror book, makes it to the end and survives. That's the cat I want to keep with me!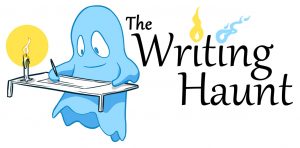 You can find out more about Vicky Brewster and the editing services she offers on her website: vickybrewstereditor.com or connect with her on Twitter: @VProofreader 
Information about 'The Writing Haunt 2021' can be found here: thewritinghaunt.com and on Twitter: @TheWritingHaunt 
Going the academic route, rather than climbing the ranks of traditional publishing, I feel it's given me some really key skills as a close reader and critic, and an objectivity that I'm not sure you can possess when working in traditional publishing and having to keep your employer's needs first.