Monday Memoirs: Then & Now
Introduced by Holly King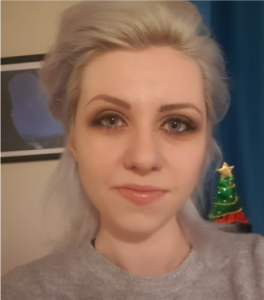 Happy Easter everyone! How have you adapted your traditional Easter weekend to fit in with our current situation? Usually, as fully grown children, we would all gather back at my parents' for Easter Sunday. Our mum would cook us a load of food, give us Easter presents, my niece and nephew would go on an Easter egg hunt, and we'd spend the day together. Obviously that wasn't something we could do this year, so my mum dropped off the basket of eggs to my brother's doorstep and we watched a video of them hunting instead. As for us grown children, we made do with our own food (ranging from a slow-cooked lamb shank to a frozen pizza), hopped onto Zoom and had a family quiz. We each made up ten questions to ask everyone else, and then reminisced about Easters we had as kids. It wasn't the same, but we still had fun, and the weather held pretty nicely for the most of it, which helps.
And I find that reminiscing is always something families end up doing. Parents tell stories of what we got up to when we were children, we remember the things we had (anyone remember the Harry Potter-themed Easter eggs?), the activities we did together; and it all informs who we are now, what we do and where we're going.
This leads us nicely into this week's theme of Then and Now. How are we going to describe this situation to our grandchildren when it is all over? What are core lessons of our past that we can turn into values? We've got another week of fantastic contributions that are insightful, inspiring and heart-warming while we're all staying safe indoors.
Barbara Nadel, who you may recognise from the cover of our first issue of Write On! magazine, writes this week about self-made 'plotland cottages' in east London in the 1960's and 70's. Being confined to a much more local area than any of us are used to today, she takes greater notice of her surroundings and sees how the history of the East Enders is still standing with their infamous plotland cottages today.
This submission shows just how ingrained history is in our present, how we build on it to constantly reshape and inform our outlook and how we then move into the future. Taking the time to slow down and really integrate with our surroundings doesn't just provide a great learning opportunity, but also offers a way to connect with your local community. It helps us understand how the generations before us have left their mark, and how we can leave ours for future generations to benefit from.
The Psychology Of Outhouses
by Barbara Nadel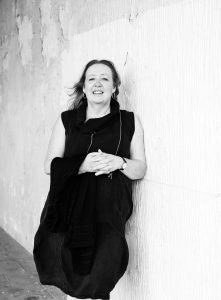 When I grow up, I'd like to be journalist, film-maker and architectural historian, Jonathan Meades. This is not just because I enjoy tramping about in long black overcoats, or even because my hair, like his, won't do as it's told. No, it's because I, too, am endlessly fascinated by the built environment; my specific area of interest being sheds, extensions and outhouses. 
Although I live outside London these days, in somewhere my late father would have called 'the sticks', I was born and brought up in east London. Back in the 1960s when I was a kid, the East End was a very different place from the 'hip' destination parts of it have become today. Most people, like my family, were poor. They lived in either privately rented or council accommodation and if they did own their own houses, they rarely had the means to maintain them to anything like a high standard. They certainly couldn't consider modern, space-creating solutions like architecturally-designed extensions or posh conservatories. An 'Orangery' was something that belonged in a stately home. 
Extra space was still required from time to time, though, so people built things themselves. Sheds from bits of wood found on old bomb sites and down the tip, lean-tos made from corrugated plastic or asbestos and weird brick-built additions constructed by well-meaning mates from down the pub. Some of my ancient great-uncles also had walls of rabbit hutches where they'd keep bunnies that were later killed and used in stews. Our own yard did, of course, have an outside toilet (a scary place for a young child and not somewhere for arachnophobes) as well as the remnants of an old Anderson Air-Raid shelter from World War II. The father of a friend of mine had a chicken coop and a collapsing garage in their yard. With no real gardens to play in, these structures were used as entertainment for us kids. We would also explore any other strange buildings we might find on our sojourns out to play in the street. Disused railway buildings, derelict houses, abandoned sheds – anything was fair game. That was then, but I still love a good outbuilding… 
Due to lock-down because of Covid-19, I have found myself pretty much trapped in my house, along with my husband, two cats and one axolotl. I am usually a social creature but, despite current restrictions, consider myself lucky as both my other half and myself are still working. I go out whenever I can, which means that my daily dose of walking exercise has become very important to me. And because I live by a river, much walking is done along the towpath, where I may see swans and all sorts of water birds doing their fun spring things, while I just wish I could do mine. However, in the last few days, I've been walking in the more   built-up areas of my suburban home. 
I live in a part of Essex that, just after World War II, was part of the 'Plotlands' phenomenon. In those days, post-war East Enders (mainly) could buy a plot of land in Essex for next to nothing and, if they wanted to, build some sort of structure on it. Thousands took this route out of 'the slums' (not my family) and created often very quirky little cottages with names like 'Restawhile' and 'River View'. Some had electricity and running water; most didn't. But whether the plotland cottage owners lived in them full-time or not, they looked upon these places, whatever their drawbacks, with great affection. Later superseded by 'new towns' in the county like Basildon and Harlow, the plotlands cottages began to gradually disappear at the end of the 1950s. However, as I am discovering on my enforced route-marches around my local area, they do still exist, in one form or another. 
Round here, most of the housing was built in the 1960s, 70s and 80s with some more modern, mainly mega-mansions, built in recent years. However, because this is actually an ancient settlement, there are also buildings that date from as far back as the 1600s. And then there are the plotlands cottages.   
Until two years ago, what I thought was the last example of a plotlands cottage, on our main through-road, was torn down to make way for modern flats. It had been a strange little structure, characterised by lots of ad-hoc extensions and sagging outhouses. I loved it and was sad to see it go. What I hadn't realised at the time was that its demise was not the last we would see of the plotlands cottages in these parts. In fact, they are everywhere. Usually manifesting as bunglows, they are often very smart with in-and-out driveways and very chi-chi front doors. But there's always a giveaway, even if it's only that they are built on very large pieces of land. They may also have a strange, saggy garage to one side, a wooden veranda round the back, tell-tale crumbling chimney pots and even the odd Crittall (steel-framed) window. Chances are these places are as big as they are by virtue of many, many extensions, incorporation of sheds and corridors built out to bottom-of-the-garden toilets. 
The more I've looked, the more I've discovered. Plotlands cottages, thinly disguised in funky shades of grey, lovingly accessorised by 'Victorian' conservatories, wearing new doors, windows and whole rooms complete with wooden blinds and laminate flooring. Places where once the owners brought water from a well, new residents now go to Waitrose to buy bottled water and quail's eggs. They dream about putting an Orangery on the back of what was once 'Stay-a-While'. Because one thing I learnt from my shonky structures-encrusted youth and which the plotlands cottages demonstrate so well, is that East Enders have to build out. 
Whether it be a fully planned extension, a lean-to, a stable, a summer house, shed or even just a heap of boxes, we always exceed our space and we always build out and customise. Only this morning, I found a house that was half 1970s minimalist and half Tudor mansion. Excellent work. My own house, built in the 1960s, has three extensions and, once this Covid-19 thing is over, we are going to add a conservatory and a shed which will be linked, so that the cats can get in and out freely. I intend to write in the shed, which will free up what is now my office for either another spare bedroom or space for more books, comics, cuddly flamingos and tacky religious statuary. Just thinking about it makes my heart sing. 
So why do we do it? Building out, whether you do it yourself or get someone else to do it, involves a lot of work and considerable mess. I think that this is probably something about being as big as you can in the world. Placing your large footprint down and saying, 'This is mine, this is what I did.' Most East Enders come from a background of poverty and so, when we get something we like, we want to make sure everyone knows it is ours – even if that thing is just a scrappy old lean-to. For myself, outbuildings have always provided fodder for the stories I've written in my head, if not on paper. When I was really, really little, I used to make mud pies to put at the bottom of the yard for the witches I knew lived among all the old rubbish piled up down there. I remember being enchanted by my great-uncle Harry's plastic lean-to, which, to me, seemed impossibly South-of-France exotic. East Enders need outhouses to dream… 
So next time you see some shonky old shed or load of apparently meaningless boxes on the corner of an alleyway, don't pass by. Look at it, get inside if you want to and let your imagination take you wherever. These places are important; these places, via our imaginations, are, at this time of lockdown particularly, portals into other places. 
 Barbara's final volume in her Ten Bells East End saga is set in the Essex Plotlands, written under the name Mary Collins, and is called Victory On Ten Bells Street. It will be published on 3rd September 2020. You can connect with her on twitter at @barbaranadel 
 It's No Yolk
This week's comic-strip is all about eggs (how many did you have this weekend?), and how natural storytelling is, from one generation to the next (this time, by Wallis' nan).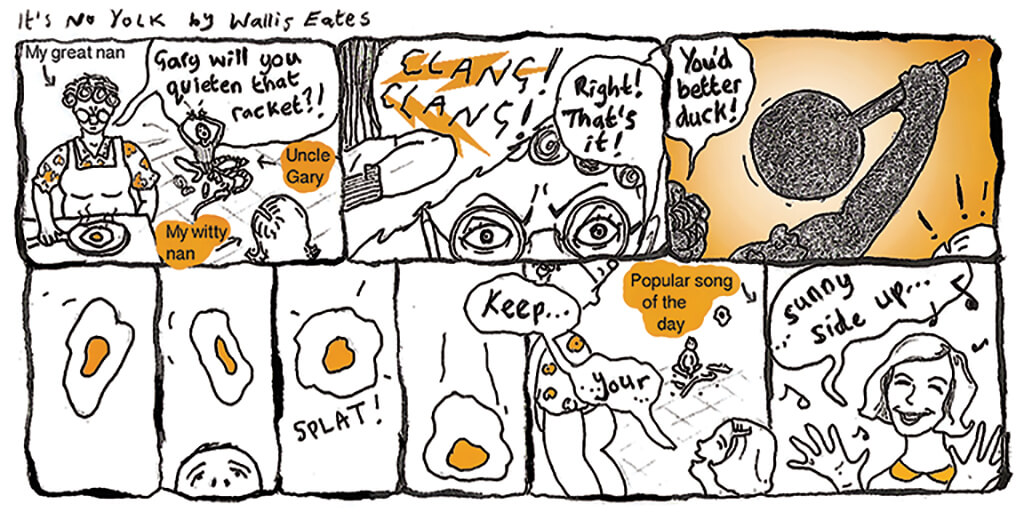 Visit Wallis's online shop –  www.etsy.com/uk/shop/WallisEates  
She is also involved in several initiatives: 
Like An Orange  – a graphic novel about brain injury and creativity funded by the Arts Council National Lottery Fund, due to be published by Unbound Books. For more info and to  pre-order,  please visit: www.unbound.com/books/like-an-orange 
Wings  – a visual storybook from prison. Coming soon. Please get in touch for more information. In the meantime, you can visit here:  https://www.kickstarter.com/projects/littlemule/wings-a-make100-visual-storybook-from-prison 
Wallis is also the London co-ordinator  of  Laydeez Do Comic –  https://laydeezdocomics.wordpress.com/  Connect with them on Twitter  @laydeezdocomics 
Whether it be a fully planned extension, a lean-to, a stable, a summer house, shed or even just a heap of boxes, we always exceed our space and we always build out and customise. Only this morning I found a house that was half 1970s minimalist and half Tudor mansion.