Monday Moments: International Women's Day
Introduced By Holly King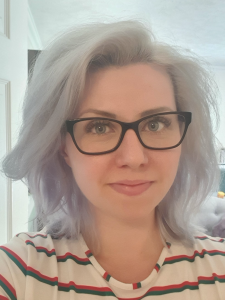 Sometimes I don't write a long introduction because my features have written everything my page needs. March celebrates International Women's Day and, in today's first written feature, Sylvia Kent tells us about its history. The second feature, sees Juneha Chowdhury giving us a creative insight into what it is to be a woman, including a poem. And finally, Kate Thompson teaches us about some important, but unread stories to celebrate Women's History Month.
First, though, I hope you enjoy local artist Susanna Wallis' procession banner: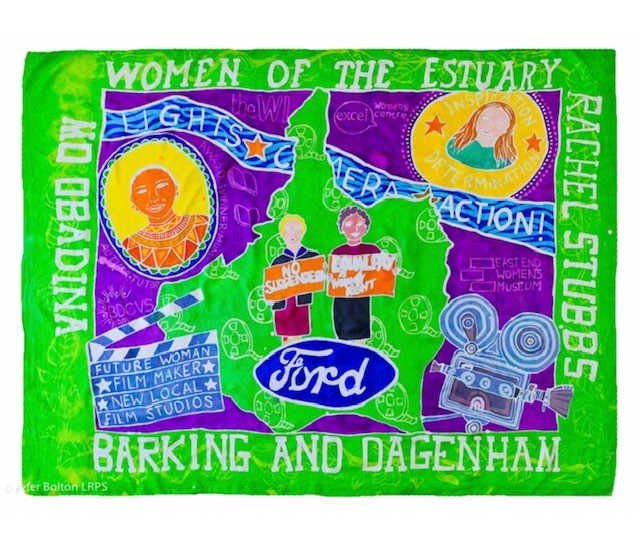 Connect with Susanna on Instagram:@susannawallis
*****
With Women In Mind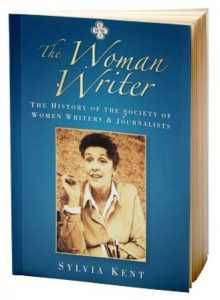 On Monday 8 March 2021, thousands of women in countries across the globe will commemorate International Women's Day (IWD) in numerous ways, including lunches, festivals and seminars. For 112 years, since the women's labour movement started in America in 1909, IWD has been considered by many to be a red-letter spot on the calendar, for remembrance and celebration. The origin and significance of this important date is still linked to the American female labour movement, which coincided with the push towards women's suffrage that was, at the time, gaining importance across Europe.
The IWD movement started in February 1909, when around two thousand people gathered in New York's Manhattan. Many American women activists became well known in those early days. Among them, Meta Lilienthal Stern recalled in an essay: The very first observation of our National Women's Day proved so successful that thereafter it became generally accepted as an annual Socialist holiday."Along with May Day, she explained this holiday stood for: New hopes and new ideals; the abolition of wage and sex slavery; the coming of a freer, better and happier manhood and womanhood.
In preparation for this year's IWD celebrations, their website states: A challenged world is an alert world and from challenge comes change. So, let's all choose to challenge. How will you help forge a gender-equal world? Celebrate women's achievement. Raise awareness against bias. Take action for equality.
The Society Of Women Writers And Journalists
Although great changes linked to the rights of working women were taking place around the world, the pace in Victorian England seems to have been much slower. The London newspaper industry was thriving among the bustling Fleet Street cobbles of the 1880s. Much has been written about this most famous of London thoroughfares: lit at dusk by gas lamps, workers dodging hurrying horse-drawn hansom cabs, and the inevitable smell of printers' ink amid the incessant thrumming from the huge hot metal typesetting machines – standard technology of the day for mass-market printing. These machines lurked in the basements, churning out hundreds of 'dailies', books and magazines, created predominantly by male journalists.
Over past centuries, there had existed many talented female writers, but rarely did women acquire the opportunity of seeing their work on the page and performed on stage. Although Britain had been ruled by a queen for 64 years, the status of women writers at the end of her reign was abysmal. Many females whose written work was enjoyed by all social classes had to fight hard for their work to be published and often resorted to male pseudonyms.
However, during Victoria's last decade, a wealthy influential newspaper proprietor and editor came on the scene. Joseph Snell-Wood was the editor of The Daily Graphic and Bystander and Queen Victoria's favourite best-selling weekly journal, The Gentlewoman. Entrepreneurial skills seem to have been inherently part of this 41-year-old publishing magnate's character. His organising ability was illustrious. He was well-known in royal circles and had been responsible for creating a charity which raised over ten thousand pounds for the Chelsea Hospital from the Chelsea Arts Ball, held annually thereafter at the Royal Albert Hall until the 1950s. As an employer of several women on his newspaper, Joseph understood their dilemma and promised to help.
On 1 May 1894, Joseph created The Society Of Women Journalists, pledging to launch and fund a specialised organisation purely for women; paying initial set-up costs, providing advice and helping with contacts and introductions. Immediately, over two hundred women applied to become members, mostly journalists, but later joined by novelists, poets, playwrights and females working in many areas of publishing. In 1951, Joseph's Victorian brainchild was renamed The Society Of Women Writers And Journalists (SWWJ). By then, its reputation had spread and it was  welcoming members from many nations around the world.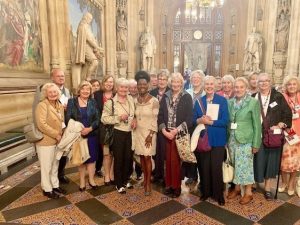 SWWJ pioneers have included luminaries such as Lady Sarah Wilson, Lady Violet Astor, Dame Rebecca West, Radclyffe Hall, Dr Marie Stopes, Vera Brittain, Lady Longford, Baroness Williams and in later years, Dame Jacqueline Wilson, Martina Cole, Baroness Howard, Joyce Grenfell OBE and a host of other well-known writers including Victoria Wood CBE and Floella, Baroness Benjamin, DBE DL – our current President.
In 2019, our SWWJ members celebrated their 125th anniversary lunch at Stationers' Hall, the place where, despite Hitler's Blitz bombardment in 1940, members continued their meetings. Nowadays, in the midst of this pandemic, we keep in touch via our website, where we regularly enjoy uplifting zoom interviews and webinars by well-known writers and entertainers.
© Sylvia Kent, 2021
To learn more about joining SWWJ, please contact us at www.swwj.co.uk where a warm welcome awaits both professional and aspiring writers.
*****
Reflections…
I still remember the days when, as young girls we used to wonder how our "Rule with an iron rod" female Headteacher had come to lead in an all-girls school. With the usual defiance for authority and loathing for anyone who enforced strict codes of behaviour, we questioned how it was  possible for a woman so fierce to be allowed out to play let alone allowed out to rule. Surely, to be an example for girls to follow, you have to actually embody those distinctly female, all-tolerant, all-passive qualities you hope to instil in your pupils? Of course not. But we were born from a conditioning that insisted women were better suited to less domineering roles, and our minds inclined towards the same thinking We expected the female professionals around us to conduct themselves in certain ways, and tough and ruthless wasn't one of them. God forbid if they were ever to go against the grain, and cast themselves outside their conventional roles, as ironically, it would usually be an army of women leading the march to crush their spirit.
Fast forward 30 years, and I'm very pleased to say that the definition of what it means to be a woman has changed a great deal, and so have the limitless dreams and expectations of women. Don't get me wrong – it's still far from being an ideal women's world, and gender equality in all walks of life has miles still to travel, but we have come a long way, nonetheless.
Now, more and more women are doing it for themselves, being recognised for their achievements, and excelling in all areas they dare to enter. From multi-millionaire businesswomen to world-renowned scientists, to senior politicians, including the newly elected first female Vice- President, female inspiration is not the rare gem it used to be. Gone are the days when the pressure for women to stay at home and permanently stall their careers was the norm; now, plenty of women are successfully juggling work and family life without compromising either.
This only goes to prove how perspectives do change, and that pushing boundaries and smashing glass ceilings today can and will work towards broadening minds, creating opportunities, and changing lives tomorrow.
In the world of instant coffee, instant TV and instant success, it's only natural we want instant results. But not all change comes instantly, and indeed, like many good things, it is destined for those who wait.
Here's a poem to celebrate all the different roles we play in society and the beauty that is a woman:
A Woman
He tells me to pick a word.
A word that best defines me. 'Who are you? One word,' he says.
I struggle.
He rolls his eyes.
I am lost.
He looks surprised.
'How hard is it to pick out one word?' he says, 'Out of a list of so many?
One word must ring true to you.'
I nod.
He is encouraged, but he doesn't have a clue.
I stand up and put a word on the board.
'Finally' he says, 'One word!'
'I haven't finished,' I say, handing him another and then another.
'One word doesn't even begin to cover it.
You asked me who I am. I am a woman and a woman is always more than one thing.'
I'm the nurse.
I'm the counsellor.
I'm the teacher.
I'm the judge.
I'm the jury.
I'm the love, with all the fury.
I'm the giver
I'm the fighter.
I'm the believer.
The risk- taker.
I'm the enemy. Yet I'm your friend.
I'm the beginning with no end.
I'm the failure that yields success.
I'm the bow with many strings.
Cos a woman can never be just one thing.
© Juneha Chowdhury, 2021
Connect with Juneha at her website https://junehachowdhury.com/
*****
The Real Blitz Spirit
This feels like an auspicious month to discuss the legendary women of the Blitz. May 2021 marks the 80th anniversary of the end of the Blitz, possibly the last significant anniversary in which survivors are around to tell their stories.
The Blitz began on 7 September 1940. Black Saturday, as it was later known, marked the beginning of eight months of nightly bombardment. Over the following months, more than 43,000 civilians were killed and British citizens saw their streets transformed from a home front to a battlefront.
It's very hard to sum up how women confronted the challenge, as there are vast polarities in experience. The so-called 'Myth of the Blitz' would have everyone digging out bodies from bombsites before cheerfully setting off for work. There were women who tackled that eight-month period with extreme bravery, but many women were not afraid to admit they were terrified. Emily from Bethnal Green says the sickening drone of the bombers arriving made a noise that sounded as though they were saying: "For you, for you". Her family refused to go to a shelter, so she hid under the kitchen table, and, even in her 90s, one sensed she was still traumatised. "I can still feel the heart-gripping fear, Kate," she confessed to me.
But one story which seems to typify the most common emotion – raw, unadulterated anger – was told to me by Gladys. As a child, Gladys' mother Mary refused to shelter underground. "If it's going to get you, it'll get you," was the matter-of-fact mantra she lived by. When the bombers got too close for comfort, Gladys and her siblings hid under the bed.
Each morning, the women and kids of her neighbourhood would be sweeping up glass, arranging debris into piles, attempting to create order out of chaos. For mothers like Mary, it wasn't just a case of keeping her kids alive night after night; it was also the daily grind of trying to find running water to boil for a cup of tea, or juggling rations to stretch to feed many hungry mouths.
Eight days after the Blitz broke out (15 September), the fear, deprivation and danger swirled together to boiling point. A shriek tore across the flats: "There's a Jerry coming down!" shouted a boy in the courtyard. A figure suspended from a parachute drifted down. The air suddenly became electric, as doors along the balcony flew open. Women in wrap-around aprons and headscarves started to trickle out, and Gladys watched in fascination as an angry lynch mob of housewives formed in front of her eyes.
"Let's get him," one muttered darkly, her knuckles turning white as she gripped her broom handle. "What we are waiting for?" asked another. Running inside her flat, she grabbed a coal shovel.
There was a small stampede as the women of the neighbourhood ran in the direction of the pilot, armed with brooms, shovels, brushes and sticks. Individually, these women were tough. Together, they were terrifying. Gladys shuddered to think what would happen when they caught up with the pilot. One woman reached him first and, with an angry cry, "That's for my boy at Dunkirk!" smacked him hard with her coal shovel.
Oberleutenant Robert Zehbe was already badly wounded when he parachuted down. He struggled to his feet and tried to run, but his harness was too much for him and the lynch mob laid into him, months of anger, grief and fear coalescing into a burning ball of hate.
Eventually, an Army lorry drew up and half a dozen soldiers forced their way through the crowd. They rescued the German airman and took him under armed guard to a nearby hospital, but he died the following day.
Gladys' memories paint a visceral picture of wartime women's anger reaching boiling point. We may not agree with the lynching of a German pilot, but these authentic stories take the true temperature of the times, revealing what happens when frustration and fear spill on to the streets.
Stories such as these don't often get told, because they don't fit with the accepted narrative of women as homemakers, but they are worth telling. There are hundreds more stories of women reacting with humour, compassion, stoicism and rage, so let's start telling them, while there are still women around who can remember them. Because, as 92-year-old Eileen from Stratford says: "I might have snow on the roof, but I'm not old, and I've got stories to tell."
©Kate Thompson, 2021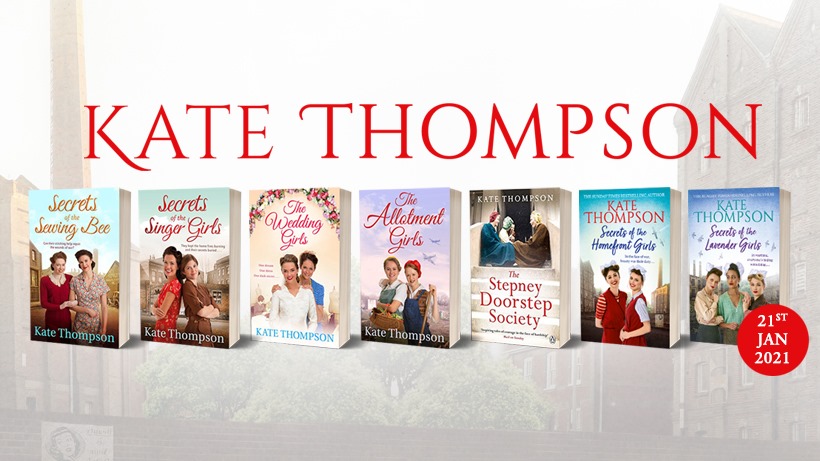 Connect with Kate at her website: www.katethompsonmedia.co.uk, on Facebook: www.facebook.com/KateThompsonAuthor/, on Instagram: kate.thompson1974, on Twitter: @katethompson380
*****
Don't forget issue 7 of Write On! magazine is out. Read it online here.
If you'd like to see your writing appear in the Write On! 'Showcase', please send your short stories, poetry or novel extracts to: pentoprint@lbbd.gov.uk.
For 112 years, since the women's labour movement started in America in 1909, IWD has been considered by many to be a red-letter spot on the calendar, for remembrance and celebration.