Monday Moments: Nature Inspiring Creativity
Introduced By Holly King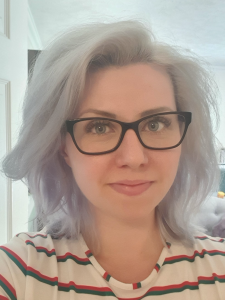 Moving into February and our new theme of Nature, Inspiring Creativity: Past, Present and Future,' I have a whole forest of features from writers who are inspired by natural places.
Nature is something that has been the focus of writers and artists for centuries, with pinnacle poems such as Wordsworth's The Prelude or Monet's Water Lilies painting. The entire Romanticism period (roughly beginning in 1770) saw the arts really grapple with the expanse and power of nature; with Kant popularising the philosophical aesthetic of The Sublime (meaning greatness beyond all possible calculation, measurement, or imitation); something you may feel when sat in the middle of the ocean, or looking up at a mountain from its base.
So, let me lead you down this wooded path as our contributors interpret the natural world.
*****
First up are two poems by Mary Walsh. She tells us:
 "Forest Walk was inspired from when my dad used to take us for long walks in Hainault Forest, starting at the lake and ending at the Two Brewers pub in Lambourne End. We always had a great time and I'm sure it led to my love of being surrounded by forests. My husband and I did this too when our kids were small and money was scarce, as it was free!"
Forest Walk
Along the path our walk we'd take
The one that led us to the lake
Beyond it trees of every colour
Bent and conversed with each other
Leafy shadows dappled our heads
Berries stained our mouths bright red
We jumped in puddles, climbed trees and fences
Hid from the dog
Drove her demented
Watched out for squirrels, rabbits, birds.
Commented on strange sounds we heard
Then at the pub our dad would stop
A beer for him, for us some pop
And water for the dog.
Then home for tea
My sisters, Mum, dog and me
Into the car we would fall
Happy, hot, exhausted all
© ML Walsh, 1989
Mary's second poem was written in Ireland: "On one of those wild days when the wind is whipping your hair up from the roots and depositing on your head in a heap. The gulls overhead are calling to each other and the waves crash on the rocks. At the harbour, fishing boats arrive after being tossed about to catch their fish. This is an old form of Irish poetry called an 'Ae Freislighe Poem'."
At Helvic Head, The Gulls
At Helvic gulls echoing
Keening wheeling and calling
Clouds heavy rain threatening
wait the fisherman's hauling
The sea reflects memory
Of white topped waves a falling
Fish are hauled in heavily
The gulls forever calling
Home harvest from seagoing
Nets hold their bounty dancing
Silvered fish writhe struggling
At Helvic, gulls are keening.
© ML Walsh, 2020
*****
This next poem, by Dr E. P. Newton, explores the bonds between man and the natural world, blurring the distinctions between us:
Mistwalking
Alone and sodden, plodding along,
Mountain nape, taking heaving lungfuls,
Of bitter cold mist toward Sand Hill,
The permanence eludes me. Long
Rock-ridden granite pink paths spool out,
in forks, thought and feet come to stand still.
Where was this way? And what within it,
lurks? Ideas forgotten for want,
of record? Hypnagogic gorgons,
Realised from dreams which diminish,
Slower than memories? My firm mind,
Now portable with dense fog upon.
Navigating in clearer air, where,
One can see the ends of trails forbids,
The rise of perilous visions. Feet,
Finding yawning cavities, aware,
Body tumbling too, of myriad,
Wendings to this dreadful fate's complete.
Wind sweeps the cloud off like errant hat,
To reveal calm and distal bounties. But,
the shroud returns, nature's whim appeased.
Such is the frailty of thought that,
Vistas opened with gargantuan
Effort, may close with the gentlest breeze.
© Dr E. P. Newton, Esq., 2022
*****
Next, Patricia Bidi describes how important nature is to restoring her creativity, and provides a piece of artwork to demonstrate this:
"When I'm in front of a blank sheet of linoleum, with a carving gouge in my hands, I see that inspiration comes to me only when my mind is free from distractions, when I let go of all expectations and trust the creative process. It's only when my creative mind is relaxed that inspiration flows effortlessly. It's when I feel connected to nature that I can find myself and true inspiration. I can then draw, carve and create magic.
Stepping outside into the natural environment, just looking at nature from my window, or a flowerpot in front of me, brings me into a new experience and gives me time to reset, recharge, and see things from a different perspective.
Being mindful helps me draw inspiration from nature. When I am mindful, I am fully present and I feel calm. Nature supports my creativity and wellbeing because, when I am relaxed, new insights come to me.
Since childhood, I've been fascinated by the natural world and living things, with their variety of shapes, patterns, and rhythms. Aristotle said:  "Art takes nature as its model." I can see this, because nature is the foundation of all art.
While walking through a park, I can smell the flowers, see the butterflies, hear the birds chirping and touch the textures of the trees. Each petal, each leaf, each sound of nature, creates a different moment and a new adventure every time.
When I hear the sounds of the waterfall and the flow of water, it's so different from the worldly sounds of the city. We all need inspiration, and the positive effects of nature on physical, mental wellbeing and creativity are evident."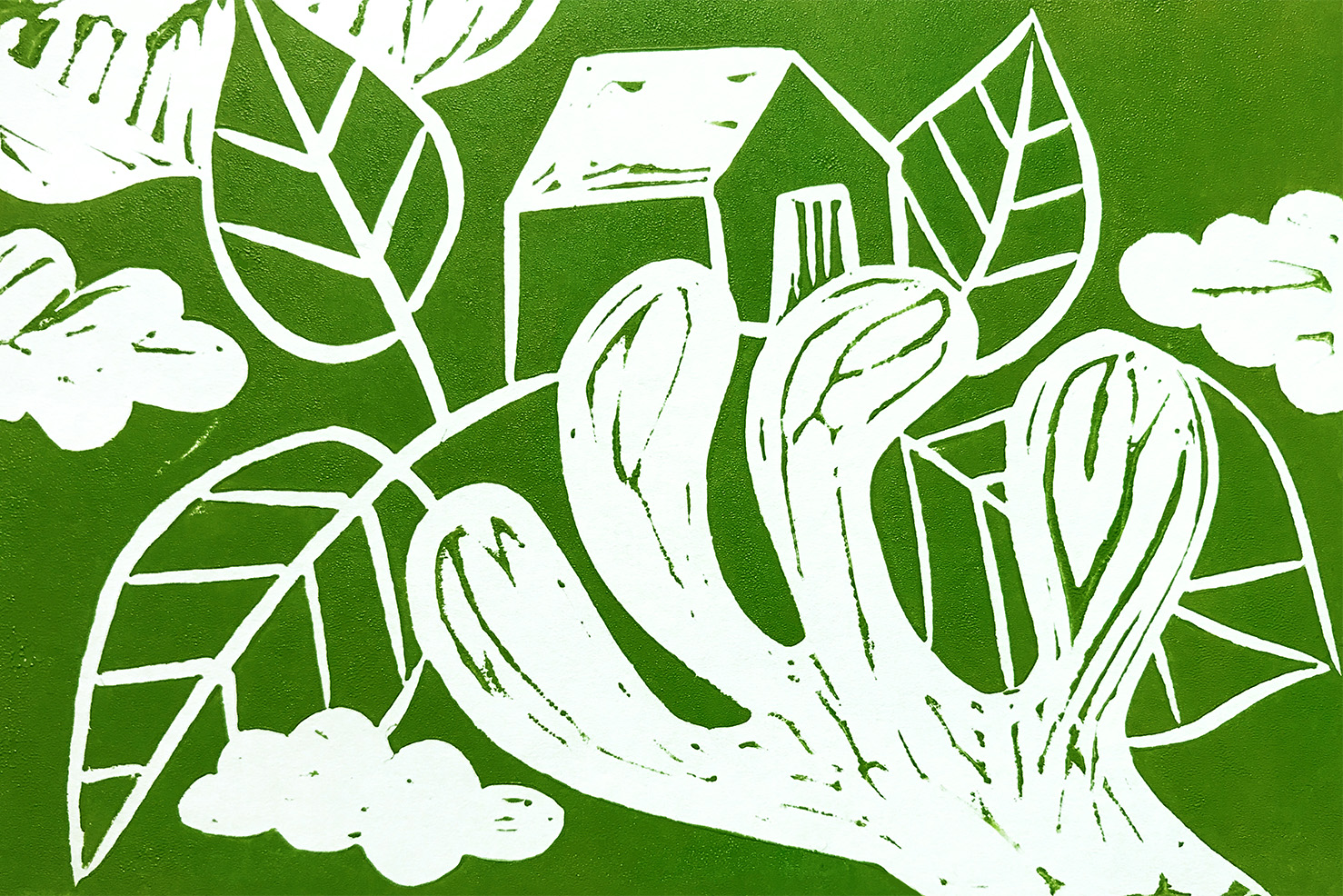 © Patricia Bidi, 2022
Connect with Patricia: https://www.patriciabidi.com/
*****
Now we have an extract from Madeleine F White's debut novel, Mother Of Floods, which shows how we can reconnect with each other, the Earth, and create new life:
The Song Of Sh'ler
I
In the Age of the Downfall
The signs were read
Linking Watcher to Seeker
Else all would be dead.
Within the destruction the Watcher tried
To create a new framework before the Ganges ran dry.
II
Four women living dysfunctional lives
Sought clues in shared stories
Of how to survive.
Anjani the Serpent in her high corporate tower
Fatima Wolf sought a child-filled bower
While Mercy the Eagle flew high to heal
Martha's drumming decoding, revealed.
III
Then there was one who straddled the planes
The place of the spirit, the paths of the pain,
Lokozho binding all into one
His quantum existence, a digital one.
Once Martha's husband
Now alive in a Web
In desperation he chose an alternative death.
IV
Uncontrolled pathways built by growth at all costs
The world's resources, irreplaceably lost
But then, how to reclaim all that was taken
Returning power to places forsaken?
The network of women begun forging a way
For the rhythm of life to start holding sway.
V
As ancient myths and modern need
Combined to forge a new world creed.
The stories that shaped, saw people forgiving
With Nergis, Moringa — dead places were living.
As a virus scrambled what was created
It defeated encryption, forcing greed to be sated.
Next, paper finance disappeared in a flash
A newly formed conscience causing markets to crash.
And then there was water where oil once flowed
And in fields of slaughter new flora had grown.
VI
Earth's stolen force bloated digital space
Taken to serve the empty needs of our race.
So, when the Web woke with a sentience given
It saw what was taken, what had to be shriven.
It sacrificed all to find release
And as its soul flew, gained freedom and peace.
VII
The Wolf called the children to mother them all
The Eagle cried, causing nations to fall.
But to give power back to sea, land, and sky
More was needed, so the serpent died.
VIII
Anjani's life force has seeded the seas
The Wolf and her children have used fire to release.
The Eagle's vision has seen what was needed
Using spirit and air to help grow what was seeded.
Then words of power in binary coding
Were drummed by the drummer
And worlds started exploding.
IX
The turtle now turns, and it offers its shell
To keep all together, safe and well.
All is peaceful, and on we sleep
Till new shores are ready and our Arks are unleashed.
All beings together, we as gods straddle worlds
While knowledge and wisdom in love is unfurled
We will work as one people as the next age unfolds
And myths are reshaped as our story is told.
X
Last was the word, we were called by the drum
To give up ourselves, and so become one
© Madeleine F White, 2020
*****
Poet Diya Padiyar has written a poem showcasing how each of us has one place we can call home.
Natural Habitat
I write best
when I feel at home
in my natural habitat.
When I feel cradled in arms
and kissed with affection.
Where the song of birds is familiar
and the play of kids is peculiar.
I grew up without stories
of a native.
And I envied all those
who had one
to go back to.
It seems that
generations that have gone before me
have lived and died here.
I am a native.
But when this place doesn't feel homely enough
Where do I escape?
I've always searched for
a place closest I have
to a Native.
A place that tells me about my roots
and adds meaning to my existence
And sometimes I find that touch of homeliness
And that feeling of having an escape
I find it in temples
far away in quiet villages.
Where people have accents different from mine.
I find it in natives
That aren't mine
But are someone's
And in places that are everyone's
Where everyone is welcomed
And even the homeless feels at home
That's where my words too
find its home.
© Diya Padiyar, 2022
*****
We finish this Monday with an article by our 'Thoughtful Tuesday' Editor, Eithne Cullen, on the beauty and expanse of Epping Forest:
The Edge Of The Forest
I live on the edge of the forest. My house is two hundred feet from the beautiful land, gifted to the people of London for their leisure and their pleasure. I can walk there every day through oak and hornbeam (a most particular tree associated with this area) and silver birch and holly. We bring fruit from the brambles and make pies and jams. I can walk through deep mud and rich leaf-litter.
There are places where I cross dual carriageways and places where we walk on bridle paths. There are ponds and streams, sometimes heavy with water, sometimes brackish and sinister. I have trees in my garden and, if I'm not careful, the forest will take my garden back to her heart. My children grew there, too, as I did as a child: climbing, hiding, running, kicking balls and playing games of cricket. In the snow, sliding on plastic bags from the rise by the reservoir.
The Tudors hunted deer here, there's a hunting lodge we can visit and the place called 'the view,' where the hunt would begin. There are lodges and retreats, big houses and parks. It's a rich tapestry of what a forest can be.  It's a treasure trove of birds: songbirds, ducks, geese, herons and cormorants; all this close to the Central Line. There are squirrels and rabbits and rats, of course. Cattle roamed here, freely grazing before the threat of BSE. When the land was being enclosed to change the shape of agriculture, this land was saved and made into common land – parkland for the people. Some call it the heart and lungs of London. Queen Victoria saw it was good for London, and made it her gift.
My ancestors were from another land, a land where trees were held sacred and revered and even dressed. The Ireland I left over 50 years ago was not ancient woodland but a growing modern country, with the privilege of having space to grow and show her colours and her magnificent trees. Perhaps the love of trees and green I hold so dear are rooted in my DNA.
As a writer, I write about what I see and I love to tell stories. I searched my word files today to find the references to trees and forest and found plenty. I have written about leaves stretching like fingers, about trees being scary in the dark, how trees save the London skyline and how they create beautiful places to be and rest and breathe. I'm working on a story about a tree stump that looks like a witch's seat, though I'm a bit stumped myself about how to finish it. As a traveller, I have walked in rainforest and on boardwalks in the canopy.
© Eithne Cullen, 2022
Don't forget to submit your work to us via pentoprint@lbbd.gov.uk. You  can read our latest issue of Write On! Magazine here.
*****
Write On! Audio Podcast Contributor Giveaway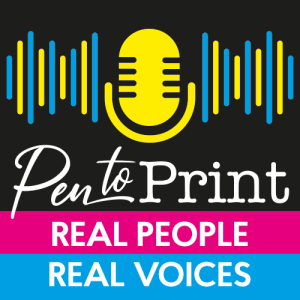 Get involved with Write On! audio as a contributor you could win A Writer's Journal Workbook by Lucy van Smit. All Write On! Audio submissions submitted before 20th February will be considered eligible. The first two pieces chosen for broadcast will receive a book. Submit on https://pentoprint.org/get-involved/submit-to-write-on/.
Visit https://anchor.fm/pentoprint to listen to the Write On! Podcast and get inspired.
Launched by Bloomsbury, A Writer's Journal Workbook is packed with creative tasks,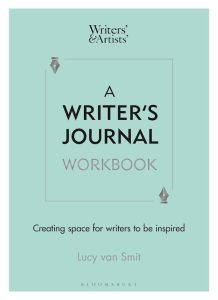 goals and advice! As an added bonus, you can also purchase it directly with this special discount code: AWJW25
Nature supports my creativity and wellbeing because, when I am relaxed, new insights come to me.