Monday Moments: Transitioning
Introduced By Holly King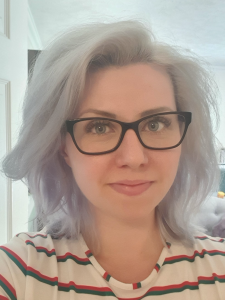 Welcome, readers, to my last Monday Moments page. Starting next year, Amber Hall will be taking over as editor for this page and will bring her unique perspective to it. I'm excited to see what direction she will take it in, and the features she will show.
I've been page editor since its inception (three years and 40+ pages) and it's been a wonderful journey, finding my own voice and sharing features from passionate writers and artists. The heart of my page has been to find ways for people to connect. Writing connects us, across time and space, pain and joy. Reading someone else's writing brings us out of ourselves and, at the same time, connects us with a deep inner part of ourselves.
The more we write, the more we're able to express ourselves clearly and creatively, the more we can understand and come to peace with the impactful moments of our lives, the more we can craft our own destinies. The more we read, the more we find empathy for others, the more we learn about struggles, joys and adventures we'd never dreamed of before, the more we collect stories – and parts of people – to take with us on our way.
If you look back on your year, you'll find you're transitioning, moving through the old you and into what you will become. We're not always ready to become who we will be, but the most important thing is to take the step and start. Beginning the transition is what helps you find your way.
So, my final theme for Write On! Extra is about transitioning homes. I also want to take this time to hand over to Amber (who will be signing off this page) and to introduce my own feature:
I'm not sure I know who I am any more. People say, "Look how you've changed," and I wonder what part of me is impermanent, what part of me gets left behind; in their memories, in the empty attic of a house hollowed out.
I take stock, look at who I was. Except I've already changed, because I don't remember taking stock before. I used to only look forward, race down pathways into the future, sure that this one would lead me to my forever home. But I always left.
I look over my shoulder, seeing the strong foundations, now translucent, crumbling. And here I am, raw, exposed, the wind flaying me, demanding that I make my stand now and declare that this is who I am, where I will stay. Is this my final destination, though? Is this who I will be, where I will be, forever? I never considered I would move on in the moment, but I've done so many times already. How can I know that I will stay, if I will stay?
I return to my feet, stepping over this threshold. The same foot, entering each home in a different time, from being carried to stumbling, leaping, slumping. High-heeled clops to muddy stomps, brand-new entrance to this well-worn welcome. Everything is different, I'm different, and yet it's the same house, the same smell, the same warmth waiting for me. I see a light flick on past the hallway, hear the chime of the kettle, and all of me moves forward.
Next, Zara Hatchman writes about her Christmas transition:
Christmas At The In-laws
Christmas at the in-laws is an experience that can cause joy, upset and feelings of nostalgia – in my experience, anyway!
The first year I decided to spend Christmas with my partner and her family was in 2020. I should use the term 'decided' very lightly, as Boris had announced he was going to cancel Christmas on the 20th of December – allowing no travel or mixing of households.
I had originally planned to spend Christmas as normal with my family; it was therefore a tough decision to make when I had to tell them I wouldn't be coming home. This, of course, upset my mum. It would be the first Christmas I hadn't spent with her since I was born. In a way, it was like saying goodbye to a part of me; I was saying goodbye to my childhood. Spending Christmas with a partner and the in-laws is something grown-ups do, and I guess at that point, I hadn't quite realised I'd moved on to that stage of my life. But I was ready for it. My partner and I were giddy over the fact we could spend our first Christmas together, even though it came about under weird circumstances.
My in-laws were happy to welcome me for Christmas Day. Spoiling me with presents, food, love and laughter – making me feel as if I was one of the family. It was a very different Christmas from what I was used to, as it wasn't home, but I loved it all the same. Though sad I wasn't able to be with them, as I'd been throughout the first 20 years of my life, I made sure I spoke with my mum and family often. Spending Christmas with my partner made everything worth it, though, as we were creating a new sense of home together.
Christmas is the time of year when families come together, no matter how big or small, near or far. One of the biggest challenges of all is to make sure everyone is happy. That was my biggest fear when I made the active decision, after 2020, to not spend another Christmas without my partner. I knew we'd have to alternate whose family we were with on the big day – and, no matter what, someone would be upset. Even though it's a tough decision to make, the upset never lasts long and is always replaced with joy and love as the festivities come around.
I'm looking forward to spending this year with my in-laws again and I can happily say having two families around Christmas time is always better than one! No matter how hard it may be for everyone to come to terms with at first, it just means double the fun, double the food, double the presents and double the love!
© Zara Relphman, 2022
You can connect with Zara on Instagram: @zlrelphman, Twitter: @zlrelphman and on Medium.com: @zlrelphman
*****
Here's Danny Baxter's colourful take on my theme: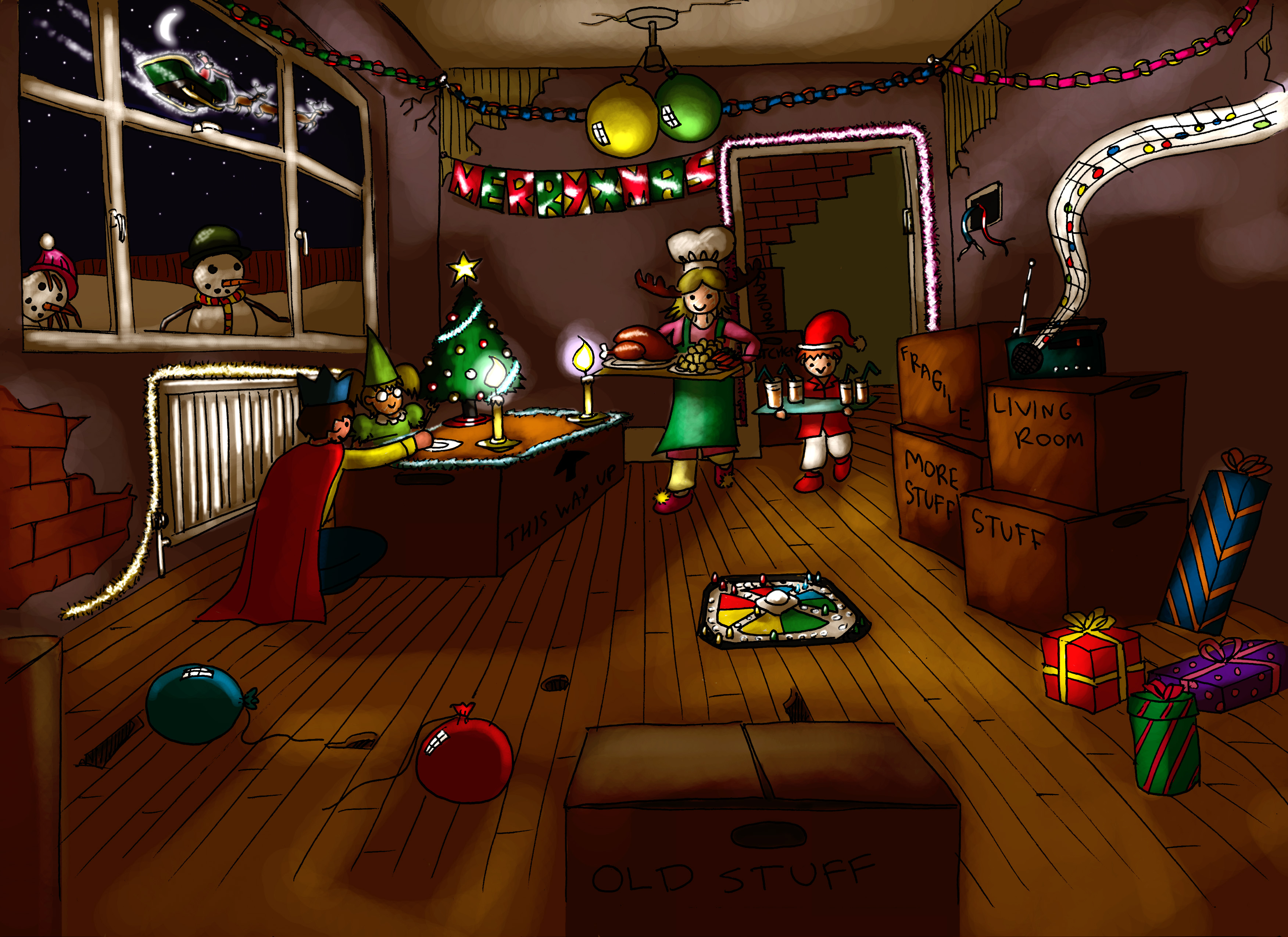 © Danny Baxter, 2022
Connect with Danny on Instagram: @dan_lbbd
*****
Irina's poem is about how home can transition from one thing to another, but we still always know it's there:
Home
Home's in our hearts,
Home is the place,
Home is the smell,
And home is the taste.
Home is a word,
Home is a feeling,
Home is something
Very forgiving.
Home is encouragement,
Home is the warmth,
Home is the place
Where you feel you belong.
Home is your inner self,
Home is outside,
Home is the tiniest letter on a card.
Home is a person,
Home might be far away,
Home might be close
And mean the same to you and me.
Home is a whisper
Of memories, days,
Song of a soul
That's drifting away.
Home is a kiss,
Home is a touch,
Home is a person
Who loves you so much.
Home is right here,
Or home is right there,
Wherever you find home
Keep it close and safe, dear.
© Irina Goncherenko, 2022
Connect with Irina on Instagram: @irina_goncherenko
*****
Deputy Editor, Claire Buss shows us that, despite the seasons and years transitioning, some things remain a constant:
Evergreen
You are evergreen in my thoughts
I miss you
This time of year, the holes in family appear
Somehow the heat of summer
The growth of spring
And the fading warmth of autumn
Hold back the memories
But now
In winter
I miss you
Timeless you exist
Never changing
Frozen in happy memories
Of times gone by
Of hugs and love and smiling events
Evergreen you remain
Same smile
Same face
Same smell
Same powerful loss
That will always be constant
Like the pines that keep their leaves
I keep my sorrow at your passing
© Claire Buss, 2022
You can connect with Claire on her website: clairebuss.co.uk, Twitter and Instagram: @Grasshopper2407 and Facebook: facebook.com/busswriter
*****
Now, readers, I'd like to introduce you to your new Monday Moments editor: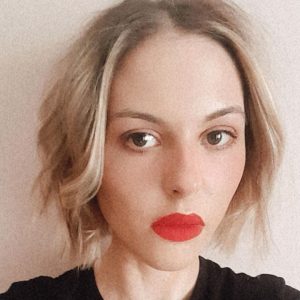 My name is Amber Hall. I'm a London-based writer and I'm delighted to announce that I'll be your Monday Moments page editor from January onwards. I've been working with Pen to Print for almost a year now, and the experience has reminded me how important community is. This, I think, is the essence of home.
I was born into a rural, working-class community in the north of England and my roots have had a profound impact on my work. I definitely – and proudly – think of myself as a working-class writer. The people and places I knew growing up always make their way into my work, in one way or another. But I moved a lot, too, and home – at least in the traditional sense – always felt like something quite transient.
I've been in London for over a decade and, even if I do the odd stint in some far-flung corner of the world, I don't think I'll ever leave. London gets under your skin. But there are huge differences between this city and my home town, and I still find myself straddling these cultures. As a writer, I'm grateful for it; I think it gives my work a unique perspective. It's a voice that's authentically mine, and it's one I try to harness whenever I put pen to paper.
For me, it's the communities we build that stand for home, not the spaces we occupy. London attracts people who feel they don't really belong anywhere else and that's what makes it so special: it's a city full of substitute families. Perhaps that's why I feel more at home here than anywhere else. My mum lives here too, though, and for all the moving I've done, she's the constant. When I think of home, I think of her.
I wrote the following piece for a writing course I'm doing. We had to create something directed at a 'you' character, so I immediately thought of my mum (and all the moves we've made!).
We
You were only young. It wasn't planned, but you had longed for a baby. You thought it would bring you the inner peace you were looking for.
He left, or perhaps you asked him to leave, and soon we were just two. You had to learn to drive. I'd sit in the back and eat sweets while you had your lessons. After that, we moved constantly. We made our way up the A65 every year, sometimes every few months, looking for a place to call home. We half-settled in humdrum villages with silly names and nothing but a pub. Sometimes, we moved with boxes still unpacked from the last venture northbound. Now, I realise you just needed to escape.
You slept a lot. Sometimes for whole evenings. You'd hole up in there and I wondered whether it was normal. When I went to friends' houses, I realised it wasn't. I worried that you'd never come back down; that I'd have to learn to do the things you did, which seemed too much to handle. Whenever you did return, the relief would come, and I'd feel as though I was the luckiest girl in the world.
We had very little, but you always did your best. We'd have picnics in bed, in the room we shared in the big house that wasn't ours. I felt so proud of you – of us – when you saved the money for a house of our own. You gave me the larger room; we painted it blue. You bought me a lampshade for the room that was finally mine, but we never got the base. I kept it for years anyway, carefully wrapped, because it was so beautiful.
We finally had the money to spend on takeouts and film rentals. We'd splurge on these luxuries every Friday, even though I didn't like the food much. But we argued a lot, too. We'd fight, taking the daily injustices we faced out on each other. We only had each other, after all. I feel ashamed of this now, although I know you don't hold it against me.
When I got sick, we moved even further away, from a humdrum village to the big city. You refused to let it take me. And still, we were just two.
I always knew, and I still know, that your love for me is boundless, just like my love is for you. You, with the grit and instinct of a luna wolf, kept us alive.
© Amber Hall, 2022
You can connect with Amber on Instagram: @amber.marie.123
*****
Don't forget to submit your work to us via pentoprint@lbbd.gov.uk. You can read our latest issue  (14) of Write On! Magazine here.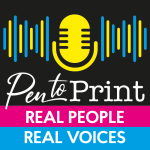 You can hear great new ideas, creative work and writing tips on Write On! Audio. Find us on all major podcast platforms, including Apple and Google Podcasts and Spotify. Type Pen to Print into your browser and look for our logo or find us on Anchor FM.
*****
If you or someone you know has been affected by issues covered in our pages, please see the relevant link below for ​information, advice and support​: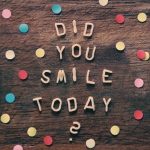 If you look back on your year, you'll find you're transitioning, moving through the old you and into what you will become.