Saturday Spotlight: Latest Book Releases w/c 11th April
by Claire Buss, Deputy Editor, Write On! 
At Write On! and Pen to Print we want to help connect authors and readers, so we've created a spotlight page every Saturday, showcasing some of the exciting new reads available. The list has been curated by Lisa Rouiller and myself, based on books that you send us, so if you're an author and you'd like your book in the spotlight, reach out to Lisa at pentoprint@lbbd.gov.uk. Whether you're an indie author, with a small press or mainstream publisher, we'd love to hear from you and shine a light on your new novel.
Write On! offers other opportunities for writers as well. If you'd like us to feature an extract from your book or a short story, please send the extract, book cover and blurb to pentoprint@lbbd.gov.uk with the subject Write On! Showcase (ensuring you have your publisher's permission, of course).
Pen to Print are also looking for short videos from people reading a passage from their favourite book or authors reading extracts from their own books. These videos will be featured on the Pen to Print YouTube channel and across our social media. Please send in your videos or links to pentoprint@lbbd.gov.uk with the subject Video Stories.
Matthew doesn't like the idea of killing people. Killing Beets is one thing; after all, they are the invaders. People, on the other hand; the act leaves a bad taste in Matthew's mouth. It makes him feel as though a piece of his soul is being ripped out. But it is his mission. In fact, it is his first real one from a superior officer. He must recover the stolen mech and put down those who have stolen it. Anyone who stands in the way will likely be ready to kill him, so he'll have to act first. Will Matthew and his newfound allies be able to complete the mission?
Join Matthew as he fights to save Allegra!
Retrieval is the fifth book in the short story military sci-fi series The Battle For Allegra. Dive into a thrilling story filled with sci-fi warfare. If you love reading about ordinary people getting thrown into extraordinary circumstances, alien invasions, and space marine mechs, then Retrieval is the book for you!
If you love The Hunger Games, Starship Troopers, Stargate SG-1, or The Expanse you're sure to love The Battle For Allegra: Retrieval. This is the sci-fi novella you've been waiting for.
***
The Battle Of Allegra – A Military Science Fiction Novella Series is intended to be read in order. Each (10k+) episode tells more of the story. Join in and read them today to see what befalls Matthew and an entire planet; both thrust into a war they didn't ask for.
Available to buy here
Connect with Caleb Fast
Love, loss and leisure. An exploration of life in verse.
Available to buy here
Connect with Jane Jago
Blood is thicker than water; the family bond stronger than any other.
They think it's all forgotten.
But I don't forget.
The Laird-Shaw family live a life most only dream about. Self-made millionaires Gavin Shaw and Stevie Laird built their business from humble roots to global turnover. Stevie's wife – and Gavin's sister – Eva is never out of the style pages, while daughter Carla has used her huge following as an Instagram influencer to shine a spotlight on mental health issues.
But behind the glamour lies a web of lies; hidden secrets so explosive that they could bring this family dynasty crashing down. Someone out there knows the truth and now they're stepping out of the shadows to reveal the dark heart of the Laird-Shaw family. Because when the truth comes to light, there's nowhere to hide. All the money in the world can't save this family from themselves.
A gripping psychological thriller that will hook you from page one – the perfect read for fans of C.L. Taylor, T.M. Logan and Adele Parks.
Available to buy here
Connect with Alex Kane
Troubled Washington DC student Isabel is in law school to kick butt and take names, not to make friends and certainly not for romantic entanglements. So what happens when friendship turns into something else?
In this prequel to the Law School Heretic Series, discover how Isabel met all the usual suspects who keep her on her toes, making her life more complicated than strictly necessary.
Available to buy here
Connect with Maria R. Riegger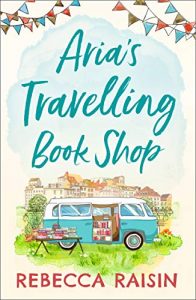 Aria Summers knows what she wants.
A life on the road with best friend Rosie and her beloved camper-van-cum-book-shop, and definitely, definitely, no romance.
But when Aria finds herself falling – after one too many glasses of wine, from a karaoke stage – into the arms of Jonathan, part of her comes back to life for the first time in years.
Since her beloved husband died, Aria has sworn off love, unless it's the kind you can find in the pages of a book. One love of her life is quite enough.
And so Aria tries to forget Jonathan and sets off for a summer to remember in France. Could this trip change Aria's life forever..?
A heartwarming, uplifting and hilarious novel of friendship, love and adventure. Perfect for fans of Debbie Johnson and Holly Martin.
Available to Buy Here
Connect with Rebecca Raisin
Decades of spiralling drug resistance have unleashed a global antibiotic crisis. Ordinary infections are untreatable, and a scratch from a pet can kill. A sacrifice is required to keep the majority safe: no one over seventy is allowed new antibiotics. The elderly are sent to hospitals nicknamed 'The Waiting Rooms' … hospitals where no one ever gets well.
Twenty years after the crisis takes hold, Kate begins a search for her birth mother, armed only with her name and her age. As Kate unearths disturbing facts about her mother's past, she puts her family in danger and risks losing everything. Because Kate is not the only secret that her mother is hiding. Someone else is looking for her, too.
Sweeping from an all-too-real modern Britain to a pre-crisis South Africa, The Waiting Rooms is epic in scope, richly populated with unforgettable characters, and a tense, haunting vision of a future that is only a few mutations away.
Available to buy here
Connect with Eve Smith
Fans of Martina Cole, Kimberley Chambers and Jessie Keane will be hooked by Fearless Girl.
When everything changes, you have to come out fighting.
It's been three years since Anna Davis's boyfriend Freddie Tyler was sent to prison. Now he's back on the streets of London and about to find out that everything has changed.
As Freddie enters his West End club for the first time in years, he finds ex-girlfriend Anna Davis sitting behind his desk, confidently leading his team of men. Anna used to hate the world he lived in, but she has now become a big part of it. And she's not about to give up running the family business easily.
Anna shows a toughness Freddie has never witnessed in her before when she tells him about her new enterprise: smuggling stolen diamonds through London's Hatton Garden. And alarm bells start ringing when Freddie meets Anna's new partner. Cold and ruthless, Roman Gains isn't someone Freddie trusts around the club and particularly not around Anna.
Whilst tensions flare between Anna and Freddie, a new Russian firm enters their world, determined to bring the Tylers down. And when they take out one of his best men, Freddie has to take drastic action to wrestle control from Anna. But she has other ideas. And when Roman becomes Anna's closest ally, Freddie finally reaches breaking point. Could this be the fall of the Tyler empire and the last time Freddie and Anna are on the same side?
Available to buy here
Connect with Emma Tallon
Remember, if you're an author and you'd like to see your book in our Saturday Spotlight, email pentoprint@lbbd.gov.uk and send us the details of your new novel. 
Further Links

For details of Penguin RandomHouse new releases, visit their website here.
For details of Hachette new releases, visit their website here.
For details of HarperCollins new releases, visit their website here.
For details of PanMacmillan new releases, visit their website here.
For details of Simon & Schuster new releases, visit their website here.
Disclaimer: Amazon links are given for ease but please remember there are a number of other online retailers operating, including hive (which helps to support independent book shops), Kobo, Apple Books, Google Play and Nook as well as online stores for bookstores like Waterstones, Barnes & Noble and WHSmiths. Given the current situation though, please check first.
We want to help connect authors and readers so we've decided to create a spotlight page every Saturday showcasing some of the exciting new reads available