Saturday Spotlight: Latest Book Releases w/c 11 July
by Claire Buss, Deputy Editor, Write On! 
At Write On! and Pen to Print we want to help connect authors and readers, so we've created a Spotlight page every Saturday, showcasing some of the exciting new reads available. The list has been curated by Lisa Rouiller and myself, based on books that you send us, so if you're an author and you'd like your book in the spotlight, reach out to Lisa at pentoprint@lbbd.gov.uk. Whether you're an indie author, with a small press or mainstream publisher, we'd love to hear from you and shine a light on your new novel.
Write On! offers other opportunities for writers as well. If you'd like us to feature an extract from your book or a short story, please send the extract, book cover and blurb to pentoprint@lbbd.gov.uk with the subject Write On! Showcase (ensuring you have your publisher's permission, of course).
Pen to Print are also looking for short videos from people reading a passage from their favourite book, or authors reading extracts from their own books. These videos will be featured on the Pen to Print YouTube channel and across our social media. Please send in your videos or links to pentoprint@lbbd.gov.uk with the subject 'Video Stories'.
Kristen Arnett's breakout bestseller is a darkly funny, big-hearted American debut about family, love, death and taxidermy!
Parul Seghal, New York Times: This book is my song of the summer.
What does it take to come back to life? For Jessa-Lynn Morton, the question is not an abstract one. In the wake of her father's suicide, Jessa has stepped up to manage his failing taxidermy business while the rest of the Morton family crumbles. Her mother starts sneaking into the taxidermy shop to make provocative animal art, while her brother, Milo, withdraws. And Brynn, Milo's wife and the only person Jessa's ever been in love with walks out without a word. It's not until the Mortons reach tipping point that a string of unexpected incidents begins to open up surprising possibilities and second chances. But will they be enough to salvage this family, to help them find their way back to one another?
Kristen Arnett's breakout bestseller paints a strong family portrait: a peculiar, big-hearted look at love and loss and the ways we live through them together.
Available to buy here
Connect with Kristen Arnett
This is not about being ready, it's not even about being fierce, or fearless. It's about being free!
Michael waits in the stage wings, wearing a pink wig, pink fluffy coat and black heels.
One more step will see him illuminated by the spotlight.
He has been on a journey of bravery to get here, and he is almost ready to show himself to the world in bold colours.
Can he emerge as The Black Flamingo?
Available to buy here
Connect with Dean Atta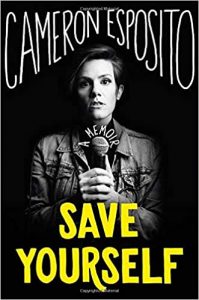 This "hilarious and honest" bestselling memoir from a rising comedy star tackles issues of gender, sexuality, feminism and the Catholic childhood that prepared her for a career as an outspoken lesbian comedian (Abby Wambach).
Cameron Esposito wanted to be a priest and ended up a stand-up comic. Now she would like to tell the whole queer-as-hell story. Her story. Not the sidebar to a straight person's rebirth – she doesn't give a makeover or plan a wedding or get a couple back together. This isn't a queer tragedy. She doesn't die at the end of this book, having finally decided to kiss the girl. It's the sexy, honest, bumpy and triumphant dyke's tale her younger, wasn't-allowed-to-watch-Ellen self needed to read. Because there was a long time when she thought she wouldn't make it. Not as a comic, but as a human.
Save Yourself is full of funny and insightful recollections about everything from coming out (at a Catholic college where sexual orientation wasn't in the nondiscrimination policy) to how joining the circus can help you become a better comic (so much nudity) to accepting yourself for who you are – even if you're, say, a bowl cut-sporting, bespectacled, gender-nonconforming child with an eye patch (which Cameron was). Packed with heart, humour and cringeworthy stories anyone who has gone through puberty, fallen in love, started a career, or had period sex in Rome can relate to, Cameron's memoir is for that timid, fenced-in kid in all of us and the fearless stand-up yearning to break free.
Available to buy here
Connect with Cameron Esposito
Dylan is forced to come out after his secret relationship with Ellis is exposed on social media. To his surprise, though, everyone is really supportive, or appears to be. But Dylan's and El's happiness is short-lived, and following a tragic accident, Dylan begins to realise how little he knows about the boy he loves or those closest to him.
Available to buy here
Connect with William Hussey
Staring down the barrel of her fortieth year, Samantha Irby is confronting the ways her life has changed since the days she could work a full 11-hour-shift on four hours of sleep, change her shoes and put mascara on in the back of a moving cab and go from drinks to dinner to the club without a second thought. Recently, things are more 'Girls Gone Mild.' In Wow, No Thank You Irby discusses the actual nightmare of living in a rural idyll, weighs in on body negativity (loving yourself is a full-time job with shitty benefits) and poses the essential question: Sure, sex is fun but have you ever googled a popular meme?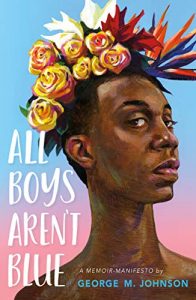 In a series of personal essays, prominent journalist and LGBTQIA+ activist George M. Johnson explores his childhood, adolescence, and college years in New Jersey and Virginia. From the memories of getting his teeth kicked out by bullies at age five, to flea marketing with his loving grandmother, to his first sexual relationships, this young-adult memoir weaves together the trials and triumphs faced by Black queer boys.
Both a primer for teens eager to be allies as well as a reassuring testimony for young queer men of colour, All Boys Aren't Blue covers topics such as gender identity, toxic masculinity, brotherhood, family, structural marginalisation, consent, and Black joy. Johnson's emotionally frank style of writing will appeal directly to young adults.
Available to buy here
Connect with George M Johnson
People don't just happen, writes Saeed Jones. We sacrifice former versions of ourselves. We sacrifice the people who dared to raise us. The 'I' it seems, doesn't exist until we are able to say, 'I am no longer yours.'
Haunted and haunting, How We Fight For Our Lives is a stunning coming-of-age memoir about a young, black, gay man from the South as he fights to carve out a place for himself, within his family, within his country, within his own hopes, desires and fears. Through a series of vignettes that chart a course across the American landscape, Jones draws readers into his boyhood and adolescence: tumultuous relationships with his family, into passing flings with lovers, friends and strangers. Each piece builds into a larger examination of race and queerness, power and vulnerability, love and grief; a portrait of what we all do for one another—and to one another—as we fight to become ourselves.
An award-winning poet, Jones has developed a style that's as beautiful as it is powerful: a bluesy voice that is by turns a river and a nightscape, set ablaze. How We Fight For Our Lives is a one-of-a-kind memoir; a book that cements Saeed Jones as an essential writer for our time.
Available to buy here
Connect with Saeed Jones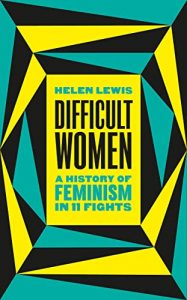 Well-behaved women don't make history. Difficult women do.
The success of feminism is down to complicated, contradictory, imperfect women, who fought each other as well as fighting for equal rights. Helen Lewis argues that too many of these pioneers have been whitewashed or forgotten in our modern search for feel-good, inspirational heroines. It's time to reclaim the history of feminism as a history of difficult women.
In this book, you'll meet the working-class suffragettes who advocated bombings and arson; the princess who discovered why so many women were having bad sex; the 'striker in a sari' who terrified Margaret Thatcher and the lesbian politician who outraged the country. Taking the story up to the present with the twenty-first-century campaign for abortion services, Helen Lewis reveals the unvarnished – and unfinished – history of women's rights.
Drawing on archival research and interviews, Difficult Women is a funny, fearless and sometimes shocking narrative history, which shows why the feminist movement has succeeded – and what it should do next. The battle is difficult, and we must be difficult, too.
Available to buy here
Connect with Helen Lewis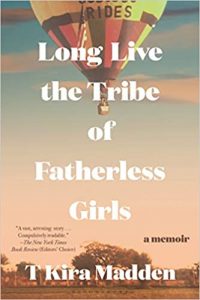 Acclaimed literary essayist T Kira Madden's raw and redemptive debut memoir is about coming-of-age and reckoning, with desire as a queer, biracial teenager amidst the fierce contradictions of Boca Raton, Florida: a place where she found cult-like privilege, shocking racial disparities, rampant white-collar crime, and powerfully destructive standards of beauty hiding in plain sight.
As a child, Madden lived a life of extravagance, from her exclusive private school to her equestrian trophies and designer shoe brands. But under the surface was a wild instability. The only child of parents continually battling drug and alcohol addictions, Madden confronted her environment alone. Facing a culture of assault and objectification, she found lifelines in the desperately loving friendships of fatherless girls.
With unflinching honesty and lyrical prose, spanning from 1960s Hawaii to the present-day struggle of a young woman mourning the loss of a father while unearthing truths that reframe her reality, Long Live The Tribe Of Fatherless Girls is equal parts eulogy and love letter. It's a story about trauma and forgiveness, about families of blood and affinity, both lost and found, unmade and rebuilt, crooked and beautiful.
Available to buy here
Connect with T Kira Madden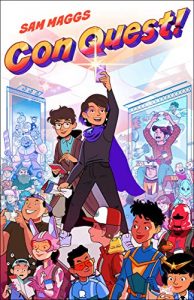 The debut novel from bestselling author Sam Maggs, Con Quest! is a comics convention adventure for young readers about fandom, family, and finding your place in the world.
Cat and Alex are excited to be at the world's most popular comics convention. They are even more excited to compete in the Quest, a huge scavenger hunt run by their favourite nerdy celebrity. The big prize: a chance to meet him.
The twins ditch their older sister Fi and set off to find geeky clues, tackle nerdy challenges, and cross as many items as possible off their Quest list, which includes volunteering at an Artist Alley booth, gathering cosplayers in enough colours to make a double rainbow, and actually finding something healthy to eat in the convention centre.
Can the twins work together, even when they disagree on how to compete? Will Fi find Cat and Alex before their parents realise they're missing? Most importantly, can these ultimate fans complete the ultimate Quest?
Available to buy here
Connect with Sam Maggs
Everyone talks about falling in love, but falling in friendship can be just as captivating. When Neela Devaki's song is covered by internet-famous artist Rukmini, the two musicians meet and a transformative friendship begins.
But as Rukmini's star rises and Neela's stagnates, jealousy and self-doubt creep in. With a single tweet, their friendship implodes, one career is destroyed, and the two women find themselves at the centre of an internet firestorm. Celebrated multi-disciplinary artist Vivek Shraya's second novel is a stirring examination of making art in the modern era, a love letter to brown women, an authentic glimpse into the music industry, and a nuanced exploration of the promise and peril of being seen.
Available to buy here
Connect with Vivek Shraya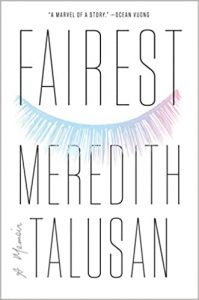 A singular, beautifully written coming-of-age memoir of a Filipino boy with albinism, whose story travels from an immigrant childhood to Harvard to a gender transition, illuminating the illusions of race, disability, and gender.
Fairest is a memoir about a precocious boy with albinism, a 'sun child' from a rural Philippine village, who would grow up to become a woman in America. Coping with the strain of parental neglect and the elusive promise of U.S. citizenship, Talusan found childhood comfort from her devoted grandmother a grounding force, as she was treated by others with special preference or public curiosity. As an immigrant to the United States, Talusan came to be perceived as white. An academic scholarship to Harvard provided access to elite circles of privilege but required Talusan to navigate the complex spheres of race, class, sexuality, and her place within the gay community. She emerged as an artist and an activist, questioning the boundaries of gender. Talusan realised she did not want to be confined to a prescribed role as a man, and transitioned to become a woman, despite the risk of losing a man she deeply loved. Throughout her journey, Talusan shares poignant and powerful episodes of desirability and love that will remind readers of works such as Call Me By Your Name and Giovanni's Room. Her evocative reflections will shift our own perceptions of love, identity, gender, and the fairness of life.
Available to buy here
Connect with Meredith Talusan
Remember, if you're an author and you'd like to see your book in our Saturday Spotlight, email: pentoprint@lbbd.gov.uk and send us the details of your new novel. 
Further Links

For details of Penguin RandomHouse new releases, visit their website here.
For details of Hachette new releases, visit their website here.
For details of HarperCollins new releases, visit their website here.
For details of PanMacmillan new releases, visit their website here.
For details of Simon & Schuster new releases, visit their website here.
Disclaimer: Amazon links are given for ease but please remember there are a number of other online retailers operating, including hive (which helps to support independent book shops), Kobo, Apple Books, Google Play and Nook as well as online stores for bookstores like Waterstones, Barnes & Noble and WHSmiths. Given the current situation, though, please check first.
We want to help connect authors and readers, so we've decided to create a spotlight page every Saturday, showcasing some of the exciting new reads available.