Saturday Spotlight: New Book Releases February 2023
By Claire Buss, Deputy Editor, Write On! 
At Write On! and Pen to Print, we want to help connect authors and readers, playwrights and audiences, so we've created a Spotlight page on the last Saturday of the month, showcasing some of the exciting new reads and plays available. The curated list is based on books and plays that you send us, so if you're an author or a playwright and you'd like your book or play in the spotlight, reach out to us at pentoprint@lbbd.gov.uk. Whether you're an indie author, with a small press or mainstream publisher, established or brand new playwright, we'd love to hear from you and shine a light on your new work.
Write On! offers other opportunities for writers as well. If you'd like us to feature an extract from your book or a short story, please send the extract, book cover and blurb to pentoprint@lbbd.gov.uk with the subject: Write On! Showcase (ensuring you have your publisher's permission, of course).
Pen to Print are also looking for short videos from people reading a passage from their favourite book, or authors reading extracts from their own books. These videos will be featured on the Pen to Print YouTube channel and across our social media. Please send in your videos or links to pentoprint@lbbd.gov.uk with the subject: Video Stories.
*****
Tender Buttons Podcast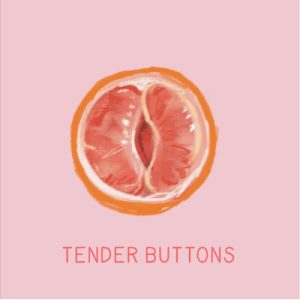 Tender Buttons is a Bristol-based podcast chatting to writers and artists about their ideas, process and politics, hosted by writers Jessica Andrews and Jack Young. Listen here.
Jessica writes fiction and we interviewed her recently. You can see the interview here. Her debut novel, Saltwater was published by Sceptre in 2019 and won the Portico Prize in 2020. It explores mother-daughter relationships and shifting class identity in relation to place and the body. Her second novel, Milk Teeth was published by Sceptre in 2022 and interrogates wanting, denial, food and shame. She is a Contributing Editor at ELLE magazine and writes for the Guardian, the Independent, BBC Radio 4 and Stylist, among others. She was nominated for the ELLE list in 2020, shortlisted for the Women's Prize for Fiction Futures and longlisted for the BBC National Short Story Award in 2022. She co-runs literary and arts magazine, The Grapevine and co-presents literary podcast, Tender Buttons. She is a lecturer in Creative Writing at City University, London.
Jack Young is a writer and participatory artist living in Bristol. He writes experimental fiction and non-fiction and has published works with Somesuch Stories, SPAMzine, HOAX, Entropy, 3:AM, Burning House Press, Caught by the River and époque press, among others. His debut chapbook URTH, in collaboration with the artist Nadia Scola, was published in 2022 by Big White Shed. He is also co-founder of multilingual literary collective Anemone and co-hosts the literary podcast Tender Buttons.
*****
When a man is shot at point blank range outside an isolated country pub, Kay Hunter is thrust into one of the most dangerous cases of her career.
As personal and political disputes threaten to undermine her efforts to track down the killer, Kay's investigation is complicated further when her superiors elect to coordinate the subsequent manhunt themselves.
Uncovering a covert trade in outlawed weapons and faced with witnesses too scared to talk, Kay will have to do everything in her power to stop the killer and prevent another tragedy.
Except this time, one of her team is in the direct line of fire…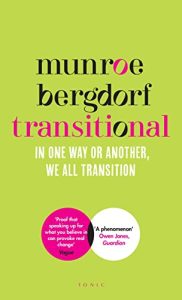 Transitioning is an alignment of the invisible and the physical.
It is truth rising to the surface. It is one of the most fundamental aspects of the human condition. A part of our experience as a conscious being, no matter who we are.
As time goes on, we all develop as people. We all transition. It's what unites us, not what separates us.
In this life-affirming, heartfelt and intimate book, activist and model Munroe Bergdorf shares reflections from her own life to illustrate how transitioning is an essential part of all our lives. Through the story of one woman's extraordinary mission to live with authenticity, Transitional shows us how to heal, how to build a stronger community and how to evolve as a society out of shame and into pride.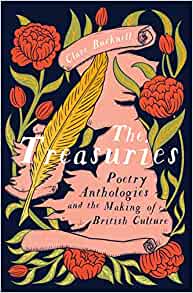 The fascinating history of poetry anthologies and their influence on British society and culture over the last four centuries.
For hundreds of years, anthologies have shaped the way we encounter literature. Eighteenth-century children and young women were introduced to the 'safe' bits of Shakespeare or Milton through censored collections, Victorian working-class men and women enrolled at adult learning institutions to be taught from The Golden Treasury, First World War soldiers nursed copies of The Oxford Book Of English Verse in the trenches and pop-loving teenagers growing up in the 1960s got their first taste of the counterculture from the bestselling The Mersey Sound. But anthologies aren't just part of literary history. Over the centuries, they have influenced the course of British social change, redrawing the map of 'high' and 'low' culture, generating conversations around politics, morality, class, gender and belief.
The Treasuries, by the literary scholar and journalist Clare Bucknell, reveals the extraordinary amount we can learn about our history from the anthologies that brought readers together and changed the way they thought.
Available to buy here
Connect with Clare Bucknell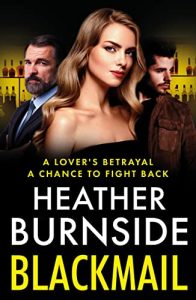 A DEVASTATING ATTACK.
Beth is walking her dog in a secluded wooded area around Manchester, when she's viciously attacked. After fighting the man off, she gets away with her life, but is left with a horrifying secret.
A LOVER'S BETRAYAL.
As Beth moves on from her trauma with new husband Brady, she seems a happy, successful career girl. But he senses she is harbouring something dark. And when the truth is finally revealed, Brady blackmails Beth into bankruptcy.
A CHANCE TO FIGHT BACK.
When Beth meets wealthy crime boss Martin, he sets her up in business, dotes on her and gives her everything she wants. But Beth is plotting revenge on the man who tried to ruin her. Will her plan come together? Or, this time, will she lose everything for good?
Available to buy here
Connect with Heather Burnside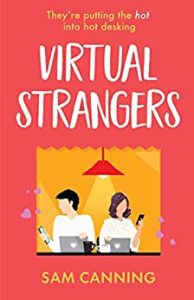 Do you believe in love at first type?
When Ada set up her own PR firm from a coffee shop, she didn't expect to meet journalist Fraser. Also working there daily, he soon becomes a friend. Reporting on interesting things to do around Edinburgh, Fraser ropes Ada into accompanying him on his assignments.
As they work side by side, Ada can't help but notice how attractive Fraser is, and how well they get along. But she's been chatting to a guy she met on an Agatha Christie fan fiction site, and can't stop wondering about him. His interests are the same as hers, and the anonymity helps them both be more honest and open. As Ada's messages with the mystery man become deeper, she thinks she's falling for him.
Ada is torn between Fraser and Myster-E; but can you have real feelings for someone when you're virtual strangers?
Available to buy here
Connect with Sam Canning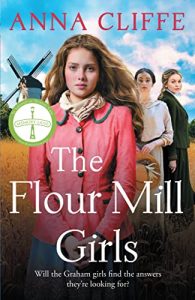 Crumford, Kent, 1914.
There are rumours of war besetting the country but sisters Daisy, Violet and Holly Graham have other things on their minds. With the family smock mill keeping them busy and the local Brewer boys turning their heads, the girls are looking forward to a summer of fun.
Their plans soon come crashing to the ground when war is declared. As their brothers, Asa and Clem, and the three Brewer lads, Ren, Alder and Rosen, all volunteer to do their part for the war effort and are shipped off, the women are left with the problem of how to keep the business running. With the men away at war, and life increasingly hard, will the Graham girls find the answers they're looking for? When long-held secrets are revealed, could their lives change forever?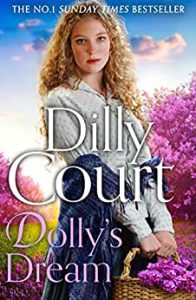 Dolly's dreams could lead her astray.
Dolly Blanchard dreams of a bigger life. She wants to make a mark on the world and not just wait for a husband to come along. When an impoverished actress offers her a lifeline, Dolly flees to London, determined to make it on the stage and prove to her family – and herself – that she can strike out alone.
But the dark city streets are full of danger. With her dreams fading to dust, Dolly soon finds herself in peril. With the family's future under threat at Rockwood Castle and secrets tumbling out of the shadows, she faces a difficult choice.
Will her heart call her home?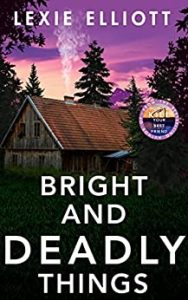 A retreat doesn't always mean safety.
Following the death of her husband, Emily is happy to find herself surrounded by friends and fellow Oxford peers at the rustic Chalet des Anglais in the French Alps. With no electricity, running water, or access by car, surely this trip will offer her the time and space she needs to heal?
But before she makes it to the airport, Emily interrupts a break-in at her home, and on the first night at the chalet, she discovers an inappropriate sexual liaison between an undergrad and a colleague. When the student suddenly disappears, and Emily sees her deceased husband's number in her call history, she realises she'd better figure out who she can trust, or the next disappearance may be her own.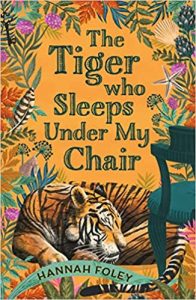 Steeped in the natural history of Mary Anning's Jurassic Coast, a powerful dual-timeline story about friendship, mental health and hidden stories.
1884. Emma Linden dreams of following in the footsteps of the famous fossil-hunter, Mary Anning, on the Jurassic Coast. But her world begins to spiral when her brother James becomes obsessed with a glassy-eyed tiger at the museum.
More than a hundred years later, her descendant Rosie Linden goes missing, her mind full of prowling tigers. With her new friend Jude, Rosie uncovers family secrets buried like layer upon layer of rock. Together, they must sift the past to find the truth and heal the present.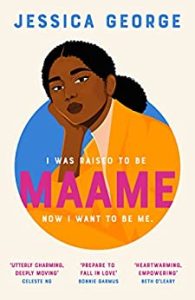 Meet Maddie Wright.
All her life, she's been told who she is. To her Ghanaian parents, she's Maame: the one who takes care of the family. Her mum's stand-in. The primary carer for her father, who suffers from Parkinson's. The one who keeps the peace. And the secrets.
It's time for her to speak up.
When she finally gets the chance to leave home, Maddie is determined to become the kind of woman she wants to be. One who wears a bright yellow suit, dates men who definitely aren't on her mum's list of prospective husbands and stands up to her boss's micro-aggressions. Someone who doesn't have to google all her life choices.
But when tragedy strikes, Maddie is forced to face the risks – and rewards– of putting her heart on the line.
But will it take losing everything to find her voice?

Nuneaton, 1850.
Growing up on a canal boat has meant life for young Saffie Doyle has been hard. Her mother, Olivia, was cast out by her well-to-do family when she fell in love with Saffie's father, a lowly boatman named Reuben. But as the years have passed, Reuben has become a bitter and cruel drunk, forced to work for the local crook, Seth Black, to keep their family afloat.
Saffie always dreamed of becoming a teacher, despite her father's insistence that there was no need to read and write. Keen to nurture her ambitions, Olivia hoped to introduce Saffie to a childhood friend – the kindly and wealthy Marcus – who runs a free school for the local children, but when Olivia falls ill, she's unable to do this.
One night, Saffie's 17-year-old brother and her father go out on a job with Seth Black and never return home. Saffie is forced to place her dreams on hold as she steps up to look after her family.
With her younger siblings relying on her, will Saffie ever be able to live the life she hopes for?
Available to buy here
Connect with Rosie Goodwin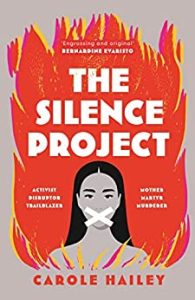 Monster. Martyr. Mother.
On Emilia Morris's 13th birthday, her mother Rachel moves into a tent at the bottom of their garden. From that day on, she never says another word. Inspired by her vow of silence, other women join her and together they build the Community. Eight years later, Rachel and thousands of her followers around the world burn themselves to death.
In the aftermath of what comes to be known as the Event, the Community's global influence quickly grows. As a result, the whole world has an opinion about Rachel; whether they see her as a callous monster or a heroic martyr, but Emilia has never voiced hers publicly. Until now.
When she publishes her own account of her mother's life in a memoir called The Silence Project, Emilia also decides to reveal just how sinister the Community has become. In the process, she steps out of Rachel's shadow once and for all, so that her own voice may finally be heard.

Available to buy here
Connect with Carole Hailey
Lost, she narrowly escaped disaster.
Beth is desperate to return to normality. After a years-long ordeal, her daughter is finally home and safe. But Carmel has questions she can't ignore about the cult that kidnapped her, and about the preacher who gave her another girl's name.
Found, she must survive a miracle.
Digging into her past, Carmel uncovers secrets which suggest she wasn't the only lost girl, and which puts her in danger all over again. While her mother struggles to salvage the safety they've only just found, Carmel tries to come to terms with who she's become.
One question, a mystery at the heart of her disappearance as a child, haunts her: What happened to the other lost girls?
Available to buy here
Connect with Kate Hamer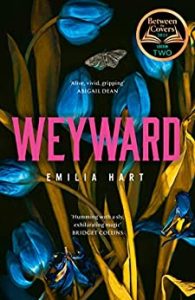 KATE, 2019.
Kate flees London, abandoning everything, for Cumbria and Weyward Cottage, inherited from her great-aunt. There, a secret lurks in the bones of the house, hidden ever since the witch-hunts of the 17th century.
VIOLET, 1942.
Violet is more interested in collecting insects and climbing trees than in becoming a proper young lady. Until a chain of shocking events changes her life forever.
ALTHA, 1619.
Altha is on trial for witchcraft, accused of killing a local man. Known for her uncanny connection with nature and animals, she is a threat that must be eliminated.
But Weyward women belong to the wild. And they cannot be tamed.
Weaving together the stories of three women across five centuries, Weyward is an enthralling novel of female resilience and the transformative power of the natural world.
Because Paris is always a good idea.
Years ago, Juliet left a little piece of her heart in Paris. Now, separated from her husband and with her children flying the nest, it's time to get it back.
She puts on her best red lipstick, books a cosy attic apartment near Notre-Dame and takes the next train out of London.
Arriving at the Gare du Nord, the memories come flooding back: bustling street cafés, cheap wine in candlelit bars and a handsome boy with glittering eyes.
But Juliet has also been keeping a secret for over two decades, and she begins to realise it's impossible to move forwards without first looking back.
Something tells her that the next 30 days might just change everything.
Available to buy here
Connect with Veronica Henry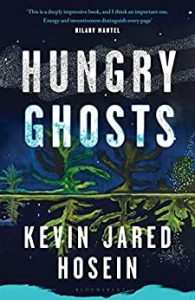 The music was still playing when Dalton Changoor vanished into thin air.

On a hill overlooking Bell Village sits the Changoor farm, where Dalton and Marlee Changoor live in luxury, unrecognisable to those who reside in the farm's shadow. Down below is the barrack, a ramshackle building of wood and tin, divided into rooms occupied by whole families. Among these families are the Saroops: Hans, Shweta, and their son, Krishna, who live hard lives of backbreaking work, grinding poverty and devotion to faith.
When Dalton Changoor goes missing and Marlee's safety is compromised, farmhand Hans is lured by the promise of a handsome stipend to move to the farm as watchman. But as the mystery of Dalton's disappearance unfolds, their lives become hellishly entwined, and the small community altered forever.
Hungry Ghosts is a mesmerising novel about violence, religion, family and class, rooted in the wild and pastoral landscape of 1940s colonial central Trinidad.

Available to buy here
Connect with Kevin Jared Hosein
What can a diseased brain tell us about being human, living our own lives better and helping those with dementia get the best from theirs?
When Wendy Mitchell was diagnosed with young-onset dementia at the age of 58, her brain was overwhelmed with images of the last stages of the disease: those familiar tropes, shortcuts and clichés we're fed by the media, or even our own health professionals.
But her diagnosis far from represented the end of her life. Instead, it was the start of a very different one.
Wise, practical and life-affirming, What I Wish People Knew About Dementia combines anecdotes, research and Wendy Mitchell's own brilliant wit and wisdom to tell readers exactly what she wishes they knew about dementia.
Available to buy here
Connect with Wendy Mitchell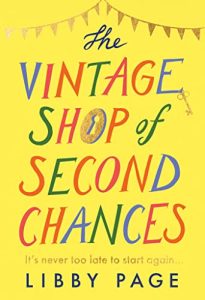 Among the cobbled streets of the Somerset town of Frome, Lou is embarking on the start of something new. After the death of her beloved mother, she takes a deep breath into the unknown and is opening her own vintage clothes shop.
In upstate New York, Donna has just found out some news about her family which has called into question her whole upbringing. The only clue she has to unlock her past is a picture of a yellow dress, and the fact it's currently on display in a shop in England.
For Maggy, she is facing life as a 70-something divorcee and, while she got the house, she's not sure what to fill it with, now her family have moved out. The new vintage shop in town sparks memories of her past and reignites a passion she's been missing.
Together, can these three women find the answers they're searching for and unlock a second chance at a new life?
It's never too late to start again!

Available to buy here
Connect with Libby Page
Police Chief Nash Morgan is known for two things: being a good guy and the way his uniform accentuates his rear end.
But two bullets put a dent in his Southern charm and now he's facing a criminal still on the loose and a town full of citizens that consider the law more of a 'guideline'. The last thing he needs is the leggy, smart-mouthed Lina Solavita moving in next door, making him feel things he doesn't have the energy to feel.
Lina is on a mission. As soon as she gets what she's after, she has no intention of sticking around. The town of Knockemout has other ideas. Soon, she finds herself sucked into small-town life. Dog-sitting. Saying yes to a bridesmaid's dress. Listening to the sexy chief of police in the shower.
But when Nash discovers Lina's secret, these friends become furious enemies. Though the sparks flying between them don't know the difference between love and hate!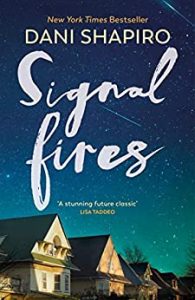 One neighbourhood. One night. A constellation of lives changed forever.
When retired doctor Ben Wilf comes across ten-year-old Waldo Shenkman in the middle of the night under Division Street's old oak tree, he is treated to an unexpected and magical tour of the stars. But this is not the first time the boy and old man have met. In fact, they go way back, to the night of Waldo's birth, and further still.
Secrets preside over the neighbourhood along with the majestic oak. One night in particular has been kept buried. Following it, the Wilfs ­– parents and children – change and grow, but each is haunted by what they choose to forget. Then the young Shenkmans move in across the street: a couple with their own secrets and a lonely, brilliant son who is captivated by the night sky. As their stories collide in ways they never could have imagined, the past comes hurtling back to Division Street, setting in motion a spellbinding chain of events that will transform both families forever.
Signal Fires is an exquisite portrait of two families and a testament to the human capacity to experience love and loss. With wry tenderness it shows how we are all connected through time in ways that are at once beautiful, mysterious, profound and full of hope.
Available to buy here
Connect with Dani Shapiro
It's 2312 and Leo Fischer is a 15-year-old computer whizz on his first ever journey off Earth. He's heading to the moon colony to help his mother Lillian with her scientific work. But before he can reach her, she is kidnapped.
Determined to find and rescue her, Leo has no choice but to accept the help of his newest friend, Skater Monroe, the daughter of a shuttle pilot and already an experienced space traveller. Their investigation leads them to an old freighter captain with a strange story about two spaceships: one a long-lost piece of junk called the Arcadian; the other, a sleek, ultra-modern ship of mysterious origin. Both craft are involved in some kind of cover-up, and Leo and Skater become convinced the conspirators are the same people who kidnapped Leo's mother.
Dodging space pirates as well as a ruthless assassin in the pay of the soon-to-be president of Mars, they stumble upon a secret that could lead to all-out war in the solar system.
The first instalment of Andrew Stickland's Mars Alone Trilogy is a gravity-defying thrill-ride into the human race's all-too-believable future in space.
Available to buy here
Connect with Andrew Stickland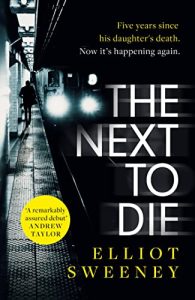 Dylan Kasper is stuck. Living in self-imposed reclusion from his former life in the police, he's been in a downward spiral since his daughter's death five years ago.
All that changes when the son of an esteemed professor jumps under an inner-city train. His former colleagues call it suicide, but Kasper knows different. This has happened before; to him and his dead daughter.
Taking on the investigation himself, Kasper soon realises the terrible trouble young Tommy had found himself in. With nowhere to run, he thought suicide was the only way to keep his family safe.
Before long, Kasper's investigation makes him target number one. Can he keep his demons in check and stay alive long enough to bring those responsible to justice?
Available to buy here
Connect with Elliot Sweeney
In Falls Landing, Florida – a place built of theme parks, swampy lakes, and scorched bougainvillea flowers – something sinister lurks in the deep.
A gang of 13-year-old girls obsessively orbit around the local preacher's daughter, Sammy. She is mesmerising, older, and in love with Eddie. But suddenly, Sammy goes missing. Where is she? Watching from a distance, they edge ever closer to discovering a dark secret about their fame-hungry town and the cruel cost of a ticket out. What they uncover will continue to haunt them for the rest of their lives.
Through a darkly beautiful and brutally compelling lens, Dizz Tate captures the violence, horrors and manic joys of girlhood. Brutes is a novel about the seemingly unbreakable bonds in the 'we' of young friendship, and the moment it is broken forever.
Remember, if you're an author and you'd like to see your book in our Saturday Spotlight, email: pentoprint@lbbd.gov.uk and send us the details of your new novel.

For details of Penguin RandomHouse new releases, visit their website here.
For details of Hachette new releases, visit their website here.
For details of HarperCollins new releases, visit their website here.
For details of PanMacmillan new releases, visit their website here.
For details of Simon & Schuster new releases, visit their website here.
Disclaimer: Amazon links are given for ease but please remember there are a number of other online retailers operating, including hive (which helps to support independent book shops), Kobo, Apple Books, Google Play and Nook as well as online stores for bookstores such as Waterstones, Barnes & Noble and WHSmiths. 
We want to help connect authors and readers, so our Saturday Spotlight page showcases some of the exciting new reads available each month.