Saturday Spotlight: New Book Releases June 2022
By Claire Buss, Deputy Editor, Write On! 
At Write On! and Pen to Print, we want to help connect authors and readers, playwrights and audiences, so we've created a Spotlight page on the last Saturday of the month, showcasing some of the exciting new reads and plays available. The curated list is based on books and plays that you send us, so if you're an author or a playwright and you'd like your book or play in the spotlight, reach out to us at pentoprint@lbbd.gov.uk. Whether you're an indie author, with a small press or mainstream publisher, established or brand new playwright, we'd love to hear from you and shine a light on your new work.
Write On! offers other opportunities for writers as well. If you'd like us to feature an extract from your book or a short story, please send the extract, book cover and blurb to pentoprint@lbbd.gov.uk with the subject: Write On! Showcase (ensuring you have your publisher's permission, of course).
Pen to Print are also looking for short videos from people reading a passage from their favourite book, or authors reading extracts from their own books. These videos will be featured on the Pen to Print YouTube channel and across our social media. Please send in your videos or links to pentoprint@lbbd.gov.uk with the subject: Video Stories.
*****
Writing Excuses Podcast

This excellent podcast for writers is hosted by Dan Wells, Brandon Sanderson, Mary Robinette Kowal and Howard Tayler, with multiple guest hosts, covering every aspect of writing and publishing in convenient bitesize chunks. Not only do you get first-rate advice, there are recommended reads, homework tasks and a huge backlist of episodes to listen to.
Visit writingexcuses.com directly or find them on your preferred podcast app.
*****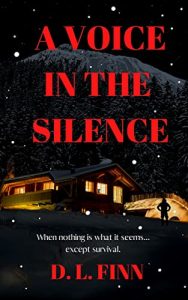 Drea Burr has experienced more than her fair share of loss when a stray dog, cat, and rat enter her life.
Although the animals start to mend her broken heart, there is something very unusual about them. During a snowstorm, Drea discovers a chilling set of footprints leading to her front window. Both the police and a ghostly messenger warn her about a killer stalking widows. Help comes from her late husband's best friend, Adam Hale. As the two try to discover answers, more questions arise: about a killer, ghosts, and animals experimented on in a lab.
Can Drea and Adam survive the threats coming from so many directions and save themselves and the animals they've grown to love? Or will more tragedy destroy her second chance at happiness? Find out in this thrilling, cosy paranormal adventure.
Available to buy here
Connect with D.L. Finn
Jess is a single mother to two teenage children and, although life can be tough, she's just about keeping things together.
But when her landlord asks her to move on, so he can sell the house they're living in without warning, Jess's worries take on a whole new meaning. As Jess struggles to regain her footing, cracks begin to appear in other areas of her life, and suddenly she feels she's failing at everything. Her daughter Hazel is becoming more and more distant, her son Jacob is struggling to find where he fits in the world, and the menacing spectre of Jess's older brother, someone she cut out of her life years ago, begins to make his presence felt again.
Jess knows she's the only one who can keep her family together. But how can she keep going when life keeps beating her back?
Set on the streets of east London, These Streets is a searing and powerful novel, exploring how we are meant to find our place in a world that is designed for only the privileged to succeed. Beautiful and honest, it is an essential story about living in Britain today.
Available to buy here
Connect with Luan Goldie
Twenty-six-year-old editorial assistant Nella Rogers is tired of being the only Black employee at Wagner Books.
Fed up with the isolation and the micro-aggressions, she's thrilled when Hazel starts working in the cubicle beside hers. They've only just started comparing natural hair care regimens, though, when a string of uncomfortable events cause Nella to become 'Public Enemy Number One' and Hazel, 'The Office Darling'.
Then the notes begin to appear on Nella's desk: LEAVE WAGNER. NOW.
It's hard to believe Hazel is behind these hostile messages. But as Nella starts to spiral and obsess over the sinister forces at play, she soon realises that there is a lot more at stake than her career.
Dark, funny and furiously entertaining, The Other Black Girl will keep you on the edge of your seat until the very last twist.
Available to buy here
Connect with Zakiya Dalila Harris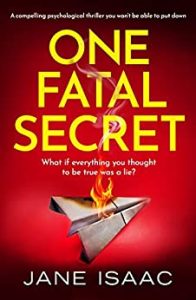 Sometimes your enemies are closer than you think…
Nicole Jameson has always been proud of her husband, Ethan. He's built a successful career in finance and his employers, the Harrisons, treat them like family. They're a firm who look after their own, and even gave a loan to the company chauffeur, Conrad, to fund his pilot licence.
When the two men are returning from a business trip, the worst possible thing happens – their plane crashes into the sea. No survivors are expected to be found. Nicole is heartbroken, much like Conrad's wife, Ania. She never warmed to Nicole, but now they share a bond of grief.
When evidence is found that Conrad took drugs shortly before the plane departed with him at the controls, the two women begin to wonder if all is not what it seems. But when they ask questions about events leading up to the crash, unsettling occurrences suggest it isn't a good idea. Sinister-looking men follow them, the Harrisons are increasingly cagey, and the women wonder if there is not more to this than a tragic accident.
But are the most dangerous people the ones they have already allowed to get too close?
Available to buy here
Connect with Jane Isaac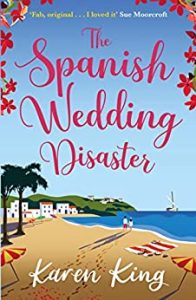 Some people are romantics. Some aren't. 
When Sophie and Maddie are summoned to a mysterious, top-secret meeting by their best friend Kate's partner, and told that he's planning to whisk Kate away for a surprise wedding in Gibraltar, it's immediately clear that bubbly florist Sophie is a total romantic. And that freewheeling, purple-haired Maddie is not.
Soon, Maddie finds herself reluctantly organising venues, planners and ceremonies; trying not to think of her own memories of Andalucia, and those she's lost touch with there. Meanwhile, Sophie's hoping this dreamy gesture might spur on her own boyfriend to similar plans… and absolutely not thinking at all about Kate's gorgeous brother-in-law-to-be.
But Kate has no idea what's going on. As the stresses pile up and the group jet off to the sunny south, it seems it's not just Kate who might get a surprise in Spain – one that could change everything.
Available to buy here
Connect with Karen King
There in the shadows was a figure in a cloak, at the bottom of the cobblestone stair, and it turned and stared up at them, as still and unmoving as a pillar of darkness, but it had no face, only smoke…

1882. North of Edinburgh, on the edge of an isolated loch, lies an institution of crumbling stone, where a strange doctor collects orphans with unusual abilities. In London, two children with such powers are hunted by a figure of darkness, a man made of smoke.
Charlie Ovid discovers a gift for healing himself through a brutal upbringing in Mississippi, while Marlowe, a foundling from a railway freight, glows with a strange bluish light. When two grizzled detectives are recruited to escort them north to safety, they are confronted by a sinister, dangerous force that threatens to upend the world as they know it.
What follows is a journey from the gaslit streets of London to the lochs of Scotland, where other gifted children – the Talents – have been gathered at Cairndale Institute, and the realms of the dead and the living collide. As secrets within the Institute unfurl, Marlowe, Charlie and the rest of the Talents will discover the truth about their abilities and the nature of the force that is stalking them: that the worst monsters sometimes come bearing the sweetest gifts.
When there is no choice, all you have left to do is walk.

Kiara Johnson does not know what it is to live as a normal 17-year-old. With her mother in a rehab facility and an older brother who devotes his time and money to a recording studio, she fends for herself, and for nine-year-old Trevor, whose own mother is prone to disappearing for days at a time. As the landlord of their apartment block threatens to raise their rent, Kiara finds herself walking the streets after dark, determined to survive in a world that refuses to protect her.
One night, Kiara is picked up by two police officers, and the gruesome deal she is offered in exchange for her freedom lands her at the centre of a media storm. If she agrees to testify in a grand jury trial, she could help expose the sickening corruption of a police department. But honesty comes at a price: one that could leave her family vulnerable to their retaliation, and endanger everyone she loves.
Available to buy here
Connect with Leila Mottley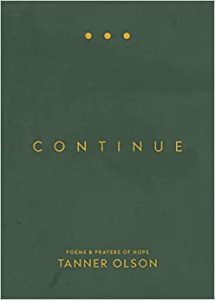 Poems and prayers to inspire hope in the day-to-day of ordinary life. These accessible, faith-based poems encourage readers to trust God and to take the next step with faith, despite questions, difficulties and fears.
Available to buy here
Connect with Tanner Olson
The truth must come out.
In 1963, in a Siberian gulag, former nuclear specialist Valery Kolkhanov has mastered what it takes to survive: the right connections to the guards for access to food and cigarettes, the right pair of warm boots to avoid frostbite, and the right attitude toward the small pleasures of life. But on one ordinary day, all that changes. Valery's university mentor steps in and sweeps Valery from the frozen prison camp to a mysterious unnamed town hidden within a forest; so damaged it looks as though the trees have rusted from within.
Here, Valery is Dr. Kolkhanov once more, and he's expected to serve out his prison term studying the effect of radiation on local animals. But as he begins his work, he's struck by the questions his research raises: what, exactly, is being hidden from the thousands who live in the town? And if he keeps looking for answers, will he live to serve out his sentence?
Available to buy here
Connect with Natasha Pulley
An elderly and guilt-ridden man befriends a teenager who he finds dangerously wandering a motorway.
As an understanding between them evolves the boy realises the old man is holding a worry that appears to be eating away at him, and the old man realises the boy appears to have a drinking problem. Both set challenges for each other to help their perceived ailment.
Behind anonymous screens, an army of cool and beautiful girls manage the dating service Ghost Lover, a forwarding system for text messages that promises to spare you the anguish of trying to stay composed while communicating with your crush.
At a star-studded political fundraiser in a Los Angeles mansion, a trio of women compete to win the heart of the slick guest of honour.
In a tense hospital waiting room, an inseparable pair of hard-partying friends crash into life's responsibilities, but the magic of their glory days comes alive again at the moment they least expect it.
In these nine riveting stories, Lisa Taddeo brings to life the fever of obsession, the blindness of love and the mania of grief.
Available to buy here
Connect with Lisa Taddeo
In 1887 young Nellie Bly sets out for New York and a career in journalism, determined to make her way as a serious reporter, whatever that may take.
But life in the city is tougher than she imagined. Down to her last dime and desperate to prove her worth, she comes up with a dangerous plan: to fake insanity and have herself committed to the asylum that looms on Blackwell's Island. There, she will work undercover to document – and expose – the wretched conditions faced by the patients.
But when the asylum door swings shut behind her, she finds herself in a place of horrors, governed by a harshness and cruelty she could never have imagined. Cold, isolated and starving, her days of terror reawaken the traumatic events of her childhood. She entered the asylum of her own free will, but will she ever get out?
An extraordinary portrait of a woman way ahead of her time, Madwoman is the story of a quest for the truth that changed the world.
Available to buy here
Connect with Louisa Treger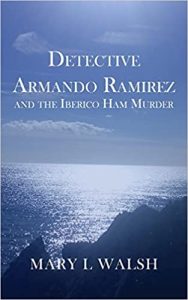 Detective Armando Ramirez is called to the scene of a murder when the body is found in an alley in a small Spanish town.
His investigation brings him into contact with Senora Gomez, her friend Berta Molinera, Joe Odreck, a Suffolk Pig Farmer and Rafael Cabanellos, a vicious criminal, leading to a thrilling and dangerous conclusion.
Available to buy here
Connect with Mary L. Walsh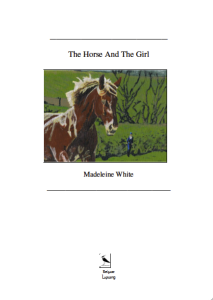 The Horse And The Girl is a series of 30 linked narrative poems; a sustained sequence of conversations between Madeleine White and the 'Horse' who is her confessor, her comforter and her one true friend. Although not strictly 'ballad' form, they form a 'contemporary ballad', 
The collection explores issues such as relationships, climate change, growing older, life, death and change in general and offers a wry, poignant look at the world around us, with a strong environmental slant.
'The Horse And The Girl has been written from the perspective of a woman in middle age and the relationship she has with her horse. It is based along the coast and marshlands of east Kent and highlights the connection between the equine and human world, showcasing the joy and tranquillity of wandering through the wild places that remain .
Available to buy here
Connect with Madeleine White
Remember, if you're an author and you'd like to see your book in our Saturday Spotlight, email: pentoprint@lbbd.gov.uk and send us the details of your new novel.

Further Links
For details of Penguin RandomHouse new releases, visit their website here.
For details of Hachette new releases, visit their website here.
For details of HarperCollins new releases, visit their website here.
For details of PanMacmillan new releases, visit their website here.
For details of Simon & Schuster new releases, visit their website here.
Disclaimer: Amazon links are given for ease but please remember there are a number of other online retailers operating, including hive (which helps to support independent book shops), Kobo, Apple Books, Google Play and Nook as well as online stores for bookstores such as Waterstones, Barnes & Noble and WHSmiths. 
Read the latest issue of Write On! magazine (12) online here
We want to help connect authors and readers, so our Saturday Spotlight page showcases some of the exciting new reads available each month.