Showcase: Eleanor Marx: The Jewess Of Jews Walk
In this, my second week as guest editor of the Wednesday Showcase page, I'm featuring the work of one of our Pen to Print writers, Lucy Kaufman. As well as being an active part of the team, Lucy is the tutor for Pen to Print playwriting and screenwriting courses.
Thirty-three of Lucy's plays have been produced in more than 40 venues around the UK and Australia. She's had plays performed at festivals, in community settings and in theatres.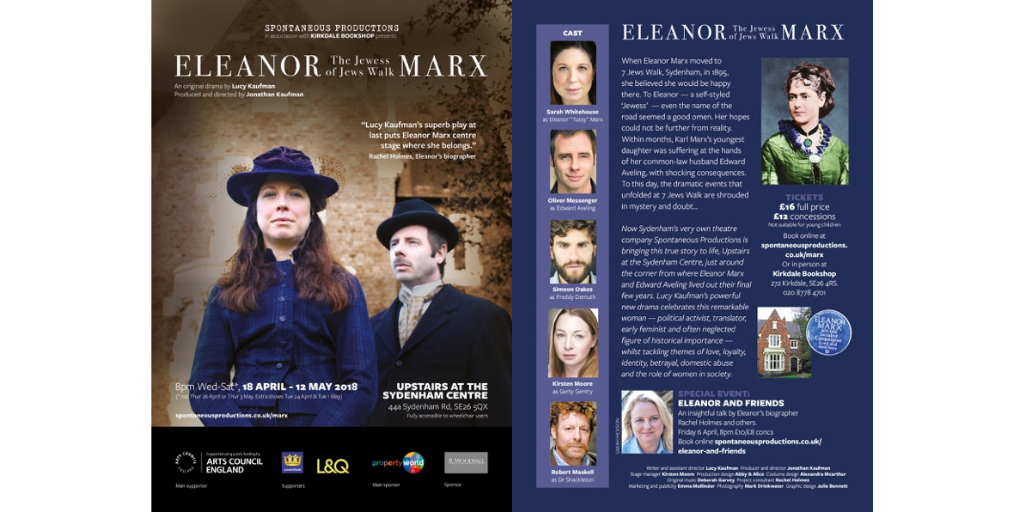 In 2018, Lucy's play about Eleanor Marx, the extraordinary daughter of Karl Marx, Eleanor Marx: The Jewess Of Jews Walk, was a sell-out success Upstairs at the Sydenham Centre. She's very kindly allowing us to share an extract from the play here.
In this scene from Act 3, Eleanor Marx (Tussy) confronts her common-law husband Dr Edward Aveling about his secret marriage to Eva Frye.
TUSSY: How long has this been going on? How long before you finally married the girl?
AVELING: Three years or so.
TUSSY: Three years. In which I had faith in you. Three years in which I believed I was your wife. Quite some time then, that my pathetic attempt at playing house has been a total fabrication.
AVELING: I lived with you. I worked with you.
TUSSY: True, you did those things whilst your mind, your heart were elsewhere. If you even have one, Edward. If there is indeed a heart to give to Eva.
AVELING: I am in love with her.
TUSSY: I am extremely glad you know what that word means. It feels to me you have betrayed that word in the extreme.
AVELING: Who knows what love is, Eleanor? It is no doubt invented by poets to keep women happy. And to keep them visiting our beds.
TUSSY: I thought I knew its meaning. Now I have no surety in anything. Least of all myself. How can I trust my senses, my own thoughts and feelings? They have been so easy to mislead.
AVELING: You are an independent woman and the most stubborn of mules.
TUSSY: I'm sorry I was not easier to break. Rest assured you have managed it now. (On the floor) You can trample me now, Edward. I am reduced to nothing. Nothing. I am less than nothing.
AVELING: Get up, Eleanor. That is the problem with you. You view yourself as some kind of tragic figure of Shakespeare. When you are not half as much a victim as you think you are. You don't know what hardship is. A child starving to death because the employer won't give in to their father's demand for a limit of eight hours, that is hardship.
TUSSY:  You kick me with every word, Edward. It is simply another blow in my direction. (Gets up off the floor, quoting 'The Woman Question') 'Personally we believe that monogamy will gain the day. There are approximately equal numbers of men and women, and the highest ideal seems to be the complete, harmonious, lasting blending of two human lives.' We wrote that.
AVELING: You wrote that.
TUSSY: You were only too keen to put your name to it.
(PAUSE)
AVELING: Well, I have to eat my breakfast. And I have the SDF to meet with.
TUSSY: (Charging at EDWARD and beating his chest) You beast of a man. You cad! You liar! You absolute scoundrel—
AVELING: (Prising off her fists and pushing her to the floor) Oh you woman! Affairs of the heart will always reduce you.
TUSSY: (On the floor) And you. This must reduce you too. You cannot get away with this. You cannot simply walk away from our marriage as if you are not the architect of its destruction.
AVELING: You have always been unstable, Eleanor. You are prone to hysteria. Your father said as much. And now it's clear my presence has been holding you together.
TUSSY: (Onto her knees) Despite what you go around telling everybody, you never met my father. And thank goodness for that. I could not have stood by and watched you take Möhr in as you take in everyone.
AVELING: It must have been The General who filled me in on your colourful past.
TUSSY: Your presence is noxious to me.
AVELING: (Taunting, with pleasure) I know your history. Your dearest Engels let it slip. I know there was an episode. An institution. Doctors, medication.
TUSSY: Mohr wouldn't let me marry Lissa. (Breaking down) Lissa. Lissa.
AVELING: (Still enjoying this) Lissa.
TUSSY: We were engaged. To be married. Beautiful Lissa. But Mohr wouldn't hear of it. Lissagaray.
AVELING: Lissagaray. The French Communard. It is just like you to fall for the romance of a revolutionary.
TUSSY: Good enough to stand up to giants and write the history of the Paris Commune. But not good enough for Mohr's daughter! (Bemused by a memory) Lissa. Dear Lissa. I translated his story. He waited for me so many long, wasted years. In the end I was not strong enough. I could not resist my father, or the good of the Cause. Not even for love. Not even for brave, tall, dark, dashing Lissa. If I had married Lissa it wouldn't matter a bean about all the Eva Fryes in the world! You could marry a new woman every week and I wouldn't even care. I might have children! I should never have met you, Edward. Never have loved you.
AVELING: And yet you did. And you do.
TUSSY: (Intensely passionate, beating her own chest) One cannot help the love one feels. I cannot help what is carried in my heart.
AVELING: You are weak for men, Eleanor. You are the strongest amongst men when speaking on the stand and yet a quivering woman in the bedroom.
TUSSY: You have not the first idea about me, Edward. Don't pretend to.
PAUSE
TUSSY: That is your breakfast I can smell. You had better go down and eat it before Gerty comes to fetch you. She cannot see me like this.
AVELING EXITS. TUSSY has a panic attack. She goes to the wash-stand in her BEDROOM and washes and dries her face. She stands heaving her chest, taking in breaths, before returning to the STUDY.
TUSSY sits at her desk, takes up her pen and writes a letter.
ENTER AVELING
TUSSY: That was quick.
AVELING: I didn't like the look of it.
TUSSY: So the poor girl cooked it for nothing.
AVELING: She's paid to do it.
TUSSY: I suppose you prefer your wife's cooking.
AVELING: What the devil are you writing? A letter I shouldn't wonder.
TUSSY: (Covering it) A list of errands for Gerty.
AVELING: I suppose you think you can run to Freddy. You think that damp rag can rescue you now? Freddy who is nothing but a huge stain on your family's reputation. What does Freddy Demuth know of a successful marriage?
TUSSY: He knows a great deal more than you. About love, for a start. And loyalty.
AVELING goes to TUSSY's desk and pushes TUSSY's arms away. He reads the letter she   is writing.
AVELING: A letter to Crosse. A codicil! Changing your will.
TUSSY: You and your wife cannot stand to gain from me a moment longer.
AVELING: How very wise. How immensely forward-thinking.
TUSSY: On the contrary, it is several years too late.
AVELING leaves the desk and watches TUSSY from afar, like a cat watching over a mouse. TUSSY continues to write the letter.
AVELING: You will leave everything to Laura, I suppose.
TUSSY: And Freddy. And a little to Jennychen's children.
AVELING: You would leave more to your dead sister's children in France, whom you never see, than you would your living, breathing husband who lives with you in this house.
TUSSY: Apparently so.
AVELING: You profess to love me, Eleanor. And yet you would ruin me.
TUSSY: As you have ruined me.
TUSSY encloses the letter and seals it. She writes on the envelope. EDWARD is rattled.
TUSSY: I have nothing left to give anyone, Edward, except my money. I have fought for so long, to give everything of myself but I am weary, I am tired.
AVELING: You should remember who has fought alongside you. Not Laura. Not Freddy. And goodness knows not Jennychen's children.
TUSSY: Every man I have loved most has lied to me. Mohr, the General, and now you.
AVELING: But look how easy you have made it for us all. You have put your faith in all of us because you have loved each of us unwaveringly.
TUSSY: Well, I am no longer gullible. Every truth is out and I see it all with stark, newborn eyes. My father's treatment of Freddy was not worthy of the treatment of a dog and now the life I thought I inhabited has been proven to be no more than an illusion. How can I walk tall in the world, Edward, when I cannot hold my head high in my own house?
AVELING: You will rebuild your life, Eleanor. We will live as separate individuals but we can continue your father's work in public.
TUSSY: You think you will stay anonymous as Alec Nelson, Edward? How? Before too long you will be spotted with Eva, word will get out. Then my father's opponents will hear of this and they will have a field day. If Eleanor Marx-Aveling can be duped by her husband she can hardly protect the worker from exploitation! You have served this up to our enemies on a plate. Me – a fool. You – morally bankrupt.
AVELING: You care for the Cause more than yourself.
TUSSY: The Cause is myself. I am the Cause. You know what my father said of me: 'Tussy is me.' (SHORT PAUSE) We have failed, Edward. We tried but we failed. It seems the cause has died with my father and Engels. Try as I might, I have not been successful. Europe is in disarray and Socialism in England is barely taking root. The factions and the infighting, the misinterpretation of my father's ideas! At every sign of new growth, the shoots are beaten down. I must face the facts. I am an ineffectual heiress of Marx. I have failed my father, I have failed in my marriage and I have failed you.
AVELING: If you truly loved me, as you profess to, you would protect my future.
TUSSY: I hoped to cure you of your immorality. (Laughs) I thought if I loved you enough eventually you would grow and blossom and choose goodness over darkness. But what am I left with? I still love you, profoundly, stupidly. But have you changed? (PAUSE) You stand and mock me, shower me with your utter contempt. You blackmailed my half-brother, Edward. You used my father's deepest shame as a stick to beat us.
AVELING: (Scoffing) Opponents of Marx don't care a hoot about Karl's illegitimate son. Bastards are ten a penny. It is you who cares, Eleanor. It is you who feels the misdemeanour sharper and deeper than anyone!
PAUSE. TUSSY visibly battles her internal struggles. She paces and circles the room, figuring out what to do. She comes face-to-face with Edward and grabs his elbows.
TUSSY: We could end it all, Edward. Together.
AVELING: (Laughing) Like Romeo and Juliet, you mean? We are hardly star-crossed lovers, Eleanor.
TUSSY: But what do we have worth living for? I look ahead and all I see is barren wasteland. I have no husband. No children. Little family around me.
AVELING: You can't be suggesting…? Eleanor. I did not succumb to that the last time you proposed it. I will not go along with it now. I have worked tirelessly for the Cause but I will not end my life for it.
TUSSY: If not for the Cause, then for me. Because I cannot continue any longer. Because Tussy and all she ever lived for is spent.
AVELING: (Shrugging her off) You are out of your mind.
TUSSY: (Grabbing him) I am quite serious. (Intimate) We go together, holding hands. We kiss. We breathe our last. We die.
AVELING: You have a romantic idea of suicide, just as you have a romantic view of marriage.
TUSSY: Romantic as in not expecting my husband to be married to Eva Frye, I suppose.
AVELING: You may not expect it, yet she exists. (Frees himself)
TUSSY: But that's the very reason to do it. It is so very tangled. We can straighten it, Edward. We can resolve this forever.
AVELING: You think suicide solves it all.
TUSSY: It solves enough.
AVELING: You would destroy yourself, and me along with you, and in turn break poor Eva's heart?
TUSSY: It would be doing the poor girl a favour. It would rid her of you – and me – forever.
AVELING: It's pure madness.
TUSSY: But so very, very perfect. You will see.
*****
Reading a play extract in this way makes for a very interesting experience and Lucy's words brilliantly capture the drama of this exciting scene. She's also shared some images from the performance at Sydenham centre production.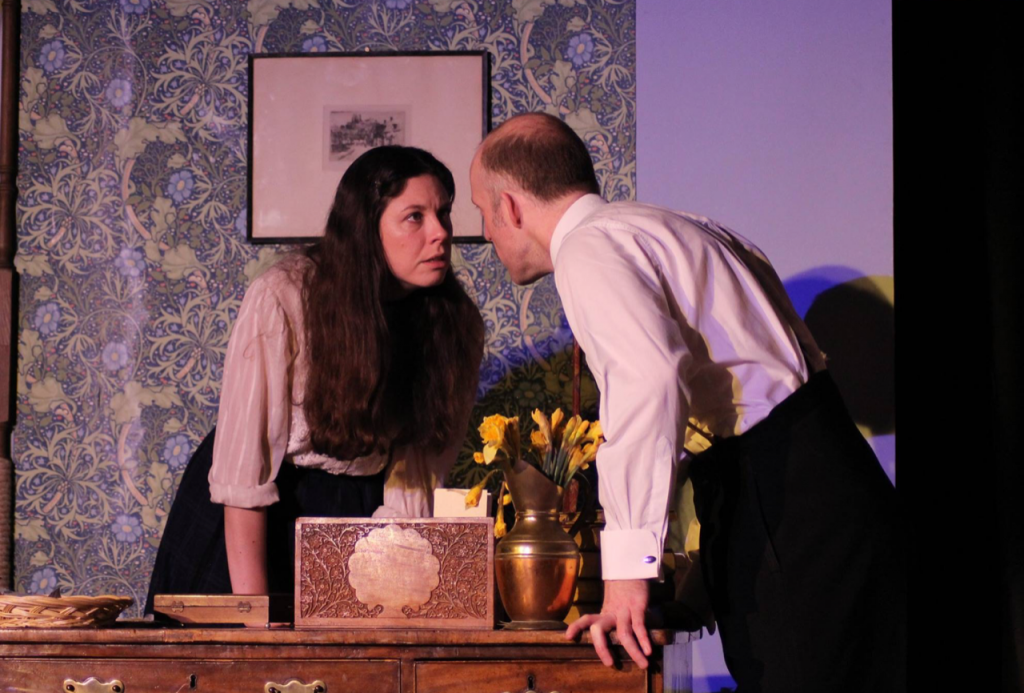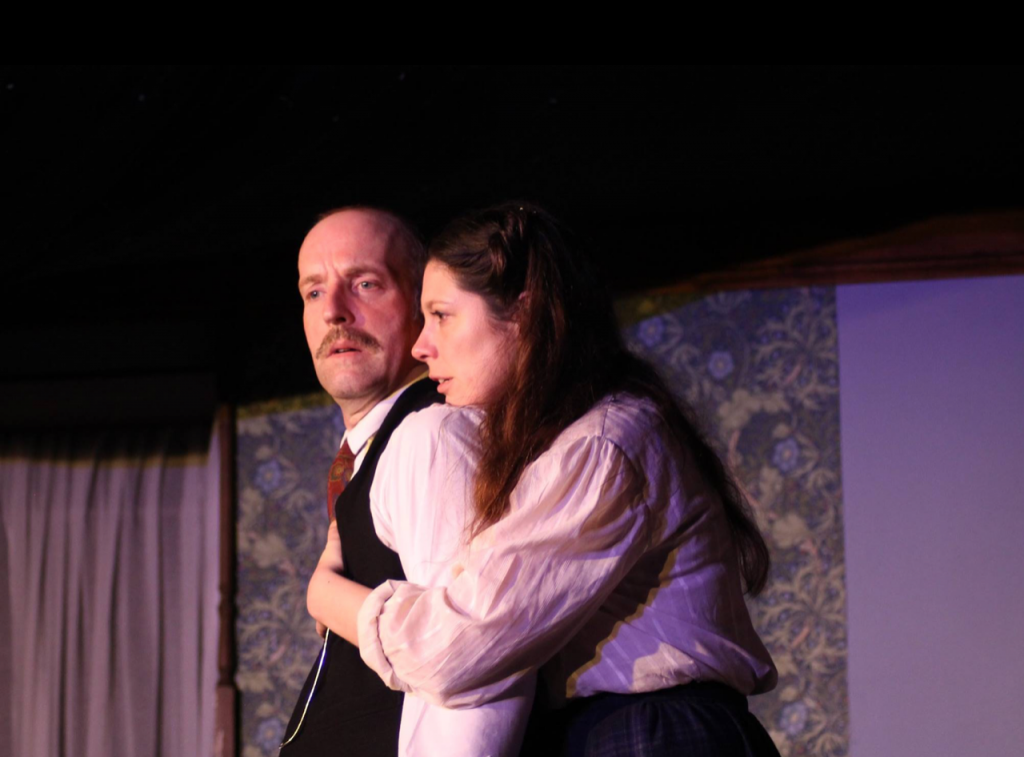 *****
I'm so impressed by the range of talent we've been showcasing since we started our online Extra pages. Please carry on writing and sending them to us!
Eithne.
*****
Don't forget, Issue 7 of Write On! magazine is out now. Read it online here.
If you'd like to see your writing appear in the Write On! 'Showcase', please send your short stories, poetry or novel extracts to: pentoprint@lbbd.gov.uk.