Showcase: An Ode To Home + A Roof With Four Walls + Kind Heart + Home Is Where The Heart Is + Right Now, You Are My Home
By Diya Padiyar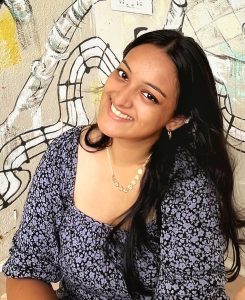 Home has always been my favourite subject to write about. Simply because it means different things to everyone and yet, it evokes the same feelings of love and nostalgia. Through the month of October, I wish to explore this theme of home and homeliness. 
The land I call my home is known worldwide for its hospitality and comfort. Living in India and particularly in Goa, I've always associated home with a safe space. However, I've also known home to be transient. It's a feeling that keeps evolving as we grow and move. 
Having begun college this year, I was curious about how the meaning of 'home' changes for people as we carry on with our lives. Does it change for everyone? If not, is it a feeling of nostalgia we look to cherish forever? To answer my questions, I asked my college classmates to share their thoughts about what home means to them.
*****
The first piece is a poem, beautifully penned by Ruth, that conjures up a clear image of her childhood for us.  
An Ode To Home
Home is feeling the arms of your mother wrap around you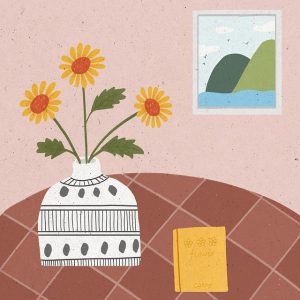 Or in the myriad flavours of her food that delight my mood
It's in the moments when I listen to my dad hum a familiar song
It is in the tenderness of their care and the warmth of their praise
It used to be in the smell of the dewy grass as I ran towards my school bus
The early golden sunrise that chases silence in my bedroom
To the smiles on the frayed picture frame stuck in the memory
It's the old scent of faded dried flowers stuck in between pages
Or the quieted sounds as I'm alone reading my book
To playing my favourite song until I fall in love with the lyrics
A reality capsuled in a melodious past with a dull ache of nostalgia
© Ruth Izabel Dias, 2022
You can connect with Ruth on Instagram: @ruthdias_08
*****
Home is a feeling that can be evoked by the simplest things: the smell of food or a tune, for example. These memories are often associated with our childhood and stay with us. Above all, though, it's the people and their affections who make home home. 
For pet parents, furry friends hold an important role in making them feel at home; sometimes even more than people! 
Next, I'd like to share an illustration by Charlotte Webb on pet life at home. This piece was inspired by a poem she wrote for Write On! back in February, about how her cat, Frida, wants to play while Charlotte herself is rushing to work.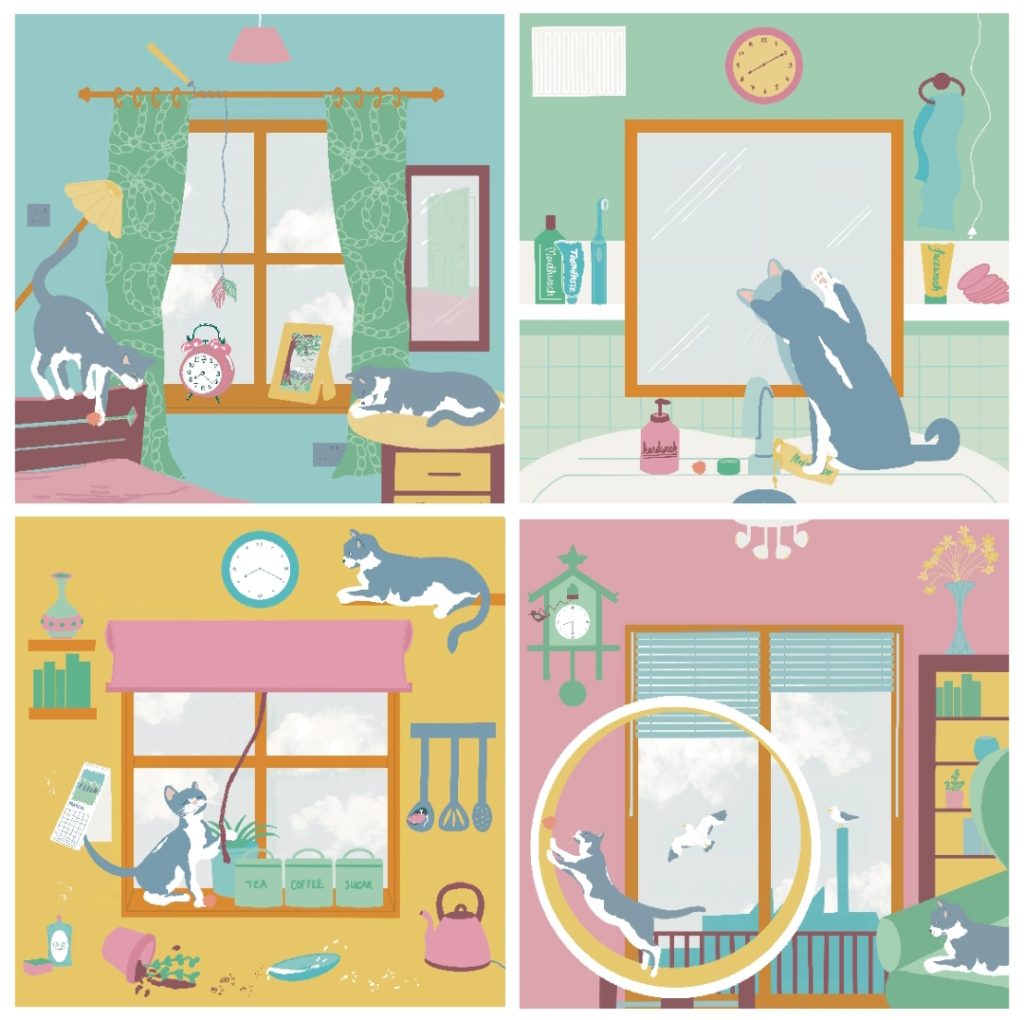 © Charlotte Webb, 2022
You can find more of Charlotte's work on Instagram: @charlottewebb.illustration
*****
Just as Charlotte loves her cats, Rhesa tells us about home reminding her of her grandparents, parents and dogs. It's they who add meaning to a roof and four walls. 
A Roof With Four Walls
I look around and walls I see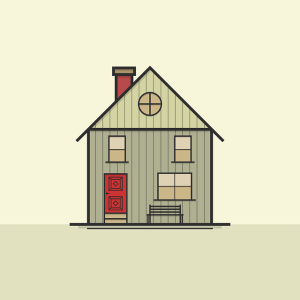 Framed with pictures bright
But in my heart I cherish deep
Those memories behind each smile
The arms of my grandparents
The hugs of my mum and dad
The licks of my doggies with a nose so wet
Of life the best I've had.
While people see the beauty
Of the walls that they call a house
I feel the love surround me
Of this that's more than a four walled house.
It's a home of life and laughter
Of fights and tears and pain
But the only place I'd chose
If I had that chance again
© Rhesa.M.C.Coutinho, 2022
To connect with Rhesa on Instagram, follow: @rhesacoutinho
*****
When we miss home, we miss the idea of being loved and cared for. Anywhere you're cared for is where you call home. This idea is beautifully explored by Anushka. She says, home is where she belongs!
Kind Heart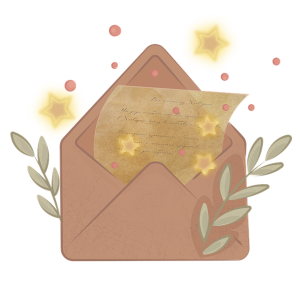 The letters were scattered on the floor like blood drops. I picked them one by one and kept them aside. Just then, I received a call from Kartiki that she was nearly home and that we would celebrate my birthday together. Teardrops started flowing on my cheeks like pearls.
"I miss him," I cried. "Why did he leave me? He could have stayed a bit longer and everything would have been fine." 
As I was crying, the doorbell rang. I knew it was her. I brushed off my face with some makeup and ran towards the door.
There she was, beautiful as always, smiling as though she knew the future. I smiled back.
"Let's go," she sighed.
"Thank you for coming with me," I said.
"Always! Tell me where you want to go? Let's visit the mall and go to all our favourite places," she said enthusiastically.
I replied, "I want to go where I belong. Will you take me there?"
Though confused, she replied, "OK, today it's your birthday; you lead me where you want to go."
I took her to the bus stop and we stepped on the bus. I sat at the window seat.
 "Where are we going?" she asked.
"You'll know soon enough." I smiled.
We reached a place full of old buildings. She said, "Ah! So you like history."
I said, "Sometimes history is where you find your future." 
We stood in front of a building that read, Sneh Mandir, literally meaning a 'temple of care' in hindi. It is usually associated with an orphanage or an old age home.
We entered and the receptionist greeted us and asked in a soft voice, "Yes ma'am, what can you do for us?"
I told her I'd come to visit the elders and children for my birthday and I longed for their blessings.
She said, "Does that mean you're not donating anything today?"
I replied, "I will someday."
Kartiki accompanied me to the room where everyone was sitting. I greeted them. "Hello everyone, I am Nisha. How are you?"
They were happy to have someone visiting them. I didn't tell them it was my birthday but I enjoyed speaking to them. They had kind hearts and spoke about the simplest of things.
One girl said, "Didi, I made a kite today, I want you to have this."
I was touched by the splendid creation; the blue and pink colours reminding me of my childhood. Be kind always. These words were emblazoned on the kite in the child's handwriting. 
I came outside and saw elders in the garden, having their breakfast. I went up to receive their blessings. "Nisha, you've grown up so much."
I replied, "All because of you, Uncle."
Kartiki was watching intently. She came towards me and said, "Why didn't you tell me you wanted to come here? Didn't you trust me?"
I said, "I wanted to tell you but I couldn't. It was a secret between me and my mother."
She was taken aback by my words and said, "I thought your mother passed away."
I replied, "She left me but my father left without even telling me. He didn't think of leaving a note behind or telling me where he was going. All of you gave me the strength to go through this. This is my home. I don't want to live in a house that echoes with emptiness and the walls remind me of my mother's presence."
I went to the receptionist and said, "This is what I would give to my home. Everyone here loves me. To this day, all I ever received from my father was this money without his affection. He never revealed his address. Today, I am adding my affection to it and giving it to you."
"You can come and live with me in my house,"  Kartiki said warmly.
I said, "No," adding, "I wish to live here, this is where I belong."
If your money was something
I desired then you were wrong.
Philanthropy didn't even
make you feel, you and I belonged.
You would say it was just a word
For me, your love was all I longed for.
© Anushka Gaikwad, 2022
A home is built with love and affection. In the absence of that, no place will ever be homely enough. Anushka's story teaches us that home is where the heart belongs. 
*****
Delving deeper into the same idea, here is another poem by Anushka. 
Home Is Where The Heart Is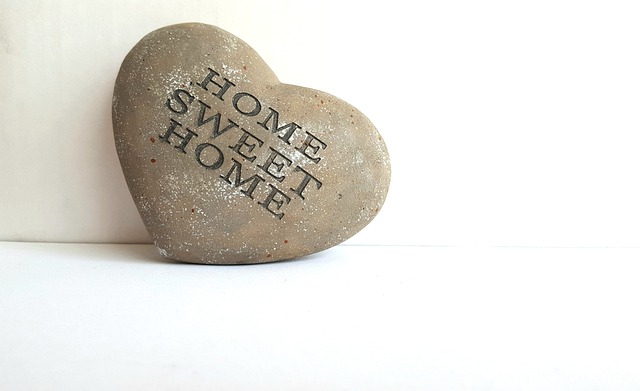 Phone cracked
but the inner cover is intact.
There is a home inside
your broken heart.
Having an umbrella yet
I was drenched in rain.
You gave a shoulder
for a downpour to cry,
you felt its pain.  
Met someone on the
bus this time.
A place for my
solitude filled up with talks.
The pop-up on
my phone to
learn a new language,
I wander around to
only come back home.
A girl, eating a
choco bar gives
me an inspiration
to write a poem. 
A person to remind of
something we like,
emotions to feel
as a song we liked.
Your cat crawling
in your lap to love
at your worst times.
Reading your book,
the bookmark brings
you a way home.
Your pillow which
soaked all your
worries and cries. 
The diary you poured
your heart into.
The people who
broke your heart in two.
All these things
made you feel at home
when you finally realise
they were home.
© Anushka Gaikwad, 2022
You can connect with Anushka on Instagram: @music_is_peace_
*****
The idea of finding home in ordinary things is something that resonates with all of us. When the idea of home starts to feel complex and complicated, it's the simple things that help us stay connected to our roots.
Lastly, I'd like to share another poem, this time by Jaaziel Fernandes as she finds another link between home and heart.
Right Now, You Are My Home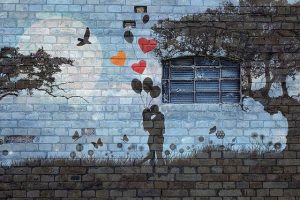 Home is where the heart is
And mine is scattered all around
It's in bits and pieces with the people who have left but also with the people who have stuck
around.
I live within memories
Some good and most of them bad
My home isn't sweet like honey but rather haunted,
haunted by me,
my home will be you until one day you forget me.
© Jaaziel Fernandes, 2020
Connect with Jaaziel on Instagram: @jaazi__el
The idea of home being scattered is something I can relate to. For the longest time, I wanted a place to return to; my place of escape. That, for me, is the idea of home!
*****
If you'd like to see your writing appear in the Write On! Showcase, please submit your short stories, poetry or novel extracts to: pentoprint.org/get-involved/submit-to-write-on/
You can read the latest issue (14) of Write On! here.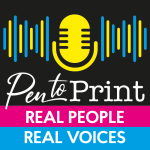 Hear extracts from Showcase in our podcast. Write On! Audio. Find us on all major podcast platforms, including Apple and Google Podcasts and Spotify. Type Pen to Print into your browser and look for our logo or find us on Anchor FM.
*****
If you or someone you know has been affected by issues covered in our pages, please see the relevant link below for ​information, advice and support​: