Thoughtful Tuesdays: Reality And Perspectives
By Eithne Cullen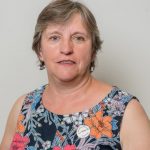 Welcome to October's Thoughtful Tuesday page. Our new theme for the autumn months is 'Reality And Perspectives.' It's also Black History Month, a time that encourages me to think about the good fortune I had discovering some of the diverse writers and writers of colour who contribute to our rich world of poetry and prose. I think about the offer to our students at school who are given access to World Literature in a way I wasn't, where the canon of English literature was very white and very male. This shifting change in the approach to our curriculum really gives us a glimpse into the world of reality and perspective: everyone's point of view and everyone's voice is different and speaks to us differently. And I was able to discover writers like Grace Nicholls, John Agard, Moniza Alvi, Imtiaz Dharkar, Derek Walcott and many more.  One of my favourite poems is by Maya Angelou. Still I Rise celebrates the voice of a woman and is about self-respect and confidence. In the poem, she shows how nothing can get her down. She will rise to any occasion and nothing, not even her skin colour, will hold her back.
Lines such as:
You may write me down in history
With your bitter, twisted lies,
You may trod me in the very dirt
But still, like dust, I'll rise.
Start off the feeling of empowerment and:
You may shoot me with your words,
You may cut me with your eyes,
You may kill me with your hatefulness,
But still, like air, I'll rise.
You could say Angelou really gives voice to her reality and her perspective of her history. If you have a chance, there are examples of the poet reading the poem herself on YouTube and other platforms. Definitely worth a listen!
*****
This poem from Danny Fenn reminds me of the positive tone of the Angelou poem, and even the title set up the content for me. I hope you enjoy it, too.
I Still Cry
I duck I dive, I graft I strive
I smile I grin, take the blows upon the chin
But at times I still cry
I sing I dance, don't give fear a second glance
I raise the bar, and raise the roof
I don't lie I speak the truth
But at times I still cry
I hope I dream, try my best not to
scream
I laugh out loud when in the crowd
but at times I still cry
I am the life and soul and play a leading role
I act the clown even when I'm down
But at times I still cry
I share the love and share my trust
Do my best to earn a crust
I give out praise
In various ways
But at times I still cry
I clap, I cheer
I give praise and never sneer
I remain humble even when I stumble
But at times I still cry
I won't judge, I live and let live
With open arms I will forgive
I bruise I bleed and refuse to concede
But at times I still cry
I will aid I will assist
I will let you know that you are missed
I will phone I will call try to catch you when you fall
But at times I still cry
I scrimp I save, pretend to be brave
I exhale and sigh, wipe the mist from my eye
I understand it's ok to cry
And at times I still cry
© Danny Fenn (the boleyn poet), 2023
Connect with Danny on Facebook: danny.fenn.10 and Instagram: @danny.fenn.10
*****
Speaking of male poets, Shakespeare is also central in English lessons in schools. Whatever your perspective, there's joy in his plays and words; even if, like Gertcha Cowson, you can write with humour and respectful disrespect. I love how he's used the words from the play to create this piece.
Have you ever wondered what would happen if your poetry fairy gave you a slap around the chops while you were reading Macbeth? Well, apparently this:
Out 'Dammed' Spot
By the pricking of my thumbs
Something wicked this way comes.
It wears on me heavy like tar
grinding me down; deep and far
Whence my capturer will trap me
in a weaved web of my own folly.
The tolling bell
invites me just to tell
of the sombre knell
that summons me to hell.
For I hear it not;
with fingers in each ear
peal of the weird sisters
of guilt and fear.
More is now due than more I can pay
this debt I have gathered is more than I weigh
All of Neptune's oceans cannot wash my sins
or rinse me of fears horrible imaginings.
Lust and greed
for the perfumes of Arabia
The insane root
that made me a prisoner.
Sloth and gluttony
caused toil and trouble
As I laid wasted among
my bespoke rubble.
Wrath and envy
told me I shall be king
Owl shriek; a fatal bell tows,
the nettle sting.
Stuck in my throat
'Amen' my senses but died
Mine eyes pluck out
I could not see but pride.
Where I could not pronounce 'Amen'
I had most need of blessings from sins.
And now hunted by those I've trespassed
I forever beg forgiveness for my past.
© Gertcha Cowson, 2023
Connect with Gertcha on Twitter: @GertchaPoet
*****
Kane Corvus submitted this poem, Rising. It's a powerful insight into the thoughts of the narrator.
Rising
dark clouds form then fade, a gentle breeze kisses features smooth,
caressing trees with subtle bend
the lord of misery moves on, leaves a broken ma of the world to
start again from fresh
free, free at last, mind in knots, I've found my peace, exhausted soul,
try to lie, to the world, this hell has passed
nothing lost that wasn't dead weight, stretching out to reach the
heights
my crumbling world, rebuild again, drip by drip, fate has played, its
sickly hand, long life period ending, loss of control, powerlessness
within, my own life, don't deny my, my promised land, my day in the
sun
the whore now spreads her wings, moving on to another now, release
the child and free, to clear your mind
rising, rising.
© Kane Corvus, 2023
You an connect with Kane on Facebook: https://m.facebook.com/kanespokenword
*****
Finally, my talented young artist friend, Pauline Cushnie, has shared some of her portrait work with me. There are three in all. The first two are of Pauline's grandma and I love the way she's captured the personality and character of this woman in her posture and her face. Pauline tells me:"Grandma was gentle and strong."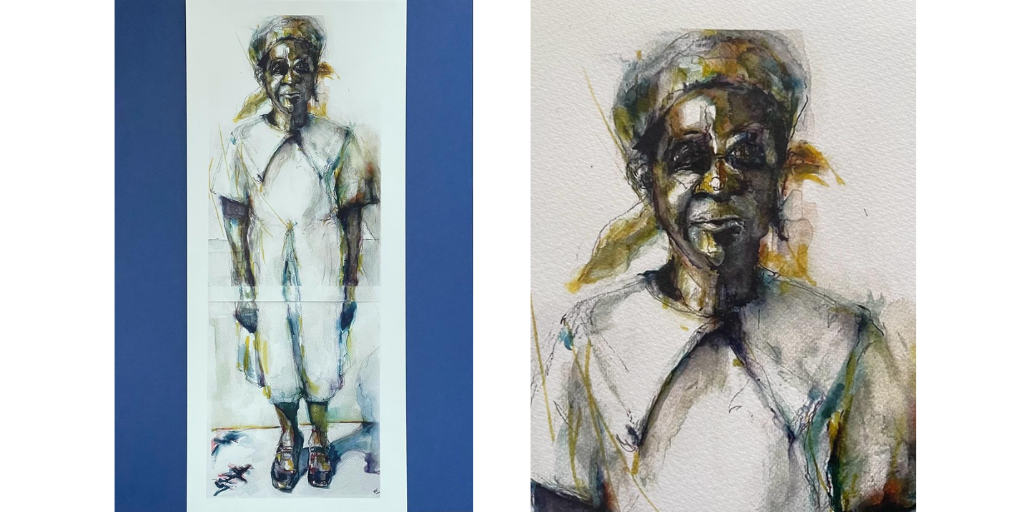 The last one is of writer Sandra Agard, a British storyteller, writer, literary consultant and cultural historian. A published author of short stories and poetry, she has performed her work, including plays, for more than 40 years, within the UK as well as internationally. Sandra is a Hackney-born writer, who, Pauline tells me, is also referred to by the title: "Her Purpleness."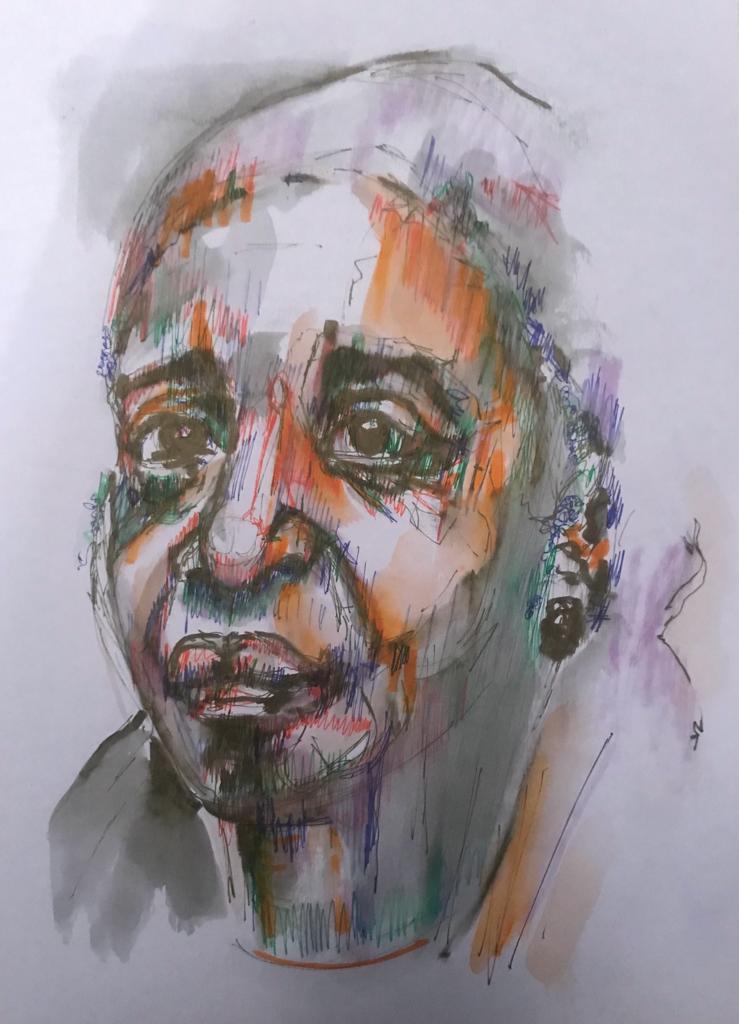 You can connect with Pauline (and look at more of her talented work) on Instagram: @pauline_cushnie_art
Pauline's work will be on display at the Art for All Fundraising Auction, 9 – 16 October, which is an online event only. Find out more here: https://www.mallgalleries.org.uk/whats-on/exhibitions/art-for-all-fundraising-auction
*****
I hope you've enjoyed the writing and images I've shared today. They really are inspiring and uplifting, whatever your perspective. You can also submit your creative work via the submissions portal online: pentoprint.org/get-involved/submit-to-write-on/
*****
Issue 18 of Write On! is available to read online here.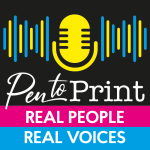 You can hear great new ideas, creative work and writing tips on Write On! Audio. Find us on all major podcast platforms, including Apple and Google Podcasts and Spotify. Type Pen to Print into your browser and look for our logo or find us on Anchor FM.

*****
If you or someone you know has been affected by issues covered in our pages, please see the relevant link below for ​information, advice and support​:
Everyone's point of view and everyone's voice is different and speaks to us differently.