Thoughtful Tuesdays: Values
by Eithne Cullen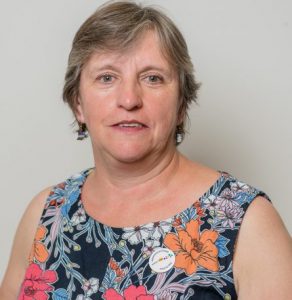 In Oscar Wilde's play Lady Windemere's Fan, Lord Darlington says that a cynic is 'A man who knows the price of everything and the value of nothing.'
Like many of the things Wilde wrote, this has slipped into common usage as a saying and could equally apply to a man or a woman.
Goodness knows what Wilde would think, seeing public figures weighing up the balance between what science tells us, against emotional responses to the situation.
I wonder what he'd say about the idea that anyone in the real world should even consider ethical, moral, philosophical or cultural values to be on a par with financial or economic values.
At Write On! we're thinking about values this week. We've learned the value of things through thinking about what we've been deprived of. People are saying that they've noticed the smells and sounds of nature (have you smelt the roses this year?), enjoyed home cooking and the opportunity to walk outdoors instead of hitting the gym. The opportunities to meet are beginning to show themselves, but still we can't hug or hold the people we've been missing.
My son, in Australia, is looking forward to meeting friends in a restaurant this weekend. It's a socially distanced meeting; they'll have to pre-order and will have to leave at the end of their timed slot. For a group of friends who were used to meeting in cafes and restaurants regularly, this is quite an event. I think they'll value the opportunity.
I was sent this poem by a friend (Gill Scott) who had a poem published in our Showcase; the first time she's ever been published. She shared this poem from her friend and reminded me of valuable opportunities we offer writers when we share their work. She said, 'Thank you again for inspiring us to be brave!' And I value her comment.
This poem is about coming to terms with bereavement and loss.  It highlights the importance of the people we treasure and hold dear. The poet explores her feelings through the value of a familiar photograph and the thoughts and longings it inspires.
My friend said this:
Charmaine Coppola (nee Fursman) is a second-generation Irish woman who was raised in Kilburn. Her mum (who recently passed away) was from County Kerry.  Charmaine married an Italian man and has been living in Milan for many years. She has endured  lockdown and managed to teach online, though she is the least techie person I know.
I have seen a few of her poems, but she particularly wanted to share this.  It's based on a photograph that Charmaine gave her mum: a Cartier Bresson print of two farmers talking in Kerry.  I have attached the photo as well.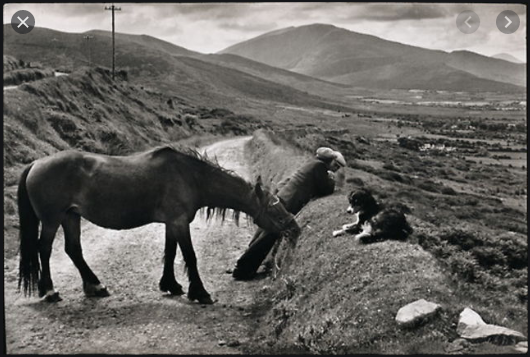 The Chat
I've taken the picture from your bedroom wall,
Lighter from all the looking at it.
The one you placed in pole position, passed every day, en route to wherever,
Have moved it to my place, changed the space before the picture
Where molecules mix and mingle, meander and morph into something new,
To accommodate the new air, new space.
The Scene:
Two farmers lean over a low stone wall and chat,
The imperatives of the day, such as they are,
Nowhere to be seen, casually set aside
To be picked up again, when the time is right.
If at all, at all.
A horse straddles the middle of the road,
Nibbles strands of stray grass,
Lone stars, that have squeezed through the weak spots of the low wall.
A sheep dog watches,
Basking in the arc of the chat.
Canine centurion, off duty.
Low lying mountains cover their backs,
Concur with the peace of it all, safe, familiar.
The daughter looks at the picture and traces the imagined trajectory of her mother`s thoughts
As she paused, so many times, to glance at it,
Her frail body resting on the metal walking frame,
Common currency of the aging diaspora of which she was part.
The quick intake of breath, the gasp, as she took it all in. and sometimes, a passing remark
"Isn`t that a beautiful picture" as if seeing it for the first time
Again and again, as she saw, knew, felt
The abandonment to the chat, the sacredness of the space it claimed,
The precedence it was given,
The "I couldn`t care less if the sky fell down" of it all,
Her phrase, the casual distillation of her young carefree self,
The spirited nature that she delighted in.
And another "Pure wild" a proud précis of who she was, then,
Still was, in part.
What longings, wishes, sighs did the space hold in its silence.
Strands of thoughts, feelings, emotions, intimately layered, interlacing.
The longing for a time when the chat was all,
A thing in itself, centre stage, and all else tucked around it waited patiently.
Imperatives knew their place, knew to wait until picked up again,
If at all, at all.
Time was.
*****
lain O'Higgins is a musician, poet and songwriter who lives in the USA. He was in Ireland visiting family at the start of lockdown and found his visit extended for two months. He enjoyed the extra time with his mother and family, walking in the area he'd grown up in. He sent me a poem about a walk he'd been on.
Iain's home is in a village close to a beautiful bay; the walk up from the beach is steep and can be extended right up to the top of a hill, where there's an obelisk. I know the area well and, when I read the poem, I could picture the place, feel the breathless walk and tune in with his love of the place and the feelings it evokes.
As you read it, you might like to know that Boand and Sinann are the goddesses associated with the rivers Boyne and Shannon – two very important Irish rivers; accipiter are hawks and corvids are crows.
Like Gannets
I stand on the head beseeching the sea
Lashed by the rain
The anguish and pain
My lovers refrain smashed
by the wind
on the rocks
Playing with Poseidon on the edge of the tide
And the waves break and crash
We get lashed
by the force
We escape the fury and crawl
from the reach of the gods
Crossing the plains and we enter the boreal
I can't hear the lovers refrain dashed on the rocks
Smashed on the pillars of sandstone
And the wave breaks on the back of Boand
Strong is her stance and she carries it east
And Sinann
she laughs and carries it west
I stand on the hill beseeching the sea
Lashed by the rain
The boughs above us swing wild
and the hounds bay in the distance
Fecundity drags us down
as we struggle
to go up and away
Cool, dark and deep the needles lie scattered
Like the casings of nuts that
Crunch underfoot with each labour that takes me closer to the obelisk
To the top of this mountain
Past Sisyphus as his blood flows
Around his rock
Around our feet
The accipiter eats
And the corvids wait for death
*****
On the subject of music, my husband is a ukulele player. He's missed his uke group since we've been locked down, but they meet on Zoom and play together. He's met up regularly to play with a friend on Houseparty. He's missed the opportunity of being part of a group. Anyone who plays or sings will tell you the benefits of being part of an ensemble and the way it encourages and develops your own performance.
This is where Singsong Club came in, opening up more opportunities to play and be part of something again. Ravi explains what it's all about:
"Singsong Club began as a one-off charity event in Dec 2015. It was an extension of a musical gathering we used to host twice a year at our house; once in the summer and then again at Christmas. We'd pull up some lyrics onto the TV screen and sit around blagging our way through various songs.
After our first public outing, it became quickly apparent that it would work just as well in a larger setting. Two hundred and forty shows later, we have several monthly London residencies and a steadily growing family of Singsong followers.
We pride ourselves on playing the greatest songs ever written, in their original chords, in their entirety. Currently, with just over 300 songs, the setlist continues to grow and evolve on a month-by-month basis.
Our Singsong shows are all about community, the collective whole and everyone being on a level playing field. The audience leads the songs.
With the onset of COVID-19, we resigned ourselves to the fact we were probably not going to play live again this year. A lot of people wondered why we didn't just take a live show online and we had to explain that current online tech doesn't allow real-time collaborative playing, due to the time lag. So we experimented amongst ourselves by recording a song and passing it on until we were all playing on it.
We chose Cyndi Lauper's Time After Time for the first track. We weren't sure how it was going to sound and whether the online virtual Singsong would work. I remember  the first time I synced all of the voices together and listened back to the entire mix. I was knocked for six. The euphoria we feel every week as everyone sings together in a live setting swept over me once again, but in a completely different context! To see and hear 50 voices and multiple instruments was simply beautiful.
Cyndi Lauper's 'Time After Time' by SingSong Club
Some people had spent whole days practising and recording their parts and the process had helped them to escape from their mundane lock-down routine. It has certainly helped us keep connected with all the wonderful folk we used to see week in, week out and has introduced us to a whole new bunch of lovely people too. We are extremely happy that the Singsong lockdown sessions are helping keep a sense of community going amongst our followers. Hopefully, we will all look back on these recordings as a memory of this unprecedented time.
And finally…
Thanks for all the contributions, today. We can really see what value is being added to our lives in lockdown. Next week we'll be thinking about Moving Sideways: wondering about adapting to change – perhaps by adopting new habits. What will we be thinking and doing differently after lockdown ends?
You can read the current issue of Write On! magazine online, just click here. 
A cynic is 'A man who knows the price of everything and the value of nothing.'