Thursday Connectors: Childhood Memories + Fond Reflections
By Farzana Hakim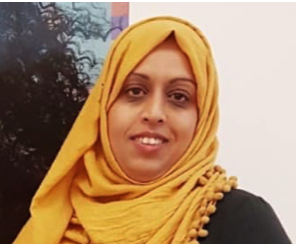 Hi, all, welcome once again to another great edition of Thursday Connectors, with me, your host, Farzana. Let me warn you right here, I've needed a box of tissues to hand while bringing you these fabulous pieces of writing!
What can I do? I'm sentimental. I can't help getting emotional whenever I remember or tell stories from my own childhood, of where I grew up in an extended family in the heart of East London. My memories are mostly fond ones, full of happy days and happy things; yet, thinking about them now makes me feel sad and I have to stop. Because, although these fond memories are still in my heart, some of the people who starred in them are no longer here. Perhaps this is why I wish I was that carefree child again. To be able to spend even just another minute with them…
Memories are like that, aren't they? Whether they're joyful or painful ones, the emotions we've attached to them as adults make reflecting on them quite hard. This is why I'm not shy to admit I cried my eyes out while connecting with writer friends from my team at Write On! for this month's connectors, as they shared some of their childhood memories.
First up is Eithne Cullen, editor of Thoughtful Tuesdays. Her poem made me most emotional!
Hi, Eithne. Let's connect:
The Mail Boat
Dun Laoghaire was wet and glistened.
I looked at the strange gangplank:
saw the reflections of the lights on it.
As I picked my way between its slats.
'Don't step on a crack,
you'll have the devil on your back.'
We were in Dun Laoghaire,
we knew the place well,
we had often been here, my cousins lived nearby.
There was a beach, where we played, a little way off.
We knew the granite pier and had often walked its stony length.
We knew the boat sailed in and out:
The "mail boat" Mummy called it.
So, we boarded the boat, curious and cold.
No one had told us we were leaving for good…
that the new bouncy ball I'd left behind
would not be shipped with the china and sheets.
Our friends were out of reach,
Our lives turned upside-down.'
The bright morning showed us England;
bustling railway stations and fields flashing by,
as we moved further and further away from what we knew:
into this fascinating mystery…our new world.
(c) Eithne Cullen,2021
*****
Our second Connector comes from E.M Blake, a regular contributor here at Write On!
Hi, Ellie. Let's connect:
Leaves And Snow
Gingerbread brown, Granny Smith green and mustard-yellow leaves drift from the trees to herald the impending winter. Humbugging scrooges fill up on apple grumble. I'm more of a Pollyanna glad who wishes for a white Christmas.
In recent years, it has snowed in January or February in London. Each fluttering frolicking snowflake has its own unique shape from being exposed to different temperatures and moisture.
On the other side of the world, Malaysia has tropical temperatures usually between 20 to 30 degrees Celsius. I went on a family holiday to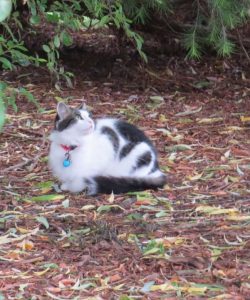 the former British colony when I was eight. I remember the mosquito bites. I would mark them with an X. It was satisfying digging my fingernail into them. This was my secret way of healing the bite and relieving the itch. There was the sound of regular mosque call to prayers, the meow of cats beneath the plastic stools in the night hawker markets and foreign words like satu, dua, tiga which means, one, two, three.
Malaysia is a splendiferous place to visit. It is a food lover's delight where you can feast all day and night. There's noodles, rice and dishes full of spice. I loved the dessert called ABC. It is a mountain of shaved ice drizzled with a colourful array of syrups. Beneath the mountain awaits a treasure of creamed corn, red beans, palm seeds and jelly. An odd assortment to my simple palate which was accustomed to cake and ice cream, but one that I overlooked since I was high on sugar by the time I reached them.
The ABC dessert is a glimpse into the cornucopia of flavours in Malaysia. It's a little bit of snow sitting in a bowl. Attack the mountain from the sides and the summit to avoid toppling it. If you're too slow, it becomes a muddy puddle. If you're too fast, you have to contend with brain freeze.
The early years are like the initial chapters of a book. They are a period of discovery and firsts.  The meandering road of life, tinted by the change of seasons, has its own unique and magical shape like a fluttering frolicking snowflake.
I grew up in Australia with Christmas in summer, trips to Asia, digging soil under the apple tree in the back garden, ballet lessons and watching Shirley Temple movies. There were also ball games, piano, baking and hundreds of guppies. I live in London now, on the other side of the world.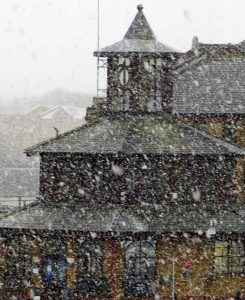 Gingerbread brown, Granny Smith green and mustard yellow leaves rest to form a majestic carpet to invite feline guests. We can bring out our scarves, gloves and hats. We have cosy homes to read, write and drink tea. The joy of family and friends over the festive season beckons. Fond memories are behind us. They are swept away like dust by the present. Travels are in our future. There's more to discover and learn. The snow too will return.
© E.M. Blake, 2021
Connect with E.M. Blake on Instagram:@mycreativeeveryday Twitter: @EllieMBlake1 and Facebook: Ellie.M.Blake1
*****
I now connect with Claire Buss, our Deputy Editor at Write On!
Hi, Claire. Let's connect:
My Fond Memories
Every school holiday we would travel miles and miles for hours and hours in the back of my step-dad's Volvo, listening to tapes of Mum's favourites – the Bangles, Bananarama and Hot Chocolate – step-dad's favourites – 60s rock 'n' roll and country music – plus a mixture of classical music, because us kids in the back never slept, despite travelling far into the night.
We were headed for deepest Wales, a small country lane in the middle of nowhere and a small white bungalow with magic rocks on the wall. Pantglas. My grandparents' farm. So cold in winter, ice would form on the inside of the windows and it was a quick leap from the hot bath to the frozen towel. A huge dining table, my place next to Grandad, ready to receive secret extra roasties. My nana cooking on the Aga: cakes, crumbles, pies and my favourite, rice pudding. Me and my step-sisters shared a bedroom with weird images in the patterns of the wallpaper, at least six blankets, no central heating and secret lamps for late-night reading. A real fire in the parlour with crackly coal and big red sofas to snuggle in and listen to Grandad read a bedtime story. He always did the voices. Mac and Muffin, grey cats full of disdain prowled the insides, while Ginger ruled the roost without, keeping an eye on the ducks and goats. We'd pick strawberries, raspberries, blackberries, gooseberries and blackcurrants to make jams and jellies, apples off the tree for pies and crumbles, with fresh goat's milk on my cereal. It was a magical place, brimming with secret spots and hideaways, quietly isolated yet so full of life.
(c) Claire Buss, 2021
You can connect with Claire on Twitter: @grasshopper2407 and Facebook: facebook.com/busswriter
*****
Our next Connector comes from Pen to Print regular and Write On! contributor Lucy Kaufman.
Hi, Lucy. Let's connect:
Fond Memories Of Childhood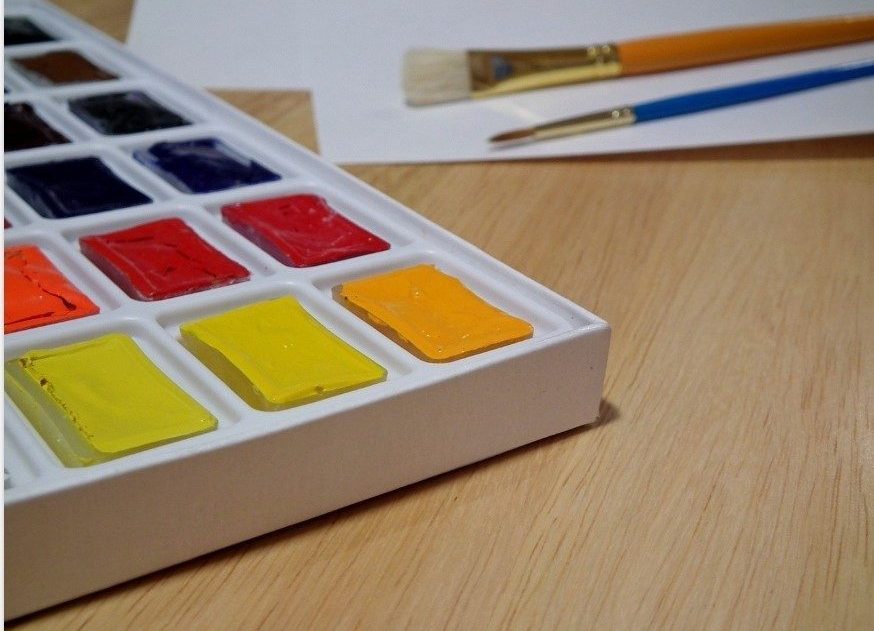 It is Summer 1978 and I am five years old. This is the happiest day of my life. Well, one of them. The paint drips down my brush handle like melting Mr Whippy ice cream. I am tempted to take a lick, just to check. I am wearing my Union Jack cap from the Silver Jubilee last year that has been dug out again, so my sister and I can pretend we are British gymnasts at the Commonwealth Games in Montreal. My pigtails are tied up in red, white and blue ribbons, or maybe blue glass bobbles, but I am definitely wearing dungarees. I am not aware of what I look like yet. I rely on reflections in puddles rather than mirrors. But I know how it feels to be me.
I am helping you paint the shed. You have shown me how. You prised open the rusty lid of the tin with a flat screwdriver and you stirred the lustrous brown oil into the paint with a stick.
"Big brushstrokes – up and down," you said. "That's it. Smoothly does it."
I sense you hovering near, feel your calm breath. You are no doubt ready to take over when I get bored and abandon my brush, and it is you who will make sure it gets soaked properly, in white spirit. There is no mention about whether I will paint well enough, no warning about making a mess.
I imagine this play-shed I am painting is my dream cottage in a wood. Instead of cobwebbed windows, I see window boxes and curtains with tiebacks, like the house in Mr Happy.
I splash the paint on; my brushstrokes scribble to the untrained eye. A perfect Mr Messy. I don't care about the drips. I delight in the spatter of paint on my old clothes. I am five. Who cares? Goo is fun.
That afternoon spreads out before me: a vast summer meadow. I feel as if I could run and run across it, arms outstretched — a girl aeroplane — then fall and roll in daisies. There is no tomorrow, no next year, no, 'What if?' Only now. Now. Now. This instant.
I had forgotten painting does this to me. I have you to thank for that. You, with your colour-palette mind and immaculate hand-eye coordination. You, who could draw anything. Who had endless patience and boundless enthusiasm. You opened the door to your artistic world and invited me in.
Now I am six, maybe seven. Again, I am in the garden; again, it is sticky-hot. I am on the patio this time; the drain cover is scalding beneath my knees and small stones pierce the skin. I have a plastic paint palette beside me, your box of watercolours and a jam jar filled to the brim with water. You have given me long artists brushes with sable hair, though some of the brushes are hard and some have lost their bristles. You hover over me again, show me how to mix any colour. I spend the afternoon absorbed in experimentation, mixing combinations of paint, adding degrees of black and white. Crimson makes my heart sing. I long to crawl inside that rich romantic red and live there, embraced by its promise of roses and Valentine hearts. I turn it into varying shades of pink by adding dab upon dab of white. A touch of yellow and it becomes peach.
I brush the colours onto the paper, concentrating hard, my tongue pressed hard against my lip, as my sister's is when she's cutting fabric. I gain control of the brush; it flows from my hand as if merely an extension of my brain. I plunge my brushes into the jam jar. Pastel clouds billow, turning the water salmon. From the paint pot to the paper, to the kaleidoscope swirling in the water, my apprenticeship with watercolours is complete. A secret creative place is forged inside myself that day: a well of colour, where I often dwell, where I am truly free. You, Dad, unlocked that place for me. Paint was the key. It is still a key.
(c) Lucy Kaufman, 2021
*****
Now our editor, Madeleine, shares her memories from her childhood in Germany.
Hi, Madeleine. Let's connect:
Reminiscing In Germany
I was in Germany a couple of weeks ago, to visit my brother for the first time in over two years.. As I was walking along the street in the beautiful medieval town of Soest, an hour or so from the Dutch border, I heard a child's voice singing: Laterne, Laterne, Sonne Mond Und Sterne (Lantern, Lantern, Sun Moon And Stars).
In that second, I was transported back to the lanterns I'd created as a child. The carefully cut paper, wrapped around a cardboard base that had a tealight affixed to it and was eventually suspended from a stick. We made the lanterns to light the way for the man with a red cloak who would ride through the main streets of the suburb of Saarbrucken I lived in: the focal point for the early evening St Martin's Day parade every November. I loved horses even then, so watching the light dapple his steed's coat as they passed was a real a treat!
Then there were the Pretzels. Not the ones we can now buy in the UK (the savoury, lye pretzels, with either cheese or salt to enhance the flavour), but soft, sweet morsels of deliciousness. 'Sankt Martin's Brezel' are sweet. The baking process is similar (see here for the recipe), but they're much softer and coated in sugar.
So: horses, lights and sweet doughy treats – what was not to like! However, despite St Martin's Day being one of my favourite traditions, it's sadly not one I've experienced since I left Germany, 42 years ago.
Just in case you're interested, it's celebrated on 11th November and commemorates St. Martin, the Bishop of Tours, who lived in the fourth century. The best-known legend, and the one that is ritualised during the parade, is when Martin, then a soldier in the Roman army, tore his cloak in two to share it with a freezing beggar at Amiens.
(c) Madeleine White, 2021
*****
And finally, Michelle Sutton from the team shares her memory.
Hi, Michelle. Let's connect:
Who You Gonna Call?
When asked about my fondest childhood memories, there were a few I recalled instantly but a specific one usually sticks in my mind.
As with most early memories, I'm not sure how much of it is actual remembrance, or just that I've been told it enough times that it feels like it. What I do think I remember is the feelings attached to it, though.
When I was five, we went on a family holiday to Disney World, Florida. Photographs and home videos offer snapshot flashbacks of the trip but whenever I see a picture of one thing, I get a brief flash of anxiety and then I smile. When I was five, I was rescued by a Ghostbuster.
After watching a musical show, with hundreds of other people, featuring actors playing the four paranormal investigators under a spell by Beetlejuice, my older brother wanted a photo with the Ghostbusters car and to get their autographs. So, my grandparents (Dad's side) were put in charge of looking after me.
Needless to say, they lost me.
I suffer from anxiety in crowds and that's the feeling I get at first when thinking back on this particular memory. Panic. Fear. Claustrophobia. And then an American wearing a khaki jumpsuit and a proton pack, crouching down and asking me if I was OK and where my parents were.
Another flash and I'm sitting hanging out with all four Ghostbusters when my (very worried, and angry in Mum's case) parents are reunited with me. I even got their 'autographs' for my book, which I still have in a drawer somewhere.
It may seem a slightly odd memory to be one of my fondest, but I always find because of it that Ghostbusters (the film, the song and anything related to it) creates a calming feeling over me and just makes me smile, reminding me that, as a five-year-old, I was once rescued by a Ghostbuster.
© Michelle Sutton, 2021
*****
I hope you had a fun time reading these wonderful stories. I've definitely been inspired to write some of my own. Our childhoods are our personal hub of stories, and, although opening the door to go into this hub can be emotional in the first instance, it's also good to know that the best stories are those which are taken out from it and shared with the world.
See you again real soon!
*****
Don't forget to read Issue 10 of Write On! magazine, available online.
Whether they are joyful, or painful ones, the emotions that we've attached to memories as adults make reflecting on them quite hard.