Thursday Connectors: Connecting With The Royals
By Farzana Hakim

Hello everybody. I hope you are well and truly rested after the long weekend holiday celebrating the Queen's Platinum Jubilee.
I'm sure you all had a great time. I know I did! My husband and I took our youngest on a drive north, leaving behind the hustle and the crowds flocking to and celebrating in London. And am I glad we went, as we got to explore the wonderful scenery and the beauty of places like the Lake District and Loch Lomond in Scotland. The further north we drove, the more I realised why the Queen likes to spend so much of her time in her Scottish Palaces. The landscape is absolutely stunning! This was my first visit and seriously, I can't believe I haven't visited before.
The Queen is lucky though, isn't she? Having all those big houses in all the best places in the United Kingdom.
We saw the Palace of Holyroodhouse in Edinburgh, along with many other spectacular
 castles in the distance as we were driving, which had me googling and reading up on their histories.
My late grandma, an ardent fan of the Royal Family, would've been the first one dishing out plates of biryani and cake at a street party had she been alive today. She knew everything about this family. Honestly. Her favourite member was Diana, Princess of Wales and, when she died, my grandma was all tears for days. Because I worked next door to Harrods in Knightsbridge in those days, she made me sign the book of condolence there, as well as placing some flowers in as a sign of respect for her and Dodi Al-Fayed.
When Diana divorced Prince Charles, my grandma was all in favour of a woman's power and praised her for taking a stand against her in-laws. She followed all the gossip and drama from day one and I remember how she'd always draw parallels to the average mother-in-law and daughter-in-law relationships you'd get inside any average British Pakistani family back then.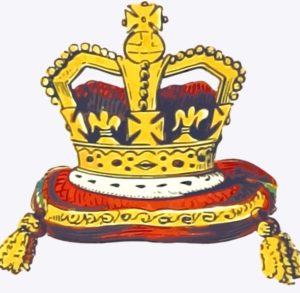 But sometimes, when the Queen appeared on television wearing her famous jewels and crowns, as much as she admired her, my grandma would also mumble her disappointment and would start to remember her days as a child in British India where she grew up. She knew where some of those jewels had come from, you see! This would always make me think but, as a child with no clear understanding of Britain's Colonial history, I was often left confused. Now, having studied history and having read extensively on empire and international history, I understand why my grandma would've felt upset on seeing some of the Queen's wealth on show like that. It's quite something, really!
Anyway, before I start creating controversies, let's go over to Diya, who connects with us from India. I was curious about what and how the commonwealth countries would be feeling in the run-up to the jubilee, so  imagine my delight when Diya wrote to me, sharing how she followed the events.
Hi, Diya. Let's connect: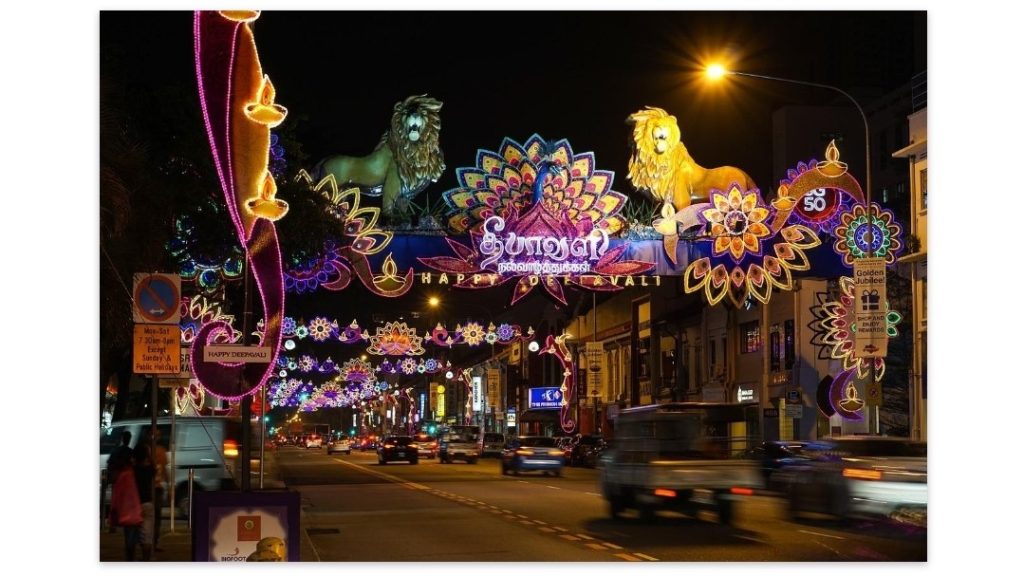 Sharing The Jubilee Buzz 
The year 2022 marks the celebration of the Platinum Jubilee of Queen Elizabeth II. This splendid occasion commemorates the 70th anniversary of the accession of the Queen on 6th February 1952.
The blockbuster four-day bank holiday weekend, an enormous pomp and splendour, was celebrating not only the 70 years' long service of her majesty but also the reign of 'womanpower.'
Foreseeing the grandeur of this occasion, there was a great deal of ballyhoo in the media about the festivities in London. In fact, the media coverage of the event was a worldwide phenomenon. News channels of the 54 commonwealth countries were talking about the Queen and her relations with their own countries.
A UK-based Indian origin actor, Ajay Chabra and his Nutkhut Performance Company, were chosen to represent the Commonwealth theme from a South-Asian perspective. They threw a Bollywood-themed wedding party, with a specially designed saree for the grand pageant outside Buckingham Palace in London.
A Cosmopolitan headline read: The Monarchy is going to change dramatically after the Queen's Platinum Jubilee and renowned news channels such as NDTV, BBC, and CNN published detailed articles reporting the planned series of events. Photos from earlier Jubilee celebrations were also put into circulation, to boost excitement for the celebrations. The BBC remarked on the Queen being the nation's 'comforter-in-chief'.
I very much enjoyed the media reporting, following it from so far away. No important news or spicy gossip was missed! The sensational Jubilee celebrations will remain in the news for some time to come, and I'm sure this historic occasion will be remembered the world over.
(c) Diya Padiyar, 2022
Thank you, Diya. It's interesting to hear how people have connected to the Jubilee celebrations from other countries. It reminds me of my trips to Pakistan, where the first thing my grown-up cousins and aunts would ask me about was Fergie and Diana! And because I was only a child then, I'd be like, "Who?" They'd look at me as though I'd not come from London but some other odd place, because who didn't know who Fergie and Diana were?
*****
Now, Ellie connects, telling us of her experience when singing for the Royals.
Hi, Ellie. Let's connect:
The Duchess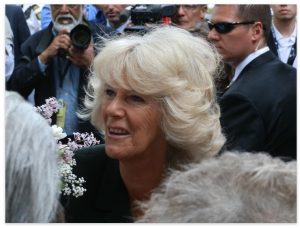 The chapel doors normally wouldn't have been open to the earthy, crisp, autumn air, but Her Royal Highness' arrival was imminent. I stood, along with another regular of the community singing group, flanking our teacher, Ugne, who sat at the baby grand piano. Thirty of the foundation's staff were assembled too, waiting to greet Camilla, the Duchess of Cornwall.
In the garden of the Royal Foundation Of St Katherine, among leaves blowing wild and free, Camilla spoke with the Venerable Roger Preese. Their words became more distinct as they drew nearer.
When Camilla entered, Ugne played the opening chords to Make You Feel My Love. Our three voices came together like warm melted chocolate.
I snatched surreptitious glances while we sang. Camilla wove her way around the room, smiling, chatting and shaking hands. Finally, she arrived at the piano. We were silent. Camilla tugged at our cloak of awkwardness. I answered her questions. Surprisingly, I didn't stutter, um or ah.
Never had I imagined performing for royalty, or anyone, ever, because that's not who I am. The memory seems distant, even though 2019 was only a few years ago. Life is full of unexpected flashes that appear like stars, evening shadows, and winds of change.
© E.M. Blake, 2021
Connect with E.M. Blake on Instagram: @mycreativeeveryday, on Twitter: @EllieMBlake1 and on her website: mycreativeeveryday.weebly.com.
Thank you, Ellie, for sharing your experience with us. I'm sure you must've been really nervous. Well done, though!
*****
Before I move on to our final Connector, I couldn't not share some of the drawings the children at Eastbury Community School, here in Barking and Dagenham, drew when I asked them to write what they would do if they were King or Queen for a day: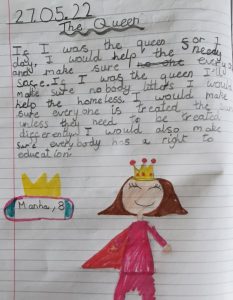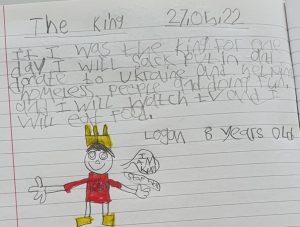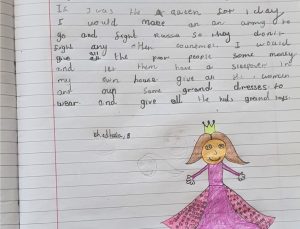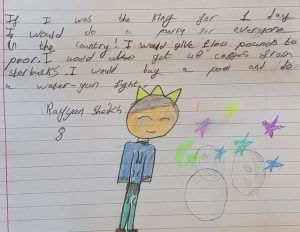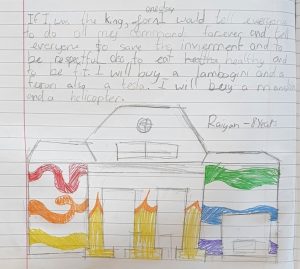 *****
Moving away from the theme of the Royals now, most of us think of June as the burgeoning of summer, with long hot days and plenty of sunshine. Its arrival reminds us to take care of ourselves and not rush about all the time. This is why I'm ending today's page with this final connector, Diane Mangal. Her poem has a lovely voice, reassuring us that things will happen "in our own sweet time."
Hi, Diane. Let's connect:
You Wonder
Waiting for something different
to happen
Just to blow you
out of the water
everything is going swimmingly
then traffic does not move
you will be there so soon
Oh, my days
to be there in my own
sweet time
© Diane Mangal, 2012
Diane's collection, Lingering Intuition, is available on Amazon: amazon.co.uk/Lingering-Intuition-Diane-Francelia-Mangal/dp/1456828312
That's it for June's connectors. I'll see you again real soon. Take care!
*****
Read the latest issue of Write On! magazine online.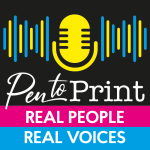 You can hear extracts from Showcase in our podcast. Write On! Audio. Find us on all major podcast platforms, including Apple and Google Podcasts and Spotify. Type Pen to Print into your browser and look for our logo or find us on Anchor FM.
*****
If you or someone you know has been affected by issues covered in our pages, please see the relevant link below for ​information, advice and support​:
Connecting with the Royal Family.