Write On! Features: Sink Or Swim? by Claire Buckle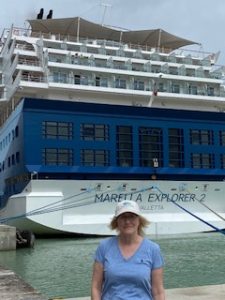 When an offer to present six short story writing workshops onboard Tui's Marella Explorer 2 cruise landed in my inbox a year ago, it might surprise you that my instant reaction wasn't a resounding 'yes, please.' Naturally, there was the temptation to accept a free all-inclusive 16-day cruise (on which my husband, Tony, could accompany me) from Jamaica to Croatia, with stops at Antigua, Madeira, and Malaga, but I had misgivings.
I'd hosted several writing workshops for Pen to Print but, because of the pandemic, these had all been via Microsoft Teams. I'd had no experience of engaging with people, other than 'virtually.' Over the years, I'd had many short stories published and my confidence had grown, but I still experienced imposter syndrome. Was I 'good enough' to take on the cruise ship challenge?
However, it was reassuring to know that another Pen to Print regular, Jacqueline Gabbitas, would also board in Jamaica to host poetry workshops. And the crime writer, Barbara Nadel (another stalwart of Pen to Print) who'd mentored me during the Book Challenge a few years ago, was to join the ship in Madeira. Hopefully, we'd be able to support each other and I could launch myself into unknown territory without being too uneasy about what lay ahead. Besides, I had a year in which to develop the one-hour sessions the company required and time to create accompanying slides.
Tui advertised the holiday as 'cruise the write way' and called it 'literary-themed', adding the writers' bios to their website once the holiday was on sale. Being unsure at what level to pitch the workshops, I decided I'd talk about different aspects of a short story in each one: definition and ideas, senses and genres, characters and dialogue, plot and research, themes and titles, editing, and an overview of short story writing. However, apprehension set in and I had questions, such as whereabouts I would hold the workshops. Was there a screen on which I could show my slides? Could they estimate how many people would turn up? The company's response was to tell me not to worry. It'd be sorted out once I was on the ship and a tech guy would be available to help with screens. All very laid-back, which didn't sit well with my need to be organised!
On 15th April, after a rather turbulent nine-hour flight, we landed in Jamaica, in what I can only describe as monsoon-like rain. The 15-minute journey to the ship took two and a half hours, because the traffic was at a standstill and the road flooded. However, once on board and in our cabin, Tony and I finally relaxed.
The following day, I received a message asking me to attend a meeting with the cruise director, Ted, to discuss the workshops. It was there I met not only Jacqueline, but also a gentleman called Jonathan, who'd be giving talks on astronomy and husband-and-wife team, Sheila and Richard, who were old hands on cruise ships with their craft workshops. A writer who was due to give historical talks failed to arrive and we never did find out why!
Ted told us that Tui had never offered a literary-themed cruise before; that they simply saw the one-hour workshops as something of a diversion for the passengers on the six sea days. He also said the ship was only a third full, with 600 people on board. Jacqueline had told me she'd visualised something like a creative writing festival at sea, and whereas my imagination didn't stretch as far, I thought some passengers might have booked the cruise because they were interested in writing. However, with the workshops merely being seen as an alternative to the pool games, bingo, quizzes, etc., not to mention sunbathing, Ted explained most of the passengers weren't even aware the holiday had a literary theme!
He allocated Jacqueline an 11 am slot, and she agreed to host nine workshops, whereas I chose to give six on the sea days between Antigua and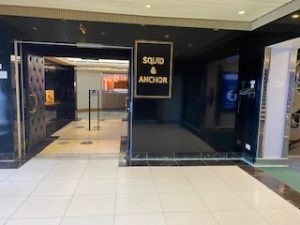 Madeira. My workshops were due to start at three pm each day. We were told they'd take place in the Squid And Anchor, a 'pub' where a projector screen was available, as well as a microphone and lectern.
Jacqueline and I decided we'd attend each other's sessions. On her first day, she had one person turn up, although things picked up and by the sixth day, she had three regulars for her poetry sessions. The workshops were thoroughly enjoyable and, being a novice in poetry, I learned what it meant to respond to poems and look into the heart of what they expressed. With Jacqueline's guidance, poetry became accessible and less daunting.
At my first short story session, I sat at the back of the Squid And Anchor, waiting for the crowd of potential short story writers to descend. Three ladies came along (complete beginners) and, with the addition of Jacqueline and her partner, Martin, I gave my first workshop to five participants. At this rate, I certainly wouldn't need a microphone, lectern, or screen. My laptop, balanced on a small table, would do the job! I realised I'd have to change what I'd prepared and gear the sessions more towards writing exercises at beginner level. Each morning, I went through all the workshops and omitted most of the 'lecture' part of the programme. Sadly, attendance dropped to just two ladies, along with Jacqueline and Martin.
At the end of my last workshop, both ladies told me how much they'd enjoyed the sessions. I had, too, although with Jacqueline's in the morning and mine in the afternoon (and with the clocks being put forward one hour each day from when we left the Caribbean), neither of us saw much of the outside world over those six days! Each day, sun worshippers packed the pool deck, and, with free food and drink available, it was hardly surprising they didn't want to sit at the back of a pub and talk about writing.
A comment, which came at the end of Jacqueline's sixth-morning workshop, made me smile. A participant said to me she would have come to my sessions had the time not clashed with the daily afternoon tea. What a shame, she said, that I couldn't teach my workshops in the restaurant, while tea was being served!
And so, the title of this article pretty much sums up how I felt. It was sink or swim and, I'm pleased to say that, despite an extremely low turnout, I swam rather than sank without a trace. Two people, who were complete novices, learned something new, wrote some nice short pieces because of the exercises, and enjoyed their time in the workshops.
Barbara Nadel's three workshops started on our last leg at sea. I couldn't attend her first one, as Tony and I had booked the Great Musical Afternoon tea, also held at three pm and only available once a week. It was fabulous and comprised all the usual goodies, accompanied by a pianist playing show tunes.
And as for Jacqueline's seventh workshop, I missed it, as I treated myself to a blissful shoulder and scalp massage­ — which I felt I deserved as a last treat, before being hurtled back to reality.
I'm hoping, now, having concentrated on writing and delivering workshops for quite some time before the cruise, my own creative juices will flow once again. Although I can't say I have writer's block, I have attempted no fiction for several weeks and, unfortunately, nor have I been inspired to do so. There must be a wealth of stories ready to mine from my experience of this cruise. I just need to find a way of excavating them and turning them into little gems!
Connect with Claire on Twitter: @ClaireBuckle
*****
Read the latest issue of Write On! (12) magazine online here.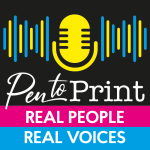 You can hear great new ideas, creative work and writing tips on Write On! Audio. Find us on all major podcast platforms, including Apple and Google Podcasts and Spotify. Type Pen to Print into your browser and look for our logo or find us on Anchor FM.
Over the years, I'd had many short stories published and my confidence had grown, but I still experienced imposter syndrome. Was I 'good enough' to take on the cruise ship challenge?