Write On! Features: Writing For Children And The Child Within by Clare Povey
By Clare Povey
If you are a resident of Barking & Dagenham – or have ever taken the 86 bus down Chadwell Heath High Street – then you have probably passed the Robert Jeyes Library. It looks like an entirely normal building. Red bricks stacked upon each other, between layers of cement. A door, likely covered in flyers for music nights and local car boot sales. And windows, letting light through to the inside, illuminating the thousands of magical objects inside.
What are those magical objects?
Well, they are books.
Although it has now transformed into a Community Centre (still with a library inside), this was my happy place, my childhood refuge. It's the place I nurtured my love of reading and writing. Without a doubt, this building set me on the path to becoming an author.
During the summer holidays, my parents would drop me and my brother Matt at the library for a few hours. While they worked, I read as much as I could. Adventures. Mysteries. Fantasies. From Ludwig Bemelman's Madeline to re-reads of The Babysitters Club, there wasn't (and still isn't!) anything I wouldn't read.
I loved writing as a child and knew that I wanted to write a book one day and give someone else that magical feeling of getting lost in a story. Even if it was just my nan!
Reading and creative writing helped to unlock many doors, ones that I didn't think would ever open, such as being the first person in my family to go to university, finding a job in publishing and, eventually, becoming an author of children's fiction.
Why write for children?
As someone who never really stopped being silly, writing for children came naturally to me. The age group that I write for – middle-grade fiction is usually aimed at children aged 9-12 – is a time in my life that I remember so clearly. It's a time of great change, many firsts and new feelings. I remember nine-year-old me struggling to make her voice heard at school, preferring to seek refuge in the school library at lunchtime. I remember getting a bike for my tenth birthday and riding through Hainault Forest, as though I'd just won the Tour de France. I felt unstoppable. I also remember the time I attempted to skateboard up a tree a year later, falling flat on my back and being carried home by my brother's friend Emmanuel, who I admittedly thought was rather beautiful. The belly-fizzing mixture of embarrassment, pain and delight I felt that day sums up why I love writing for children.
Children can feel and be so many things at once. They can be terrified, yet brave. They can be silly or become embarrassed, only to then instantly forget what made them feel that way in the first place. Children can be shy, but also walking question marks who demand answers and explanations for everything.
What better audience could you ever hope to write for?
Katherine Rundell explains it brilliantly in her essay, Why You Should Read Children's Books Even Though You Are So Old and Wise. I could quote every single line and implore you to read it, too.
Ideas And How To Grow Them
So, where do you start with an idea for a children's book when there are endless options to write about?
Sometimes, the story you think you want to tell is not actually the right one for you. When coming up with a new idea, it can be hard to grasp what's at the heart of your story.
I'm going to let you in on a little secret. Are you ready?
When I started writing the first draft of what would, one day, end up becoming my debut middle grade novel, The Unexpected Tale Of Bastien Bonlivre, I had no idea what I was doing.
The idea for this book all started with a name. On an autumn evening in 2018, while I was working late at the office, I thought of the name Bastien Bonlivre. I chuckled and declared myself a master of puns; after all, Bonlivre (bon livre) in French translates into good book.
But now I had a name, I had to build a whole story around this idea of a character who loves reading and telling stories.
Still, I made a few mistakes along the way. And, I think it's really important to note that every writer will make plenty of mistakes. By finding out what doesn't work, you'll eventually chip down to what is right for your story.
Anyway, back to what I did wrong.
For starters, I made Bastien an old man. Like, a really old man. I decided my story would have ghosts in it and that these ghosts would befriend Bastien. Thankfully, I quickly realised you can't really write a book for children without having lots of children in it. So I changed the plot and made my character younger. I decided Bastien should be a 12-year-old boy with an imagination as vast as the ocean, who believed in the power of stories, not just to inform him about the world, but also to help heal the deepest of wounds.
Suddenly, my story started to come together. And that's how one idea can morph and, eventually, become the right idea for you.
There's no quick fix to developing an idea. You have to give it time, but you also have to learn to trust your instincts as a writer. This is hard, and it's something I'm still struggling with, so I wanted to share a few of my own tips for growing a story idea.
(Disclaimer: I can't promise you that they are top tips, but I hope they are helpful!)
Ask Yourself Questions
I ask myself questions at every stage of the writing process. Why is my main character doing this? What structure will the plot take? Why? What? How? When? Where? I annoy myself with these interrogatives from the very first rough draft all the way to the final version. Understandably, answers might change as you revise and edit, but as long as you can answer each question, justifying your choices, then you're on your way to creating a tight and well-thought-out story.
Read, Read, Read
I cannot stress enough the importance of reading as a writer. If I get stuck on a difficult chapter, I will take a break and read a chapter (or five) of a new book, or one of my favourite reads. I find it helps me level up and I compare it to taking the time to 'heal' or regain your strength in a video game.
I also keep a note on my phone called Power Words. When I'm reading a book and come across something amazing – whether it's description, dialogue, metaphor – I type it into my note and squirrel it away. I take inspiration from the poetic prose of Kiran Millwood Hargrave and the cracking dialogue of Trenton Lee Stewart. My favourite authors all have different writing styles and the note on my phone is a way of reconnecting with them. It reminds me that every writer, including myself, has something unique to offer and that we all do this because we really love words. Create your own treasure trove of brilliant wordplay and come back to it every time you feel like you need to level up!
Thinking Time Is Just As Important As Writing Time 
Writing a book isn't just a case of sitting down and writing. More often than not, ideas take time to develop and spending time away from your story is just as important as spending time inside it. Before, when I had an idea, I would open up a new Word Doc and write in a frenzy. Unsurprisingly, I would always hit a wall. This is because I didn't take the time to actually think about what I wanted to do with the story, who my characters were, or what I wanted them to do.
I feel guilty when I have an idea and do nothing about it, but it's taken a while for me to realise that showing up for an idea doesn't always mean sitting down at a desk. Showing up for your idea can be a single active thought. And that's good enough. (Just remember to write it down at some point!)
All Writing Counts
I wrote the first draft of The Unexpected Tale Of Bastien Bonlivre anywhere I could. I wrote on my phone during my morning commute to work. I took the Central Line on the London Underground and losing myself in my story was a good way to forget about the armpit that my head was currently stuck in. You don't need your own office, a decluttered desk, or even a proper laptop to write a story. You can write in the cracks of the day as long as you have your imagination and something to type on or scribble in.
If you'd have told the ten-year-old girl from Chadwell Heath (who plagiarised Winnie The Pooh stories – making Piglet the main character, obviously – and rewrote her own version of Holes) that she would one day be a published author…well, she was actually my most confident self, so she would've believed you. I spent most of my teenage years and early twenties not feeling as though I was particularly good at anything, but 'child me' was my biggest fan. She loved books and knew, without fail, that my future would involve a whirlwind of words.
Trust the child within who is full of hope and loves to dream.
And, who knows, one day you might just end up writing a story for them.
*****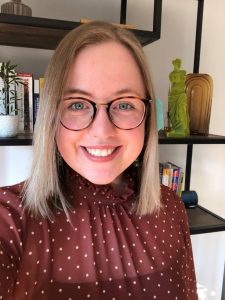 Clare Povey is an author and the editorial and communities manager of the Writers' & Artists' website. She fell in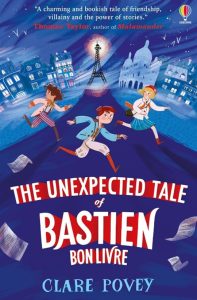 love with France as a child, inspired by the stories in her local Barking & Dagenham Library, and by discovering the vocabulary in Usborne's First Thousand Words In French. The magic of speaking another language eventually led to her living and working in France, and writing her debut series, the Parisian-based The Unexpected Tale Of Bastien Bonlivre.
Visit www.clarepovey.com for author and book resources, or information on how to book Clare for a school visit.
Read the latest issue of Write On! magazine (11) online.
*****
Write On! Audio Podcast Contributor Giveaway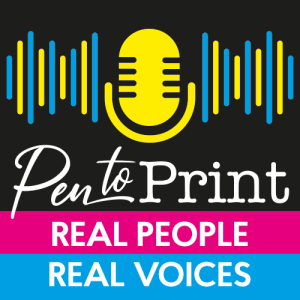 Get involved with Write On! Audio. As a contributor, you could win A Writer's Journal Workbook by Lucy van Smit. All Write On! Audio submissions (creative or opinion pieces up to six minutes, inspirational moments one to two mins – a short poem, for example and why it inspires you – submitted before 20th February) will be considered eligible. The first two pieces chosen for broadcast will receive a book. Submit on: pentoprint.org/get-involved/submit-to-write-on/.
Visit anchor.fm/pentoprint to listen to the Write On! Podcast and get inspired.
Launched by Bloomsbury, A Writer's Journal Workbook is packed with creative tasks,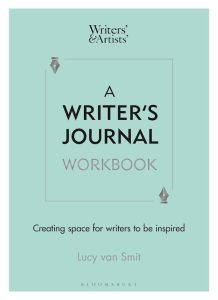 goals and advice. As an added bonus, you can also purchase it directly with this special discount code: AWJW25.
The belly-fizzing mixture of embarrassment, pain and delight I felt that day sums up why I love writing for children.