Write On! Interview: Sam Norwood From 'Write Back'
Write On! interviews Sam Norwood, founder of 'Write Back'.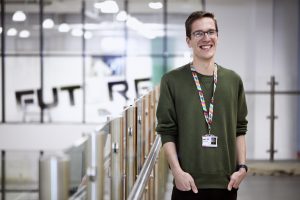 WO: Can you tell us about 'Write Back' and why it was set up?
SN: 'Write Back' is a local charity that builds the self-esteem of young people through creative storytelling programmes. We currently operate out of the amazing Future Youth Zone in Parsloes Park and run ten-week-long intensive storytelling programmes for local teenagers from six local partner schools that build confidence, allow them to share experiences and which culminate in the publication of the young people's work.
The project began with an accident in a Year 9 history classroom in 2015. A lesson I was teaching was derailed by two computer malfunctions and so it turned into an impromptu sharing of family and personal histories. Over the remaining term, the treasure trove of stories this unearthed was turned into a book Young Voices: Untold Stories by the group. Over the following four years, we developed this into another book on stereotypes of young people,  four exhibitions in East London Galleries and youth-led workshops for younger students. The initial group of young people are now at university, with the project we started reaching a new generation of young storytellers.
WO: 'Write Back' runs a number of programmes. Can you tell us about some of them?
SN: Aside from our main ten-week programmes, we have a graduate programme for young people who've completed the project. These grads are currently working with Pen to Print and other partners on an exciting plan to map Barking and Dagenham through stories!
Through Future Youth Zone's school holiday club provision, we also work with 8-12-year-olds. In recent projects, we've introduced these younger storytellers to writing everything from Halloween horror stories, to space-inspired fiction, to utopian writing.
Finally, many of our original writers who started off in a history classroom six years ago, are now writing a new book inspired by the Black Lives Matter movement. We're delighted to support them as they continue to find their voices as young authors.
WO: Why do you believe 'Write Back'  is important?
SN: 'Write Back' empowers young people by tackling issues around isolation, alienation and low self-esteem. Research conducted by the local council revealed that only 37% of young residents felt they had someone to talk to about problems that worry them. The same research found that almost a third of young people felt optimistic 'rarely' or 'none of the time'. Storytelling can play a crucial role in addressing this situation by building young people's respect for themselves and by developing trust and community amongst young people.
WO: The current issue of Write On! explores the theme of 'Growth' and how we navigate Spring as the season of change. With that in mind, do you use changes in the natural world to motivate your organisation and its participants?
SN: Definitely. We have a series of writing challenges inspired by our young writers that are publicly accessible on our website (write-back.org/storytelling-from-home) and one of my favourites comes from a short story called Autumn. The young author uses the sounds and sensations of the season to mirror the emotional upheaval she feels. It's a great reminder of how we can draw inspiration from the natural world.
WO: What one piece of advice would you give someone to encourage them to explore writing as an outlet?  
SN: Start from your own experience! Every young person we've ever worked with has had an interesting, important and unique story to tell. Often, the real journey is not the acquisition of writing skills and storytelling techniques (important as these are), but coming to recognise the value of our own stories and those around us.
WO: Can you tell us anything about future projects?
SN: We like to keep some tricks up our sleeves! However, we do have exciting connections with some London universities, meaning we can offer more creative avenues to our young storytellers than we've been able to provide up to now.
WO: Lastly, just for fun, if you could choose one fictional animal/creature to be a pet or companion, who would it be and why?
SN: Who wouldn't benefit from having a Gromit in their life?
You can find out more about 'Write Back' here: write-back.org and connect with them: @writebackuk on Twitter and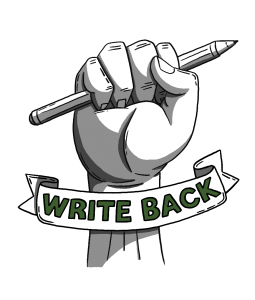 Instagram, 'Write Back' on Facebook.
***** 
Issue 7  Write On! magazine in available now. You can find it here.  
Often, the real journey is not the acquisition of writing skills and storytelling techniques (important as these are), but coming to recognise the value of our own stories and those around us.