Write On! Interviews: Author Emma Heatherington
Write On! interviews author Emma Heatherington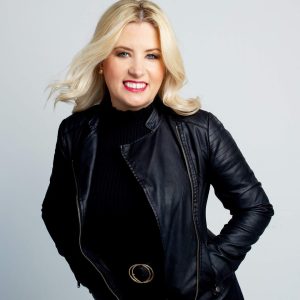 Emma is an international bestselling novelist and writing coach from County Tyrone. Her books include the Amazon US and UK hits, The Legacy Of Lucy Harte, One More Day as well as Secrets In The Snow and The Promise, which were both Fern Britton Picks for Tesco UK. Emma's books are published in the US, UK, Canada and Ireland and are also translated into Italian, German, Hungarian and Dutch. She is represented by Sarah Hornsley at Peters, Fraser and Dunlop.
WO: How would you describe your writing to someone new to it?
EH: I started off writing romantic comedy novels 15 years ago and, although I can be funny (I think), my most recent stories are more emotionally driven, with strong, life-affirming messages. I aim to create books to keep you thinking long after you've turned the last page and I'm thrilled that many readers choose to quote from my books as part of their wedding ceremony – I still pinch myself over that! 
WO: Can you tell us a bit about your latest book One More Day?
EH: One More Day is a heartbreaking, multi-layered love story set on the shores of Lough Neagh and the wild coast of West Cork in Ireland. It tells the story of Annie Madden, whose life is turned upside down when her husband Peter has an accident, which means he no longer recognises her or their family. We meet her seven years after that tragic day, when Annie is a full-time carer to the man she still adores, but is invited to travel away from home to work as ghost writer for handsome actor Senan Donnelly. Can she resist the opportunity to be loved and to laugh again? One More Day recently hit the Top 50 overall books on Amazon in America and was released in the UK on March 16th 2023.
WO: What inspired you to write in the first place, and what inspires you now?
EH: I've written for as long as I remember. Even in the school playground I was making up my own skipping rhymes, and I used to torture my late mother and our neighbours to listen to my stories and songs as a young teenager. These days, I can't imagine doing anything else for a living – I did try! I come from a very creative family, and I do believe that writing is in my blood; it's under my skin. I sometimes make myself dizzy if I've too many ideas and can't get them written down quickly enough.
I tend to find inspiration from everyday life and my own life experiences: everything from love, motherhood, heartache, grief. Now I'm in my mid-forties, I find I pack my stories with emotions I've lived through and, although none of my books are based on my own real life, you'll find a part of me in each of my characters in some subtle ways.  
WO: The current issue of Write On! explores the theme of 'Contradictions'. With that in mind, do you ever actively look for – or specifically avoid – contradictions in your writing? Is there a part of your writing process that contradicts itself, yet somehow works for you?
EH: Ha, now I feel 'seen'! As well as being a writer, I also coach other writers and sometimes when I'm teaching my 'student's, who come from all over the world, I find myself wondering how I should practice what I preach when it comes to the practical day-to-day stuff. I've developed a lot of bad habits, like writing on the laptop on the sofa curled up, which isn't good for posture, so that's something I should definitely change, but so far I haven't, and sad to say I probably never will!
WO: What one piece of advice would you give an aspiring writer?
EH: Find a writing routine that works for you. Most often, the biggest thing stopping you is finding the time. So instead of setting unrealistic goals which will make you feel a failure when you don't meet them, be flexible but consistent in your approach. We all lead busy lives, so the only person who can set your routine and target word count etc is yourself. Every word counts, and they soon add up.
WO: Question from Twitter user: @madeleinefwhite Who are your author friends and how do you motivate each other?
EH: My life as a published author began at the same time as my fellow Irish author Claire Allan from Derry. We began with Poolbeg Press in Dublin, then moved to HarperCollins, though I've recently moved to pastures new at Century (PRH). I also enjoy chatting to Fionnuala Kearney (we share the same amazing agent) and CJ Cooke, who is originally from Belfast. We cheer each other on with social media shares on new releases, and enjoy a good old chat behind the scenes about the rollercoaster life of being a writer.
WO: Can you tell us anything about future projects?
EH: Oh, I'd be delighted to. As mentioned, I've recently changed publishers, so after many wonderful years at HarperCollins, I'm excited about a whole new chapter (pardon the pun) at Penguin Random House. My first novel with them is called This Christmas and it's a very heartwarming snow-filled festive romance set near Fanad Lighthouse in Donegal, which is one of my favourite places in Ireland. The story kicks off when two absolute strangers, Charlie and Rose, decide to run away from Christmas for very sad reasons, and end up sharing a cottage when they realise the owners have made a double booking. It's so cosy, with echoes of The Holiday meets The Flatshare, but it comes with a warning, as it may make you cry! This Christmas is out in time for… you've guessed it, this Christmas. I can't wait!
WO: Lastly, if you could choose one fictional animal/creature to be a pet or companion, who would it be and why?
EH: I'd love to hang out with the Gruffalo for the craic! But then there's no such thing as a Gruffalo… or is there?!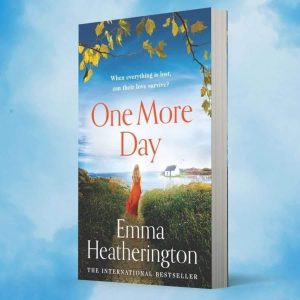 You can find out more about Emma here: emmaheatheringtonwriter.com and connect with: @emmalouwriter on Twitter, @emmaheatheringtonwriter on Facebook and Instagram. One More Day is available from all usual outlets, in paperback, audio and ebook.
***** 
Issue 16 of Write On! is out now. Find it in libraries and other outlets. You can also find the digital issue here.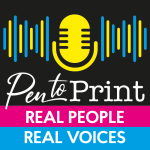 Each edition of our Write On! Audio podcast features an exclusive interview. Find us on all major podcast platforms, including Apple and Google Podcasts and Spotify. Type Pen to Print into your browser and look for our logo, or find us on Anchor FM.
*****
If you or someone you know has been affected by issues covered in our pages, please see the relevant link below for ​information, advice and support​: https://pentoprint.org/about/advice-support/
I sometimes make myself dizzy if I've too many ideas and can't get them written down quickly enough.