Write On! Interviews: Poet Daniella Fearon
Write On! interviews poet Daniella Fearon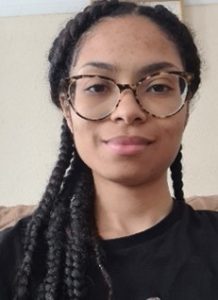 Daniella is a South London writer with a BA in English with Creative Writing from Goldsmiths College and an MA in Poetry from Roehampton University. She enjoys experimenting with hybrid forms such as the prose poem, poetry essay and poetic plays. The main influences of her poetry and short stories include art, theatre, culture, race, identity and social change. She won the 2022 Eric Gregory Award for her unpublished poetry collection Beyond The Monochrome Lens. Her poetry has been published in Roehampton university magazine Roey Writes and The Roehampton Showcase. ( The SOA Eric Gregory Award for poets under 30 is open until the end of October).
WO: How would you describe your writing to someone new to it?
DF: I use poetry to vividly depict images, explore identity, channel my frustrations, reflect on the social climate, encourage social change, record events and preserve memories. I seek to recreate memories through my poems, utilising photographs and ephemera from family archives to inspire my writing.
WO: Can you tell us a bit about your latest project Beyond The Monochrome Lens?
DF: Beyond The Monochrome Lens is a collection of poems which explores my heritage. Spanning three generations and written from the perspective of myself, my mother and grandmother, I aim to elevate the female point of view, to voice the struggles of cultural assimilation and convey the coping mechanisms which are paramount to forging a future.
WO: What inspired you to write in the first place, and what inspires you now?
DF:  I began writing short stories as a young child and even began a screenplay. It provided a means of escapism. I was enthralled with the idea of creating my own world where I could shape the character's lives and capture different experiences. I've always been a big fan of reading poetry and can still recite my Year One performance of The Owl And The Pussy-Cat, but writing poetry came to me much later in life. After graduating from my BA, I sought to find a more immediate outlet to express personal experiences and issues faced by my community. This took the form of poetry.
WO: The current issue of Write On! explores the theme 'Worlds Apart'. With that in mind, do you find yourself drawn towards writing about the world you know intimately, or do you strive to discover a world unknown?
DF: The majority of my work is inspired by a world I know intimately. I draw upon this world and aim to provide insight into the experiences of my community. Social and political issues which affect the black British community are of paramount importance to my writing.
WO: What one piece of advice would you give an aspiring writer?
DF: Write for yourself and write about matters which are important to you, because each person has their own unique voice and outlook. Keep writing, even when you don't feel inspired to. Use a free writing exercise prompt, because you may jot down an idea that could become crucial to a prose piece or poem. Criticism can be demotivating, but persevere and don't allow it to inhibit your creativity!
WO: Question from Twitter user: @madeleinefwhite: Does writing energise or exhaust you?
DF: I experience a strange sense of adrenaline when writing. I often feel energised and absorbed by the piece of work and it's not until afterwards the exhaustion kicks in.
WO: Can you tell us anything about future projects?
DF: I'm keen to continue researching the 1950s and 60s and to create more poems exploring my mother and grandmother's experiences. I'm also working on a play which explores ancestry and follows a young person who is unearthing their family's past.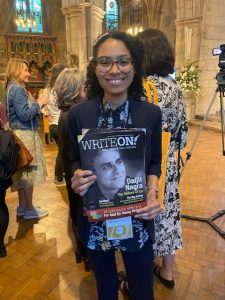 WO: Lastly, if you could choose one fictional animal/creature to be a pet or companion, who would it be and why?
DE: A faun like Mr Tumnus from C.S. Lewis' The Lion, The Witch And The Wardrobe. I'm excited by the idea of having a companion from another realm I could escape to. The faun is kind-hearted and has a keen interest in literature, which is something we would have in common!
Connect with Daniella on Instagram: @burstingwithverse    You can read some of Daniella's poetry here: Questioning Partitions – RSS (roehampton.ac.uk)
*****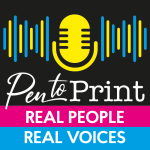 Issue 13 of  Write On! magazine is available now. You can find it here. 
Each edition of our Write On! Audio podcast features an exclusive interview. Find us on all major podcast platforms, including Apple and Google Podcasts and Spotify. Type Pen to Print into your browser and look for our logo or find us on Anchor FM.
*****
If you or someone you know has been affected by issues covered in our pages, please see the relevant link below for ​information, advice and support​: https://pentoprint.org/about/advice-support/
I aim to provide insight into social and political issues which affect the black British community and are of paramount importance to my writing.