Write On! Interviews: Poet Paul McGrane
Write On! interview: Poet Paul McGrane.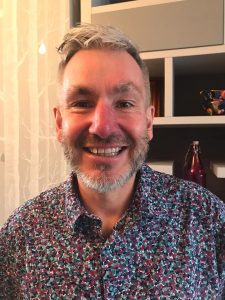 As a result of winning the Geoff Stevens Memorial Award, Paul's first collection, Elastic Man, was published with Indigo Dreams Publishing in 2018. A second collection, British People In Hot Weather, was also published with Indigo in 2021. Paul is the co-founder of the Forest Poets poetry collective in Walthamstow and formerly The Poetry Society Membership Manager.
 WO: How would you describe your writing to someone new to it?
PMG: Recent poems have been family-based (I've been trying to track my Irish grandfather's birth date so I can get a European Union passport, so a lot of the information I've found out about my family history has made it into the writing), but it hasn't always been that way. I generally latch on to an idea and stick with it until something creative has managed to survive. Current 'wonderful ideas' include a poem based on Brief Encounter, and the 'Day Of The Dead' ceremony in Madagascar I heard about recently on QI, so let's see if anything comes out of that!
WO: Can you tell us a bit about your latest project?
PMG: My latest collection, British People In Hot Weather, opens with a group of poems that explore family relationships and features Leonard Cohen, La Traviata, Patrick Moore and Mark E Smith, among others. There's a hell of a lot in it about my relationship with my mother and father.
WO: What inspired you to write in the first place, and what inspires you now?
PMG: About 20 years ago, I was 'in between jobs' when I took up a creative writing class. Though I'd studied English Literature at University a couple of decades before that, I'd never really considered writing as something anyone in my 'circle' would ever consider. I didn't even realise that people wrote poems 'in real life!'. Seeing other people performing at poetry open mics made me realise that poetry is alive, kicking and exciting and is for everyone–ordinary people using poetry to express themselves wonderfully. The poetry group I run meets monthly, so there's always the pressure to write something new at least once a month–I'm a fairly slow writer, so that timescale suits me down to the ground.
WO: The current issue of Write On! explores the theme 'Nature, Inspiring Creativity: Past, Present And Future'. With that in mind, how has nature had a direct impact on your inspiration? Are there any particular art or creative works based in nature that spark ideas for you whenever you experience them?
PMG: I'm a keen walker, so nature often creeps into my poems. Even if it doesn't, the daily walk is a brilliant opportunity to recite the latest poem quietly to myself; something about the rhythm of the steps helps with the rhythm of the poem, ironing out those unnecessary extra syllables. All I have to do is remember what changes I've made to the poem by the time I get home again with an opportunity to write them down.
WO: What one piece of advice would you give an aspiring writer?
PMG: The poet Roddy Lumsden told us once, in one of his creative writing classes, that writers should have the confidence that, if they've ever written something 'good', they will again. I'm constantly full of self-doubt, so his words are a vital boost whenever I'm certain that nothing useful will be forthcoming from the latest poem-in-progress.
WO: Question from Twitter user: @madeleinefwhite – What is the most difficult part of your artistic process?
PMG: There's always the horror that, once you've finished a poem, you will never, ever, find the inspiration (or talent) to write another one. Overcoming that fear is quite the battle. You just have to get down to writing the next one.
WO: Can you tell us anything about future projects?
PMG: I'm currently looking for opportunities to promote British People In Hot Weather; not so easy when folk may still be fairly tentative about sitting in a room with others. Our poetry group is slowly meeting up again after two years of Zoom calls during the pandemic and I'm hoping to set up monthly poetry open mics in Walthamstow very soon. Zoom has been amazing, though, and I ran very successful Zoom events last year with guest readers every month, so I hope to keep that going; though more intermittently, now that we're all getting 'back to normal'.
WO: Lastly, if you could choose one fictional animal/creature to be a pet or companion, who would it be and why?
PMG: My football team (Leyton Orient) has a wyvern for a mascot. His name is Theo (as in The Os). I'd never heard of a wyvern before I started supporting the team and I'm not sure I've ever seen one in any other situation. He's definitely not a dragon; as I jump to tell anyone I overhear describing him as such, though I can never quite remember what the difference is, or how to pronounce it.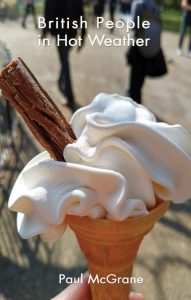 You can find out more about Paul McGrane on Twitter: @paulmcgranepoet and on Facebook: https://www.facebook.com/paul.mcgrane. Elastic Man and British People In Hot Weather are available from indigodreamspublishing.com/paul-mcgrane.
*****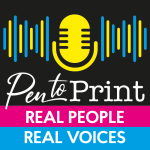 Issue 11 of  Write On! magazine is available now. You can find it here. 
Each edition of our Write On! Audio podcast features an exclusive interview. Find us on all major podcast platforms, including Apple and Google Podcasts and Spotify. Type Pen to Print into your browser and look for our logo or find us on Anchor FM.
Writers should have the confidence that if they've ever written something 'good', they will again.