Write On! Interviews Writer James Swallow
This week Write On! interviews BAFTA-nominated scriptwriter and award-winning New York Times, Sunday Times and Amazon #1 bestselling author James Swallow.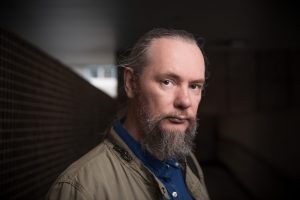 James is the author of over 55 books and writes action-packed espionage thrillers, fast-paced science fiction and tie-in literature, along with radio drama and video games. He's best known for his bestselling Marc Dane thrillers and fiction from the worlds of Star Trek, Doctor Who, 24, Marvel, Warhammer 40,000, and many more.
WO: How would you describe your writing to someone new to it?
JS:  The Marc Dane series are high-tech espionage thrillers for the digital age, with the action of Jason Bourne and Mission: Impossible, the international scope of James Bond and the relentless tempo of 24 and Homeland. Firmly set in a modern world, where private military contractors, agile terror cells and corporations wield as much power as national intelligence agencies.
My lead character, Marc, is a resourceful but untested MI6 field technician, who has always taken the safer path in life, until a top secret strike mission ends in a destructive inferno that claims the lives of his team, pushing him into the front line of a clandestine war raging in the shadows. He joins up with American ex-special forces sniper Lucy Keyes and her boss, the enigmatic African billionaire Ekko Solomon, the owner of Rubicon – a private intelligence and security group with a vigilante agenda.
WO:  Can you tell us a bit about your book, ROGUE?
JS:  ROGUE is the latest novel in the series, and in it a ruthless group of international power brokers known as The Combine have set their sights on Marc, Lucy and the rest of the Rubicon team. The Combine want revenge for all the times Marc's team have thwarted their plans in the past, so they frame our heroes for a brutal terrorist atrocity.
Forced to flee a global manhunt and racing to keep one step ahead of the pursuit, the team must fight to stay alive. But hard-won bonds of trust are shattered as dark truths are revealed when Ekko Solomon's past comes to light, and the secrets behind the foundation of Rubicon are finally revealed.
WO: What inspired you to write in the first place, and what inspires you now?
JS:  I think my first impulse to write, back when I was a kid, came from a yearning for some kind of mythology in my otherwise fairly typical urban working-class life. I wanted some adventure, but I didn't see myself in the stories I read. Slowly but surely, I was put on the course towards telling tales of my own invention.
With my Marc Dane novels, I was driven by a desire to write something inspired by the blockbuster thrillers I enjoyed in my youth – the best of Tom Clancy, Robert Ludlum, Ian Fleming and the like – but with a modern, digital-age twist.  
My main character came first, and he's a reaction against all the super-competent, I-never-miss heroes we see in a lot of modern thrillers; he's an everyman type, always a little out of his depth. Marc begins as the "bloke in the van", on the side-lines while the door-kickers and trigger-pullers are in the thick of the action, but he gets dragged out of his comfort zone and into the middle of the danger. I wanted to write about a hero who is not an elite black-ops badass, but someone who has to rely on wits, adaptability and ingenuity in order to succeed.
WO: The current issue of Write On! explores the theme 'Keep Going!'  – creating with perseverance and courage.  With that in mind, what markers have defined your writing journey? Tell us about where you've had to dig deep to keep going.
JS:  When people ask me what made me a writer, I tell them it was defiance. I refused to slip into the low-effort course that life was spooling out in front of me; the road that had the easy, lazy options along it. One day (the 18th of April, which I take off every year as a reminder to myself!), I had a moment of clarity. I knew that I would be doing the same dull day job in five, ten, even 20 years' time, and I just couldn't go on without at least making an attempt to do something different, something I loved. So, I rolled the dice and decided to try my hand at being a full-time writer. That was the biggest moment that defined my writing journey and, hand on heart, I can honestly say I've never regretted it.
Of course, for every success I've had, there have been the cancelled projects and the gigs that turned out to be a nightmare, but I've learned to be sanguine about those. As engineers and scientists say: "There's no such thing as failure, just more data." I've been very fortunate that I've got to work on a lot of cool things in my career. As well as creating my own stories, I've had the opportunity to tell tales about favourite characters from fictional worlds that have given me a lot of enjoyment, but I think the things that always lift me, the things that keep me going, are twofold:
The first is hearing from a reader who has enjoyed one of my books. I write to be read, and there's nothing quite like getting a message from someone saying: "Hey, I liked that, great work!" It makes it all worthwhile. The second is seeing a book on the shelf with my name on it. Being able to hold that in my hand and think: 'I made this' never gets old.
WO: What one piece of advice would you give an aspiring writer?
JS:  Finish It.
Whatever 'it' might be: a short story, novel, a script or an epic poem, get your backside in the chair and write all the way to the end. Aspiring writers often burn out midway through writing something, so they drop it and move on to another idea. What that gets you is a hard drive full of broken pieces of story, and that's of no use to anyone.
So my advice is, always push through, get to the end of your writing. When it's done, even if you still don't like it, you will have learned something. This is how we improve and grow strong in our craft. Writing is like a muscle: the more you exercise it, the stronger it gets.
WO: Question from Twitter user @lisalovesbooksx: What is your writing Kryptonite?
JS:  I'm not a believer in writer's block and that kind of thing but, that said, I think fatigue is the enemy of creativity in all its forms. If you're too tired to think, you're too tired to write.
WO: Can you tell us anything about future projects?
JS: I've just recently completed work on OUTLAW, the sixth book in my Marc Dane series, which follows on from the plot threads I set up in ROGUE. That'll be out later in 2021. It's the drawing together of lots of story elements throughout the previous Marc Dane books and I'm looking forward to seeing how readers take to it!
Aside from that, I'm finishing up work on a tie-in project based on major action thriller property, and developing a new stand-alone novel, but I can't say more than that right now.
WO: Lastly, if you could choose one fictional animal/creature to be a pet or companion, who would it be and why?
JS:  Schrödinger's cat. Because I tend to get on well with felines, and having a pet based on a quantum physics thought experiment sounds cool!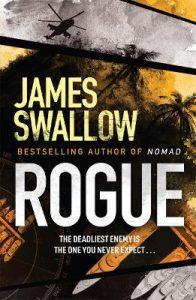 You can find out more about James Swallow here:  jswallow.com and connect with him on Twitter: @jmswallow.
ROGUE is available to buy from http://mybook.to/mdrogue
***** 
Issue 9 Write On! magazine is available now. You can find it here.  
Always push through, get to the end of your writing. When it's done, even if you still don't like it, you will have learned something.