Writer Of The Month: Maggie Harris
Introduced by Madeleine White
Maggie Harris is a Guyanese/British writer. Winner of the Poetry Wales Award 2020, The Guyana Prize For Literature, and the Commonwealth Short Story Prize, (Caribbean). She taught Creative Writing for UKC and was International Teaching Fellow at Southampton University. She has six collections of poetry, three short story collections and a memoir, Kiskadee Girl. She's performed her poetry internationally, including in India. Her BBC commissioned poem for Kent, 'Lit By Fire', on the North Foreland Lighthouse, is available online, and her prize-winning poem, Canterbury, is an art installation in the Westgate Gardens. Her poem Cwmpengraig, Place Of Stones, was part of the Windrush Exhibition at the British Library. Her latest short story collection is Writing On Water (Seren Books) and her latest poetry collection is On Watching A Lemon Sail The Sea (Cane Arrow Press). Her next poetry collection, I Sing To The Greenhearts, will be published by Seren Books in 2025.
Maggie and I both hail from Broadstairs and were both born in another country (in my case Germany) and have performed and read together a couple of times. I'm therefore delighted to be introducing both the poet and her work, with themes of displacement and identity as well as a love of nature and place that is firmly embedded in her work; all things that matter to me as well.
This first piece explores how she came to come to the UK from Guyana, following the sudden loss of her dad in 1969.
Says Maggie:
"There had been an exodus of people leaving Guyana for many years, with many of my school friends going away to study. While Independence was a motivating force and becoming a Republic held many promises, there was conflict between political parties and as a newly widowed mum of four, my mum was advised to migrate as her brother lived in the UK. I was to experience a great loss, not only through leaving my country, but in terms of friendships and whatever possibilities might have been afforded me in Guyana. My poem I Refuse To Call You Mother (Limbolands, 1999) includes the line: believing the initiation rite to be language, I soon fell … which sums up my reality of moving and settling in a new country."
This extract from Kiskadee Girl, published by Kingston University Press, gives a bit more flavour:
The Conch Shell
1969
We throw it down the backsteps and watch it bounce, clatter and splinter, heading for the yard. All them years on top of the Phillips radio, Mister King Conch, always needing dusting. Now he just drop like somebody old shoe; and for the first time, we hear Mummy cursing bad words. Daddy spirit was in the shell, they said, he didn't know yet he was dead. Mr Dead had come and catch him unawares, with no chance to get ready nothing. So back to the land of the living he'd come, or even, he never left. He bring back the smell of the funeral flowers and perfume what sprinkle on the coffin, and frighten us into running out the house to sleep with Aunty Jean, or Aunty Millie. So, throw way something that belong to he, they said. That something was the conch shell, that prize conch he used to say come from Barbados, that he would hold up and blow, a ghostly eerie echo like bad news coming, till he put it to we ears and we listen to the ocean rushing. Now we too cursing after it like hellfire, because is curse you have to curse the ghost so he know he not welcome here. And although part of we feeling sorry for we Daddy trap up in there, there was a certain licentiousness, that pleasure we had to cuss, as previous to that we can't even say Damn or Oh God for fear of licks or a mouth wash out with soap.
'You Rass!' I bellow, liberated.
But Mummy, eyes red and knuckles white, pull me up sharp.
'That's enough Margaret!' she scold, 'Quite enough.'
*****
With Windrush month having just passed, I was keen for Maggie to hark back to her first contribution to Write On! in 2021, when she shared a couple of lines that really touched me:
"In 1971, I myself, would fly to the UK and stay with this very uncle before my mother and my sisters joined me. As one of the thousands of Caribbeans who left their home to 'better themselves' it has been a bittersweet journey. The loss of one's homeland is a sorrow that never heals. We only have to check those Facebook pages where generations of migrants share their photos and memories, holding their country of origin close in their hearts."
With this in mind, and looking at further perspectives to bring flesh to this Writer Of The Month profile, I'm delighted that Maggie expanded on her ideas, especially with reference to collective memory:
"Caribbean peoples all have one thing in common: their unique history of displacement. Displaced peoples look back to their roots. The experiences of our migration are now well documented, Windrush gives it significance,and literature; for example, Sam Selvon's novel, The Lonely Londoners, has evolved from the migrant experience. Being connected is a human need. When I was a teenager in Guyana, people wrote letters to each other across the world. My mum and I both had several penfriends. The internet fostered a way for migrant peoples, including younger generations, to find and connect with the diaspora. This next poem gives a sense of this:"
A Scattering Of Tongues
(from Limbolands)
scattered like seeds
borne on wings
carried on the soles of feet
floating on water
trickling fish rasping breath
from dry riverbeds
we remember these marks of our passage
strange earth, hardened foot-bottoms
that no-one came to greet us
singing the songs of home
we remember the tapping in darkness
whispers from the darkness
growing like seeds in the darkness
learning new morse codes
we watched and listened
reached for the light
now on land and water, train and boat
house/towerblock
songbirds are waking     songbirds are waking!
from these dark quiet tunnels of our throats
© Maggie Harris, 1999
*****
From that idea of displacement comes another rich vein of words. This time, in terms of space and place to both write and seek: a voyage of discovery. I know, for Maggie, Wales plays an important part in this.
Says Maggie:
"My 'voyage of discovery' didn't begin in Wales (although the lemon's journey does!).  Displacement will always remain a primary focus in my life; if you've exchanged your homeland for another, it still exists in your mind and you see the world through a kind of double vision: here and there. Limbolands looks at issues of home, belonging and the limbo state, exploring the perception of women and land signified as being feminine. Wales was particularly fertile. Its powerful beauty inspired me to create a garden, although I felt isolated. The country sang to me through its nature, its people and poetry. In a strange way, it was an alternative Guyana.''
At Ceibwr Bay
gathering on the bridge
sisters, daughters, grand-children
one by one and two by two
smiling into the sea
legs swing into empty space
over Nant Ceibwr, a river
restless to be free
rushing beneath these solid slabs of stone
lifted here, one imagines
by crane on a tractor
rolling along the cliff road on a fine day
wheels on tarmac, once clay
once horses and drays, lime kilns
a ship with sails, anchored
in the bay
black cliffs jack-knife into the Irish Sea
sharp, primeval
slice the horizon, shadow
water swirling into coves
sweeping scalloped stones
river running, restless, tumbling
intent on displacing kayaks
and lone walkers dropping
from the coast path
photographers perch
on baptismal stones
family groups smiling
into the unknown
history of ports and anchors
before road, before sail
before us
but we are Caribbean
we know about discovery
are used to fixing ourselves
into the frame
© Maggie Harris, 2019
*****
Alhough Maggie has written a full-length work, Kiskadee Girl, she prefers poetry and short stories. Genre is an important subject for any writer and I'm intrigued to hear Maggie chooses hers by following the voice:
"After an initial inspiration, I never know where a poem is going. With short stories, it's an idea that needs developing. The voice in a short story is just as important as that in a poem.
Sending For Chantal is a story I had in my mind for many years. A child is left to stay with her grandmother in Guyana while her mother goes to America to work, promising to send for her. A familiar story, but with a different take. Its strength lies from the first line: My mother voice growing old over the telephone. The child tells her story in Creole. I was overjoyed when it won the prize for the Caribbean. It's been published in the Commonwealth Short Story anthology, online, as a single story by Dundurn Press, and also in my collection, Writing On Water, by Seren.
In terms of genre lending itself to different voices, I'm sharing this next poem, similar in nature to Sending For Chantal, but showing how I use poetry and prose in different ways."
 *****
Cwmpengraig, Place Of Stones
Where yuh navel string bury is not necessarily home
Dis gurl gon walk my grandmother said
And walk I walk from Guyana to West Wales
And leave I leave that place of oceans and slave bones
For bruk down cottages and hills where people still pray
And come I come with my forked tongue split syntax
Of Hinglish and street Creole to wander lanes
With no names and no map where even
Sat-nav wuk hard to find being alimbo
Beyond satellite beyond stars
And stars and dreams of stars and songs
Called these Welsh from home
To cross oceans to a continent
Of the imagination
And is peel dis country peel like onions
Garden cups my cottage in its fists of seasons
Caring nothing for my ignorance
Of names, pronunciation, language
And History running in the stream right there
Beneath the stone: mill worker foot-bottom still indent
Ghost voice talking story wild a catchafire
How he catching boat with intention get the hell outa dis place
It nat fuh he to know some gurl would bring his story
Right back here and tell him tales of sugarcane
And captains tracing latitude and longitude
With quadrant, quill and octopus ink
Is laugh he would laugh true true
Whilst that stream keep gurgling
Stones keep tumbling
Underscore the footfall of my feet
© Maggie Harris, 2010
Finally, it's only right to have something unpublished: a Write On! exclusive, taken from Maggie's next poetry collection, I Sing To The Greenhearts, to be published by Seren Books in 2025.
On Acquiring A Banana From Eden
Banana, I crown you King of the Backyard,
Chief amongst the dahlias and aliums, the sweet peas.
Yours was a frayed welcome to this broken earth with its shards of glass
and splintered shed where un-named weeds proliferated
and strangled earthworm, ivy, fencing.
I had wrenched you from Eden through my mercantile grasp
and romantic predilection for anything remotely tropical
driving you from Cornwall to Kent in the motor-home,
another migration of longing.
All summer you grew glossy and elegant, each few days
another leaf unfolding, shaped like an ixwa, gathering irises
and petunias at your feet whilst the tree fern loitered in the shade.
And then the North Wind whipped in over the English Channel,
snapping your new bananalings into a ragtail of flumes
and feathers whilst you stood stem-naked, war-torn
reminding me of Frida;
not surprising as I'd just seen her in the V&A
scarred and beautiful, her corsets of leather and steel
her built-up shoe a vessel of survival.
Your resistance is as solid;
her Mexican skirts planted her in the earth like a windmill
an embroidered Dalek gliding through her garden with Diego,
her head crowned with blooms.
I will cosset you as winter approaches
wrap you up in the love that migrants need to acclimatise
look forward to the day when your head uncurls from the froth of
fleece and I can look through the parsley on the kitchen window
and say Yay, Glory Be
Glory Be.
© Maggie Harris, 2022
Connect with Maggie on her website: maggieharris.co.uk, Facebook: www.facebook.com/maggie.harris.984786 and Instagram: @maggiepoet
*****
Issue 17 of Write On! is out now or pick up a copy in local libraries and other venues. In the meantime, you can find previous editions on our magazines page here.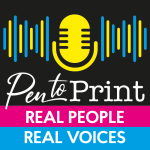 Each edition of our Write On! Audio podcast features an exclusive interview. Find us on all major podcast platforms, including Apple and Google Podcasts and Spotify. Type Pen to Print into your browser and look for our logo or find us on Anchor FM.
*****
If you or someone you know has been affected by issues covered in our pages, please see the relevant link below for ​information, advice and support​: https://pentoprint.org/about/advice-support/
Being connected is a human need. The Internet fostered a way for migrant peoples, including younger generations, to find and connect with the diaspora.