Meet the Judges: The Illustration Competition 2023
We are pleased to announce that we are hosting our first Illustration Competition! For this new challenge, we are inviting creatives to interpret one of our curated pieces of writing through any visual art form, such as painting or photography. We are already looking forward to seeing all of the talented and creative submissions. For our inaugural Illustration Competition, we have a fantastic pair of judges who will be selecting the winning illustration. Please join us in welcoming the judges of this year's Pen to Print Illustration Competition: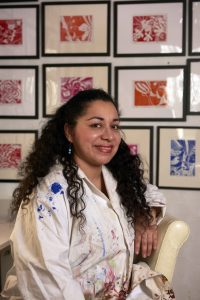 Patricia Bidi is a visual artist living and working in London. Her work in printmaking celebrates life's seminal moments and new beginnings. Her vibrant linocuts involve a combination of motifs drawing on her Peruvian heritage, childhood memories and the experience of living in London. Bidi's linocuts employ a hybrid visual language, creating a personalised mythology made of flowing human, animal and bird. Her art depicts a meaningful reflection of life and a unique celebration of life's creativity. Her work has been exhibited in Stockholm, Vienna, New York, Paris and London. She recently worked as art assistant for Cecilia Vicuna for her Installation Brain, Quipu, Forest at Tate Modern.
Michelle Sutton is a wildlife and rock artist based in Barking. She is a regular trader at LBBD's Summer Of Festivals events. Largely self-taught, Michelle likes to work in pencil (including graphite, coloured & watercolour), pen and acrylic paint. She often experiments with mixing mediums; her current favourite being watercolour pencils and pen, surfaces and styles. Her piece "Asian Small-clawed Otters" was a finalist in Explorers Against Extinction's 'Sketch For Survival' 2021 competition, and was exhibited at the gallery@oxo in London, before being auctioned off to raise money for conservation.
Thank you to Patricia Bidi and Michelle Sutton for lending their time and talent to our competition. We are grateful for their contributions and are confident that they will make this year's competition a success.
We hope you will consider submitting your own illustration to be considered by our judges. The deadline to enter is 31 March 2023, so be sure to submit your work by then. For more details and to enter, visit our competitions page here.
We can't wait to see your creations!