Another Award for Book Challenger Claire Buss!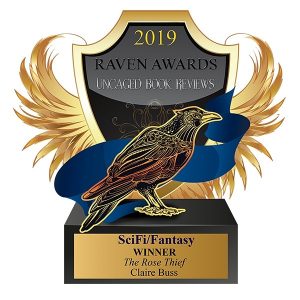 We are thrilled to share the news that Claire Buss has been successful in winning the 2019 Uncaged Book Review Raven Award for Best Sci-Fi/ Fantasy for her novel The Rose Thief.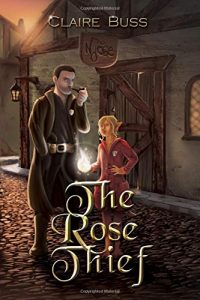 We asked Claire how she felt receiving yet another award for her writing?
"I am over the moon to have been voted favourite sci-fi & fantasy book for The Rose Thief – I enjoyed writing the book so much, it's great to know that others have enjoyed reading it just as much and I'm humbled to have so much support from readers and book lovers. This is the second time I've won the Raven Award for Sci-Fi & Fantasy, The Gaia Effect won in 2017 and I think I was more nervous this time around as the two books are completely different genres. Last year I won Best Indie Book of 2018 for Tales from the Seaside, my collection of short stories, which came as a lovely surprise. I'm honoured and thrilled to even be nominated so to win is just amazing."
Claire won the Raven Award for Best Sci-Fi/ Fantasy in 2017 for her debut novel, written for The Book Challenge in 2015, The Gaia Effect.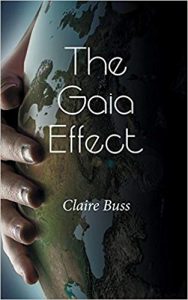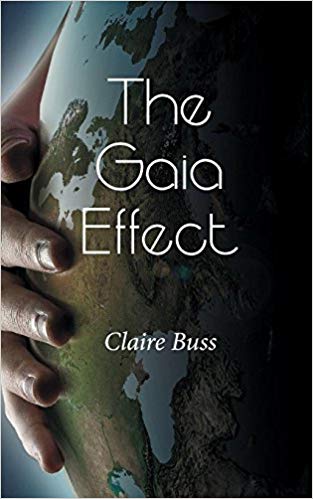 Claire has now published 15 books including The Gaia Project, sequel to The Gaia Effect, with book three, The Gaia Solution due out later this year. She has two short story collections, Tales from Suburbia and the award-winning Tales from the Seaside both of which are available in audio book, as well as two books of flash fiction and the first four books of a poetry collection. Her short stories have been featured in four anthologies and the award-winning The Rose Thief is the first book in her humorous fantasy series with The Interspecies Poker Tournament, a novella, having been released in May this year.
Claire is still busy writing and is also a regular contributor to Pen to Print's magazine Write On! as well as hosting Claire Buss's Book Surgeries where she supports other budding writers giving advise on how to self-publish and promote books and connect with readers online and on social media.
We asked Claire, that as one of the original Book Challengers way back in 2014, how has being part of Pen to Print helped her?
"Taking part in the Pen to Print Book Challenge gave me the confidence to start writing, a dream I'd had for a long time, and to be brave and share my work with other people. Becoming a finalist made me realise that I might be good at something after all and to then go on and receive such wonderful book reviews from people I don't know is amazing.
Attending the Pen to Print writing workshops gave me insight into the 'rules' of writing and the confidence boost to try new things and share them with the world. The continual support from the Pen to Print team and being able to get involved with new projects like Write On! magazine makes me feel like I have a solid foundation to grow outwards from, but I can always come back for advice. Having the opportunity to deliver my own Book Surgeries for Pen to Print and share my writing and publishing experience is fantastic and I look forward to having lots more of those in the future. I hope that new writers will look at the Pen to Print Alumni and be inspired by all of us to follow their own writing dreams."
So, what's next for the multi-award-winning Claire Buss?
"When the third book in the Gaia series is released, I will be creating a box set and releasing audio books. I have plans for two more books in the Roshaven world so far – The Silk Thief and The Bone Thief but I expect there will be more case file novellas because they are so much fun to write. All the Roshaven books will also be going to audio and I have four more poetry books due out to complete my eight book collection. There are also plans for a new multi-book series about a young girl who temps in unusual circumstances – I can't tell you anymore because *spoilers*!"
We just can't wait to read more of Claire's writing!
If you want to discover more about Claire connect with her on Twitter @grasshopper2407 and on Facebook at facebook.com/busswriter. Visit her website at www.cbvisions.weebly.com
You can discover Claire's books including The Rose Thief and The Gaia Effect on Claire Buss's Amazon Author Page.
Claire Buss's Book Surgeries are listed on our website pentoprint.org/events
Visit Uncaged Book Reviews for more information on their book reviews and online magazine.
I hope that new writers will look at the Pen to Print Alumni and be inspired by all of us to follow their own writing dreams.