As A… Creative Writing Tutor
Write On!'s Lynda Shepherd interviews Creative Writing Tutor Sarah-Jane Page.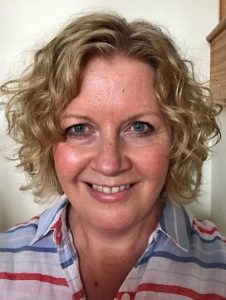 Represented by Ella Kahn of DKW Literary Agency, Sarah-Jane is a writer of fiction whose short stories have appeared in a range of publications, including Mslexia. She was awarded a place on the Arts' Council Escalator Literature Scheme with author Katharine McMahon as her mentor, and her unfinished novel was shortlisted for the Mslexia International Novel Competition. Now completing her next novel, Sarah-Jane loves sharing what she's learnt about writing to help others understand the craft.
An experienced teacher, tutor and writing coach, Sarah-Jane has run many successful writing retreats in Suffolk, as well as coaching creative writing for her tuition company 'eastuition'. Earlier this year, she launched a new company 'Retreats And Revision' offering luxury writing retreats and tailored coaching. She believes the teaching of creative writing happens in coaching the writing and coaxing the creative, and through tailored group sessions and one-to-one sessions, she helps writers find their voice.
LS: What genre/s or type of tuition do you specialise in?
SJP: I specialise in helping others reach their creative or academic potential. For adults, that's as a writing coach, and for GCSE and A-Level students, as a tutor in English and Spanish. 
LS: What would a typical workday entail?
SJP: No workday is typical – partly why I love what I do!
What is typical is how I always start off with a couple of hours of my own writing; that calibrates me and sets me up for whatever the day has to bring.
Where a workday goes from there depends on the number of coaching sessions I have booked in. I tend to work with my adult clients in the first half of the day, before putting on my other hat with secondary school students later on.
 LS: Where does the majority of your work come from? Do you do anything else alongside being a tutor?
 SJP: At present, the bulk of my work is individual and small-group tuition that comes mainly from word-of-mouth and internet searches. I also lead workshops for independent writers' groups. I'm looking forward to running writing retreats once the world is more in balance again.
LS: What inspired you to become a tutor?
SJP: I qualified as a secondary school teacher 20 years ago because I love passing on my passion for language, but once I'd run evening classes for adults and done some one-to-one tuition, I knew I'd found my niche. There's nothing better than working closely with someone and helping them achieve something they didn't think they'd be capable of, igniting a spark within.
LS: The sixth issue of Write On! explored the theme of 'A Kaleidoscope Of Colours'. The idea is that life at the moment is like looking through a kaleidoscope; ever-changing, ever-swirling patterns we must interpret and adapt to. Can you tell us a bit about how you have been adapting to the shifting landscape of this fairly challenging present?  
SJP: On a professional level – ZOOM! No exaggeration, it's revolutionised the way I work. Although I really miss the face-to-face contact with clients and the energy that creates, I feel incredibly lucky I've been able to translate my work to the online environment without too much disruption.
On a personal level, I've slowed down and no longer feel as if I have to wring out every minute of the day, like I did before. I've also come to rely much more on my inner world than the outer one and I've noticed the positive impact on my writing. I've been able to give the creative process room to breathe and space to grow, and I'm grateful for that chance to find a better balance.
LS: What are the most frequent challenges you experience as a tutor?
SJP: The challenges I experience as a tutor are the ones my clients encounter for themselves, and without doubt, the greatest is the verbosity of the inner critic.
When adults put themselves in a learning scenario, especially after a long period, it can often trigger a critical voice that touches on limiting beliefs, sometimes even stemming from experiences as far back as school. A voice like that is hard to silence and can deafen creative flow. I work closely with clients to turn down the volume of that voice so creativity can sing.
LS: Question from Twitter user: @Bectacular40 asks Do you think specific voices (e.g. first person, third person) are better suited to specific genres?
SJP: Specific voices are always best suited to specific characters. Although some genres might suit a first-person narrative over a third, for example, it all depends on the character you're exploring and the tone of voice you're trying to create.
LS: Can you tell us something you would love to see?
SJP: My list is so long, this is really difficult to narrow down. I love travelling, and after the restrictions of the last few months, however much I adore where I live, at the moment, I'd really love to see a completely unfamiliar setting.
In less immediate terms, I dream of seeing proper cycle lanes in every town and city of the UK.
LS: Lastly, if you could choose one fictional animal/creature to be a pet or companion, who would it be and why?
SJP: This is easy: Lyra Belacqua's Pantalaiman (Pan) from Philip Pullman's Northern Lights in the form of a snow-white ermine. Such a level-headed and cautious companion would be the ideal soundboard.
You can find out more about Sarah-Jane's work as a creative writing tutor here: www.eastuition.co.uk or and check out her creative writing retreats here: www.retreatsandrevision.co.uk or why not connect with her on Twitter: @sarahjanepage
Sarah recently shared a free-writing exercise with us on our recent NaNoWriMo Friday Feature: pentoprint.org/friday-feature-nanowrimo/. You can also listen to the exercise here:
Although some genres might suit a first-person narrative over a third, for example, it all depends on the character you're exploring and the tone of voice you're trying to create.