Thoughtful Tuesdays: Hope
By Eithne Cullen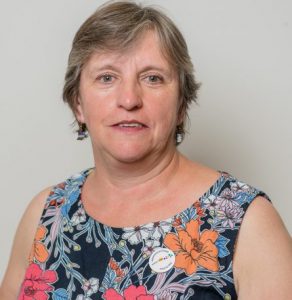 My mother was always using sayings and proverbs and many of them often pop into my mind. With our theme of 'Hope' coming into the magazine, I remembered her saying: "Hope springs eternal in the human breast." Interestingly enough, it's a line that comes up in our piece from Margaret Drummond: Heralds Of Hope.
It's from An Essay On Man by Alexander Pope:
Hope springs eternal in the human breast;
Man never Is, but always To be blest.
The soul, uneasy, and confin'd from home,
Rests and expatiates in a life to come.
In his poem, Pope accepts the belief of his time, that humankind is just one link in a great chain of being, knowing his or her own place. Even though we hope, he suggests that we await the future both humbly and hopefully. Most of us, nowadays, think hope goes hand in hand with taking control of our lives, not leaving it all to chance.
In this story, the narrator takes on a reflective mood, but also had specific things to hope for and look forward to:
Heralds Of Hope
Our new neighbours have already told us about their plans. They want to build a big extension at the back, fell some trees, dig out a pond. They have small children and the big garden was a real selling point. Everything needs doing; it's a total renovation job. The old lady who lived there before, our neighbour of nearly 30 years, whom we loved dearly, just could not cope with getting tradesmen at the end. It was simply too much and that house was so special to her. After all, she had moved into it as a toddler, when it was one of the few ultra-modern houses on this spanking-new estate, one of those suburban idylls built in the interwar years. That was 90 years ago and she never moved away, except to die in hospital last winter. So, the house is very special and the garden is ripe with memories.
I know that, when the builders move in, I will see the bones of the house laid bare; the overgrown lawn morph into a morass of mud as the young couple make the garden safe for a new generation of children. But I hope they leave the daffodils, the ones that spring up every year in the middle of the lawn. Even now, I am trying to remember exactly where those bulbs might be and wonder if I should say something. But maybe those daffs, too, have had their day. I'm amazed they still appear every year: sparks of hope trumpeting the arrival of spring. "My father planted those," she would say each time. "It was during the war."
Having lived in the house for so long, our neighbour was a fount of knowledge about the area. When our children were young, she would recount stories from the past; stories of how our neighbourhood used to be and stories from the war, of the bombs that fell, of the nights sitting under the stairs in the old pantry – the safest place in the house, apparently – and of the day they took the railings away from the communal garden in the middle of the road. At the beginning of the First World War, everyone thought the conflict would be over by Christmas. By 1939 ,it seems that people were more realistic. Our neighbour's father set about turning his long suburban plot into a Victory garden. It must have been quite a task. I can imagine the straight rows of cabbages and carrots, beans and potatoes that he nurtured in that claggy soil. And in the spring, there was a row of daffodils in the very centre of the plot; planted, she used to say, to cheer the place up a bit, to remind them of better times, a ray of hope for a sunnier future.
Apparently, in those early years of the war, there was a mantra: "Maybe next year." It was chanted in those dark days around Christmas, when people hoped for better things to come. It's strange how the wheels of time turn. Now, at the cusp of this year of COVID, aren't we all thinking the same? Maybe next year. Maybe next year we will be able to feel safe once again, will be reunited with loved ones, and hopefully, will be able to go wherever we like. We are facing a different kind of threat today but the challenges seem remarkably similar. Scientists and frontline workers are the soldiers now in a battle against an invisible enemy which seems to be making unpredictable and unprecedented progress in an unprepared world. And it's just a microscopic virus.
Next spring, I'll be looking out for those daffodils. As they say: "Hope springs eternal." Or maybe I'll just plant some in my own lawn, to remind me of my old neighbour and the sunny days we shared across the fence. I will tell the new people about the bulbs when they move in, though. Here's hoping those yellow trumpets in the middle of the lawn will herald new beginnings for them and for us. And here's hoping that, just like all those years ago, those sparks of yellow dancing bravely in a spring squall herald a sunnier future for us all in the New Year.
(c) Margaret Drummond, 2020
Margaret's an amateur writer and translator living in Redbridge and has been involved with Pen to Print in the past. She's a member of Brentwood Writers' Circle and has been published in CafeLit, The Guardian, Barbed Wire Fever and a number of blogs and magazines relating to European and, especially, Lithuanian themes.
*****
Poet Neal Zetter may well raise our hopes when he shares his advice about editing with us. However, he makes it clear that, when we write or send off our work, it's no use hoping for the best – there are always plenty of things we can do to improve our chances.
It's All In The Editing
Editing is time-consuming, a brain ache and I frequently swallow my pride when doing it, but it will always improve what could already pass as a finished piece of writing. It takes up around 75% of the time I spend on any poem and is the most important part of the writing process – there's no doubt about it! In fact, if you don't get your head around it, you will never be a great writer. Here's my six-point editing checklist:
The Title. This could sum up the poem in a few words: be it a word, phrase or line from it, a clever pun, or asking a question to make the reader stop and think. Put simply, it must be ATTENTION-GRABBING!
The Words. I try hard to use words my audience will understand (and I don't necessarily mean simple words) and to convey them in a way that gets my ideas across to them. It's a writer's job to paint a picture in the head of their readers by using powerful descriptive language. So adjectives, verbs and adverbs are key, along with the 'tools of the trade', such as personification, alliteration, similes, metaphors, onomatopoeia, etc. Repeating the same words, unless done for effect, is boring and unimaginative, so I'll use synonyms, as a variety of words is much more likely to hold the reader.
The Length. Editing usually shortens and sharpens the poem, making it clearer and easier to read. Nothing stands in my way when doing this, even if I have a hilarious line. If doesn't fit perfectly, I'll cut it out. At this stage, I also look at the number, layout and order of the verses to ensure the poem has a balance that helps to bring out the meaning. And it doesn't matter how long or short a poem is, so long as it does the job and makes its point/s.
The Ending. Like the title, and possibly using the techniques I mention above, the finale must be POWERFUL enough to leave a lasting impression. I might also end a rhyming poem with a non-rhyme, or vice versa, make the last line longer or shorter than the reader would expect, or finish with a cliffhanger…
The Sound. I will read the poem aloud to myself once it's finished to check that the rhythm is as I intended, the rhymes work with each other (assuming it's a rhyming poem) and it flows logically so it gets my ideas across and makes complete sense.
The Acid Test. Although I have completed the above stage and improved the poem as a result, there is nothing like the real thing. When I finally perform it to an audience, I might find it still needs tweaking to become a perfect piece. And I am always willing to make such changes and put aside any preciousness about what I felt was a finished poem to do this.
And this repetition is totally for effect: Editing is the most important part of the writing process. There's no doubt about it!
Connect with Neal Zetter at: cccpworkshops.co.uk and on Twitter: @nealzetterpoet
* Latest book: Gorilla Ballerina (A Book Of Bonkers Animal Poems)
* Out 2021: When The Bell Goes (A Rapping Rhyming Trip Through Childhood)
*****
Two of my Write Next Door writing group friends have shared poems and I can see they've edited them thoroughly before sending!
Both were written with remembrance in mind. Our usual ways of remembering the victims of war will be unable to go ahead this November, so thank you for sharing some reflections with us.
HOPE
THE ADAGE "AS LONG AS THERE IS LIFE THERE IS HOPE"
REFERS TO THE CONSTANT CHANGES POSSIBLE,
OF BEING ABLE TO COPE,
         THE ENLIGHTENING OF A MIND
ONCE ENCLOSED, NOW EXPOSED,
DESIRES BEING FILLED, NOW ONE CAN REPOSE.
BE AWAKENED AND REJOICE
IN THIS BRAND-NEW WAY OF LIFE
FOR WHICH YOU PRAYED
AND TO WHICH YOU VOW WOULD KEEP YOU STAYED.
INDEED! WHERE THERE IS LIFE, THERE IS HOPE!
© Evangeline Vincent-Davies, 2020
*****
Nina Simon describes this as a hope/freedom poem:
Memorial Candle
Tonight, as she watches
the flickering flame of the candle,
lit each year for her papa, mama, baby sister,
she rubs the numbers on her skin,
pictures the yellow star that marked her alien,
the hunger, fear
the ironic gates
'Arbeit Macht Frei' burned into the arch.
A calf led to slaughter, somehow she survived
and like the phoenix
rising from the ashes of the gas chambers
she is reborn, spreads her wings and flies.
© Nina Simon, 2020
*****
I'll finish on another story of Hope, the Natural History Museum's amazing blue whale. Pen to Printer, Michelle Sutton, has drawn it to my attention and also shared an wonderful sketch of Hope the Blue Whale from her Inktober 2018 sketches.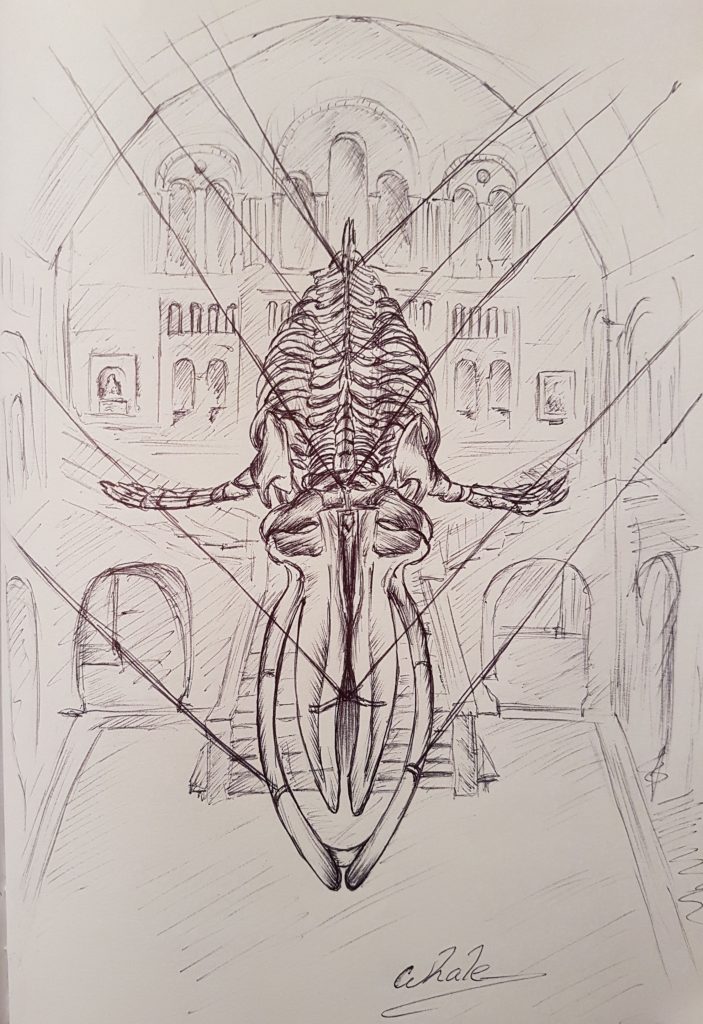 You can read about the unveiling of the installation in July 2017: https://www.nhm.ac.uk/discover/news/2017/july/museum-unveils-hope-the-blue-whale-skeleton.html
We learn that:  "The Natural History Museum has named the female blue whale Hope, as a symbol of humanity's power to shape a sustainable future. Blue whales were hunted to the brink of extinction in the twentieth century, but were also one of the first species that humans decided to save on a global scale."
And the Museum's hope for the species is set out clearly:
"In the 1800s there were an estimated 250,000 blue whales across the world's oceans. Decades of commercial hunting drove the species to the brink of extinction, with only around 400 thought to be left in 1966. That year, in London, the world took a remarkable decision to legally protect blue whales from commercial hunting. Since then, the population of blue whales has steadily grown to its current level of around 20,000."
The next 'Thoughtful Tuesday' page will come out on 15th December. If you have any hopeful pieces, well-edited poems or wintry stories to share, keep sending them to PentoPrint@lbbd.org.uk.
Stay safe!
Most of us, nowadays, think hope goes hand in hand with taking control of our lives, not leaving it all to chance.