As a… Writer: Farzana Hakim
This week's 'As a…' interview is all about Pen to Print alumnus Farzana Hakim.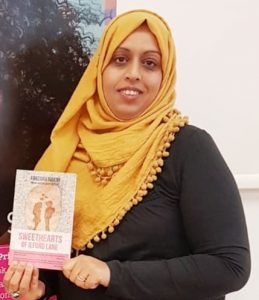 Farzana fast captured the hearts of her readers with her debut, Sweethearts of Ilford Lane. Branded an 'authentic writer' with an exciting new voice, Farzana set out to write a contemporary romance her readers could relate to. She bravely tackled themes such as forced marriage and honour. Her soon to be published second novel, The Silence of a Deep River, an emotional and thought-provoking family saga, based on the partition of India and Pakistan in 1947, won first prize in the Pen to Print Book Challenge. 
WO: How would you describe your writing/work to someone new to it? 
FH: I've been described as an authentic writer. Maybe because most of my stories are a fusion of my culture and the society in which I grew up. I write stories with ethnic minorities as my leads highlighting contemporary and relatable issues. Diversity in literature is important to me and I feel my readers should be able to taste the vibrancy of it in my books. I like to think, I write with a freedom and courage by taking my characters on gripping journeys. The theme in all of my works is the clash between cultures and beliefs. I break rules. I explore what becomes of somebody if they were to go against the norm. My plots are problematic and often heart rending. But I also love to add a touch of romance. I can't help it. Who doesn't like a love story huh?  
WO: Can you tell us a bit about your latest book, Sweethearts of Ilford Lane? 
FH: Sweethearts of Ilford Lane is a contemporary love story. Samina is in love with Hassan but her family expectations and restrictions make it difficult to maintain a relationship with him. Despite these hardships Samina never stops loving him but circumstances change and Hassan also changes and her love is betrayed. It's an emotional story with many ups and many downs. It will easily make you laugh and probably cry… 
WO: What inspired you to write in the first place, and what inspires you now?
FH:I've been writing stories for a long time. I've always been inspired by my heritage. Our family's history was something I was always curious about. And the more I delved into it, the more passionate I became to tell stories about it. This passion certainly inspired me to write The Silence of a Deep River, which is a story of friendship set during the Partition of India and Pakistan in 1947. 
With Sweethearts of Ilford Lane, I guess I'd always wanted to read a love story with people like me in it. And as I was growing up, I never really got to read anything positive about people in my culture. I reckon I wrote this book with this in mind. I know there's a niche market out there of people who are craving more books to read with diversity. I certainly am.
WO: The current issue of Write On! explores the theme of "Roots on Routes", can you tell us a bit about your background as a writer and how you got published? 
FH:I started writing a long time ago. And thanks to Pen to Print, I was able to take up the greatest opportunityof my life to have my first novel published.The following year I won the book Challenge for my second novel, The Silence of a Deep River. As part of the prize I was lucky enough to be mentored by Barbara Nadel. I learnt a lot from her and also made a great friend. Many years on, I still think she mentors me!
Not long after winning the competition, I signed up with my agent. I'm still waiting for him to find me a publisher though. This is proving harder than I initially thought. But thanks to Pen to Print, I've had the chance to publish my debut with funding from the Arts Council and their full support.  
Pen to Print is super for writers like me, coming from a working-class and under-represented background. The programme has given me direct access to the writer's world and I've been motivated, prompted and mentored from a closest writer, to becoming an award-winning published author. I owe them a lot. 
WO: What one piece of advice would you give an aspiring writer?  
FH: Don't be scared to write however and whatever you want to write. I personally don't follow any rules in my writing. Why should I? I believe all writing comes from the heart. Grammar, punctuation, fancy big words are something I don't worry about. I can deal with them later, or never! So, write from your hearts. Make your story emotional and personal to you and watch it turn into a masterpiece. 
Also read more. I read loads now. Imagine, I never took my English classes seriously at school. In fact, I hated anything English literature but now I've come to appreciate both the classics and the contemporary because they don't feel like a chore anymore.      
WO: Can you tell us anything about future projects? 
FH: I've many stories brewing in my head. My work in progress Chief of the Atlantic, is a historical saga based on the Slave trade. It's about an African chief who succumbs to a dreadful fate after being tricked and kidnapped aboard a slave ship bound for the Americas. But unable to accept this humiliation and defeat, the Chief feels he can take refuge in the sea. The rest of the novel follows his adventures within the world of the Atlantic Ocean, all the while reminiscing his past, as the Chief of a tribe called Faizu. 
I'm also editing my novel, Lady Taliban, which is set in Afghanistan. It's an exciting love story between an American soldier and Aliya Khan, who is held under his jurisdiction, for suspected terror charges. 
WO: Lastly, if you could choose one fictional animal/creature to be a pet or companion, who would it be and why? 
FH: It's got to be a dragon. But a friendly dragon. I loved the Never Ending Story and I often dreamt flights on top of Falkor. Imagine that, your personal cuddly magic carpet with a beating heart, lots of cuteness and of course heaps of goodness, beats a plane any day!  
You can connect with Farzana on Twitter, on Facebook and Instagram. Sweethearts of Ilford Lane is available to buy from Amazon and all major book stores.
I write stories with ethnic minorities as my leads highlighting contemporary and relatable issues.