by Carol Edwards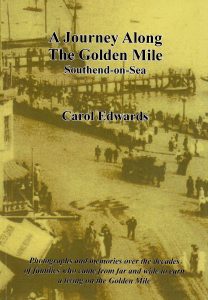 Having published a number of  books about specific places around my local area at Southend on Sea, I came to what I knew was going to be my last publication in the series. I spent a great deal of my time when young, visiting the Golden Mile, clutching my pennies to play the slot machines in the many arcades,  walking the pier or  enjoying the rides in Peter Pan's (now Adventure Island).  My latest book was not my first on the subject of our seaside as in 2007 I had written Seaside Entrepreneurs charting the history of Henry Abaslom – bathing machines and John Jaquest and his family of restaurateurs.  The Jaquest's had businesses in the town for nearly 100 years. I found the subject of Marine Parade Southend still had much to tell,  so came to write A Journey Along The Golden Mile in 2019. 
When writing a local history book,  there are so many avenues of research.  Old newspapers, Kelly's directory's and past publicity brochures, all stored in The Forum (local library) and Essex Record Office in Chelmsford, where in their archives is housed so much information of our history.  Also available are many photographs, capturing in a moment our transition from farmland to housing estates and busy roads. Building plans on delicate pieces of parchment showing how many well known stores in our High Street began, before developing into the buildings we are all familiar with today.  My two most favourite forms of research are undoubtedly, meeting those who have worked on the Golden Mile or descendants of those families who were resident decades ago. Last but no means least, genealogy.  The latter allows you to build a picture of when an individual came to the town, where they had their businesses, married, had children (important when writing about another era).  Even when being fortunate enough to meet relations they are like anyone else, subject to Chinese whispers where their family history is concerned. So being able to separate the fact from the fiction benefits both parties. Interviewing those who have come forward to a request in the local paper gives a wonderful insight into their private lives and those all important family photographs, not available in the public domain. All of these techniques were used to research, write and publish my book on seafront traders and their family's from the 1800's. 
My journey along Marine Parade where can still be found buildings errected in the late 1800's are The Borough Hotel, Cornucopia, The Falcon and Hope Hotel. Unrecognizable but still part of an old building is Chinnery's, originally The Ivy House and Adventure Island, which started life as the council owned sunken gardens.  Over the decades the seaside resort of Southend on Sea, developed much like many others around the country.  From enjoying the fresh air and swimming in the sea, our seaside grew into a world of boarding houses, a pier, cafes, pleasure boat rides, and our once famous Kursaal. People from near and far came to serve the needs of the every increasing numbers of visitors. From Italy, with their restaurants, came the Zanchi family, the Kontil's and Blacks from Romania with their shops selling fancy goods. France gave us  the Lecorgne's and Grecourt's. Each having stalls and rides in the Kursaal with Jean and Francis Grecourt eventually being the owners of The Golden Hind. During more recent years we have enjoyed Bailey's fish and chips, the Newbury-Smiths with their arcade, the Monte Carlo and the 1960's saw Harry Threadgold, the well known Southend football player, managing the now demolished Ship public house. A photographer George Pryor in the 50's and 60's snapping for prosperity the changing face of the tripper, from smartly dressed ladies and gentleman alighting from their coaches, to mini skirts, jeans and tee shirts. All wanting a fun day. Their stories have created the seafront we experience today. 
A Journey Along The Golden Mile, £7, available from Southend Waterstones, The Heritage Centre Leigh or directly from the author Carol Edwards at thecaroledwards@gmail.com. 
When writing a local history book, there are so many avenues of research.