As a… Writer: Patsy Collins
From our 'As A…' series, L.M. Towton questions author and prolific short story writer Patsy Collins about herself and her writing.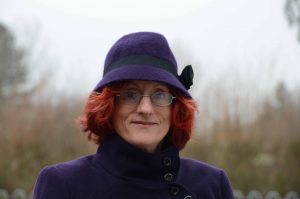 Patsy Collins spends her time making things up and writing them down from her home in Lee-on-the-Solent or whilst traveling in a campervan. She is the author of five novels, nineteen themed collections of short stories, A Year Of Ideas: 365 sets of writing prompts and exercises, and half of From Story Idea to Reader – an accessible guide to writing fiction. Hundreds of her short stories have been published in women's magazines such as My Weekly, The People's Friend, Fiction Feast, Woman's Weekly and The Weekly News in the UK as well as magazines in Ireland, Sweden, South Africa and Australia. 
As well as presenting writing workshops around the UK and contributing to Writing Magazine, Patsy runs two blogs for writers. http://patsy-collins.blogspot.com regularly features free to enter writing competitions, and Womagriter.blogspot.co.uk  contains all the guidelines and information needed to submit fiction to woman's magazines in the UK and abroad. 
WO: How would you describe your writing/work to someone new to it? 
PC: With regard to fiction, I like to think it's entertaining and uplifting. Much of my writing comprises short stories for women's magazines and that's generally what the market demands – as I've had hundreds of them published, I must be doing something right! I do include conflict, emotion, sadness, even danger, but I also like humour, optimism and happy endings. When it comes to non-fiction and blogs I aim to be both realistic and encouraging. Success with writing isn't guaranteed, but with a bit of inspiration and plenty of effort and patience, many people have an excellent chance of getting something published – and having lots of fun. 
WO: Can you tell us a bit about your latest book?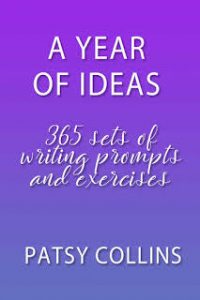 PC: That'd be A Year Of Ideas: 365 sets of writing prompts and exercises. It's exactly what it says on the (very purple) cover. In addition to the sets of prompts, short exercises and story/scene suggestions there's some information on how to build these into a story and make it your own. 
To summarise the blurb – All writers need ideas to get started and a little encouragement to keep going. New writers may be wondering where to begin, daunted by a blank page and want help to transform thoughts into fiction. Even the most experienced have dry periods when ideas don't flow, or appreciate a push to try something different. 
Whether you're a new writer, or a more experienced one temporarily out of ideas, have hours to fill or just five free minutes, you'll find something in this book to help get you writing – every day of the year. 
WO: What inspired you to write in the first place, and what inspires you now?
PC: Stories! 
I always have a story in my head. The only way to shift it is to write it, and that makes space for a new one. Or several new ones. 
The wish to share my enthusiasm, pass on information and encourage others are what inspire my non-fiction. 
WO: The current issue of Write On! explores the theme of "Roots on Routes", can you tell us a bit about your background as a writer and how you got published?  
PC: I started pretty much by accident after moving to a new area and receiving a leaflet about evening classes. By the time I came to enrol only wine tasting and creative writing still had spaces. Isn't that a good example of one decision having the power to greatly influence the rest of a person's life? 
The idea of showing anyone other than my tutor what I'd written, let alone getting published, never entered my head until the local council ran a competition for forty word stories. My bravery in having a go earned me book tokens and cake. I really like both, so that was me hooked. It took another year before I had a 'proper' story published, and several more until I had my first novel published (as the result of winning another competition). 
Writing is now my job – creating stories myself, writing about writing, and presenting workshops where I get other people to do the hard work. 
WO: What one piece of advice would you give an aspiring writer? 
PC: The most important thing is to write. Don't worry if your grammar is a bit weak, or you're unsure about formatting or anything else technical. You can learn to fix that kind of thing. Don't worry there might be plot holes or the opening isn't right or your characters aren't strong enough. That's what rewrites and editing are for. Get it written and then go on from there. 
WO: Question from Twitter user: @compscribe – "Is there any genre you would never try because of lack of interest or personal taste?" 
PC: 'Misery lit' holds no interest for me, either as a writer or a reader. Some people find it cathartic or insightful or otherwise enjoy it, but I find it depressing. 
I have occasionally included a bit of scary stuff and sex as part of stories, when I've felt those elements were needed. I'm happy with the result, but don't wish to write horror or erotica as a genre. I'm not familiar enough with either to do it well. 
There seems to me to be little point in attempting to write something we wouldn't enjoy reading. We'll be unhappy trying and aren't likely to do it as well as someone more familiar with, and appreciative of, that genre. 
WO: Can you tell us anything about future projects? 
PC: Yes and no. I do have a couple of novels on the go, but I find the more I talk about the plots, the less actual writing I do. What I can say is one is set on a farm and involves horses and sausage dogs, the other is a dual-location, seaside murder mystery. Both include romance. I like to write on location, so I'll be spending time in the campervan around Falmouth and near Newbury in Berkshire, as well as writing from home in Lee-on-the-Solent. 
In between the novels I'll be writing lots more short stories for magazines and competitions, and putting more of my previously published stories into themed collections. 
WO: Lastly, if you could choose one fictional animal/creature to be a pet or companion, who would it be and why? 
PC: I already have him. Aloo is a Red Setter, he's about eighteen months old (always has been and always will be). In order to picture him accurately you need to look at the back of my head, as his hair is always the exact shade as mine, although sometimes I have 'silver highlights' and he never does. 
Aloo is the cause of all the red hair clogging up the vacuum, the disappearance of all cakes which make their way into our house or campervan, and sometimes the reason for me to leap over rocks like an excitable mountain goat – young red setters need a lot of exercise, even if they're made up. 
His special talent is coming away with us on trips, whilst simultaneously staying at home to keep guard. He's not yet appeared in one of my stories, but I'm not sure I can hold him back much longer. 
You can find out more about Patsy and her work on her website patsycollins.uk. You can also connect with her on Twitter @PatsyCollins  
 'A Year Of Ideas: 365 sets of writing prompts and exercises' is available to buy in paperback or ebook forms and through Kindle unlimited here. 
Look out for more Write On! interviews every Sunday.  
L.M. Towton is the pseudonym of Science Fiction/Fantasy (SFF) writing partnership Lauren Towers and Michelle Sutton. They are currently editing their first novel The Soul Caller.  
Pen to Print: Book Challenge Shortlisters 2015 and Penguin Random House (PRH) WriteNow Participants 2018.  
You can connect with them on Twitter @LM_Towton 
Success with writing isn't guaranteed, but with a bit of inspiration and plenty of effort and patience, many people have an excellent chance of getting something published – and having lots of fun.