Write On! Features: Finding Wonder by Victoria Hopkins
By Victoria Hopkins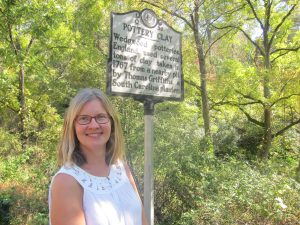 Writing White Gold definitely instilled in me a sense of wonder, as my research led me into the depths of the Appalachian mountains and the discovery of a piece of British colonial history I had known very little about.
It was 2015, and I had just moved from Stoke-on-Trent to the foothills of the mountains in Greenville, South Carolina, with my husband's job. I missed home and my career, but living in a former British colony intrigued me, and made me want to find out more about the area. By chance, I discovered the journal of Thomas Griffiths, the agent sent by Josiah Wedgwood to the Cherokee mountains in 1767 to find a prized white clay so that he could make porcelain china. The story fascinated me, as it connected my two homes; I had grown up a few miles from the Wedgwood factory, surrounded by Wedgwood's legacy, and it was amazing to think he had sent an explorer to the mountains nearby, two hundred and fifty years earlier.
It was a classic story of adventure, as Griffiths had travelled alone when tensions were still fraught after the Anglo-Cherokee War. It was also a time of political unrest due to taxation under the Townshend Acts, on the eve of the American Revolution. I had the luxury of time and felt there was a story to be told, so set about writing a novel, based on actual events at that time.
I had always enjoyed reading 18th century historical and adventure fiction and studied English literature at college, but had no idea where to start. With a legal background, my writing style was dry and formal, and I needed to learn how to write creatively. Then I read The Revenant by Michael Punke, and was inspired by his expository style. I decided to just start writing for myself, with no expectations.
I was lucky to live just two hours away from the Cherokee Reservation of the Eastern Band of Cherokees and took every opportunity to head to the Oconaluftee Village and the Museum of the Cherokee Indians. Nestled in the depths of the Blue Ridge Mountains, with its own tribal laws and elected chiefs, it is surrounded by untouched wilderness. We encountered snakes, coyotes, turkeys and herds of wild elk, although, thankfully, no bears. I remember watching in amazement as a six-foot black rat snake slithered across the road in front of me, then defied gravity and climbed a vertical trunk. I didn't even know snakes were arboreal!
Living just three hours from Charleston was ideal for researching British colonial history. When my family headed to the beach, I would visit the library, or lose myself on a walking tour, admiring the 18th-century shiplap houses and grand Georgian buildings. It felt like an exotic England, in a sub-tropical climate; although I used to love the rare cool, rainy days. It transported me straight back home!
My research soon uncovered questions about the colony's past, both in slavery, and the mistreatment of the Native Americans. One day, I was chatting with a Cherokee man and found myself apologising for white oppression. His response was not what I expected, and led me down another line of research investigating the Cherokee perspective. I knew then I had to tell their stories too, and to give an honest account of the darker side of the colony. My challenge would be to weave all of these events into a good story arc.
A couple of years later, I was wondering what I was doing, trying to write a novel. I had a flabby first draft I needed to edit but had hit a brick wall. My manuscript felt like a heavy lump of clay that needed pummelling into shape. I couldn't see the wood for the trees – couldn't even decide what needed to be a scene or a summary! I joined a local writer's group but realised my writing wasn't ready to share. Feeling amateur, I retreated home and continued to slog away.
Eventually, I decided to invest in a manuscript assessment. It was quite expensive, but it focused my efforts on working to a deadline. I was surprised when the editor praised my efforts and made just a few suggestions. It gave me confidence that perhaps it wasn't too bad after all.
This time, I set my sights a little higher, towards publication and finding an agent. I wrote for three to four hours every morning, which was when I felt most creative. I also discovered Jericho Writers, and for a small monthly fee, I could listen to hours of tutorials while in the car, or walking the dogs. I began to get a feel for the art of storytelling and learnt how to add more depth and layers, and weave subplots into the main story.
It must have seeped into my subconscious, as I often woke in the night with an idea for dialogue or plot. If I had an idea while out, I'd make a note on my phone – although I don't recommend making one massive long note as I did – I deleted it once by accident! Thankfully, my husband, (a.k.a. IT support), managed to recover it!
After what felt like the gestation period of an elephant, and at least 20 self-edits, I reached a point where it was the best it could be. I began to follow a few writers on Twitter, which is where I found out about the Wilbur & Niso Smith Adventure Writing Prize. I felt daunted, knowing that Wilbur Smith was the master of the adventure genre, but even if I didn't win, there was a chance of receiving a developmental edit, which would be invaluable. I gave it one final edit and submitted it on the last day. I think I must have got a bit excited when I found out I was shortlisted, as my dog bit me!
I have now caught the writing bug, and am working on my next novel. It's based on another true adventure story I discovered while in South Carolina, and continues on from White Gold.  This time I intend to be a plotter, not a pantser, so hopefully it won't take so long!
Tips:
Follow the advice that works for you. For example, I never answered '100 questions about my protagonist' and, instead, chose to make his character suit the plot.
I found listening to music helped to evoke the right mood for the novel. Mine was the soundtrack from Last Of The Mohicans.
When you submit to a competition, make sure you allow time to draft a synopsis and supporting letter!
*****
Connect with Victoria on Twitter: @VickiHopkinsUK
Writing 'White Gold' definitely instilled in me a sense of wonder, as my research led me into the depths of the Appalachian mountains and the discovery of a piece of British colonial history I had known very little about.