Showcase: White Leaves of Peace + Tram Shelter + A Maltese New Year
January's Showcases are introduced by Write On! regular, Mirabel Lavelle.
Welcome to the first Showcase page of the New Year. I'm Mirabel, your editor for January. When a new year dawns, we hear people speaking of hope, and we all wish each other a, "Happy New Year".
I'd like to start by sharing extracts with you from the Celtic Colours Trilogy, written by the North East writer, Dr Tracey Iceton. On her first trip to Ireland, she visited a prison. This experience moved her to create three outstanding historical novels, exploring Ireland's journey to peace over several of its most troubled years.
Without spoiling the ending of this third book of the trilogy, I can drop a hint that searching for peace lies with the younger generations: the present one to start laying the ground and the future ones to uphold it and take it forward. With that in mind, I'd like to wish you a peaceful 2022!
Mirabel.
White Leaves Of Peace
Extracts from the third book in the Celtic Colours Trilogy by Tracey Iceton.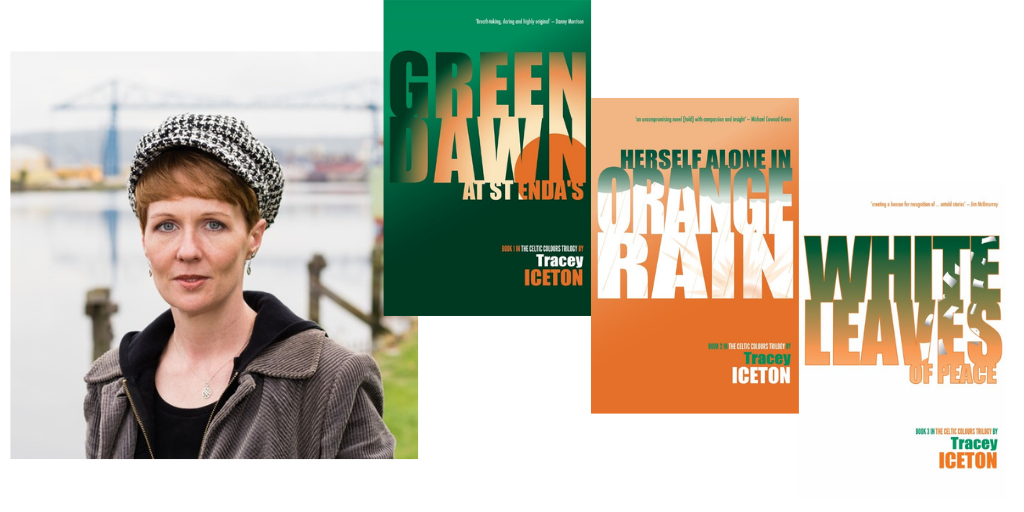 It's Good Friday of 1998 and for ten-year-old Cian it's just another bank holiday but for his father and everyone else old enough to know what the men on the telly are doing, it's possibly the most important day of their lives: the day of a new peace dawning…
Da's on his knees in front of the set, like he's praying to it.
"You alright, Da?" I ask 'cos it's well off for him to be kneeling in front of the telly.
"Hush, Cian," he says, waving at me, eyes stuck to the screen.
I put the tubs on the sofa and go to him.
There are two men on telly, both in suits, standing outside a building with glass doors.  They're stood at a tall skinny desk and there are those big mics on it, like they use for interviewing people on the news.  One of the men is speaking, the other listening.  They swap.  The first man's got an English accent; the second sounds Irish.  While they're speaking Da wraps his arm around me.  'Cos he's kneeling and I'm standing I'm taller than him.  Now's my chance.  I pat his head.  He doesn't pull away like I would've so I give his hair a good big ruffle 'til it's all stuck up funny.  Still nothing.  I look down at him.  He's crying.  I snatch my hand off his head.
"What's wrong, Da?"
"They've done it.  Jesus, they've fucking done it."
Da never uses the f-word.  Not so's I'd hear anyway.  Whatever's going on, on the telly, it's properly big news.
"Done what, Da?"
He hugs me tightly.
"It's over," he says.
"What's over, Da?"
He squeezes me hard and my T-shirt gets wet 'cos he's still crying a bit.  Then he lets go, turns away and wipes his face with his hand so's I won't see he's crying.
When he faces me again he's smiling.
"Everything's going to be alright now," he says.
**
While 16-year-old Cian is trying to study for his GCSEs, life in peace-torn Belfast continues to disrupt him.  Following an altercation at school when a friend brings up his mother's IRA past Cian is pushed further when, on his way home, he has to confront a journalist asking about his mother being appointed to a cross-arty victim's forum.  Frustrated by the rancorous peace, Cian and his parents have this conversation…
The bedroom door opens.  Da sticks his head in.
"We'd like a word, Cian.  Come down.  Please."
With a sigh I follow him into the lounge.  Ma's there, waiting.  I lean against an armchair but don't sit.
"What's going on with you?" she asks.
"Nothing."  I pick at a loose thread on the armchair's headrest.
"You're obviously upset.  Has something happened at school?"
"No."
"What then?" Da asks.
"Nothing."
There's a long, tense silence.  I keep tugging at the thread.
"You have to understand, Cian, things are still difficult," Ma says.  "We've made progress but we've got to keep working at it.  Sure, we will get there."
I snap the thread.  "Any chance you could do it before my bloody exams?"
They exchange looks.
"'Cos you keep on about me getting decent grades but every time I try revising there's some trouble."
"We know this is a stressful time for you," Ma says, "but you've to remember that just because a war ends it doesn't mean a peace starts."  She wanders around the room, stopping to study the wee watercolour she painted of Pearse's cottage.  "We've to make sure of that peace, that's the mission now," she says, eyes fixed on the thatched white-washed dream.
I flop into the armchair, ruffle the thick, velvety cushion fabric.
**
After using the assumed identity of an English lad and a fake passport Cian flees to Australia only to be recognised by an old classmate while out on a date with local girl Robyn who has her own identity issues as a result of a turbulent upbringing.
Robyn and Cian end up at Uluru (Ayres Rock) and take a tour around the base with Aboriginal guide Reg. Afterwards, Reg spends a few minutes chatting to Cian about his walkabout with Robyn, belongingness and community, both issues that have prevented Cian's experience of peace being one of hopeful new beginnings…
"Hope you make it," Reg says.
"Where to?" I ask.
"Your place of belongingness.  That's what walkabout's for, finding where you belong, ending up there.  She didn't tell you that?"  He nods at Robyn's disappearing figure.
"She said something.  I don't remember…"
Reg nods.  "You know each other well, hey?  Fit together just right.  Maybe that's your belongingness.  You belong together."  His dark eyes twinkle at me, expectation and encouragement.
Belong: I google the word in my head, open the dropdown menu of meanings; attached to, suited to, owned by, allied to, included in, member of, located in.
"You wanna ask me something, go ahead," Reg says.
I hesitate a sec then, "You don't think it's bad when people break away from their roots, where they're meant to belong?"
"Nah, mate, people gotta be who they need to be, where they need to be: how they need to be.  Things are different in your community?"
"If you don't fight for your tradition you're a traitor."
He shakes his head.  "That's no good, mate.  Belonging's in here."  He taps his chest.  "You find your belongingness and things'll come right."  Reg squints at me, trying to fuse me into the land he belongs to.  He unsquints, shakes his head.  "You'll find it, mate.  Just keep looking."
© Tracey Iceton, 2019
The three books of the trilogy are: Green Dawn at St Enda's 2016, Herself Alone in Orange Rain 2017 and White Leaves of Peace 2019.
Connect with Tracey on her website: trywriting.co.uk
*****
A new year heralds the dawn of new hopes for better times. This short piece by Sunderland writer, John Holmes, paints a picture of how the new year can bring new beginnings.
Tram Shelter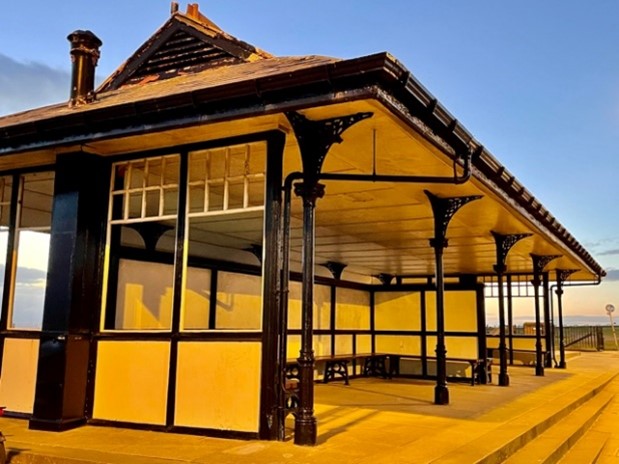 We met in the tram shelter, at the bottom of the hill in Roker. Huddled in the driest corner, we talked, listened and laughed; managing to ignore the January storm that raged around us. He pointed to his house and, fighting the elements, dashed out into the rain.
"Knock at my door anytime," he called. The howling wind tried to blow those words away, but I held onto them tightly.
The weather had calmed down before the tram arrived. So had my heartbeat.
I planned another meeting in the tram shelter. This time, the January weather was on our side. We sat down in the same corner, now holding the warmth of the weak sun. Again, we talked, listened and laughed. I had no regrets about having knocked at that front door on Roker Terrace.
We helped each other off the green, rotting bench and left the Grade Two listed building.
Slowly, we walked towards our home of 60 years.
A Grade One relationship.
© John Holmes, 2021
John Holmes, based in the North East of England, is a writer of short fiction. He is a previous winner of The Times Short Crime Fiction Story prize and, this year, has had work appear in Paragraph Planet, 101 Words, Fragmented Voices and Ellipsis Zine. He is the co-author of Rough Rides, a mountain biking guidebook – and when he isn't writing, he's out on his bike exploring new routes.
*****
During the cold winters, when we taste the comforting food we ate as children, or browse through old family albums, it brings back the nostalgia of a different time. This keeps me grounded, because I reflect and think about where I'm going with my life. I'd like to share with you a memory of my childhood: New Year's day 1969.
A Maltese New Year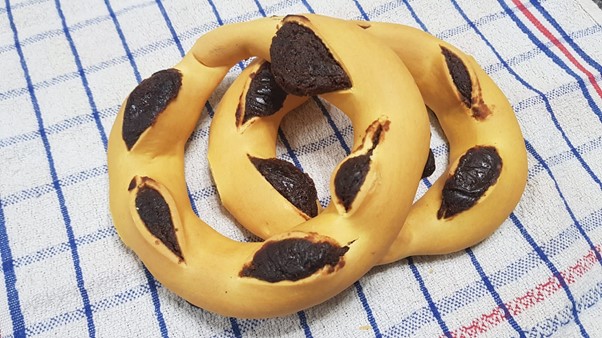 It was the jubilant sound of church bells that would wake me up on New Year's Day. I was a child of the '60s and January promised walks at San Anton and Buskett Gardens, Nanna's winter treats, hours on the swings and the traditional and obligatory silver gifts of L-Istrina.
L-Istrina comes from the Latin word 'Strena'; a gift of good luck. My grandparents upheld this tradition and on New Year's day, I'd put on my new Christmas clothes, a jumper, slacks and patent leather shoes and off I'd dash, skipping to Grandma's house. She'd welcome me with joy as I wished her and Grandpa a happy, blessed and prosperous new year, upon which Grandpa would raise an eyebrow and ask me if I'd been good. Nanna would usually assure him that I had! She had a big soft spot for me and got me out of many scrapes over the years. Then they would each give me a shiny shillin'. My brothers and cousins got the same. Afterwards, off to church with all the family to start the new year with a prayer.
After Mass, Mum would collect the traditional freshly baked bread and a special one made with beer yeast. We'd have scrambled eggs, slices of ham on the bone and cheese. Then we'd run upstairs to change into old clothes and wellies and Dad and Uncle would take Grandpa and us kids to Rabat, by the old city of Mdina. There, we would visit Buskett Gardens and hunt bugs, tadpoles, frogs, ladybirds and everything Mum didn't want in the house. We'd be made to set them free before getting in the cars: Dad's blue Renault Dauphin and Uncle's black Hillman Minx. Both had starting handles, a must on Maltese pothole and gravel-riddled roads. We all crammed on the back seat facing the rear window, waving at the driver of the car behind us.
Grandma prepared the starter: a slow-cooked soup in a large enamel pot. Made with sliced onions, celery leaves, kohlrabi, carrots, potatoes, cauliflower, cabbage, tomato paste, a finishing drizzle of olive oil, salt and pepper; a much-needed warmer after our 'hunting' adventure. The chunkily-chopped veggies would be taken out and served alongside the main course. This would either be stuffed and roasted chicken, or 'Falda': beef flank stuffed with onions, herbs and corned beef, slow-roasted with sliced onions, potatoes and fennel seed, salt and pepper.
The dessert was a selection of Maltese sweets: Almond macaroons, deep-fried date slices called Mqaret and treacle rings known as Qaghaq tal ghasel.
My nanna was a very kind, sweet lady, with the soul of a young child. She taught me how to appreciate and respect my family, my food and my blessings. The old Maltese proverb: 'Tan-Nanna Helu Manna' – Grandma's food (and food for thought) is as sweet as Heavenly Manna – rang true with her.
© Mirabel Lavelle, 2021
Here is her recipe for treacle rings for you to try:
Pastry:
400g plain flour
75g semolina
180g margarine
100g golden caster sugar
Pinch of salt
(A little cold water to bring the dough together, as needed)
Filling:
400g treacle
400g sugar
1 ½  tbs pure cocoa powder
1 tbs semolina
2 tbs anisette liqueur or mandarin juice
Grated rind of: 1 lemon, ½ orange and 1 mandarin
½ level tsp ground cloves
½ tsp mixed spice
100ml fresh orange juice
100-150 ml water
Pre-greased and floured baking tray/s
Method:
For the pastry, rub the dry ingredients and margarine until it resembles breadcrumbs, then add enough water to bring the dough together. Chill.
For the filling, put all ingredients, apart from the semolina, in a pan and gently bring to boil. Slowly add the semolina as you stir and simmer, until the mixture thickens. Be careful not to burn it. Move pan onto a cold surface and allow to cool.
To make the rings:
Roll out the pastry into 10-inch long strips and three-inch wide. Add some of the filling in each and form long tubes (using a bit of water as 'glue'). Join the ends of each roll to form a ring, then, with a sharp knife, cut two-inch slits on the top of the pastry.
Bake for around 20 – 23 minutes, depending on oven, at 180 degrees, until light golden brown. Enjoy!
*****
If you'd like to see your writing appear in the Write On! Showcase, please submit your short stories, poetry or novel extracts to: pentoprint.org/get-involved/submit-to-write-on/
You can read more fiction, poetry, interviews and author advice in the latest issue of Write On!  Issue 10 of Write On! is available now. You can see it here.