Happy Boxing Day: COVID Christmas, Cold War Christmas, Christmas In Exile
Introduced by Lisa Roullier
Boxing Day is traditionally about gift 'boxes'; however, these days, it's more about sports. For me, this piece by Margaret Drummond shows us how gifts come in all shapes and sizes. Sanctuary, as in an accepting, multi-cultural environment, is one such gift.
Margaret's Christmas past is bittersweet. During the Cold War years, traditions and memories from her Lithuanian heritage were all she and her family had, to remind them of their former home. Her writing cleverly draws parallels between those years and the poignant and difficult times we are facing now. The power of this reminds me why I love living and working in our diverse borough, supporting the work of Pen to Print and local writers as well!
COVID Christmas, Cold War Christmas, Christmas in Exile
By Margaret Drummond
In the days of the Cold War, there were only four thousand people of Lithuanian descent in the whole of the UK. Today, there are more than 200,000; at least 100,000 in London alone.  There are over four thousand in the London Borough of Barking and Dagenham alone. Growing up in London with my Lithuanian dad in the sixties and seventies, we were part of an almost invisible community of just one thousand, living in two distinct areas: Notting Hill Gate, where the community owned a house, and Bethnal Green, where there has been a Lithuanian church since the early 1900s.
Before Lithuanians began arriving in the UK in 2004, very few British people had even heard of the country. "Are you Russian?" they would ask. A quick history lesson here. Once a formidable mediaeval power, the Polish-Lithuanian Commonwealth was gradually subsumed into Tsarist Russia, along with much of Poland and the two other Baltic States. The Treaty Of Versailles in 1918 granted independence to the Baltics, but this was short-lived. In 1940, the Soviet Union occupied Lithuania and then, when Russia changed sides in 1941, the country was occupied in turn by Nazi Germany. In 1945, the Soviet Union once again seized power. After negotiations in Yalta and Postdam, it was decided that Lithuania, together with Latvia and Estonia, was to remain under Soviet control and so, when I was growing up, those tiny, independent countries with their distinctive characters and cultures had disappeared entirely from the map.
Although there have always been some Lithuanians in London, most arrived in three main waves of migration. At the beginning of the 20th century, many left as a result of Tsarist oppression to find work and a better life in other countries, especially the USA. Many East* End families with Jewish roots are the descendants of those Litvaks who fled Russia in this way, but there were also Catholic Lithuanians; hence the establishment of the Church of St Casimir in Hackney, which is now flourishing after some very precarious years in the seventies and early eighties. After World War Two, there was a second wave of migrants; people who had fled from the Soviets. Finally, in 2004, when Lithuania joined the EU, people began arriving in the UK once again, looking for work and a better life.
My dad arrived in 1948, aged 23, having spent three years in a refugee camp in Germany. Initially, he worked in the mines in the Midlands as part of the European Volunteer Worker resettlement programme, designed to combat labour shortages in Post-War Britain.
Dad's first British Christmas was a sad affair. The English family he lived with in digs were very kind and shared the day with him, but Christmas under rationing was far different from the ones he had hitherto experienced at home with his family on their simple farm.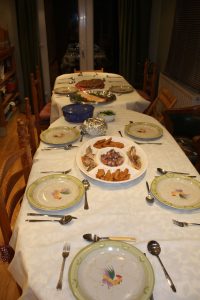 You have to understand that Christmas and Easter are huge for Lithuanian Catholics. Christmas Eve, especially, is a day when families make every effort to come from near and far to eat together; traditionally when the first star appears in the sky. The days before are fraught with preparations. Everything must be cleaned. My mum used to say that, in the early days of their marriage, when my parents lived in a bedsit in Notting Hill Gate, my dad would clear out the solitary cupboard in the room every Christmas Eve.
People usually fast throughout the day. The Kūčios meal is so special; traditionally only consisting of foods that can be found in Lithuania during the cold, dark winter months. No meat or dairy products are permitted and 12 courses are served. Herrings in all kinds of sauces, potatoes, beets, mushrooms, dried fruit compote, kisielius (a cranberry sauce) and tiny biscuits (kūčiukai), poppy seed milk (which you make by pounding poppy seeds with a pestle and mortar) and traditional bread are all vital ingredients. This is then served on a white tablecloth placed over a layer of straw, which reminds us of the stable in Bethlehem.
The meal reflects the country's pagan past, too and there are myriad traditions and superstitions associated with it. An empty chair is placed at the table to honour dead members of the family, and tradition has it you must offer hospitality to any stranger who knocks on your door that evening. Fortunes are told by pulling out the stalks of straw from under the tablecloth – a long piece meaning a long life. Legend has it that animals can talk on the night Kūčios is eaten (although that might be due more to the effects of the poppy seed milk and its morphine content)!
After that first British Christmas, my dad found ways to celebrate more traditionally in the UK. London Lithuanians got together in Notting Hill Gate, or sometimes at Headley Park, their country house in Hampshire, to share and educate the younger generation born in the UK about Kūčios traditions, but, unlike now, when there seems to be an Eastern European shop on every corner, back then, there was always the problem of where to source all those ingredients.
When news got out after Sunday Mass at St Casimir's that Mr Juras (who ran Baltic Stores in the Hackney Road, then the only Lithuanian shop in London) had managed to obtain a barrel of herrings or a job lot of pickled cucumbers from the Soviet Union people would flock to the store to buy them before they ran out. One year, I remember a pike being served at a dinner in Hampshire. The monster fish had been caught not bought. occasionally parcels would arrive from my grandparents containing dried mushrooms from the forests where my dad had walked as a boy.  Eventually, we would find many of the ingredients in the East End Kosher shops and, later still, we devised our own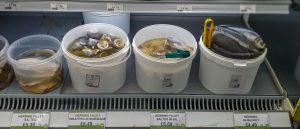 traditions. The salted and pickled herring proved to be an acquired taste for my children, so my mum served cut up fish-fingers. Now adults, they still like fish goujons with their meal.
Christmas was also time when the Lithuanian priest, based in Hackney, would tour his parish and visit all the Lithuanian families. Although we were only about a thousand Lithuanians in the London area, this was a complicated endeavour. Father Sakevičius who left Lithuania for the West in the 1930s, had limited English and did not drive. During the weeks before Christmas, he would arrive at a station, maybe Ilford or Ealing, and then a local parishioner would drive him around to all the families in that district, where he would reluctantly accept our Christmas donations and then distribute the 'plotkeles' (unconsecrated communion wafers) which traditionally begin the Kūčios meal.
Everyone thinks that Christmas is a special time, but for us in those dark days of the Cold War, it was an especially poignant and sometimes difficult time. The Soviets permitted little communication between East and West, we could not visit or phone relatives, our mail was censored and our parcels opened. Our relatives suffered, too. Celebrations in Lithuania were muted, as the Soviet Union discouraged organised religion. Many Lithuanians who arrived as adults in the UK after World War Two, died before the restoration of Independence in 1991 without ever seeing their parents, their brothers and their sisters again. We considered ourselves a community in exile, Eastern European refugees, a people without a homeland.
I know that this Christmas will be different for those Lithuanians who choose to stay in the UK.  They have mobile phones, zoom calls and can buy whatever they want to recreate that authentic Christmas. But the distance still remains, and there are other groups in our community who have to live through a winter holiday in exile, who are missing loved ones in lands far away that remain closed to them.
When I lay the Kūčios table this year and leave that empty chair, I know I won't be the only person thinking of loved ones long gone and family far away.
Linksmų Kalėdų! That's Lithuanian for Merry Christmas!
*****
Gifts come in all kinds of shapes and sizes. Sanctuary, in an accepting multi-cultural environment, is one such gift.