Friday Features: Creating Connection And Belonging Across Generations
By 'Stories From Home'
A quote from Nelson Mandela rings true when we think of the connection between grandparents and grandchildren. He said: "If you talk to a man in a language he understands, that goes to his head. If you talk to him in his language, that goes to his heart." The 'Stories From Home' project began from a desire to recognise, celebrate, and preserve these unique relationships in bilingual and multilingual families. To do this, we started facilitating storytelling opportunities for multilingual grandparents and grandchildren.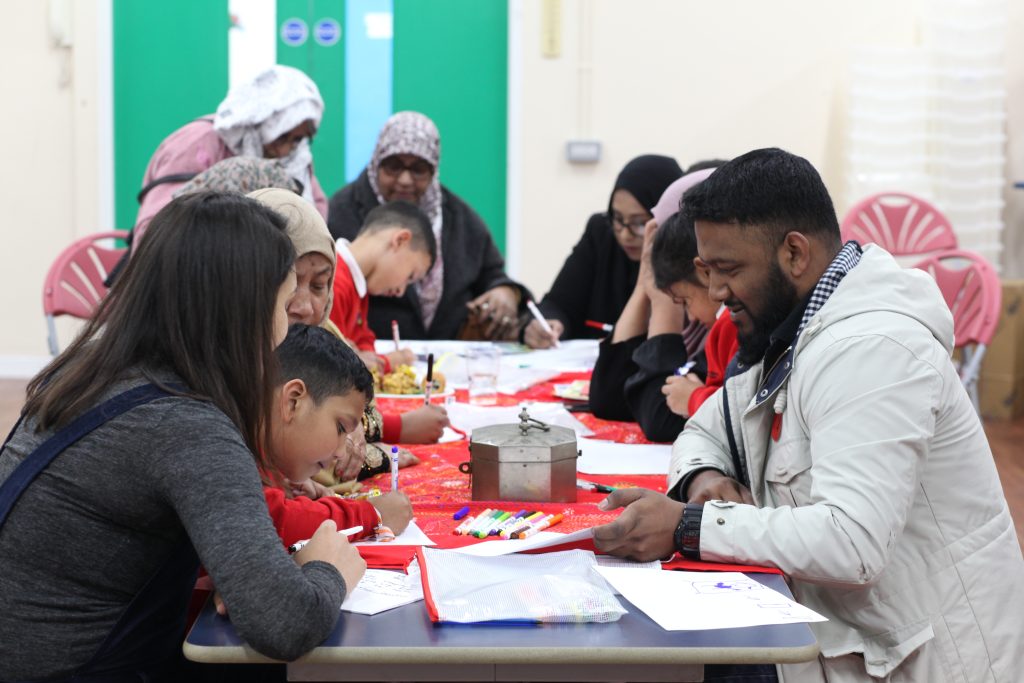 The 'Stories From Home' journey began with three individuals who shared concerns and experiences around heritage language loss in the London Bangladeshi community. Nurull Islam, Dr Kathleen McCarthy and Dr Mahera Ruby were introduced to each other in 2017 by Prof. Devayni Sharma, from the Linguistics Department at Queen Mary, University of London (QMUL). Through their research and personal experiences, they had all observed a visible decline in the use of the heritage language, and, as a result, a disconnect taking place between generations. It became evident that, within the London Bangladeshi community, the decline in heritage language use by young children in the community had resulted in reduced engagement with elder members who primarily speak Sylheti (a dialect of Bangla).
This shift in engagement, often due to changes in the immediate family network, i.e., less traditional intergenerational living, impacts on three major aspects of development in children: acquisition of heritage languages, loss of cultural heritage, where the elder members are a wealth of knowledge, isolation of elders, and reduced role as educators in the family network. All of this can have implications for the sense of belonging and identity for the third and fourth generations. As Nurull puts it: "I realised this was happening in my generation." Mahera has lived, worked, and led many community-based works in Tower Hamlets since the early 1990s. She's always been fascinated by the way Mile End Road straddles two worlds: a renowned Russel Group University, QMUL and a community with a rich history of immigration. These coexist in Tower Hamlets, which confidently boasts of being a melting pot of cultures, languages, and faith. So dependent on each other, yet it can often feel there is little connection between the two. One of the largest communities to call Tower Hamlets home, is the Bangladeshi community, who now have, in some cases, four generations that have lived, worked, and helped shape the community that currently exists.
Academics aspire and work tirelessly to connect their research to wider communities, which are often also their research sites. QMUL academics are no different and QMUL Linguistics department, has an established research, teaching and public engagement background in multilingualism, e.g., Multilingual Capital. Kathleen is a lecturer in Linguistics at QMUL and Director of the Language Acquisition Lab. She is a specialist in child language acquisition, with a focus on children growing up in diaspora communities. She has conducted research on Sylheti and the language and literacy development of Sylheti-English bilingual children within the London Bangladeshi community. Through her research, she noticed a clear decline in children's use of their heritage language, in families with second-generation parents. Parents and grandparents raised this concern and lack of support for mother tongue classes locally. Nurull, on the other hand, has a wealth of experience in community engagement and a finger on its pulse. He is the director of the Mile End Community Project, filmmaker, and fellow of QMUL and has worked closely with QMUL Centre for Public Engagement for the Festival of Communities, and the Film department and Business school on public engagement and research projects. Mahera's academic teaching and research roles at UCL IoE and Goldsmiths focusses on mother tongue language acquisition; in particular, the role of grandparents, as well as the implications for educational policy and practice. The team was joined by London-based filmmaker Lindsay Knight, who set up 'Human Stories' in 2012 and works with organisations, young people and vulnerable groups to tell their stories and project their voices.
'Stories From Home' was one of the first QMUL public engagement projects to focus on the role of grandparents in language development and heritage language use in primary-school-aged children from the local Bangladeshi community. Most public engagement activities in the field of language acquisition focus on workshops and demonstrations regarding the cognitive aspects of language development, and caregiver or teacher training on developmental milestones. 'Stories From Home' took a new stance by combining the cognitive aspects of child language with community-specific sociocultural factors.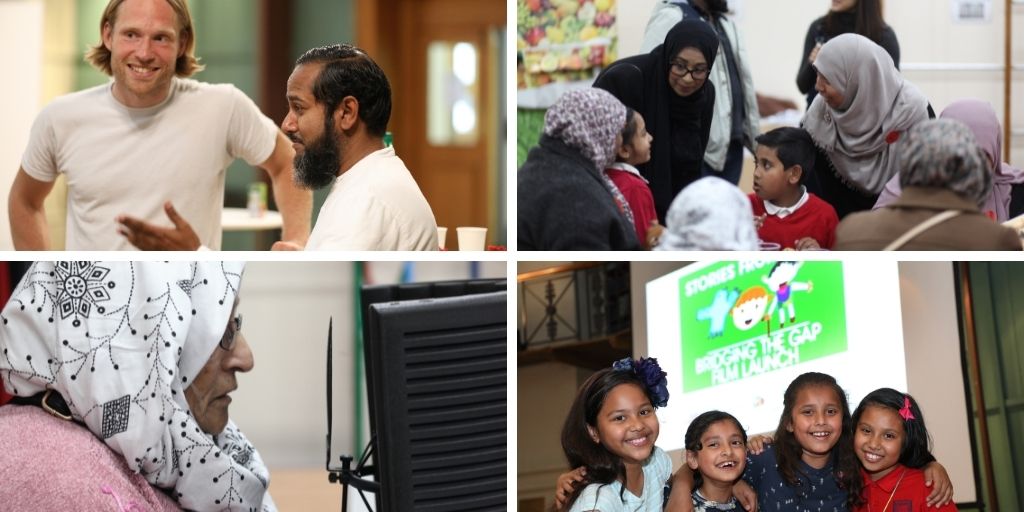 In this approach, the families lead the sessions, with stories that are important to their own heritage and culture, rather than an 'expert and audience' approach. We initially worked with two Tower Hamlets primary schools and held several workshops to increase awareness of heritage language use across generations through cultural narratives and storytelling. Our workshops created a 'barrier free' communication platform for the transfer of narratives. The grandparents told stories based on historical events and folk tales that are a key part of Bangladeshi heritage, identity, and cultural history; the children then retold these narratives in English and/or Sylheti, with the help of their own illustrations.  It was fascinating to see the children look in awe, hear personal stories for the first time and laugh as they connected with elders. The realisation and sense of belonging and value the parents shared as they watched, took part, and encouraged the interactions was humbling and inspiring. The main outputs were three short illustrated films that captured these stories, preserving them for generations to come. The team launched their initial films in Queen Mary's Octagon in 2018. This event broke down barriers between QMUL and their local community – some of the attendees had lived in the area for 30, 40 years and never set foot on campus.
In 2018, 'Stories From Home' won a CPE Community Engagement award. Since then, the team have expanded beyond the Bangladeshi community, delivering presentations and workshops at symposiums, local libraries, festivals, and museums. In August 2020, the Pen to Print team at Barking Library expressed an interest to develop three short films to capture the 'Stories From Home' within families in their local community. Without hesitation, Nurull seized the chance. Due to Covid-19 restrictions, the team adapted their way of capturing the storytelling between the grandparents and their grandchildren through online videoconferencing tools.
Lindsay used his filmmaking expertise to produce the three films. 'Stories From Home' went on to screen their films at Pen to Print awards in January 2021. To celebrate 'International Mother Language Day' in February 2021, the team held an online event and film screening, bringing together over a hundred participants, from local families to libraries, academics and politicians. A parent reminisced about the loss of connection with her own grandparents: "I didn't have the opportunity to meet my grandparents – I relish observing the interactions between my mum and her grandchildren!" Another parent said that she "felt emotional and, yes, it has made me feel I need to re-learn Bangla and my heritage." Another parent expressed: "Lovely stories… the pandemic has highlighted the importance of grandparents/grandchildren and how communication is vital. We definitely need to share these stories."
In June 2021, 'Stories From Home' was shortlisted for a QMUL Engagement And Impact Award. The project was up against some stiff competition which were changing lives, both locally and internationally. 'Stories From Home' were honoured to win the Interact award, which celebrates community connections and partnerships. The team are excited at the prospect of expanding the project to other London boroughs and beyond, enabling families to use 'Stories From Home' to connect the generations, creating a strong sense of belonging and identity.
'Stories From Home' was initially funded by a QMUL Centre for Public Engagement Large grant. Our most recent films were funded by Pen to Print, London Borough of Barking & Dagenham Library and supported by Arts Council England.
Find out more about 'Stories From Home' on their website: storiesfromhome.org.uk, connect with them on email: hello@storiesfromhome.org.uk and watch their stories on YouTube: www.youtube.com/channel/UClzoBKVrLAIyVhNOuVY1PnA
"If you talk to a man in a language he understands, that goes to his head. If you talk to him in his language, that goes to his heart." Nelson Mandela