Friday Features: Two Writers, One Book
By Dawn Knox
It's rare for a novel to be written by two writers; even rarer when they live some miles apart, and when Covid-19 struck, it meant Colin Payn and Dawn Knox could no longer meet, except online.
Luckily, they had written a good deal of the book before the first lockdown, so their working routine was already developed. They just had to adapt it to video-conferencing on Zoom or Facetime.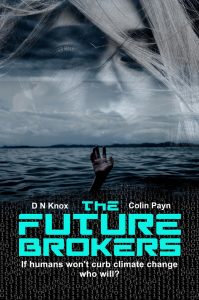 The story of The Future Brokers began with Colin Payn's dislike of the traditional post-apocalyptic scenario of humans at war with Artificial Intelligence. He could see another way the two forces could resolve the conflict, but he needed a way of writing a book using the layers of emotion that were not his normal style.
He decided to approach fellow writer, Dawn Knox, who he'd met several years before at the Basildon Writers Group. Since that time, they had both been beta-readers for each other's books, attended book signings and workshops together and had also both joined the Brentwood Writers Circle.
Realising their writing approaches and backgrounds were very different, Colin wondered if, for this project, their individual experiences might be complementary. Dawn's qualifications are in science, while Colin has longstanding connections in politics. Typically, Colin's writing is more down-to-earth and he has much experience of magazine articles and other factual work, whereas one of Dawn's passions is writing historical and contemporary romance.
Colin wrote an outline for his idea and sent it to Dawn. She had never considered writing a book with anyone before but liked Colin's premise and they decided to meet up and discuss the possibilities. So, in 2019 they got together for a brainstorming session. The story was set in the near-future, in 2050, and involves two protagonists: George – unemployed and the survivor of a near-fatal fall, and Serena, an ambitious and high-flying government official. It was decided each chapter would be from the point of view of one of the two characters and would be written in the first person. This seemed to lend itself to the idea that Dawn would write Serena's chapters and Colin would write George's. However, in the end, they discussed each chapter before it was written, with either Colin or Dawn writing it, and the other reading and suggesting amendments.
This led to various chapters repeatedly being changed slightly, completely or even scrapped altogether, until both agreed the chapter was ready. The resulting book is a new voice, which they both agree is more powerful than either could have written alone.
It may sound as though there was plenty of opportunity for argument but, in fact, the entire process was remarkably harmonious. Dawn was keen to maintain the integrity of Colin's story and, although she suggested scenarios and characters which fitted into it, deliberately didn't attempt to change the main ideas. Colin, despite the idea being his, was very flexible and accepting of Dawn's suggestions and, somehow, they both agreed on all the chapters. Both were honest in voicing their opinions and trusting each other's judgement. Mutual respect for each other's writing, a desire to succeed and both having a laid-back temperament probably helped!
When the first lockdown of 2020 came into force, Colin and Dawn could no longer meet in person, so they carried on meeting via video conferencing.
Once the story was finished, they asked Basildon Writers' Group member, Wendy Ogilvie, of Wendy Ogilvie Editorial Services wendyogilvieeditorial.com to  edit the manuscript and then several beta-readers including friends, Jan Revell and Lou Rossati, cast their eyes over it and gave their opinions as well. Paul Burridge, another member of Basildon Writers' Group, of publishingbuddy.co.uk, designed various covers, from which Colin and Dawn chose their favourite, then handed the final version of the manuscript to him for formatting.
During the two years it took them to write The Future Brokers, Colin and Dawn continued with other writing projects, individually publishing several books. However, they were both amazed that, during this period, various scientific and technical developments they had envisaged in their story had actually come to fruition in the real world, or were expected to appear in the near-future. A vehicle similar to the Medi-Strider that they imagined, and is mentioned in the first chapter when George is rescued after his fall, can now be seen on YouTube as the new concept of a well-known company.
Decide for yourselves whether they achieved a rattling good story, with a strong ecological sub-text, by reading The Future Brokers, available on Amazon in paperback and Kindle here: mybook.to/TheFutureBrokers
Watch The Future Brokers trailer on YouTube:
The resulting book is a new voice, which they both agree is more powerful than either could have written alone.