This week on Showcase, I am proud to present the winning story in our Flash Fiction competition, Life Changes, by Patsy Middleton. Keep a look out over the coming weeks and months for more of the great flash fiction entries we received. It is a testament to the immense talent of the fantastic writers who submitted stories how much history, plot and emotion can be evoked in just 300 words or fewer. Don't forget, if you have your own fiction to share, from short stories and poems to novel extracts, I would love to hear from you: pentoprint@lbbd.gov.uk
Keep on writing!
Dan (Associate Editor)
Introduction by Clare Cooper
Flash Fiction Competition Judge and Guest Editor of Write On! Issue 4 (available now!)
I worked in the Fiction Dept at Woman's Weekly for 29 years. As Deputy Fiction Editor, I was responsible for reading, critiquing, choosing and editing the short stories for Woman's Weekly and its monthly spin-off title, the Fiction Special. I am an avid book and magazine reader, although I can't yet break the habit of looking for errors. One day, I hope to write something of my own. In the meantime, you can read my blog at: claredotcooper.wordpress.com and find me spending far too much time on social media.
I met our editor Madeleine at a freelance media group meeting and she was instrumental in introducing me to the Pen To Print team. I am thoroughly enjoying being part of a magazine production process again – it's almost like old times!
We thought it would be fun to run a Flash Fiction competition for this issue (4). It's hard to encapsulate the essence of a proper story – a beginning, a middle and an end – in so few words and I was impressed with the quality and range from all the entrants. Congratulations, everyone!
My outright winner is Patsy Middleton, with her thought-provoking story, "Life Changes."  I thought this was very well done.  It manages to portray how just a few words had the power to shape the narrator's world in very different times – and that of the unexpected friend she makes in later life. My first runner-up story is by Bob Thompson. The Orange Grove is evocatively written and beautifully descriptive. My second runner-up story is by Dan Cross with his XIII, depicting a bleak world, run by 'Our Leader'. Patsy wins the 2020 edition of the Writers' and Artists' Yearbook, and Bob and Dan win How to Get Published and Guide to Writing for Children and YA respectively.
Life Changes by Patsy Middleton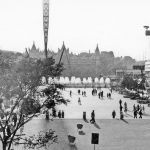 When I was six, my world changed.
My family lived in Dublin, but my grandfather rented rooms in London – no jobs in Dublin for an ex-British army soldier.
It was 1951, the year of the Festival of Britain.
My mother was a champion Irish dancer and was invited to represent Ireland at a concert in the festival hall celebrating the Commonwealth. The family decided we should all go to London with her.
My grandfather rented rooms in a big Georgian house in West London. Someone had moved out. Therefore, the landlady suggested we come and stay for a holiday and visit the festival.
I remember the crowds and the walkway in the trees, giving a birds-eye view of the park.
After we returned to Dublin, my grandfather asked the landlady whether we could come to live in her house permanently. She agreed.
I remember the ship we sailed on; the interminable train journey from Holyhead to London; the first time I travelled on an escalator and a whirlwind of new experiences.
One day, I saw a sign in a window and asked my mother what it said.
"Nothing important," she said, an edge to her voice.
I know now it was one of many: No blacks, Irish or dogs.
The family didn't want me to suffer this prejudice that flowed like a sewer beneath social values. Our accents told the world who we were. Therefore, they paid for elocution lessons, to banish mine.
Prejudice exists today, but legislation and education help control it.
Some time ago, I met a black woman. She came here in 1951 too.
"Do you remember No blacks, Irish or dogs?" she whispered.
We smiled – soulmates for life, we meet frequently.
Worlds meet: words have the power to divide or unify them.
 Patsy Middleton, 2020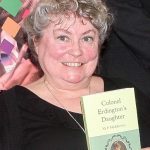 "My favourite book at the moment is Longbourn: Pride And Prejudice, The Servants' Story by Jo Baker. It highlights the differences between the social classes.
Historical romance is the genre I write in. I always give the servants' POV as well as that of the main characters. This book was an inspiration."
Pasty Middleton, Flash Fiction Competition Winner
Look out for Bob's story on the 22nd April Wednesday showcase and as 2nd runner up,  mine will appear on 13th May.
If you'd like to see your writing appear in Write On! Showcase please send your short stories, poetry or novel extracts to: pentoprint@lbbd.gov.uk Or you can read more fiction, poetry, interviews and author advice in the latest issue of Write On! Available here 
We smiled – soulmates for life, we meet frequently.
Worlds meet: words have the power to divide or unify them.