Monday Memoirs: Keeping Your Head
Introduced by Holly King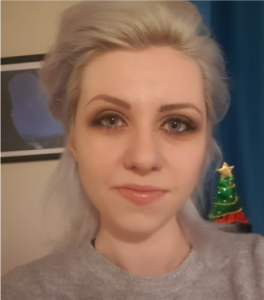 We are entering our seventh week of lockdown and it's unclear if it will be extended again, or, if it isn't, what the plan will be to 'getting back to normal', or even what toll that will have.
While the coronavirus is the most pressing factor, closely followed by the financial and economic security of everyone, our mental health is something we don't have step-by-step guides for dealing with, as we do symptoms of other illnesses.
Initially, I admit lockdown affected me a little positively. With so many choices and possibilities taken away from me, I was able to focus on the small number of things I was in control of now that I couldn't go anywhere or see anyone, which alleviated my anxiety.
Of course, after a few days of reading online news articles and scrolling through social media, this changed. Suddenly, there were so many uncertainties – and I don't do well with uncertainties. As a type one diabetic, I got told everything from me being no more at risk than any other person if my blood sugar levels were controlled, to me being severely vulnerable and that I must self-quarantine in total isolation; not even leaving the flat for groceries.
Friends and family kindly reached out to ask how I was feeling as a diabetic and asked what I should be doing. I had no clear answer to this and just wanted to ignore everyone, because it flared up the underlying panic in me that I didn't have a clear plan.
Living alone also has its downfalls; something I was self-aware of well before lockdown, so I set up a roster of video chats with friends and family, to make sure I didn't fall into the cycle of feeling alone and too down to reach out about it.
Luckily, I also have a huge collection of books, about a third of which I haven't read, so I began devouring them. I researched exercise programmes that could substitute what I used to do in the gym, and looked at online yoga classes and mindfulness sessions. Even though I was quickly furloughed, I still got up to an alarm every morning and got out of my pyjamas (most days).
But, even with the great weather and my gratitude practice and my new routine, sometimes it still weighed heavy on me. So I told myself that, even if I passed on my exercise, or over-ate, or didn't do anything else, the one thing I had to do that day was go for a walk. And sometimes I didn't want to; I really didn't want to! The idea of getting dressed and stepping outside seemed like a monumental effort (and not just because I live on a hillside). But somehow, I have always managed to convince myself, and after I walk for ten minutes, I start to feel better. Sometimes I only walked for 30 minutes in total and then came straight back and slumped onto the sofa, but just being able to say I did that one thing made all the difference.
I think we can be terribly hard on ourselves, and with the bombardment of social media posts advertising the extreme successes of some people (learning another language, starting a business, going 'back to school', writing a book, etc), we can feel as though we should be doing that too, right? But maybe that isn't you. Maybe these kinds of situations aren't your time to shine; they're your time to protect and heal.
So, if you've done anything – from getting out of bed, washing up, reading, paying bills, asking someone for a chat, checking up on someone, cooking a meal, to learning something new or trying out something different or building on your skillset or completing work tasks – you've achieved a lot today. But the most important thing to achieve is to be kind to yourself.
Checking In With L.M. Towton
As writing partnership L.M. Towton, and as good friends, we (Michelle and Laura) always have someone to talk to when we're not feeling great. We both suffer from mental health problems and sometimes have to take breaks from writing, usually because of the dreaded real life. It's not often that real life affects us at the same time but, with the current situation, it has. We should be editing our book, but we're spending more time writing an online roleplay (RP) game instead.
A huge part of getting through this (lockdown and the pandemic) is realising that that's fine. The world is not even a little bit normal, and the usual environmental switches (such as coming home from work, or changing your shoes) just aren't there. Beating yourself up for it is really easy to do, but it won't help. You have to look after your fabulous creative brain at this less than fabulous time.
Individually we are very different and that's even true with regard to mental health and how lockdown has (or hasn't) impacted it.
Michelle's Story
I've suffered from anxiety since I was a teenager but it was only after a football injury, during my twenties, that depression became a part of my life as well. For the few years when my injury was at its worst, I stayed indoors and rarely saw anyone outside of my immediate family. Sound familiar?
In 2010, this changed when I applied to volunteer at the Natural History Museum (NHM). Fast-forward ten years and I'm still a volunteer, but I also work as a Public Events Assistant and play in the museum's football team.
For me, anxiety has always been worse within social and public settings; in other words, people. Talking in front of others fills me with dread, parties and crowds make me tense and a packed tube can trigger claustrophobia. A ringing phone gives me palpitations and God forbid if anyone (even family) ever hear me sing!
Even when going out with friends, or to family gatherings, playing football and generally being around people I have known for years, I have to make a huge physical effort to force myself to interact with others, when I would much rather just stay indoors.
As mentioned before, I work as a Public Events Assistant at the NHM. When I first started in this role, I couldn't even use a radio without panicking, let alone speak in front of members of the public. It's taken a while, but now I can make and answer call-outs without having to press the button three times before speaking. I even manage to give welcome briefings during kids' sleepovers and run the overnight film marathons for adults.
Before March, I was regularly going out for museum work three or four times a week. The rest of the time, I worked from home as an artist – largely preparing for spring/summer festivals and fairs, where I have stalls selling my work (talking to customers is still hard but I've got better). I attended numerous writing conventions and talks, as well as Write On! and Pen to Print-related events. In between all that, I also enjoyed concerts and theatre shows.
Then lockdown hit.
The museum closed, events were cancelled or postponed, I was out of work and had lost all my reasons (except exercise) for getting out of the house. For years, I had been forcing myself to be more social, to not stay home, and now the government was telling me I must "stay home" and social-distance myself from all but those I live with.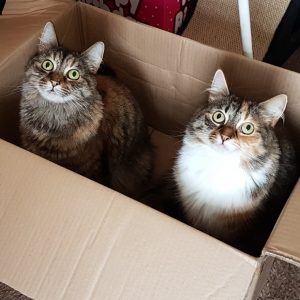 While I do miss certain things, staying home was, worryingly, incredibly easy for me. I wasn't at a loss finding things to do: I have books, my artwork, my Xbox One and Disney+. I have a wildlife-friendly garden. I have two cats to keep me entertained.
Writing-wise, nothing has really changed. Lauren and I write over the Internet using Google Drive and we chat every day via text or messengers. Maybe the only thing impacting the writing is worry-induced anxiety caused by the situation (my dad is a key worker, to highlight one example), which makes focusing difficult.
It has taken me years to build my confidence and not let my anxiety or depression dictate to me. I went from a near-recluse in my early twenties to almost being 'too busy' now I'm in my thirties. While others are champing at the bit to get out again once restrictions are lifted, I find myself worrying that I won't actually be able to. Will it take me years to build myself back up to being able to function socially once more? I hope not. However, for those who know me, I still don't do hugs – no matter how long it's been since I've seen you!
Lauren's Story
I also suffer from depression and anxiety, but mine is the other way around. I have suffered from depression since I was a teenager, resulting in several suicide attempts and self-harming. I also have other conditions which lead to extreme fatigue.
The outbreak and lockdown has led to massive changes in my lifestyle. While I do find going outdoors alone completely terrifying (and have very rarely done so in fifteen years), I have worked, consistently (apart from a brief period due to a breakdown), since I was a teenager. While it pushes my buttons and wears me out, working full-time gives me something really important: Routine. I write and roleplay with Michelle out of love; but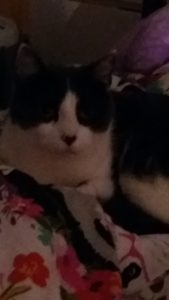 work, and my cat Moo, make me get out of bed, and push forward, so I'm not letting others down.
I have also suffered another massive change. I am part of one of the vulnerable groups and in order to cut down on travel for my mum, who acts as my carer, I returned to my childhood home (with the cat), for the first time in ten years.
The first five weeks of lockdown, I couldn't work. I felt as though I was stepping backwards twenty years. I slept a lot. I missed my home: it's tiny, it's imperfect but I worked hard for it and it's mine. I felt dislocated and as though I didn't have a real right to exist. I wasn't home-schooling. I wasn't working. I wasn't even hoovering holes in the carpet. It wasn't my carpet.
That threw me for six. We need to edit the book. On a personal level, I'm too anxious to focus on doing that. I can roleplay a little, because it takes less concentration, and I am very lucky that one of my best friends has always been 200-odd miles socially distant, and is still very much here. But, on a smaller level, I am a hugger and I miss it.
Ten days ago, things began to change. My work computer turned up. My routine returned. I talk to strangers all day, every day again. A great number are pleased to hear my voice. I am a human being, who they can tell their story to, who has the ability to make them laugh. I sell things for a living, but I learned the power of listening a long time ago.
Over the last two weeks, I have begun to collect stories again. They have made me laugh, and I have to step away to cry, but they have made me feel human and alive, for the first time in months.
To survive, allow yourself to feel, talk, do pub quizzes, laugh and know that it will end. And pets always help.
Connect with L.M. Towton via email at l.m.towton@gmail.com, follow them on Twitter @LM_Towton and visit their blog www.lmtowton.wordpress.com
*****
Lastly, a bit of humour from Wallis Eates – Blue Sky Thinking.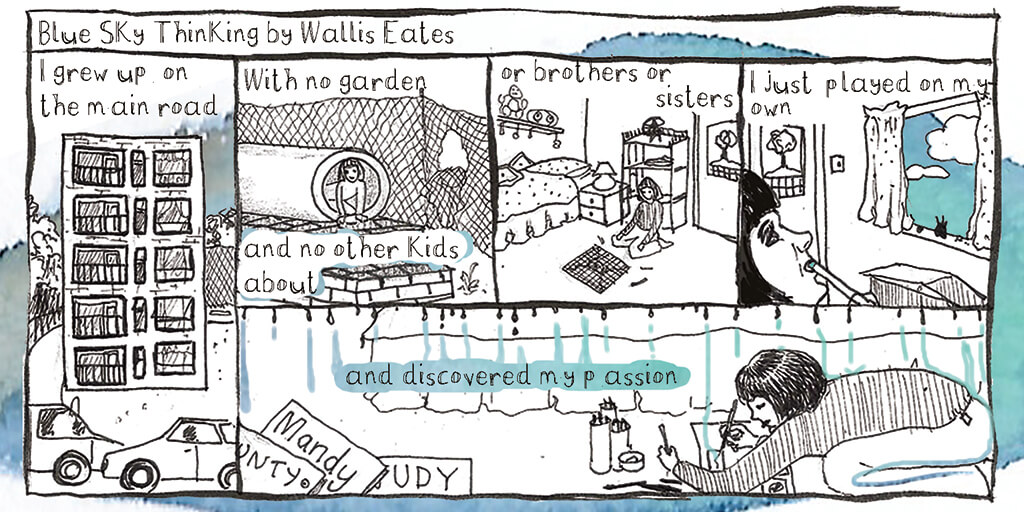 Visit Wallis's online shop – www.etsy.com/uk/shop/WallisEates
She is also involved with several initiatives:
Like An Orange – a graphic novel about brain injury and creativity funded by the Arts Council National Lottery and crowdfunding with publishers Unbound Books. To support, please visit here: www.unbound.com/books/like-an-orange
Wings – a visual storybook from prison. Coming soon. Please get in touch for more information. In the meantime, you can visit here: https://www.kickstarter.com/projects/littlemule/wings-a-make100-visual-storybook-from-prison
Wallis is also the London co-ordinator  of Laydeez Do Comics  – https://laydeezdocomics.wordpress.com/  Connect with them on Twitter: @laydeezdocomics
So, if you've done anything - from getting out of bed, washing up, reading, paying bills, asking someone for a chat, checking up on someone, cooking a meal, to learning something new or trying out something different or building on your skillset or completing work tasks – you've achieved a lot today. But the most important thing to achieve is to be kind to yourself.