Saturday Spotlight: Latest Book Releases w/c 16th May
by Claire Buss, Deputy Editor, Write On! 
At Write On! and Pen to Print we want to help connect authors and readers, so we've created a Spotlight page every Saturday, showcasing some of the exciting new reads available. The list has been curated by Lisa Rouiller and myself, based on books that you send us, so if you're an author and you'd like your book in the spotlight, reach out to Lisa at pentoprint@lbbd.gov.uk. Whether you're an indie author, with a small press or mainstream publisher, we'd love to hear from you and shine a light on your new novel.
Write On! offers other opportunities for writers as well. If you'd like us to feature an extract from your book or a short story, please send the extract, book cover and blurb to pentoprint@lbbd.gov.uk with the subject Write On! Showcase (ensuring you have your publisher's permission, of course).
Pen to Print are also looking for short videos from people reading a passage from their favourite book, or authors reading extracts from their own books. These videos will be featured on the Pen to Print YouTube channel and across our social media. Please send in your videos or links to pentoprint@lbbd.gov.uk with the subject 'Video Stories'.
Dickens Meets Steampunk.
Foundlings are disappearing from the workhouse where Oliver Twist once begged for a second bowl of gruel. He sets out to save them with help from tinkerer, Nell Trent, and a slew of fantastical contraptions – including a mysterious pocket watch that allows its bearer to bend the rules of time. With Oliver's childhood nemesis, the Artful Dodger and her lethal bag of tricks dogging their steps, he discovers that there is more at stake than his own life and the missing orphans. Can he save London from the flames?
Available to buy here
Connect with Brent A. Harris
***Shortlisted for the Hugo Award for Best Novel***

'A gorgeous, aching love letter to stories, storytellers and the doors they lead us through . . . absolutely enchanting' Christina Henry, bestselling author of Alice
According to January Scaller, there's only one way to run away from your own story, and that's to sneak into someone else's . . .
In a sprawling mansion filled with peculiar treasures, January Scaller is a curiosity herself. As the ward of the wealthy Mr Locke, she feels little different from the artefacts that decorate the halls: carefully maintained, largely ignored and utterly out of place.
But her quiet existence is shattered when she stumbles across a strange book. A book that carries the scent of other worlds and tells a tale of secret doors, of love, adventure and danger. Each page reveals more impossible truths about the world, and January discovers a story increasingly entwined with her own.
‍Available to buy here
Connect with Alix E. Harrow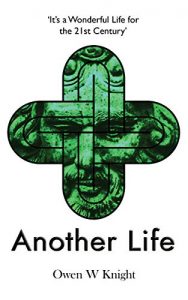 Imagine if we could combine dreams and reality in a world where we live forever. Oliver believes his life to be one of disappointment and failure. Haunted by the memory of a mysterious woman he encountered thirty years ago, and obsessed with finding her, he embarks on a strange journey of grief, hope, myths and legends, where dreams and truth merge.
This diligently-written novel has been described as 'It's A Wonderful Life for the 21st Century'. Oliver is drawn into diverse worlds, from ancient rural beliefs and traditions to emerging medical science, as he and the reader are led to question the boundaries between dreams, reality and imagination.
Available to buy here
Connect with Owen Knight
Dressed in a sage green bridesmaid dress, and smiling for pictures, Holly is the happiest she's ever been. Hours later, Holly is dead.
People love to hate Holly Long. Smart, beautiful and a woman who men find it hard to say no to, she's the town's most gossiped-about resident.
Now Holly's body lies in her hotel room, strangled at her best friend's wedding party. And the gossip has stopped, because nobody wants to look as though they did it.
When police search Holly's immaculate apartment, amongst her stylish furnishings and expensive jewellery, they discover a different side to Holly. Orderly and precise, she wasn't the chaotic party girl everyone thought her to be. In fact, Holly was a planner, and her next plan was to come out and tell her biggest secret – something she had been hiding for months, something that had the potential to ruin the lives of more than one wedding guest.
There are plenty of people who might have wanted to kill Holly, but only one who has finally made good on their promise.
An unputdownable crime thriller with an ending you will never see coming, this is the latest gripping novel from bestselling author Carla Kovach. If you like Angela Marsons, Cara Hunter and Clare Mackintosh, you'll love Her Last Mistake.
Available to buy here
Connect to Carla Kovach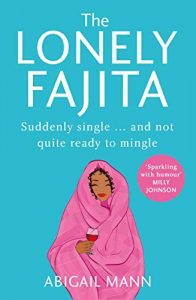 Breaking up is hard to do… Or the best thing that could happen to you!
It's Elissa's birthday, but her boyfriend hasn't really noticed – and she's accidentally scheduled herself a cervical smear instead of celebration drinks. Great.
Then there's her borderline-psychotic boss, the fact she's not making but losing money at work, and the sinking feeling she's about to be dumped.
But Elissa will soon find out that being single doesn't have to be lonely. With a little help from her friends, even a girl with minus £1,000 in her account can have a lot of fun.
Hilarious and moving, this is a book you'll want to share with all your friends. The perfect read for fans of Marian Keyes, Sophie Ranald and Holly Bourne.
Shortlisted for a 2019 Comedy Women In Print Prize
Available to buy here
Connect with Abigail Mann
Exploring an unforgiving land.
Are you ready to take a walk on the seriously wild side?
In the early 1980s, John Pakenham walked a total of 1,200 miles through the volcanic desert around Lake Turkana in northern Kenya in the company of local Turkana and Samburu tribesmen and their long-suffering donkeys.
Repeatedly beset by extreme thirst and dehydration, blistering heat, bitterly cold torrential rains, poisonous spiders, vindictive mosquitoes and the ever-present threat of bandits, not to mention a fatal fight between two of his companions, he was lucky to live to tell his tale.
Pakenham's account provides a rare glimpse of a tough terrain and its even tougher inhabitants, where every day was a battle for survival. This is extreme travel that, four decades on, still packs a powerful punch.
Available to buy here
Connect with John Pakenham
Remember, if you're an author and you'd like to see your book in our Saturday Spotlight, email pentoprint@lbbd.gov.uk and send us the details of your new novel. 
Further Links

For details of Penguin RandomHouse new releases, visit their website here.
For details of Hachette new releases, visit their website here.
For details of HarperCollins new releases, visit their website here.
For details of PanMacmillan new releases, visit their website here.
For details of Simon & Schuster new releases, visit their website here.
Disclaimer: Amazon links are given for ease but please remember there are a number of other online retailers operating, including hive (which helps to support independent book shops), Kobo, Apple Books, Google Play and Nook as well as online stores for bookstores like Waterstones, Barnes & Noble and WHSmiths. Given the current situation, though, please check first.
We want to help connect authors and readers, so we've decided to create a spotlight page every Saturday, showcasing some of the exciting new reads available.