Saturday Spotlight: Latest Book Releases w/c 27th June
by Claire Buss, Deputy Editor, Write On! 
At Write On! and Pen to Print we want to help connect authors and readers, so we've created a Spotlight page every Saturday, showcasing some of the exciting new reads available. The list has been curated by Lisa Rouiller and myself, based on books that you send us, so if you're an author and you'd like your book in the spotlight, reach out to Lisa at pentoprint@lbbd.gov.uk. Whether you're an indie author, with a small press or mainstream publisher, we'd love to hear from you and shine a light on your new novel.
Write On! offers other opportunities for writers as well. If you'd like us to feature an extract from your book or a short story, please send the extract, book cover and blurb to pentoprint@lbbd.gov.uk with the subject Write On! Showcase (ensuring you have your publisher's permission, of course).
Pen to Print are also looking for short videos from people reading a passage from their favourite book, or authors reading extracts from their own books. These videos will be featured on the Pen to Print YouTube channel and across our social media. Please send in your videos or links to pentoprint@lbbd.gov.uk with the subject 'Video Stories'.
The pandemic is spreading, and Erzulie is calling upon all her distant contacts to aid her in stopping Shakpana and his infection.
The souls trapped in the Dreaming are restless, seeking any help they can attain to escape from their 'predeceased' state. Erzulie calls upon the spider-god of stories, Ananse, to assist her in unravelling the truth behind her own history. But can Ananse be trusted with any truths he finds? Collect House Of Whispers #7-12.
Available to buy here
Connect with Nalo Hopkinson
Five New Yorkers must band together to defend their city in the first book of a stunning new series by Hugo award-winning and New York Times bestselling author N. K. Jemisin.

Every city has a soul. Some are as ancient as myths, and others are as new and destructive as children. New York City? She's got five.
But every city also has a dark side. A roiling, ancient evil stirs beneath the earth, threatening to destroy the city and her five protectors unless they can come together and stop it once and for all.
Available to buy here
Connect with N.K. Jemisin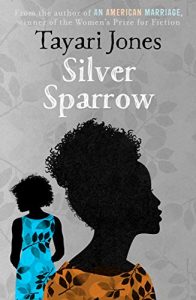 'My father, James Witherspoon, is a bigamist.'
This is the story of a man's deception, a family's complicity, and the two teenage girls caught in the middle. James Witherspoon has two families; one public, the other a closely-guarded secret. But when his daughters meet and form a friendship, only one of them knows the truth. Theirs is a relationship destined to explode.
Silver Sparrow is the stunning new novel from the critically acclaimed winner of the 2019 Women's Prize For Fiction; one of the most important writers of her generation.
Available to buy here
Connect with Tayari Jones
Nothing is ever exactly as it seems. . .
Sam Williams is a born-again virgin and done with dating. No more falling for smooth-talking pretty boys. No more heartbreak. That makes him an uptight workaholic. And not even his quirky sister's pestering can tempt him back into the dating game. But when he's guilted into checking on her kitten while she's away, Sam lands right in the line of fire of her latest roommate.
Damaged. It's the third highest-ranking word used to describe Jason Moore. A guy who doesn't shave. Doesn't change his clothes. And, most days, drinks until he passes out. To the few people who know him, his self-destruction is spectacular. And it's not that he can't pull himself out of the downward spiral –  he's just not sure he wants to.
When Sam and Jason meet, it's as though a hurricane of chaos slams into their carefully curated lives. As the levels of distrust and suspicion ebb, both men realise they're in need of a little tenderness. If they can outrun the demons from their past, they might just find in each other the one thing they've always wanted.
Beyond The Veil is a story of obsession, love and self-acceptance, reminding us that not everything is what it seems – and that we have the power to change our destiny.
Available to buy here
Connect to Marcus Lopes
Rainbow Milk is an intersectional coming-of-age story, following nineteen-year-old Jesse McCarthy as he grapples with his racial and sexual identities against the backdrop of a Jehovah's Witness upbringing and the legacies of the Windrush generation.
In the Black Country in the 1950s, ex-boxer Norman Alonso is a determined and humble Jamaican who has moved to Britain with his wife to secure a brighter future for themselves and their children. Blighted with unexpected illness and racism, Norman and his family are resilient in the face of such hostilities, but are all too aware they will need more than just hope to survive.
At the turn of the millennium, Jesse seeks a fresh start in London, escaping from a broken immediate family, a repressive religious community and the desolate, disempowered Black Country. He finds himself at a loss for a new centre of gravity, and turns to sex work to create new notions of love, fatherhood and spirituality.
Rainbow Milk is a bold exploration of race, class, sexuality, freedom and religion across generations, time and cultures. Paul Mendez is a fervent new writer with an original and urgent voice.
Available to buy here
Connect with Paul Mendez
Meet Weston Kogi, a London supermarket store detective, who returns home to his West African home country for his aunt's funeral.
He sees his family, his ex-girlfriend Nana, his old school mate, Church. Food is good, beer is plentiful, and telling people he works as a homicide detective seems like harmless hyperbole, until he wakes up in hell.
He is kidnapped and forced by two separate rebel factions to investigate the murder of a local hero, Papa Busi. The solution may tip a country already on the brink, into civil war.
Making Wolf is the outrageous, frightening, violent and sometimes surreal homecoming experience of a lifetime.
Available to buy here
Connect with Tade Thompson
Remember, if you're an author and you'd like to see your book in our Saturday Spotlight, email: pentoprint@lbbd.gov.uk and send us the details of your new novel. 
Further Links

For details of Penguin RandomHouse new releases, visit their website here.
For details of Hachette new releases, visit their website here.
For details of HarperCollins new releases, visit their website here.
For details of PanMacmillan new releases, visit their website here.
For details of Simon & Schuster new releases, visit their website here.
Disclaimer: Amazon links are given for ease but please remember there are a number of other online retailers operating, including hive (which helps to support independent book shops), Kobo, Apple Books, Google Play and Nook as well as online stores for bookstores like Waterstones, Barnes & Noble and WHSmiths. Given the current situation, though, please check first.