Saturday Spotlight: Latest Book Releases w/c 2nd May
by Claire Buss, Deputy Editor, Write On! 
At Write On! and Pen to Print we want to help connect authors and readers, so we've created a spotlight page every Saturday, showcasing some of the exciting new reads available. The list has been curated by Lisa Rouiller and myself, based on books that you send us, so if you're an author and you'd like your book in the spotlight, reach out to Lisa at pentoprint@lbbd.gov.uk. Whether you're an indie author, with a small press or mainstream publisher, we'd love to hear from you and shine a light on your new novel.
Write On! offers other opportunities for writers as well. If you'd like us to feature an extract from your book or a short story, please send the extract, book cover and blurb to pentoprint@lbbd.gov.uk with the subject Write On! Showcase (ensuring you have your publisher's permission, of course).
Pen to Print are also looking for short videos from people reading a passage from their favourite book, or authors reading extracts from their own books. These videos will be featured on the Pen to Print YouTube channel and across our social media. Please send in your videos or links to pentoprint@lbbd.gov.uk with the subject 'Video Stories'.
Renee Clarke is perfectly happy just the way she is. She may be thrilled to be planning her sister's wedding but, after witnessing her mother's two failed marriages, she has always vowed that she is better off on her own.
But when Renee discovers that Luc Hardy has moved next door, her world is knocked off-kilter. Luc was her whirlwind summer romance as a teen and, more importantly, her first love. Now he's back in West Cove, looking more handsome than ever. There is no escaping the romance in the air this summer. With the wedding planning in full swing, Renee begins to believe she might be able to put aside her childhood reservations about marriage.
Yet her mother's arrival stirs up the past. She's up to her old tricks again, boasting about her latest conquests, and reaffirming Renee's lack of faith in love.
As Renee's happily-ever-after hangs in the balance, will Luc be able to convince her that true love can last forever?
A heart-warming summer romance you won't want to put down! Perfect for fans of Jenny Hale, Susan Mallery and Lucy Coleman
Available to buy here
Connect with Katlyn Duncan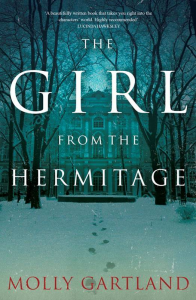 It is December 1941, and eight-year-old Galina and her friend, Vera, are caught in the siege of Leningrad, eating soup made of wallpaper, with the occasional luxury of a dead rat. Galina's artist father, Mikhail, has been kept away from the front to help save the treasures of the Hermitage. Its cellars could now provide a safe haven, provided Mikhail can navigate the perils of a portrait commission from one of Stalin's colonels.
Nearly forty years later, Galina is a teacher at the Leningrad Art Institute. What ought to be a celebratory weekend at her forest dacha turns sour when she makes an unwelcome discovery. As the old Soviet Union makes way for the new Russia, the painting she comes upon that day will hold a grim significance for the rest of her life, with Galina's familiar world changing out of all recognition.
Warm, wise and utterly enthralling, Molly Gartland's debut novel guides us from the old communist world, with its obvious terrors and its more surprising comforts, into the glitz and bling of 21st-century St Petersburg. Galina's story is an insightful meditation on ageing and nostalgia, as well as a compelling page-turner.
‍Available to buy here
Connect with Molly Gartland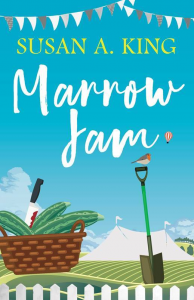 Some people would describe Beattie Bramshaw as a pillar of the community. Many would applaud her numerous successes in the bakery competition at the annual village show. A small number might say, if pushed, that they find her a little on the bossy side. And one or two might just whisper the words 'interfering' and 'busybody' behind her back.
But no one would have her down as a murderer.
So why is she being questioned in Dreighton police station after being found in the local allotments, at the dead of night, wielding a kitchen knife just yards away from where local lottery winner, Yvonne Richards, was found stabbed to death? And what does all of this have to do with Doug Sparrow's prize marrows?
Marrow Jam is a comedy crime caper in the spirit of Agatha Raisin. It will have you chuckling from start to finish.
Available to buy here
Connect with Susan A King
Midwinter. As former farmhand Jake, a widower in his seventies, wanders the beautiful, austere moors of North Yorkshire trying to evade capture, we learn of the events of his past: the wife he loved and lost, the child he knows cannot be his, and the deep-seated need for revenge that manifests itself in a moment of violence.
On the coast, Jake's friend, Sheila, receives the devastating news. The aftermath of Jake's actions, and what it brings to the surface, will change her life forever. But how will she react when he turns up at her door?
The Mating Habits Of Stags is a journey through a life of guilt and things unsaid. As beauty and tenderness blend with violence, Robinson transports us to a different world, subtly exploring love and loss in a language that both bruises and heals.
As Princess Vashta of the Vendel finishes her combat training, she hopes to lead their forces into battle against her race's deadly enemy, the Verindal. But when Brandonin, the heir to the Verindal throne, comes to see her father, it's clear he desires peace, not war.
When a new enemy arises, striking at all who call their planet home, each race blames the other; even though the princess is sure this danger comes from somewhere new. She seeks Brandonin's help in fighting this menace, but what can they do when both Vendel and Verindal refuse to work together? Can they defeat this deadly threat themselves, or will it mean the end of life on Verindon?
Available to buy here
Connect with Lynne Stringer
Power up your portal gun and set the dials for the golden age of science fiction, as we step back in time and space to where the genre really took flight. Asimov, Clarke, Heinlein, Vonnegut, Dick, Herbert and Bradbury: these are some of the names which inspired a generation, creating visions of space travel, alien civilisations, advanced technology and future worlds which still resonate with us today. Their visionary legacy lives on in RAYGUN RETRO, a collection of stories by some of the best up-and-coming authors in the genre, expanding upon the styles and themes which laid the foundation of science fiction as we know it.
Available to buy here
Connect with Zombie Pirate Publishing
Remember, if you're an author and you'd like to see your book in our Saturday Spotlight, email pentoprint@lbbd.gov.uk and send us the details of your new novel. 
Further Links

For details of Penguin RandomHouse new releases, visit their website here.
For details of Hachette new releases, visit their website here.
For details of HarperCollins new releases, visit their website here.
For details of PanMacmillan new releases, visit their website here.
For details of Simon & Schuster new releases, visit their website here.
Disclaimer: Amazon links are given for ease but please remember there are a number of other online retailers operating, including hive (which helps to support independent book shops), Kobo, Apple Books, Google Play and Nook as well as online stores for bookstores like Waterstones, Barnes & Noble and WHSmiths. Given the current situation though, please check first.
We want to help connect authors and readers, so we've decided to create a spotlight page every Saturday, showcasing some of the exciting new reads available.