Saturday Spotlight: New Book Releases August
By Claire Buss, Deputy Editor, Write On! 
At Write On! and Pen to Print, we want to help connect authors and readers, so we've created a Spotlight page every Saturday, showcasing some of the exciting new reads available. The list has been curated by Lisa Roullier and myself, based on books that you send us, so if you're an author and you'd like your book in the spotlight, reach out to Lisa at pentoprint@lbbd.gov.uk. Whether you're an indie author, with a small press or mainstream publisher, we'd love to hear from you and shine a light on your new novel.
Write On! offers other opportunities for writers as well. If you'd like us to feature an extract from your book or a short story, please send the extract, book cover and blurb to pentoprint@lbbd.gov.uk with the subject: Write On! Showcase (ensuring you have your publisher's permission, of course).
Pen to Print are also looking for short videos from people reading a passage from their favourite book, or authors reading extracts from their own books. These videos will be featured on the Pen to Print YouTube channel and across our social media. Please send in your videos or links to pentoprint@lbbd.gov.uk with the subject: Video Stories.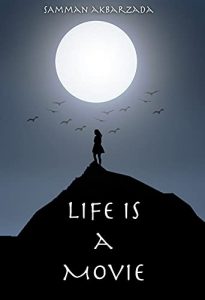 Her husband was killed by the Taliban. Now Rukhsaar is a widow with a ten-year-old child, Masih, in a land where the colour drains from faces when they hear, "It's a girl."
Reminiscing about her past, Rukhsaar and her son wander the bazaars of Kabul, Afghanistan, looking for a new home and means to survive. She finds employment as a maid, and the measly income pays for a room until her health fails, and she needs an operation to live.
Masih is forced to find work and is challenged by the offerings: prostitution and drugs. He lands a shoe-shining job that doesn't last, returning him to the streets, looking for  a way to pay for the rent and his mother's medical needs. He meets a boy, though an addict and a thief, who turns out to be Masih's ally.
Acclaimed explorer Rob Nash has lost his way. Grieving the death of his wife, and blaming himself, he sees no reason to carry on. But when his 'Uncle' Frank Douglas offers him the chance to lead a cave diving expedition in the jungles of Papua, Nash can see some light at the end of the tunnel.
But the expedition might not be what it seems. With a decades-old Japanese submarine buried deep in a cavern, and a team hell-bent on unleashing the treasures it hides, Nash finds himself on a ship heading for danger. With a lethal band of criminals on board, who will stop at nothing to get the gold, Nash is fighting for his life. Whilst battling his own demons, can he forgive himself for the wrongs of his past – and survive the perils of the deep?
Available to buy here
Connect with Jake Avila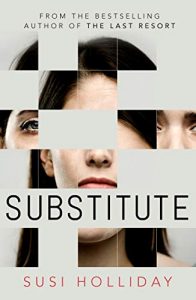 Three people live. Three people die. You make the choice.
Like any mother, Chrissie wants to protect her family. She would do anything to keep them safe. So when a mysterious stranger turns up at her door, offering to prevent the deaths of the people she loves, it sounds too good to be true. The only problem: she must choose someone to die in their place. A substitute.
When her daughter Holly has a terrible accident, Chrissie has no option but to enter the programme. In that horrifying moment, she'd do anything to save her. But even after Holly makes a miraculous recovery, Chrissie is convinced it's just a coincidence. After all, who can really control the laws of life and death?
But as the dangers to her family escalate and her chosen substitutes begin to disappear, Chrissie finds herself in an underworld of hidden laboratories and secretive doctors. And the consequences of playing by their rules are far deadlier than she ever imagined…
Available to buy here
Connect with Susi Holliday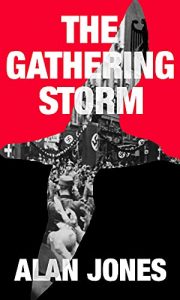 Kiel, Northern Germany, 1933. A naval city, the base for the German Baltic fleet and, as the centre for German sailing, the venue for the upcoming Olympic regatta.
The Kästners, a prominent military family, are part of the fabric of the city and its social, naval and yachting circles. The Nussbaums are the second generation of their family to be in service with the Kästners as domestic staff, but the two households have a closer bond than most.
As Adolf Hitler and his National Socialist Party claw their way to power in 1933, life has never looked better for families like the Kästners. There is only one problem. The Nussbaums are Jews.
The Sturmtaucher Trilogy documents the devastating effect on both families of the Nazis' hateful ideology and the insidious erosion of the rights of Germany's Jews. While Germany descends into dictatorship, General Erich Kästner takes desperate measures to protect his employees and spirit them to safety. As the country tears itself apart, the darkness which envelops a nation threatens not only to destroy two families, but to plunge an entire continent into war.
Available to buy here
Connect with Alan Jones
It is 2017 in a quiet upmarket suburb in West Essex. A son waits for his father to arrive for their usual monthly coffee and chocolate morning together.
To kill time, he takes his mind back to growing up in West Essex and the stories he heard as a child and begins to wonder what impact they had on his life.
The book takes us back to 1959, when two people meet and fall in love after being refused a room in Hackney, London. One is Irish, the other is from the Caribbean. Two mothers have to choose between the family that reared them and the new family and children they are creating in the changing Metropolis called London.
Distorted Lens tells their story and the choices they make. It's a story of love, courage, weakness, strength, loyalty and disloyalty, as seen through the eyes of father and son.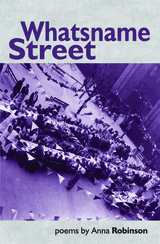 Anna Robinson's third collection of poetry is a study of working-class life in London SE1 – south of the river, behind the South Bank, beyond Waterloo station, below the radar. Blake's Lambeth.
Whatsname Street is a celebration of street-life, bits and bobs, loose change, and the poetry of class. It's a people's history of one particular housing estate as told by its tenants, combining oral history, archive records and layered memory – weddings and wash days, street-parties and trips to the seaside and, above all, the changing and changeless demands of work, poverty and inequality, the patience of the poor and the impatience of history.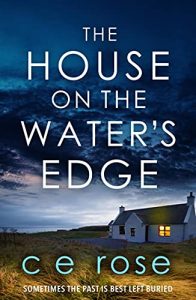 Sometimes the past is best left buried.
Since the birth of baby Joe five weeks ago, Ali Baker has been struggling to cope. Starved of sleep and haunted by painful memories from the past, she's a million miles away from the polished, professional barrister she has worked so hard to become.
Then her mother dies unexpectedly, leaving Ali an orphan. Haunted by her loss, she can't forget her mother's last words to her: "There is something I really need to tell you…"
Heading back to the Norfolk Broads to sort her mother's things, Ali is plunged into memories of her family's picture-perfect summers on the river. But as she starts to uncover secrets hidden within the isolated house, she  is drawn into a dark web that threatens to destroy everything she believed about her childhood – and her very sanity.
Ali may finally discover her mother's secrets… but at what cost?
Available to buy here
Connect with CE Rose
Could one rare plant hold the key to a thousand riches?
It's the summer of 1822 and Edinburgh is abuzz with rumours of King George IV's impending visit. In botanical circles, however, a different kind of excitement has gripped the city. In the newly-installed Botanic Garden, the Agave Americana plant looks set to flower – an event that only occurs once every few decades.
When newly widowed Elizabeth arrives in Edinburgh to live with her late husband's aunt Clementina, she's determined to put her unhappy past in London behind her. As she settles into her new home, she becomes fascinated by the beautiful Botanic Garden which borders the grand house and offers her services as an artist to record the rare plant's impending bloom. In this pursuit, she meets Belle Brodie, a vivacious young woman with a passion for botany and the lucrative, dark art of perfume creation.
Belle is determined to keep both her real identity and the reason for her interest the Garden secret from her new friend. But as Elizabeth and Belle are about to discover, secrets don't last long in this Enlightenment city . . .
And when they are revealed, they can carry the greatest of consequences.
Available to buy here
Connect with Sara Sheridan here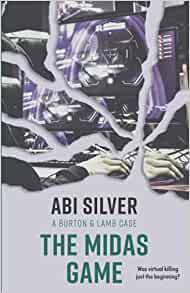 When eminent psychiatrist Dr Liz Sullivan is found dead in her bed, suspicion falls on local gamer and YouTube celebrity Jaden Dodds.
Did he target her because of her anti-gaming views and the work she undertook to expose the dangers of playing online games? And what was her connection with Valiant, an independent game manufacturer about to hit the big time, and its volatile boss?
Constance Lamb and Judith Burton team up once again; this time to defend a client who the police are convinced is guilty of murder. Just because he makes a living killing people on screen, it doesn't mean he'd do it in real life. Or does it?
Available to buy here
Connect with Abi Silver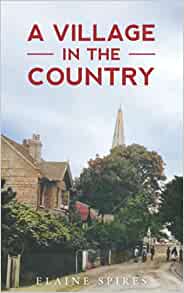 It's November 1918 and the whole nation comes together to give thanks for the end of a bloody world war that has left few families unscathed.
More than seven hundred thousand men have perished; those fortunate enough to return are mere shadows of the men who left. Women who have kept the country going by working in munitions factories and picking fruit and vegetables on farms and in market gardens are expected to give up their jobs to the men returning home. In the peaceful Essex village of Dagenham, Milly Brightwell is among the women who are not happy at having to take a step back. She doesn't want peacetime to disrupt dreams of becoming her own boss.
But just as life returns to post-war normal, the London County Council announces its plans to build more than twenty-five thousand Homes For Heroes on the farmland and countryside surrounding Dagenham. Within the space of ten years, the population will rocket to a hundred thousand people and the quiet country village will morph into the largest housing estate in Europe. For the families in Dagenham Village, life will never be the same again.
Available to buy here
Connect with Elaine Spires
'I am a friend of the bees. Like you.'
'So, you have been waiting for me?'
'The forest has been waiting for you.'
Pakistan, 1974: The secret-wreathed trees of Harikaya have always called to Hassan. He knows if he doesn't find the last beekeeper and salvage a precious jar of his mythical black honey before the floods come, his mother will lose her sight. But then, amidst a brewing storm of political turmoil and simmering espionage, he wins a scholarship to study with the state governor in Karachi.
His entire world is turned upside down when he meets Maryam, the governor's niece visiting from London. All the while the fate of his mother and his promise to the bees calls him back to the forest.
He must decide: Maryam or the beekeeper, England or Pakistan, his head or his heart.
Available to buy here
Connect with Siya Turabi

Remember, if you're an author and you'd like to see your book in our Saturday Spotlight, email: pentoprint@lbbd.gov.uk and send us the details of your new novel.

Further Links
For details of Penguin RandomHouse new releases, visit their website here.
For details of Hachette new releases, visit their website here.
For details of HarperCollins new releases, visit their website here.
For details of PanMacmillan new releases, visit their website here.
For details of Simon & Schuster new releases, visit their website here.
Disclaimer: Amazon links are given for ease but please remember there are a number of other online retailers operating, including hive (which helps to support independent book shops), Kobo, Apple Books, Google Play and Nook as well as online stores for bookstores such as Waterstones, Barnes & Noble and WHSmiths. 
We want to help connect authors and readers, so our Saturday Spotlight page showcases some of the exciting new reads available each month.