Saturday Spotlight: New Book Releases July
By Claire Buss, Deputy Editor, Write On! 
At Write On! and Pen to Print, we want to help connect authors and readers, so we've created a Spotlight page every Saturday, showcasing some of the exciting new reads available. The list has been curated by Lisa Roullier and myself, based on books that you send us, so if you're an author and you'd like your book in the spotlight, reach out to Lisa at pentoprint@lbbd.gov.uk. Whether you're an indie author, with a small press or mainstream publisher, we'd love to hear from you and shine a light on your new novel.
Write On! offers other opportunities for writers as well. If you'd like us to feature an extract from your book or a short story, please send the extract, book cover and blurb to pentoprint@lbbd.gov.uk with the subject: Write On! Showcase (ensuring you have your publisher's permission, of course).
Pen to Print are also looking for short videos from people reading a passage from their favourite book, or authors reading extracts from their own books. These videos will be featured on the Pen to Print YouTube channel and across our social media. Please send in your videos or links to pentoprint@lbbd.gov.uk with the subject: Video Stories.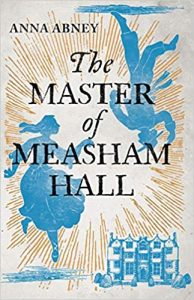 1665. It is five years since King Charles II returned from exile, the scars of the English Civil Wars are yet to heal and now the Great Plague engulfs the land.
Alethea Hawthorne is safe inside the walls of the Calverton household as a lady's companion waiting in anticipation of the day she can return to her ancestral home of Measham Hall.
But when Alethea suddenly finds herself cast out on the plague-ridden streets of London, a long road to Derbyshire lies ahead. Militias have closed their boroughs off to outsiders for fear of contamination.
Fortune smiles on her when Jack appears, an unlikely travelling companion who helps this determined girl to navigate a perilous new world of religious dissenters, charlatans and a pestilence that afflicts peasants and lords alike.

Available to buy here
Connect with Anna Abney
When anxiety-prone Rachel Granza learns her growing sense of emptiness is affecting her relationship with her almost perfect boyfriend and that she's jeopardising any possibility of a marriage proposal, she knows she must pull herself out of her funk. But how?
A dream apartment in New York City, a thriving psychotherapy practice, and her unique obsessions with topics like the Titanic don't even make her feel grounded any more. Red alert!
Trying to find happiness and meaning again—in more than her beloved Italian food—she stumbles into a genealogy mission to discover childhood information about her idol, aka her grandpa, who died years ago. He never spoke about his Italian immigrant past and now she's determined to find out the reason for his unusual secretiveness.
Rachel's ancestral roller coaster has roadblocks galore, but she needs the answers to her family's hidden history. They're her only hope to learn more about her hero, salvage her relationship and, most importantly, to save herself.
Available to buy here
Connect with C D'Angelo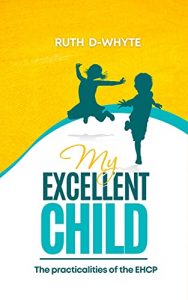 It was the year 2010, my second son had just turned seven and I was invited for a school meeting.
I felt alone, worried, and intimidated. Staring down at the documents facing me, the inadequacies of my son's abilities to reach anticipated milestones hit me. The the unspoken words from the team were, "There is not much we can do." It was scary, feeling as though there was no other way to turn.
Year after year, the meetings, the reviews, and the challenges went on.
It was all about the EHCP annual review.
Available to buy here
Connect with Ruth D-Whyte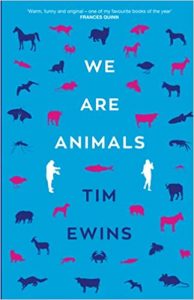 A cow looks out to sea, dreaming of a life that involves grass.
Jan is also looking out to sea. He's in Goa, dreaming of the passport-thief who stole his heart (and his passport) 46 years ago. Back then, fate kept bringing them together, but lately it seems to have given up.
Jan has not. In his long search, he has accidentally held a whole town at imaginary gunpoint in Soviet Russia, stalked the proprietors of an international illegal lamp-trafficking scam and done his very best to avoid any kind of work involving the packing of fish. Now he thinks if he just waits, if he does nothing at all, maybe fate will find it easier to reunite them.
His story spans 54 years, ten countries, two imperfect criminals (and one rather perfect one), 22 different animals and an annoying teenager who just…
Will…
Not…
Leave.
But maybe an annoying teenager is exactly what Jan needs to help him find the missing thief?
Available to buy here
Connect with Tim Ewins
Terminarchy eloquently considers the troubling terms of existence in an age of climate catastrophe and technological change.
How do we negotiate a world where capitalism and greed threaten a fragile earth, where technology seems to promise us connection but instead fuels isolation? Where even finding solace in nature reminds us that the seasons can no longer be trusted? How is the human urge and want hastening us towards our own end, and what might it mean to be the last?
In reframing ecopoetics in her own instinctive, radical, lyrical form, France juxtaposes the accelerated, all-consuming speed of contemporary and future times with the longtime and ancient;  considering whether, rather than collision-course, there might be a better way to coexist. Where extinction threatens, these wry, alert poems and their eloquent, earthy voices try to find a way through and look for hope.
Available to buy here
Connect with Angela France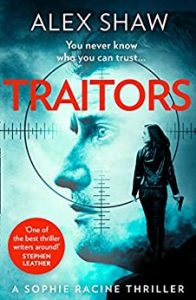 A traitor who can't be caught. French Intelligence officer Sophie Racine is tasked with travelling into the heart of a war zone in Ukraine. Her mission is to assassinate a Russian spy who took the French secret service apart piece by piece and gave their secrets to the Kremlin.
A prisoner who can't be killed. Ex-SAS trooper and MI6 Officer Aidan Snow is also in Ukraine. Sent by British Intelligence, he must extract an innocent citizen caught up in the conflict in rebel-controlled Donetsk.
A war that can't be won. When their missions collide, Snow and Racine find themselves outgunned and outnumbered. Even if they make it out of the war zone alive, danger won't be far behind…
Available to buy here
Connect with Alex Shaw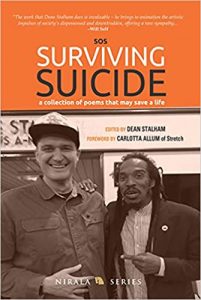 Surviving Suicide is an astonishing collection of poems that delves into often taboo subject of suicide, with its connected mental health issues.
It showcases over 60 poets from four continents, paying homage to those who have lost lives and to those who have survived. British poet, art collector and philanthropist Dean Stalham, in collaboration with Stretch Charity, brings together a very special anthology of survival methods expressed through the medium of poetry. A must-read for all those interested in caring, sharing and helping others in their direst hour of need.
This collection offers a rare opportunity to see things connected to suicide from all sides and angles. Many people are and have been touched by suicide in  different ways. This anthology is a testimony to the turbulent times we live in.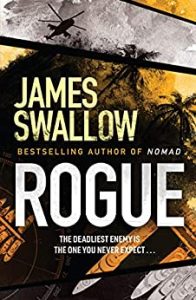 In modern espionage, every action has a reaction. One wrong move could sink an entire region into turmoil – even war.
Ex-MI6 operative Marc Dane understands this better than anyone. Dedicating his life to protecting the country means he's collected enemies, and a lot of them.
But for those hellbent on bringing the West to its knees, each failed plot has one thing in common: The Rubicon Group, the elite private intelligence agency, and Dane's employer. Destroy Rubicon, and the world order falls with it.
With the clock ticking, Dane, along with sniper partner Lucy Keyes, must unpick a monstrous and deadly conspiracy, stretching from the marinas of Monaco to the mountains of Mozambique  – one that threatens not only Rubicon, but ultimately the lives of millions of innocent civilians. And time is fast running out . . .
Available to buy here
Connect with James Swallow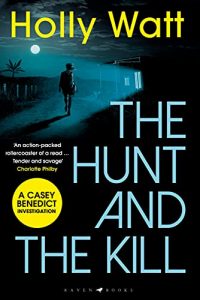 When acclaimed undercover journalist Casey Benedict is asked to interview a young woman with a life-limiting genetic condition, the patient's doctor alerts her to an alarming rise in antibiotic-resistant infections, tipping her off about a potential new wonder drug.
If the rumours are true, this new antibiotic could save millions of lives, but no one seems to know if the drug even exists.
Then tragedy unexpectedly strikes and Casey begins to suspect a cover-up. But she is not prepared to let the story drop, no matter how much danger she – or those she loves most of all – are put in.
Available to buy here
Connect with Holly Watt
The latest edition of the bestselling guide to all you need to know about how to get published, is packed full of advice, inspiration and practical information.
The Writers' & Artists' Yearbook has been guiding writers and illustrators on the best way to present their work, how to navigate the world of publishing and ways to improve their chances of success, for over 110 years.
It's equally relevant for writers of novels and non-fiction, poems and scripts and for those writing for children, YA and adults and covers works in print, digital and audio formats. If you want to find a literary or illustration agent or publisher, would like to self-publish or crowdfund your creative idea, then this Yearbook will help you.
As well as sections on publishers and agents, newspapers and magazines, illustration and photography, theatre and screen, there is a wealth of detail on the legal and financial aspects of being a writer or illustrator.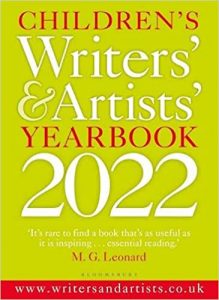 The indispensable guide to writing for children and young adults, this Yearbook provides inspirational articles from successful writers and illustrators, as well as details on who to contact across the media.
It provides practical advice on all stages of the writing process from getting started, writing for different markets and genres, through to submission to literary agents and publishers as well as on the financial and legal aspects of being a writer. Widely recognised as the essential support for authors and illustrators working across all forms: fiction, non-fiction, poetry, screen and theatre, it is equally relevant to those wishing to self-publish as well as those seeking a traditional publisher-agent deal.
Remember, if you're an author and you'd like to see your book in our Saturday Spotlight, email: pentoprint@lbbd.gov.uk and send us the details of your new novel.

Further Links
For details of Penguin RandomHouse new releases, visit their website here.
For details of Hachette new releases, visit their website here.
For details of HarperCollins new releases, visit their website here.
For details of PanMacmillan new releases, visit their website here.
For details of Simon & Schuster new releases, visit their website here.
Disclaimer: Amazon links are given for ease but please remember there are a number of other online retailers operating, including hive (which helps to support independent book shops), Kobo, Apple Books, Google Play and Nook as well as online stores for bookstores such as Waterstones, Barnes & Noble and WHSmiths. Given the current situation, though, please check first.
We want to help connect authors and readers, so our Saturday Spotlight page showcases some of the exciting new reads available each month.