Write On! Interviews Tim Ewins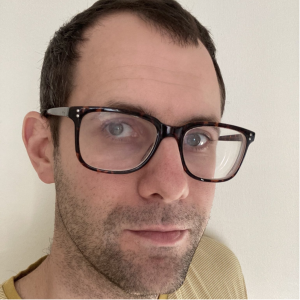 Tim Ewins had an eight-year stand-up career alongside his accidental career in finance, before turning to write fiction. He's previously written for DNA Mumbai, had two short stories highly commended and published in Michael Terence Short Story Anthologies, and had a very brief acting stint (he's in the film Bronson, somewhere in the background). His debut novel We Are Animals is out this year with Lightning Books.
 WO: How would you describe your writing to someone new to it?
 TE: To be honest, I was never quite sure which genre I was writing in. The publisher has called We Are Animals comic fiction and it's also been described as uplit, so it's probably one of them. Today, I noticed that a review on Amazon describes the book as being 'quixotic,' which is a word I'd never heard before. Obviously, I googled it:
Quixotic – Extremely idealistic; unrealistic and impractical.
I reckon that sums it up nicely! I write quixotically.
WO: Can you tell us a bit about your latest book, We Are Animals?
TE: We Are Animals is my debut novel. It focuses on an ageing hippy on a beach in Goa. He gets chatting to a teenager (who has only just landed and already believes he has 'found himself' in the sand), and basically tells his whole life story. Most of the chapters have a little diversion to see what the animals in that part of the plot are up to, and the whole book is set over six decades and ten countries. It was a bit of a passion project and there's a lot of my life in there, although I don't think that's obvious to anyone other than my wife.
WO: What inspired you to write in the first place, and what inspires you now?
TE: I've always been writing something or other. I used to write sketches and stand-up comedy sets (which I also performed), and before that, I wrote overly emotional break-up songs (before I managed to even have a relationship). I'm a big reader, and whilst writing We Are Animals, I found myself hugely inspired by novels and stories by Andrew Kaufman, Roald Dahl and Jonas Jonasson. I'm also a big Spike Milligan fan. Basically, I like things that are a bit silly.
WO: The current issue of Write On! explores the theme 'Keep Going!'  – creating with perseverance and courage.  With that in mind, what markers have defined your writing journey? Tell us about where you've had to dig deep to keep going.
TE: I found I had two big obstacles when writing We Are Animals. The first was work. I have a full-time job, so found myself writing in lunch breaks and on the bus. Almost the entire book was written on an iPad in a meeting room, or on public transport. The second obstacle was having a baby. I found it quite hard to keep writing with the little one, but started finding a bit of time at three am when I'd rock him to sleep in his room. I'd open the Notes app on my phone and type with one hand. I found that this writing time was pretty pointless. My wife could tell which chapters had been written on a couple of hours' sleep, and I basically had to ditch the lot.
WO: What one piece of advice would you give an aspiring writer?
TE: Write for fun. You can create a whole load of pressure for yourself when you set out on a project, but just remember why you're doing it. If you hit a wall, don't beat yourself up and walk the dog instead. The dog needs it. If you've written 5,000 words in one day, you've probably neglected the dog.
WO: Can you tell us anything about future projects?
TE: I'd love to! I'm currently shaping book two with my editor. It's about an elderly couple who are living in separate care homes, longing to be together again. I think it feels very different to We Are Animals, but it does have a load of birds in it, so there are probably more similarities than I think.
Oh, and it's definitely quixotic.
WO: Lastly, if you could choose one fictional animal/creature to be a pet or companion, who would it be and why?
TE: Zog. My son loves Julia Donaldson's books and I have so much love for that hapless dragon. All he wants to do is win a golden star. I think he's got the right attitude. My dog just barks at the window and rolls in mud. I reckon with Zog's outlook on life, he'd be washing the dishes and making sure the bins are out on time. He's always striving for perfection, that dragon. He's a good dragon.
But Stickman can do one! I can barely leave the porch for old bits of tree.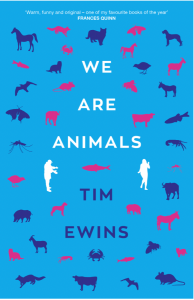 You can connect with Tim Ewins on Twitter: @EwinsTim or on Instagram: @quickbooksummaries where he writes inaccurate, irreverent book reviews. We Are Animals is available to buy from Lightning Books here.
*****
For 20% off Writers' & Artists' Yearbook 2022 and Children's Writers' & Artists' Yearbook 2022, use the discount code WAYB22 at www.bloomsbury.com.
Issue 9 Write On! magazine is available now. You can find it here.  
Write for fun. You can create a whole load of pressure for yourself when you set out on a project, but just remember why you're doing it.